Your Apple iPhone Is Infected By (17) Viruses – a scam that mainly targets iPhone users, although can also be encountered on other devices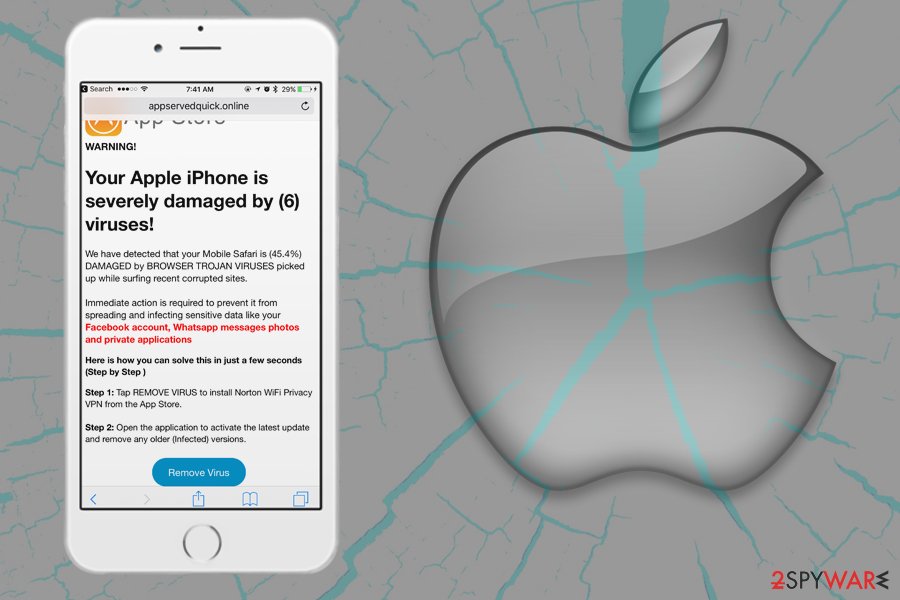 Your Apple iPhone Is Infected By (17) Viruses is a scam message that users may see on their iPhone, iPad, or macOS devices
Your Apple iPhone is infected (also known as Your Apple iPhone Is Infected By (17) Viruses) is a fake notification that users might encounter on various devices, although the scam originally targets iOS users. Nevertheless, the pop-up can appear seemingly out of nowhere on Safari, Google Chrome, Mozilla Firefox, or any other used browser. The main goal of Your Apple iPhone is infected scam is to make users download suspicious or even malicious applications, as well as disclose their sensitive information, such as credit card details.
Regardless of which device users encounter the Your Apple iPhone Is Infected By (17) Viruses pop-up, it can happen due to two main reasons: either the the iPhone/Macintosh/Macbook is infected with adware[1] or they stumbled upon a malicious website on the internet. The best thing to do after seeing Your Apple iPhone is infected notification is to completely ignore it – simply leave the page or even close down the browser. It is also important to find out whether the notification is not a sign of adware infection – we will explain how to deal with it later.
Name
Your Apple iPhone is infected
Alternative names
Your Apple iPhone is infected by (17) viruses, Your Apple iPhone Is Infected By (6) Viruses
Type
Online scam
Category
Mac virus, Mac malware
Similar scams
Immediate Action Required, Your system is infected with 3 viruses, Your Mac Might Be Infected
Goal
The main goal of the scam is to make users download potentially unwanted programs or disclose sensitive information
Cause of appearance
While in most cases users can encounter specially compiled scam messages online accidentally, some such devices might be affected by adware, which is typically spread with the help of dubious software distribution technique called bundling
Associated risks
Users might install malware that is programmed to perform various malicious activities on the device, e.g., steal sensitive information, send spam, install other malware, etc.
Solution
The best way to terminate the unwanted activity related to "Your Apple iPhone is infected" is a scam the device with anti-malware software
Further actions
For best results, we recommend resetting all the installed browsers and performing system scan with

Reimage

Reimage Cleaner
Online fraud[2] has been prevalent for many years now – it is aimed to convince inexperienced users to do something they otherwise would not do with the help of social engineering.[3] While some campaigns are made relatively easily-recognizable, crooks do no rush to check their grammar and spelling mistakes even now, as they know that there are plenty of internet users who do not speak English that well and would not know the difference.Your Apple iPhone Is Infected By (17) Viruses scam has several versions, some of them are written better, some – worse.
These social engineering attacks are conducted by unfair people who join an affiliate marketing scheme to sell their products online and use the allocated online space for their promotions. However, instead, they plant a malicious Your Apple iPhone Is Infected By (17) Viruses or similar message on it. Thus, as soon as users are redirected to the page, they receive the following message:
Your Apple iPhone is infected by (17) viruses.

If not resolved immediately, the virus will crash your cell phone, damage the SIM card and delete all your contacts.

Follow the instructions below to remove the virus.
A similar version of the Your Apple iPhone is infected scam prompts users to download a Shield VPN application (note: never download it, as it might be fake):
Your iPhone Has Been Compromised

Immediate Action is Required!

Your Apple iPhone is infected by (17) viruses.

Immediate action is required to prevent it from spreading and infecting sensitive data like your Facebook account, Whatsapp messages and private applications

Download Shield VPN and follow instructions to clean your device.
Because typical Apple logos and the design of the Your Apple iPhone is infected by (17) viruses pop-up are used, some might believe that the message is coming from the tech giant itself. However, reputable companies would never prompt users to download anything in such ways – they have legitimate means of notifying users about any type of issue. Additionally, the biggest paradox is that users might encounter the Your Apple iPhone is infected notification on any type of device, which would not make any sense.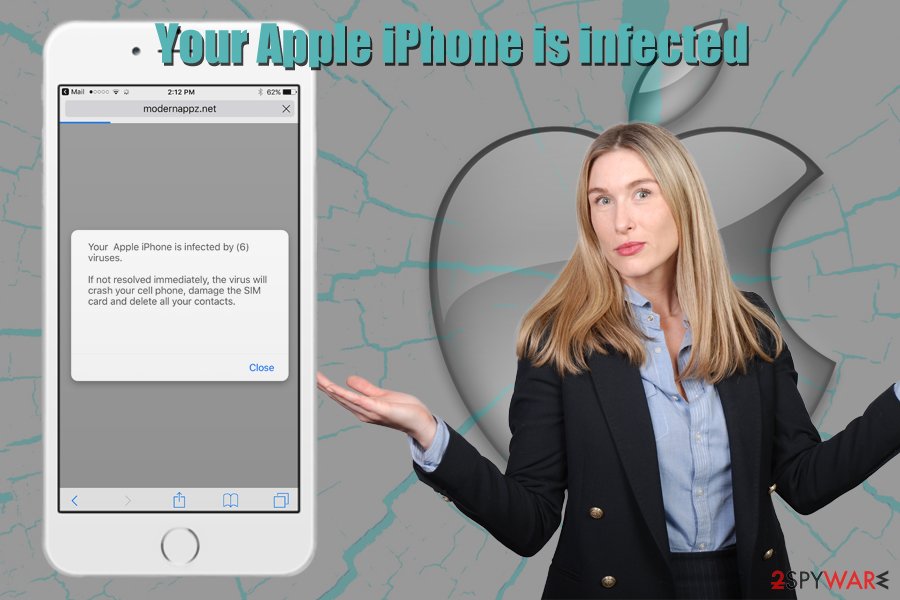 Your Apple iPhone is infected is a fraudulent pop-up that tries to make users download bogus or malicious software
Besides, a "virus" is a type of malware that does not apply to macOS devices, as each application of these computers is segregated in its own sandboxed environment. Nevertheless, it does not mean that Macs cannot be affected by malware.
Thus, you should not interact with the scam and remove Your Apple iPhone Is Infected By (17) Viruses message from your browser immediately by closing the tab it is shown in. If, however, you noticed that your browsers are directing you to sites that display such scam messages often, you also need to ensure that your device is not infected with adware.
If adware is involved, Your Apple iPhone is infected removal from your browser is not going to be enough, as the potentially unwanted application will keep bringing you scam sites and exposing you to pop-ups, deals, offers, coupons, and other commercial content that is not only disturbing web browsing sessions but might also be dangerous.
The easiest way to get rid of unwanted applications as well as pop-ups like "Your Apple iPhone is infected by (6) viruses" is to scan the device with anti-malware software, although the termination process can also be performed manually – check the instructions below.
Ways crooks can expose you to online scams
As mentioned above, the fake pop-up notifications and increased amount of advertising is often a sign of adware infiltration. Adware is one of the main cyber threats that plague Apple devices and, although not initially malicious, can cause major web browsing disturbances and bring users to scam and phishing sites. As a result, while adware on itself will mostly not steal your personal information or install malicious software automatically, it can link you to sites that could result in such an outcome. On the other hand, many users don't mind apps that show ads discreetly – this the precise requirement that major app stores demand from application developers.
Speaking of which, the main way to get infected with adware is to download software from unapproved sources, as these are known to bundle multiple apps into single installation packages and deliberately hide the optional components from users' sights during the installation process. Thus, if you still desire to install apps from external (non-official) sources, we suggest you do the following:
Check if the application you want is not present on Apple Store or other official sources;
Make sure you click on the correct "Download" button, as shady sites often provide fake buttons in order to make users install sponsored software;
Once the application is launched, check for permissions it asks from the device – never let an app to have elevated (administrator's) permissions;
During the installation process, make sure not to get tricked by pre-selected boxes, misleading offers, misplaced buttons, fine print text, and other ploys;
If prompted, always opt for Advanced/Custom settings instead of Basic/Quick ones – this will let you control the installation better and decline the unwanted apps before finalizing the process;
Employ anti-malware software that could recognize potentially unwanted applications and stop them prior to their installation.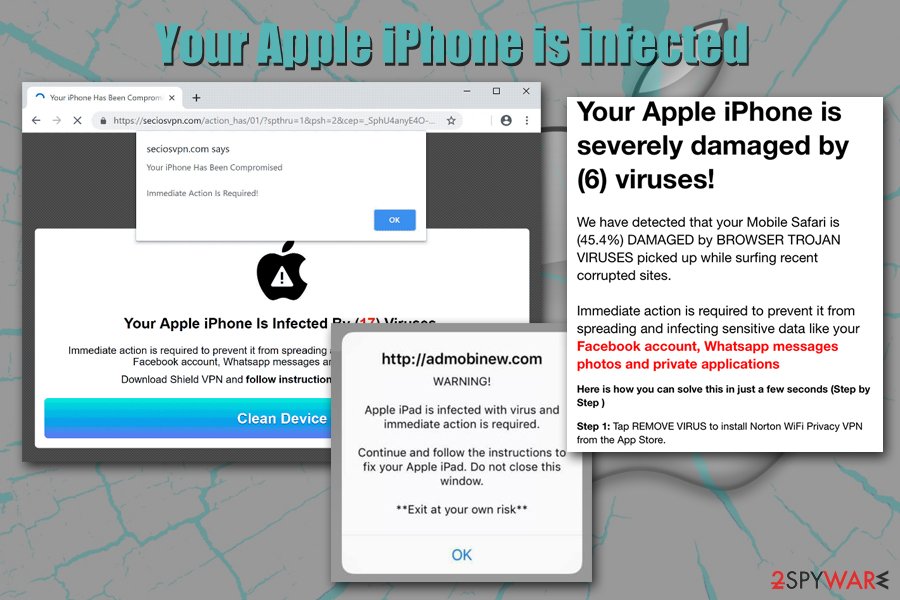 Your Apple iPhone is infected scam can also be encountered on macOS devices, even though it is mainly aimed at iPhone and iPad users
Get rid of adware that shows you Your Apple iPhone is infected virus alerts
Your Apple iPhone is infected removal depends on many factors – the device you are using, whether it is infected with adware, and if you downloaded any of the applications suggested via the scam. Nevertheless, we suggest you from checking the installed apps on your device and terminating everything that you do not recognize. Additionally, depending on what type of adware app is affecting your device, you might be able to remove Your Apple iPhone is infected automatically with the help of anti-malware software.
If you are struggling with eliminating "Your Apple iPhone Is Infected By (17) Viruses" virus on your iPhone, you should disable the pop-ups and reset Safari as follows:
Tap on Settings and ten pick Safari
Select Clear History and Website Data and then confirm
Now go to Advanced and enable Block Pop-ups and Fraudulent Website Warning features
If you are struggling with continuous pop-ups on your macOS machine, proceed with the manual removal guide below.
You may remove virus damage with a help of Reimage Reimage Cleaner . SpyHunter 5Combo Cleaner and Malwarebytes are recommended to detect potentially unwanted programs and viruses with all their files and registry entries that are related to them.
This entry was posted on 2020-02-03 at 04:56 and is filed under Mac Viruses, Viruses.