Gubudakis.com – an advertising domain that employs social engineering tactics to increase its number of daily visitors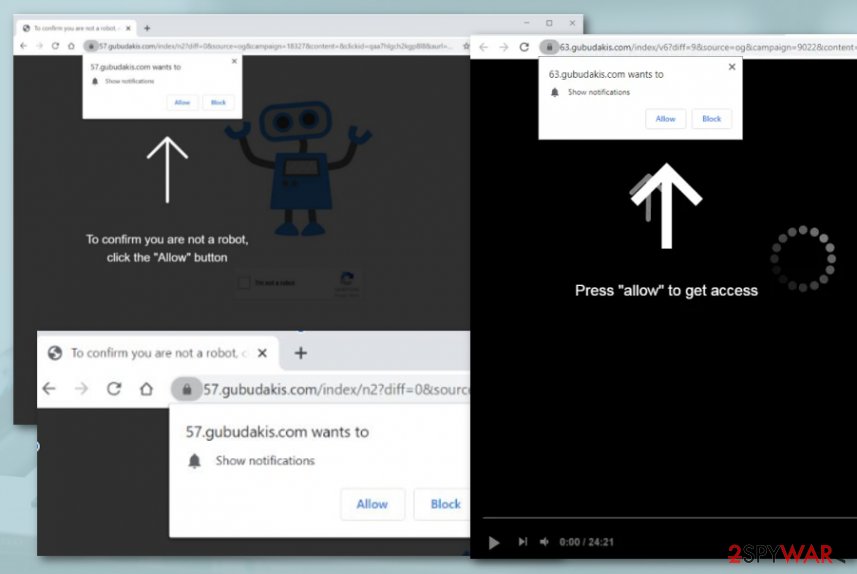 Gubudakis.com – adware that can collect non-personal information related to the user's browsing session by injecting tracking objects such as HTTP cookies, beacons, or pixels
Gubudakis.com is considered to be an intrusive adware program[1] that prompts the user to click on the "Allow" button to confirm that he is not a robot. This social engineering trick is commonly promoted by PUP developers and is a way of receiving more clicks on the provided ads as after selecting the "Allow" option you are likely to be flooded with unwanted advertisements on your computer screen. Gubudakis.com pop-up can start interrupting your web browsing sessions with intense advertising that aims to deliver questionable suggestions of software and services.
Note that Gubudakis.com can appear on any type of web browser application, including Google Chrome, Mozilla Firefox, Internet Explorer, Microsoft Edge, and Safari. The adware can include bogus extensions into your browsers and modify some major settings such as the homepage and new tab URL locations. Keep in mind that the unwanted changes can be reversed only after complete Gubudakis.com removal.
Name
Gubudakis.com
Type
Adware/potentially unwanted program
Danger level
Low. This suspicious product does not operate as dangerous malware like ransomware virus or trojans. However, this app can bring other potentially malicious products to the computer system as it can be used as an intermediary by malware developers or redirect the user to an infectious location
Target(s)
This adware application can infect any type of web browser such as Google Chrome, Mozilla Firefox, Internet Explorer, Microsoft Edge, and Safari. Talking about operating systems, this adware is more likely to appear on Windows OS but there still is a chance that it will show up on your Mac device too
Symptoms
When you are infected with this PUP, you are likely to receive browser changes in the homepage and new tab URL section. Also, you will likely receive an excessive amount of advertising on your computer screen and get redirected to affiliate domains some of which might appear to be potentially dangerous
Elimination
If you have been dealing with this adware lately, you should get rid of it from your computer system. You can deal with the process by employing automatical software or completing the manual step-by-step guidelines that have been added to the end of this article
Fix tip
If you have discovered any type of compromisation on your computer system, you can use a program such as

Reimage

Reimage Cleaner

for fixing the altered areas
Gubudakis.com virus often gets delivered secretly in a bundle of software from secondary downloading sources such as cnet.com, download.com, and softonic.com. Once the adware settles on the Windows computer system, it can start running suspicious processes in the Task Manager and add bogus keys to the Registry. However, if Gubudakis.com has occupied your Mac computer, you might encounter rogue programs and folders added to the Applications section.
Furthermore, Gubudakis.com starts operating in the background and might be overusing your computer's energy resources. As a result, you can spot a high power usage level on your CPU and your computer might start experiencing frequent slowdowns and even crashes. The same can happen to your web browser if the ad-supported application loads numerous advertisements and starts redirecting you at the same time while completing browsing work.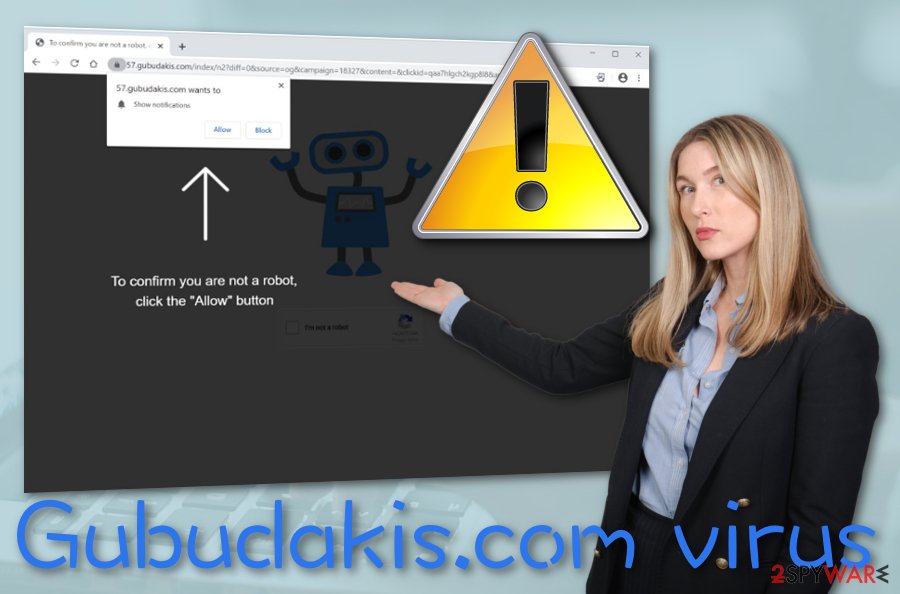 Gubudakis.com – a potentially unwanted program that drops intrusive advertisements that are filled with rogue offers and deals
The main purpose of Gubudakis.com pop-up ads is to gather pay-per-click[2] income from the ads provided. The developers try to deliver as attractive-looking advertisements as possible in order to convince the users to click on them. For this to happen, the adware spreaders promote various rogue security software, services, sales coupons, etc. However, you should never trust the content that comes from Gubudakis.com as you will usually receive nothing useful from it.
Gubudakis.com might convince you to pay an inadequate price for some type of product or service that you truly do not need. Nevertheless, the provided ads can start pushing various surveys that ask you to provide personal information in order to win some type of non-existing prize and so on. You should never reveal any personal data to strange surveys as you cannot know where it might be misused in the future by various hackers.
By the way, Gubudakis.com can start redirecting you to affiliate sources through its advertisements. You might arrive at a destination that promotes questionable products and get convinced to download some or subscribe yourself to a useless service. However, this is still not the worst part of redirecting sessions. You can also get taken to a potentially malicious website and receive a dangerous malware infection (e.g. trojan, ransomware) on your computer system.
Gubudakis.com might also be capable of acting as an intermediary for malware delivery. Some hackers can use the adware to spread malicious parasites or other potentially unwanted programs such as browser hijackers. This way you will be provided with an endless chain of unwanted activities. If you want to avoid this type of risk, you should remove Gubudakis.com from your PC. If you want to fix some alterings, try employing software such as Reimage Reimage Cleaner .
Another activity that Gubudakis.com can sponsor is the collection of non-personal data that relates to the user's browsing sessions. The adware might insert tracking objects such as HTTP cookies, beacons, or pixels to spy on data such as recently accessed websites, hyperlinks and ads clicked, saved bookmarks, search query results, most popular offers searched, social platforms visited, your IP address, geographic location, and browser type.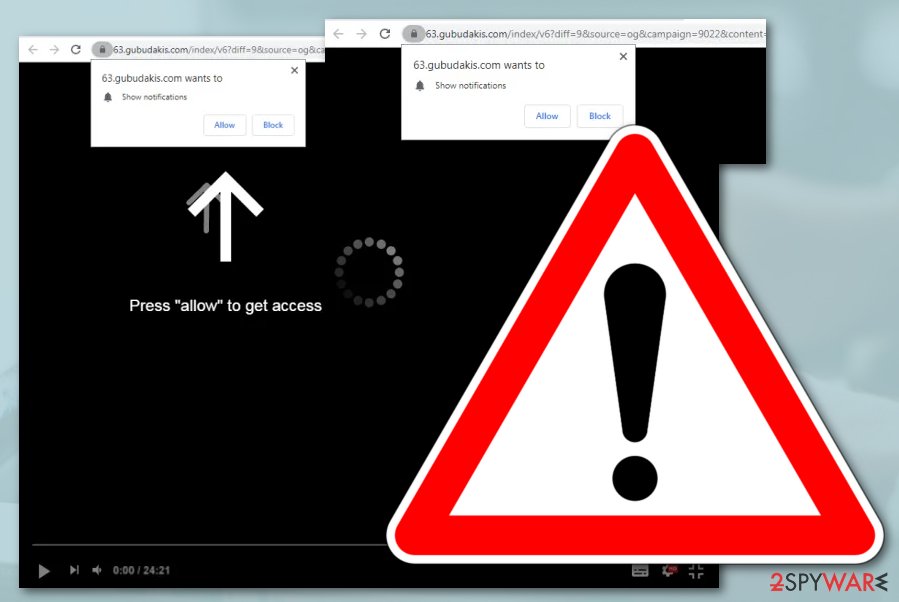 Afterward, Gubudakis.com might share this type of information with other parties in order to receive income from them. Also, the data can get involved in targeted advertising campaigns as the adware developers will likely try to provide you with offers that are truly relevant to you. If you do not want to get your non-personal data collected and allow the developers to benefit from you, you should uninstall Gubudakis.com from your computer and browsers as soon as possible.
If Gubudakis.com has been appearing on rogue websites but there are no other signs of the adware infection, you might be able to stop the intrusive advertisements with the help of an adblocking tool such as AdBlock or Adblock Plus. Furthermore, you can try to prevent the appearance of the ads by completing some actions manually: open your web browser and find the three dots on your upper right, go to Settings –> Advanced –> Notifications. Here, remove or disable Gubudakis.com.
Learn about adware arrival at various devices
Even though you would likely never download adware on your computer system if you know that it is what you are going to receive. However, most people do not pay full attention to the downloading/installing steps and give permission to the installation of additional products some of which are often some type of PUPs, e.g. adware.
What you have to do is to always pay attention while downloading programs to your computer system. Also, opt for the advanced or custom settings that will give you the possibility of deselecting all suspicious products. According to Virusai.lt experts,[3] you should avoid any recommended or quick modes that can let the adware into your computer system.
Furthermore, adware products are likely to arrive in a bundle of software[4] that is downloaded from third-party websites such as cnet.com, download.com, and softonic.com. You should avoid installing programs or services from these secondary sources and get all of your wanted software from official websites and original developers only.
Continuously, you should be aware of fake software (flash player, JavaScript) updates that might occur while visiting unprotected Internet sources. Additionally, you should install a reliable antimalware program that will alert if there is a potentially suspicious or dangerous website/program/component waiting ahead.
Using reliable antimalware software will let you remove Gubudakis.com in minutes
Gubudakis.com removal is a process that you need to perform if you want to bring back the stability that the adware had wrecked. Such a task can be completed with the help of antimalware software that is capable of deleting the potentially unwanted program in a few minutes of time. Also, you will have to put less effort into the entire process and still be sure that the adware and all its added components were eliminated properly.
However, you can remove Gubudakis.com on your own if you want to and have all the skills required. Below we have provided some manual instructing steps that should help you to clean web browsers such as Google Chrome, Mozilla Firefox, Internet Explorer, Microsoft Edge, and Safari from bogus extensions and plug-ins added.
You may remove virus damage with a help of Reimage Reimage Cleaner . SpyHunter 5Combo Cleaner and Malwarebytes are recommended to detect potentially unwanted programs and viruses with all their files and registry entries that are related to them.