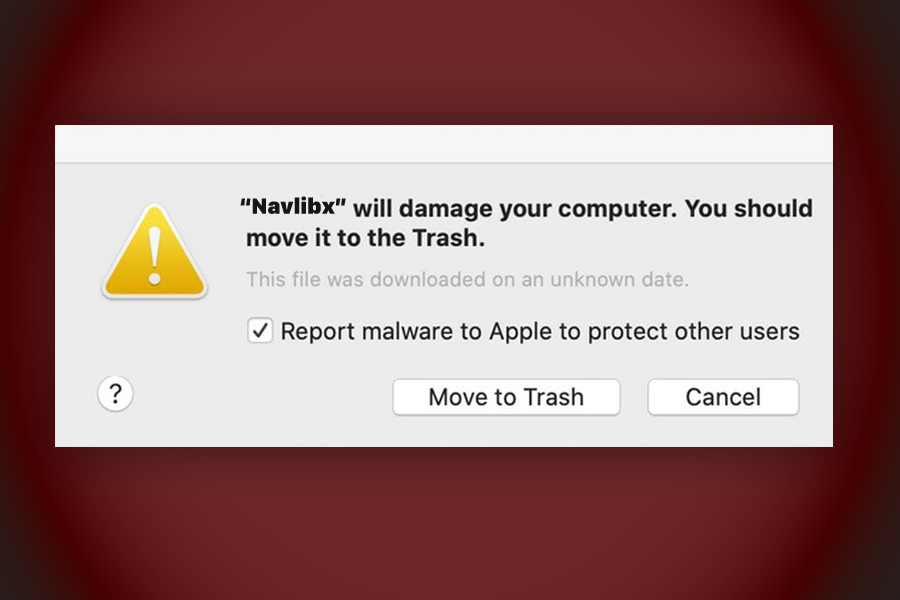 Navlibx is a legitimate file used by Norton Symantec security software
Navlibx is a macOS file that recently started bothering users with persistent pop-up messages. The notification looks like a legitimate warning from Mac, which states:
"Navlibx" will damage your computer.
This file was downloaded on an unknown date.
Report malware to Apple to protect other users
As evident, this prompted many uses to conclude that Navlibx is a virus that will damage their devices. Users on Reddit,[1] Avast, Apple forums,[2] and other online message boards claimed that the popup keeps coming back and that the issue started as soon as they updated macOS to 10.15 "Catalina," which was released on October 7, 2019.
However, Navlibx is not a virus or malware and is actually a legitimate library file that belongs to Norton Symantec security software. The reason it started being flagged as potentially dangerous by macOS is due to software conflict, which makes it inherently a false positive.[3]
Name
Navlibx
Type
Application file
Operating system
macOS
Warning message
Users started encountering "Navlibx will damage your computer" persistent warnings as soon as they upgraded their Macs to "Catalina" version
Reason
The pop-up message is a result of software conflict between the newest macOS version and Symantec Norton security software
Remedy
Update Symantec products to the latest version (if that does not help, you should uninstall the security app altogether and download it from the official website)
System optimization
If you encounter warning messages, or your machine works slowly, we recommend using

Reimage

Reimage Cleaner

to clean all the junk and increase stability and performance of Mac computer
"Navlibx will damage your computer" message belongs to series of messages that identify malicious files on macOS. Despite that, there are many scams floating on the internet that try to imitate legitimate system warnings and warn users about fake malware infections or similar non-existent threats. For example, MacPerformance and similar fake messages are known to ask users for elevated permissions, while others direct them to suspicious websites.
These sites are usually filled with fake notifications that prompt users to download software that would allegedly clean Mac and save them from a virus – it is nothing but a scam, so do not download anything, as you can actually infect your machine with malware. Nevertheless, Navlibx notification is legitimate and does not come from Google Chrome, Safari, Mozilla Firefox, or another browser as fake pop-ups do.
Users were suspicious about the file, however, as the system asked them to enter their login details for Navlibx removal. If the pop-up were generated via the browser, it would be indeed dangerous to enter sensitive information, as it could be sent to cybercriminals. Nevertheless, "Navlibx will damage your computer" is a legitimate system prompt, so entering such details is safe. However, this would also render your security software from working correctly, as Navlibx is a library file that is used for Symantec virus scans.
To remove Navlibx messages without stopping the protection of anti-malware, you should first try to update the Norton product and see if that stops these pop-ups. In most of the cases, however, positive results will only arise if you uninstall security software altogether and download the latest version installer from the official website.
Ways to distinguish real system prompts from browser-based ones
Users were worried about entering their login details into the "Navlibx will damage your computer" removal prompt, as they did not know whether the message is legitimate – and they are completely right of doing so. Keep in mind that any type of system message can be very well imitated by a browser prompt, and malicious actors can use any type of text if they want to. In other words, everything you see can be faked, and without deeper analysis, it is almost impossible to determine whether the prompt is real.
Thus, what do you do to distinguish between a fake and real prompt? The answer is not that simple, but this is what you should be looking for when dealing with a fraudulent pop-up:
The pop-up showed up as soon as you entered a particular website via your browser;
The message claims that your computer is infected with viruses, personal information is being stolen, etc.;
After closing the prompt (by blocking "Cancel" or similar), you are led to a suspicious website that asks you to download "cleaning tools";
The message simply makes no sense (e.g., "Apple wants to make changes").
The best way to avoid unwanted notifications prompts, and ads are by employing ad-block. Note that redirects to websites that trigger fake messages or background connections might be a direct indicator of adware/malware infection, so it is always a good idea to scan the machine with anti-malware software to make sure.
Ways to stop Navlibx pop-ups
As we already mentioned, there is no need to remove Navlibx file as it is a part of Norton security software, and removing it will simply render anti-malware tool useless (it is highly likely that you will not be able to delete the file yourself in the first place, as security software protects these files from unauthorized termination). The best way to resolve the situation is to upgrade Norton product, as the newest version is compatible with Catalina – it should result in "Navlibx will damage your computer" removal.
As a precautionary measure, we advise you to scan your machine with security software to ensure it is not infected with adware or other potentially unwanted applications. Once again, Navlibx is not a virus, and will not cause any damage to your Mac.
Reimage Reimage Cleaner has a free limited scanner. Reimage Reimage Cleaner offers more through scan when you purchase its full version. When free scanner detects issues, you can fix them using free manual repairs or you can decide to purchase the full version in order to fix them automatically.
This entry was posted on 2019-12-04 at 08:07 and is filed under Application files, Files.