COM surrogate virus is a type of malware that replaces a legitimate Windows OS process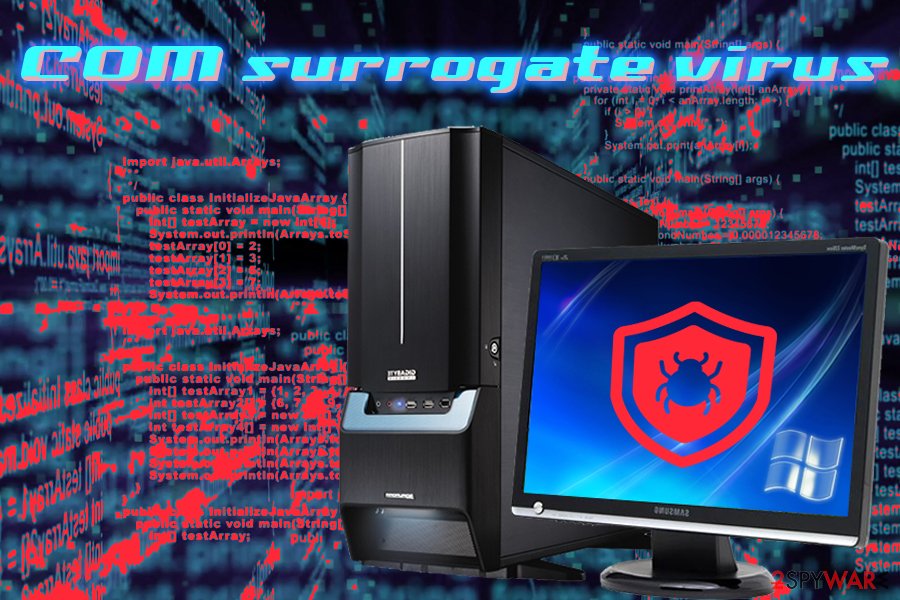 COM surrogate virus is a computer infection that runs in the background by mimicking the vital Windows process and performs various malicious activities, including data stealing.
COM surrogate virus is a malicious version of the Component Object Model[1] – a legitimate file used by the Windows operating system that usually runs in the background and is related to the dllhost.exe. While the initial functionality of COM is to allow to create COM objects used by Microsoft, COM surrogate virus is there for far more malicious deeds.
Since 2015, hackers started camouflaging the COM surrogate process to disguise malicious Trojan horses[2], such as Trojan.Poweliks. According to the reputable security vendors, a more precise name for this malicious process is Dllhost.exe 32 COM surrogate virus.The infiltration of such treats might reveal sensitive information about users and even allow hackers to steal money directly from a bank account.
Masking malicious executables by using Windows legitimate names is not a new tactic, as hackers are merely trying to mislead users to make them think that COM surrogate virus is just another harmless process. In reality, any executable can be replaced, duplicated, or corrupted by malware.
To separate malicious executables like COM surrogate virus from legitimate processes, users should run a scan with security software and/or check the location of the file (it should be C:\Windows\System32).
Name of the virus
COM surrogate virus
Type of malware
Trojan
Danger level
High. Trojans can steal personal information, such as credit card details or login information, open backdoor to other cyber infections, allow hackers to connect to the PC remotely, etc.
Related files
Dllhost.exe
Error message displayed
"COM surrogate has stopped working"
Symptoms
Multiple COM surrogate processes running in Task Manager, high com surrogate disk usage or CPU consumption, system slowdowns, program crashes, etc.
Removal options
Manual Trojan removal is hardly possible. You should use anti-malware software instead, e.g. SpyHunter 5Combo Cleaner
Recovery
Use

Reimage

Reimage Cleaner

to recover from the infection damage
Many Windows users are looking for an answer to a question is com surrogate a virus or not. In fact, the answer is simple – the former COM surrogate is not malicious. Contrary, it's one of the crucial Windows OS files that should not be removed under any circumstances.
However, criminals can disguise Trojan under the fake copy of COM surrogate virus process. In fact, the ability to conceal itself under the name of a legitimate Windows process is a key feature of COM surrogate Trojan. If you happen to find it in your Task manager, don't hesitate and remove it from the system.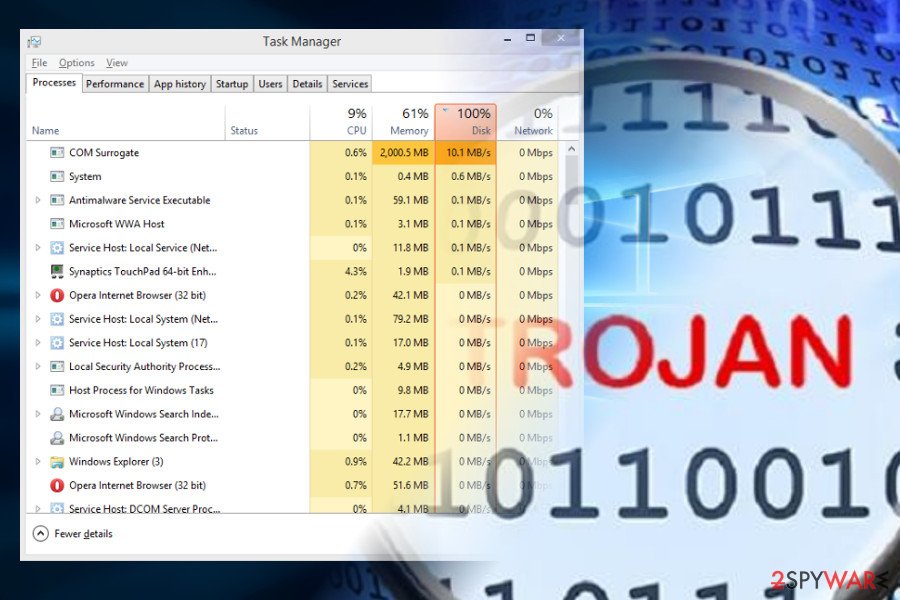 COM surrogate virus peculiarities
Just like many other Trojan horses[3], COM surrogate virus can be used for a long list of malicious activities, such as stealing personal information and other data which is considered sensitive. Besides, this malware can be used to help other viruses infiltrate the system, allow remote code execution, and used for many other purposes.
You should immediately check your computer using reputable anti-spyware if you suspect that it is infected with COM surrogate virus. Typically, affected systems start working slower than previously, tend to crash, use an excessive amount of RAM or CPU.
Besides, you might have problems when using Microsoft Office programs, Notepad or other applications. Finally, pay attention to suspicious programs showing up on your PC, and interrupting your browsing sessions. They can also be considered as one of the signs showing that the system is infected with the COM surrogate virus.
However, you should also note that these problems can be caused by many different computer viruses[4]. Though, if you can find strange and unknown processes running in the Task Manager, you should think about COM surrogate virus removal. Take our advice and scan your PC with reputable anti-malware software. Once you get rid of the virus, scan your device with Reimage Reimage Cleaner to repair the damage done and bring your system back to normal.
Ways to distinguish between a real and fake COM surrogate
Please, do NOT mix this entry with Dllhost.exe COM surrogate which is a critical system process used for hosting some of Windows operating system services and processes. Typically, this interface gives the ability for the developers to create COM objects that attach themselves to various programs and extend them.
Thus, due to its specific and diverse purpose, users are not able to recognize it and often confuse between the original and COM surrogate virus versions. To spot a malicious Trojan horse that just impersonates a legitimate process dllhost com surrogate, you should pay attention to these tips:
Depending on the version of the Windows OS, the original file should be located in c:\windows\system32 or c:\winnt\system32 directories;
The virus is using a tremendous amount of your CPU power or memory while the necessary process' usage is significantly lower;
A large number of dllhost.exe *32 operating in the Task Manager is also an indication that your computer is infected with a COM surrogate virus.
The COM object is used to generate thumbnail images of files in the folder and many other at first sight intangible processes. Due to this functionality, users are sometimes presented with "COM Surrogate has stopped working" error which means that they need to double-check display drivers, renew codecs, temporarily turn off anti-virus software, check the disk for errors, etc.[5]
It seems like the problem usually occurs when browsing pictures or trying to view a video, although some reported cases also related to printing. Nevertheless, COM Surrogate is supposed to help you view thumbnails of the files and, if the service fails, users encounter "COM Surrogate has stopped working" error.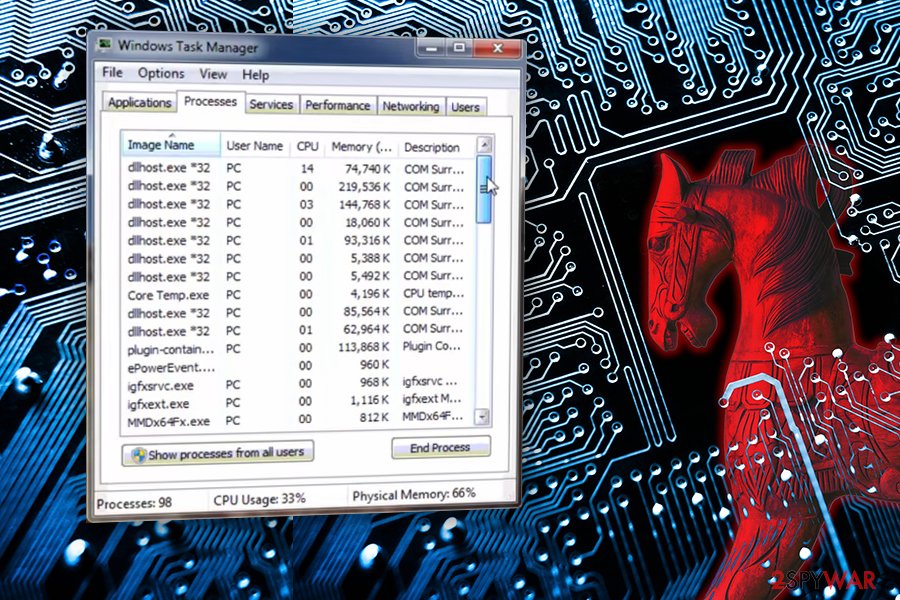 COM surrogate virus is a dangerous Trojan that pretends to be a crucial Windows process.
However, If you got infected with the malware that obfuscates this activity, you should not try to stop it on your own. You may end up removing essential files and cause severe damage to your computer.
For this reason, you have to employ an antivirus or anti-malware software, and let your preferred software to remove COM surrogate virus from the computer.
Trojan version spreads via rogue websites
Developers of the malicious process distribute it via malicious websites that might promote fake updates of regal applications. Thus, users are lured into unconsciously downloading the infected file instead by the delusional look of it. Moreover, you should avoid illegal downloads since crooks often use them to spread the trojan and other high-risk computer infections.
If that is not enough, Lesvirus.fr[6] analysts noticed that some victims got infected via spam e-mail messages sent under the name of DHL or FedEx shipping company. The subject line stated that it failed to deliver a package and submitted an attachment with further details. Once the user opened an attachment, the Trojan infiltrated on the computer and started its malicious activity.
Thus, if you want to stay safe, you should start avoiding illegal websites, ignore suspicious emails[7], never download their possibly infected attachments and also close all misleading ads[8] that may show up on your way while browsing the web.
If an advertisement is offering you to update your Flash Player, FLV Player or similar program, you should close it. If you have any doubts that you need to update these programs, you should visit their official websites. As we have already said, you should never leave this particular virus on your computer. If you have even the smallest doubts about it, please use our tips below and fix your computer.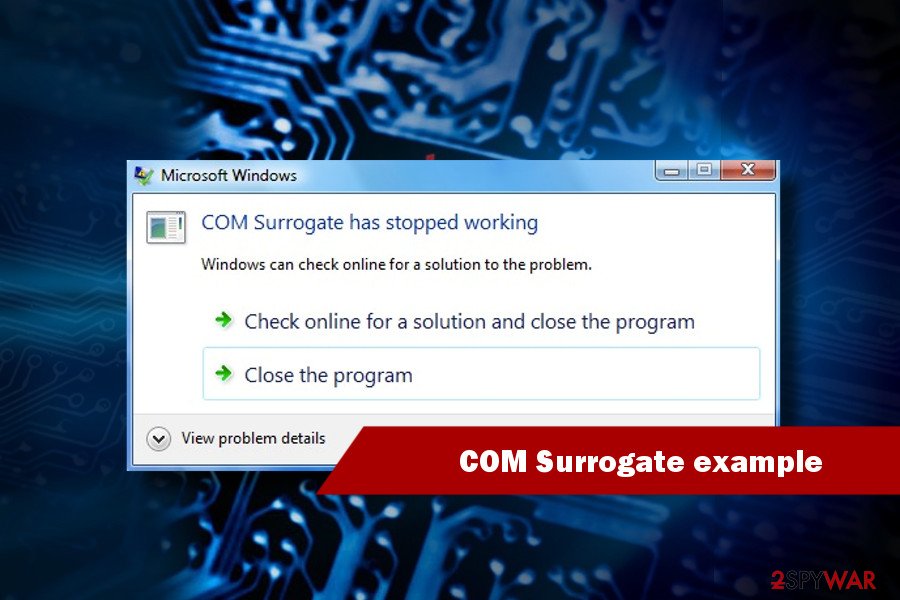 If COM surrogate stops working, the associated program will crash.
Terminate COM surrogate virus by using anti-malware software
You should employ reliable security software to remove COM surrogate virus if you want to protect your confidential data like bank logins, credit card details, passwords, and similar information.
Remember that if you get rid of the original Windows file, you might completely damage your operating system, thus do not try to eliminate it by yourself. That's why manual COM surrogate removal is not advisable.
To avoid making unnecessary mistakes, download a robust anti-malware and run a full system scan with it to remove COM surrogate virus from the system. In case the Trojan blocks anti-virus scanner, follow these steps to fix that:
This entry was posted on 2019-12-04 at 07:54 and is filed under Trojans, Viruses.