Csrss.exe trojan — malicious cyber threat which can steal financial information and personal users' data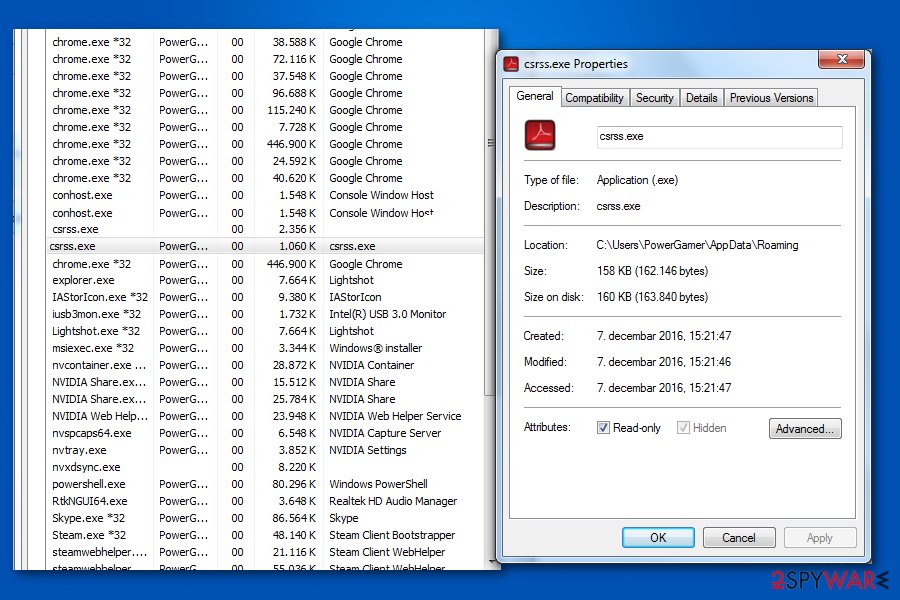 Csrss.exe trojan is a hazardous cyber threat which disguises as a legitimate Microsoft process.
Csrss.exe Trojan is a malicious Trojan horse designed to perform numerous malicious activities on the user's computer. Keep in mind that there is an entirely LEGITIMATE Microsoft process running under the same name – csrss.exe. It is designed to manage graphical instruction sets under Windows OS. Thus, users are advised to check this executable file by scanning the system with reputable security software just to make sure that it is not infected with the trojan horse using the name of a legitimate system process. Otherwise, Csrss.exe Trojan can track your activity on the Internet and take over your financial data.
Name
Csrss.exe trojan
Type
Trojan horse
Danger level
High
Registered as

Trojan.W32.Rontokbro;
Trojan.W32.Sober;
Trojan.W32.VIRKEL

Possible related to
TrustedInstaller
Symptoms
Disrupted PC's performance: constant crashes, some of your programs taking longer to load or failing to open at all
Distribution
Unsafe software, malicious ads and links, spam
Potential dangers
The loss of personal information, banking data, credentials. Can log keystrokes and open backdoors to other infections
Removal
Do not try to uninstall Csrss.exe trojan by yourself. Employ a professional security tool for that
The majority of users are not aware of the dangers that can be caused by Csrss.exe trojan. After infiltrating the system without any approval, it hides in its background and performs numerous activities that are considered extremely malicious. According to PC experts, the infection can put you and your computer's security at risk by performing the following actions:
Mining cryptocurrency by using high amounts of CPU[1] power;
Recording keystrokes and mouse movements to obtain logins and passwords;
Providing remote access to the infected system for hackers and allowing them to install other hazardous software.
Identifying the malicious Csrss.exe Trojan on the system
Experts have warned our users that the legitimate Microsoft file should be located in C:\Windows\System32/ directory. In case you find a process running under the same name but in a different location, run a full system scan with reliable antivirus software to check for malware.
It is evident that if you fail to identify Csrss.exe Trojan virus, there is a substantial possibility that your credentials and other sensitive data might be leaked to malevolent people. Consequently, you may encounter enormous financial losses or even identity theft in the long-run.
Furthermore, you might notice because of the presence of Csrss.exe Trojan that your computer is acting weird and sluggish. The reason for that – malware's capability to exploit computer resources to mine digital currency, including Bitcoin, Monero, ZCash, etc. In other terms, the system can be forced to function at high temperatures for excessive periods of time. This might result in system crashes, increased latency, and freezes.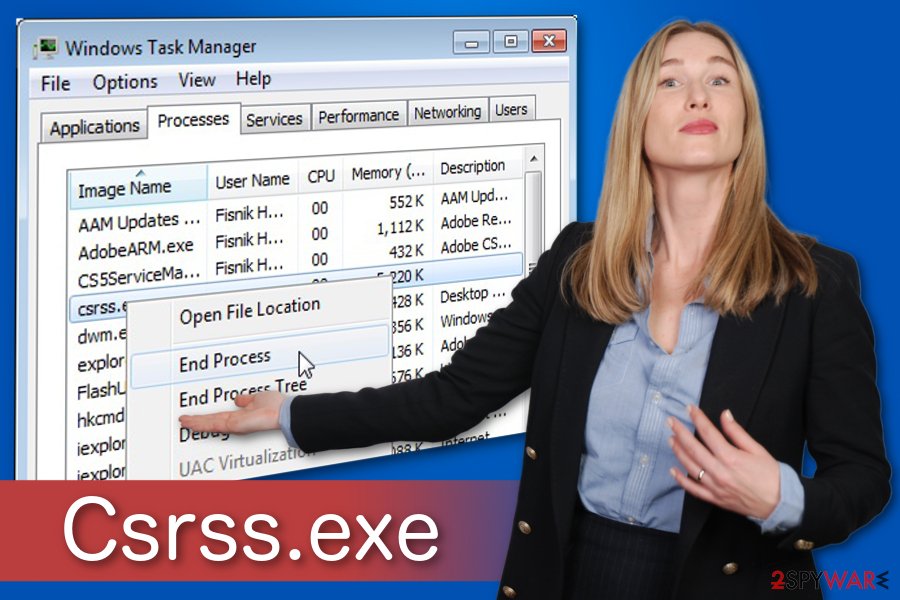 Csrss.exe trojan is programmed to steal sensitive information, mine cryptocurrency and initiate other crimes behind user's back.
Therefore, we strongly advise you to check your computer for this Trojan horse and perform Csrss.exe Trojan removal if necessary. Be aware that this type of malicious program is mainly programmed to hide deep inside the system and place their components all across the OS[2].
Likewise, you should not try to remove Csrss.exe Trojan manually. People who have already tried stopping this process in their Task Manager reported about such error message:[3]
You don't have the permission from TrustedInstaller to make changes in the file.
To prevent such issues while trying to fix the system and protect your personal data, make sure you use automatic removal methods. In this case, we highly recommend using SpyHunter 5Combo Cleaner which can remove the virus from the system for you. Then, eliminate damage caused by malware with the help of Reimage Reimage Cleaner .
Ways to prevent Trojans on the system
The primary way how malicious programs enter your system is unreliable websites that offer to install suspicious software. Usually, it is hard to determine whether the application is legitimate and people install unnecessary programs without close inspection.
Criminals upload Trojan horses disguised as innocent software on peer-to-peer (P2P) file-sharing sites and benefit from novice computer users who fall into their trap. Likewise, it is essential to download and install applications only from authorized websites.
Additionally, some online ads and hyperlinks are designed to execute bogus scripts which automatically install malicious programs. Thus, never click on any commercial content online and always use professional security software for protection against malware.
To delete Csrss.exe Trojan immediately after detection, use special software
If you noticed a suspicious process running on your system, be aware that it might be Csrss.exe Trojan which should be eliminated right away. You can check the location of the executable file to make sure that it is not potentially dangerous — a safe file must be located in C:\Windows\System32/ directory.
Otherwise, you can remove Csrss.exe trojan by scanning your computer with a robust antivirus. It is crucial to pick the best one as Trojan horses have numerous additional components that must be eliminated entirely. This procedure requires professional security tools only.
Our top recommendations for Csrss.exe trojan removal are the following security applications: SpyHunter 5Combo Cleaner, and Malwarebytes. Our experts have collaborated with BedyNet.ru[4] team to pick only the best options for our readers. Additionally, check the system with Reimage Reimage Cleaner to fix corrupted system files. Alternatively, check the instructions below to learn how to prepare your system for virus elimination.
This entry was posted on 2019-12-04 at 08:52 and is filed under Trojans, Viruses.