Mac Tuneup Pro is an alleged Mac system optimizer that is spread via scam messages claiming virus infections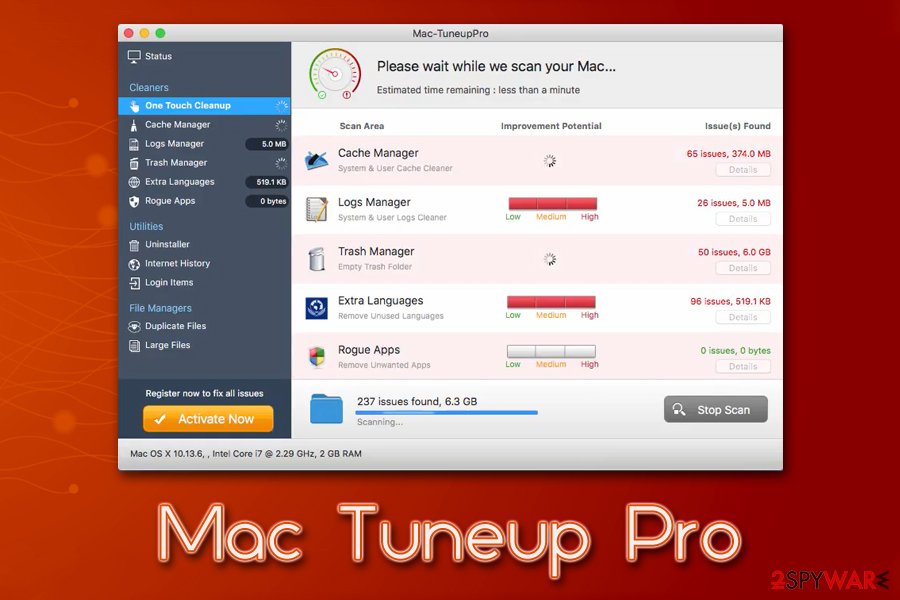 Mac Tuneup Pro is a scareware application that shows false-positives in order to make users purchase its full version to allegedly fix the found issues
Mac Tuneup Pro is yet another Mac optimizer that displays hundreds of fake scan results to fool users and make them buy a full license of this software. Identical to Advanced Mac Cleaner, this scamware-type[1] application is spread via software bundles, as well as scams like "Your system is infected," "We have detected a Trojan virus," and similar bogus statements. Such sites are usually reached due to adware that changes web browser settings, or after clicking on a malicious ad/link. Nevertheless, Mac Tuneup Pro most certainly gets installed after acquiring user permission, as macOS asks users to enter their login credentials after an app from unapproved sources is downloaded onto the system.
Because of the techniques used for the app's distribution, as well as fake scan results, the Mac Tuneup Pro virus is a term that you might encounter online. While it is not quite correct, it is not that far from the truth, as users associate programs that show fake notifications in order to make them spend money on useless applications that are hard to get rid of with malware.
Name
Mac Tuneup Pro
Type
Mac virus, scamware, scareware, potentially unwanted program
Also known as
Mac Tuneup, Mac-TuneupPro
Platform
macOS, Mac OS X
Distribution
Just as most of apps of such type, Mac Tuneup Pro is distributed via scam sites, fake Java/Flash updates, and software bundles
Dangers
Loss of money, installation of other unwanted software, malware infection, etc.
Symptoms
Persistent scans show exaggerated scan results, pop-up messages and notifications from the app show up on a regular basis, Login item Mac-TuneupPro present under Users & Groups section, multiple files related to app present on the system
Termination
Employ anti-malware software that recognizes PUPs (such as SpyHunter 5Combo Cleaner or Malwarebytes) or make use of our manual guide below
System optimization
If you macOS/Mac OS X is slow and you struggle with space, you can use a reputable utility

Reimage

Reimage Cleaner

that can find and terminate useless files safely
As a general rule, Mac Tuneup Pro tries to convince users that the application is useful and can remove viruses, get rid of the clutter, optimize and speed up the machine. However, even if a full version of the app is purchased, it will not impact the speed or performance of your Mac – you might notice clean scan results that state that all the alleged threats have been eliminated. This is just another fraudulent tactic used by developers, as they want to make users believe that Mac Tuneup Pro works as intended.
However, the Mac Tuneup Pro app will not benefit you in any way, and you will simply lose your money – claiming it payments back can be extremely difficult, as contacting the customer support of rogue software is almost impossible. Typically, the provided contact number does not work, replies to emails are vague and provide no solutions. Thus, rather do not purchase the useless software, and hurry to remove Mac Tuneup Pro from your device.
The developers of Mac Tuneup Pro are using pretty much everything to convince users that their computers are in danger by applying social engineering:[2]
Insert installers into scam sites (might also create them) which, upon visiting shows notifications about virus infections
Performs instantaneous scan as soon as software is installed
The returned scan results sow hundreds, if not thousands of "issues"
The results are presented in a way that are intended to scare users – attention banners, alarm-inducing colors (red,orange) and other tricks are used
Fake scan results are not the only trait of this potentially unwanted program/borderline malware. Those do not buy the Mac Tuneup Pro license, but keep the software installed will continually receive notifications and pop-ups about the alleged security holes and other dangers that need to be "fixed." Do not give in, uninstall Mac Tuneup Pro immediately, and, if you need a reliable app to clear junk files and free up space automatically, you can choose one of the reliable options, such as Reimage Reimage Cleaner for Macs.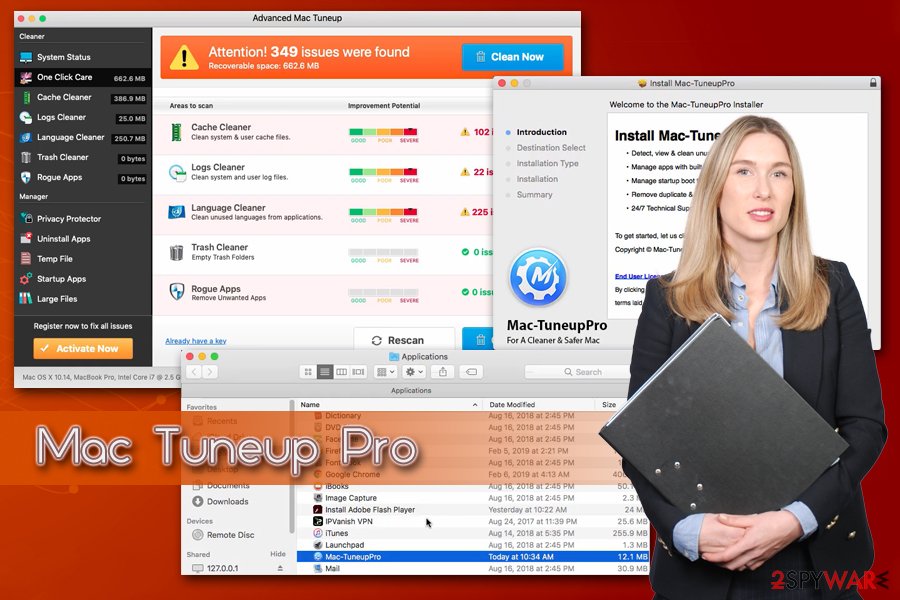 Mac Tuneup Pro is a potentially unwanted program that is usually spread via fake Flash update prompts and fake virus alerts online
By the way, it is also worth noting that Advanced Mac Cleaner, which Mac Tuneup Pro is a copy of, was often used in Mac malware campaigns, namely, OSX/Shlayer. This malicious software is capable of establishing a configuration profile that restricts its termination, disabling Gatekeeper, installing multiple scareware apps automatically, changing web browser settings, etc. Therefore, you should never think twice before executing Mac Tuneup Pro removal – follow the steps below.
To get rid of this unwanted software, moving it to Trash will not be enough, as it adds itself to the Login items section on your Mac, which allows it to run with each system launch. Therefore, to uninstall Mac Tuneup Pro manually, you will have to perform extra steps and get rid of all entries that populate the system. Alternatively, you can use anti-malware software that would detect and uninstall the PUP automatically.
Note: there are plenty of legitimate macOS optimizers that can help you get rid of useless files to safe space and increase the speed. Our top pick is Reimage Reimage Cleaner – we suggest you try it if you have issues with your system.
Online scams and fake updates – main propagation methods of bogus macOS optimizers
The reason why scareware is considered to be potentially unwanted software rather than malware is because of its infiltration methods. Hackers that distribute malware typically apply methods that are more technical and, in some cases, the malicious app can be infiltrated without users doing anything (for example, by exploiting software vulnerabilities, threat actors and trigger the infection process automatically as soon as the victim enters a specially crafted website, e.g., torrent site). Instead, scareware is usually installed by users themselves as administrator permission needs to be given for an unsolicited app to be installed on a Mac.
Nevertheless, users are typically tricked into installing such apps, either by being promised of its great functionality or tricked via scam sites. In most cases, fake Flash updates or the fake virus infection methods are used – both based on deception. For example, users might stumble upon a site that will show a notification about an allegedly outdated Flash Player[3], and, in order to view the site contents, users allegedly need to update it. However, what they download is not an update for Flash (although there are known cases that malware actually includes the Flash player update component, but also installs malicious payload in the background)[4] but rather a malicious app.
In other cases, users might be redirected to a scam site by adware that sneaked into their machines or by accidentally visiting a specially-crafted site. One of the best examples is the fake e.tre456_worm_osx virus:
Immediate action required!
We have detected a trojan virus (e.tre456_worm_osx) on your Mac.

Press OK to begin the repair process.
Never trust such notifications, as there is virtually no way to examine your Mac via the browser, and all these claims that your Mac is infected are blatant lies. If you have any doubt, scan your machine with reliable anti-malware and never download software that these fraudulent sites suggest.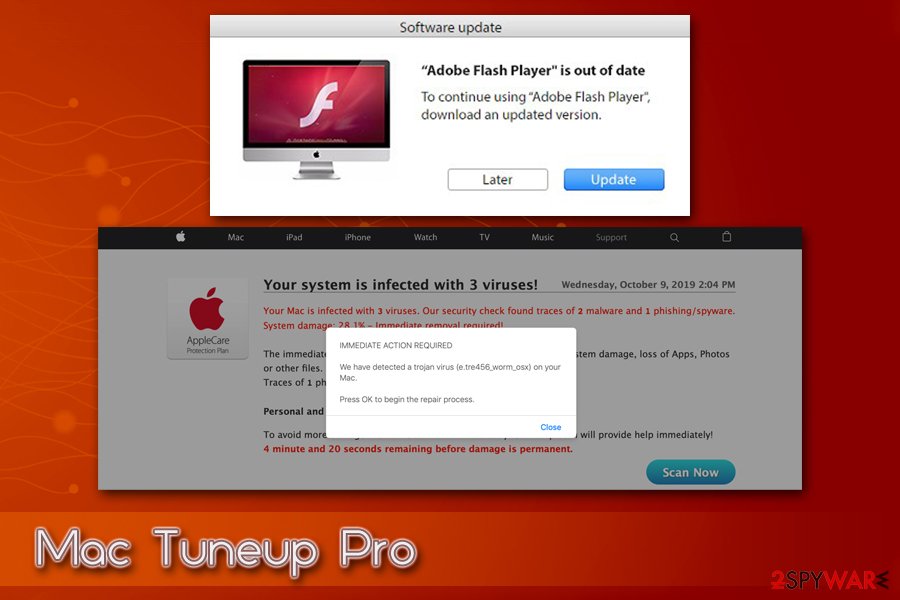 Users might stumble upon malicious sites that promote Mac Tuneup Pro accidentally or if their computers are infected with adware
Get rid of Mac Tuneup Pro manually or automatically
If you are not an experienced computer user, we suggest you remove Mac Tuneup Pro automatically by employing a reliable anti-malware software for macOS. By scanning your machine, you will also make sure that there is no adware present that leads you to the scam site. Once complete, you will be asked to restart your computer to finish the termination – do so. However, there is also a way to get rid of the Mac Tuneup Pro virus manually.
Mac Tuneup Pro removal consists of more steps than just moving the application to Trash. As mentioned above, the app creates an entry under Login Items, which prevents its termination. To get rid of it, follow these steps:
Go to System Preferences > Users & Groups
Select your account (Current User) on the left
Click on Mac Tuneup Pro and hit the "–" button at the bottom
Finally, you should also check for entries in the following folders:
/Library/LaunchAgents
/Library/Application Support
/Library/LaunchDaemons
You may remove virus damage with a help of Reimage Reimage Cleaner . SpyHunter 5Combo Cleaner and Malwarebytes are recommended to detect potentially unwanted programs and viruses with all their files and registry entries that are related to them.
This entry was posted on 2020-01-16 at 05:38 and is filed under Mac Viruses, Viruses.