Utilitool – a browser hijacker that redirects to Yahoo while trying to enter its feed.utilitooltech.com fake search provider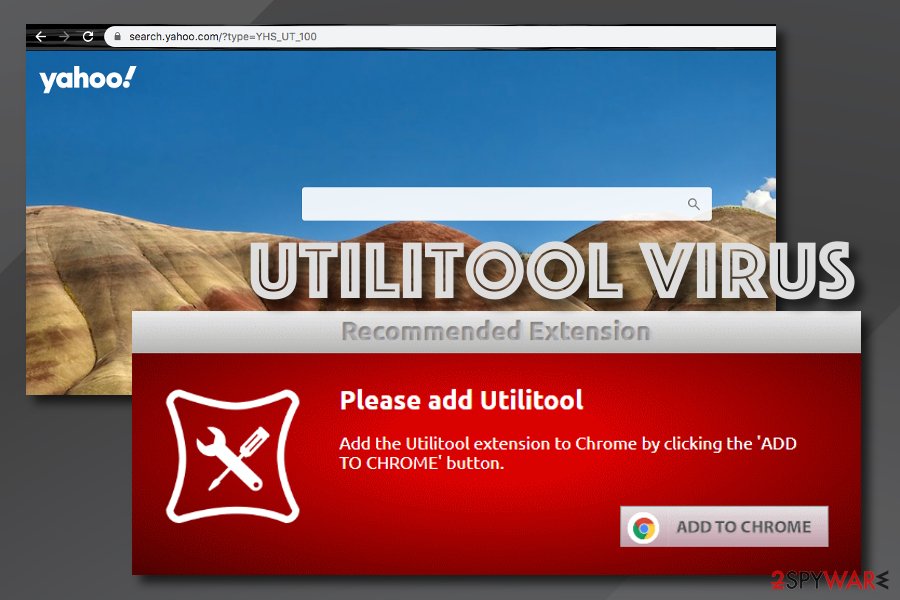 Utilitool – a PUP that can be downloaded from the Google Chrome Web Store but mostly travels via software bundling
Utilitool is described as a browser-hijacking product that provides search requests from Yahoo.com.[1] The PUP aims to modify web browser settings such as the default search provider, homepage, and new tab URL. Continuously, you can install Utilitool Chrome extension on the official Google Chrome Web Store. Even though this product can be downloaded legitimately and includes a nice description, it cannot be trusted as it might also come through a software bundle. Even though the browser hijacker[2] is advertised as a handy tool for entering news sources, typing search queries, and receiving other information, Utilitool virus is a useless product as it just takes you to a legitimate search engine while entering feed.utilitooltech.com. So, you can just use the Yahoo search engine instead of downloading this program and getting your web browser hijacked, experiencing intrusive advertising and redirecting sessions.
Name
Utilitool
Type
Browser hijacker
Category
Potentially unwanted program
Search engine
The browser hijacker uses the feed.utilitooltech.com search engine for hijacking the web browser which drops the user directly to yahoo.com
Downloading
You can download and install the suspicious extension from the Google Chrome Web Store or you can get it unexpectedly bundled with freeware and shareware
Target(s)
This potentially unwanted program is mostly found on Google Chrome but can also target other browser apps such as Internet Explorer, Mozilla Firefox, Microsoft Edge, and Safari
Elimination
You can terminate the browser hijacker with the help of manual step-y-step guidelines or by purchasing trustworthy antimalware software
Fix tip
If your system has experienced any alterings during the activity period of the browser hijacker, try reversing the changes with the help of

Reimage

Reimage Cleaner
Multiple unwanted activities can be promoted by Utilitool. First of all, you will experience browser changes in its settings where you will receive the bogus extension that will be responsible for all the further tasks. Afterward, your browser might start struggling to deal with an excessive amount of advertisements.
Utilitool might provide you with irrelevant deals while you are browsing online and encourage you to purchase useless computer security products and services. As a result, you will spend your money on a useless product that you will regret later on. So, do not waste your money and deny all the offers that come from this third-party app.
Furthermore, advertising that comes from Utilitool might decrease your browsing quality as your sessions are likely to experience decreased speed and quality of browsing sessions. This happens because the browser hijacker starts eating up your computer's resources such as the power and energy of your CPU[3] and GPU.
In addition, Utilitool might force redirects to affiliate domains where you might meet additional offers or be spammed with more advertising content. However, sometimes, you might be taken to a location that is filled with malware. This way a dangerous parasite might end up on your computer system and cause severe damage.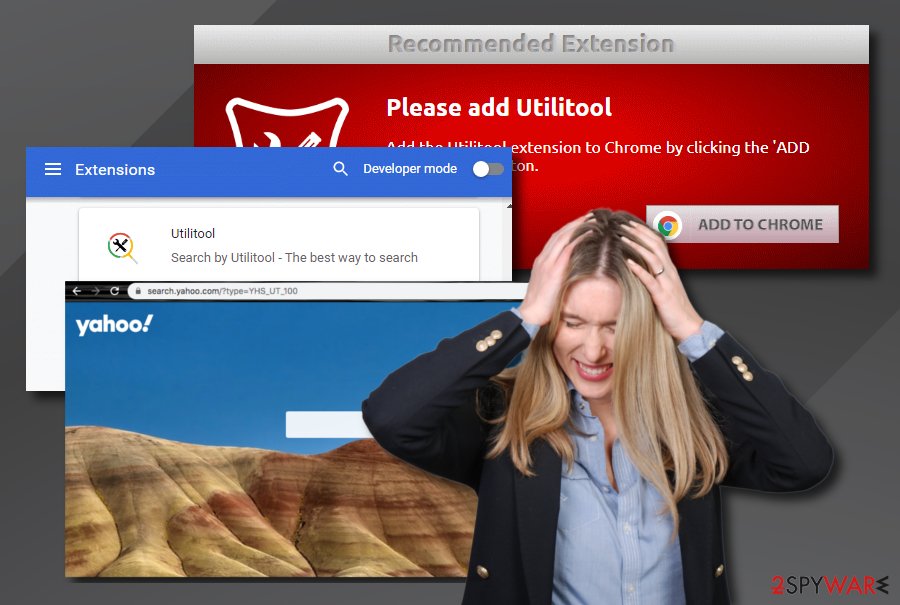 Utilitool is a browser-hijacking object that installs rogue extensions into the hijacked web browsers
Continuously, Utilitool could be able to collect non-personal information that is related to your web browser and online sessions. Such data often refers to recently visited websites, hyperlinks and adverts clicked, bookmarks saved, offers and deals searched, your web browser type, IP address, and geographic location.
Utilitool might collect such type of information to share it with other parties and receive income. However, this data can also be recorded due to the goal to get you involved in targeted advertising campaigns. Afterward, the developers can provide adverts that claim to suit your needs even if they are truly misleading.
To add, Utilitool might not come to the computer system allow. This browser hijacker can bring others of its kind or other potentially unwanted programs such as adware. This way your computer system will be overloaded by potentially unexpected cyber threats and your browser will experience a higher load of intrusive activities.
Spotting Utilitool randomly on your computer system signifies that your computer system is not protected at a good level or you have made mistakes somewhere in a software downloading process, etc. If you cannot recall installing this extension on your own, you should make sure that you secure your computer system with antimalware software properly.
However, first of all, you should remove Utilitool so it would not bother you anymore. This third-party app can be easily erased with automatical removal utilities, just pick a trustworthy program for the process. Also, if you have discovered any system alterings, you can try recovering the touched areas with the help of software such as Reimage Reimage Cleaner .
Utilitool removal can also be performed with the help of manual guiding steps. Remember, that you will be responsible for cleaning both your operating system and web browsers such as Google Chrome, Mozilla Firefox, Internet Explorer, Microsoft Edge, or Safari from suspicious objects that were added by the adware program.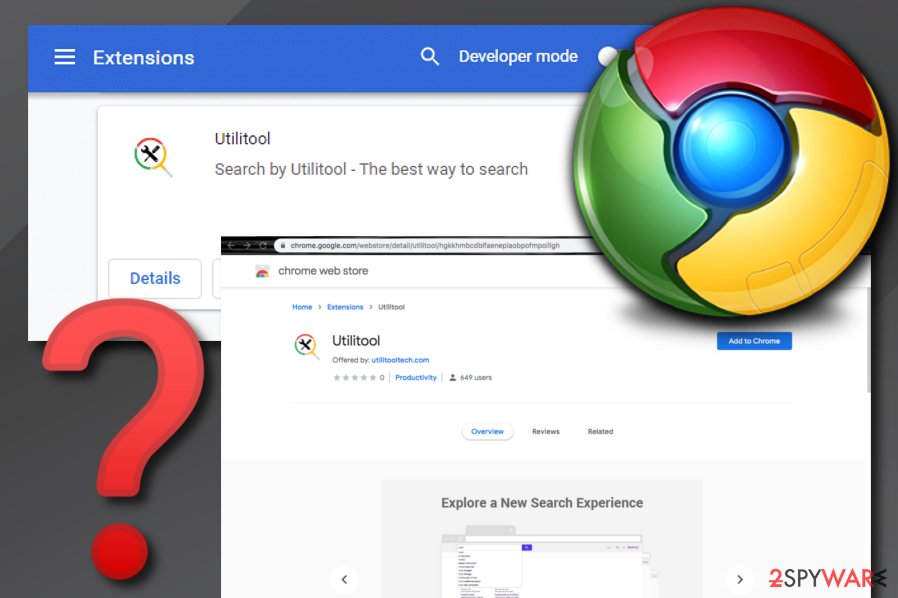 Browser hijackers get delivered in software bundles
Even though some potentially unwanted programs can infiltrate computer systems through official downloads on the Google Chrome Web Store, this is not the main way how the PUPs appear on a particular machine. According to Virusai.lt specialists,[4] browser hijackers are usually bundled with freeware and shareware.
This happens when the user is completing a download himself and misses some crucial downloading steps. Continuously, those who have set their installing configuration to "Recommend" have a much higher chance of receiving a potentially unwanted program than those who have already opted for the "Advanced" settings.
Furthermore, browser hijackers and potentially unwanted content can get delivered with PDF converters and download managers that users download from secondary websites such as download.com, cnet.com, softonic.com, and soft32.com. A piece of advice would be to get all of your products and services from reliable sources only.
In addition, some PUPs can come camouflaged as fake flash player updates or be injected into advertisements and hyperlinks. While you are browsing the Internet sphere, you have to be aware of questionable content that runs your way. Also, pay attention to the warnings that your antivirus program throws you.
Removal instructions for Utilitool extension
If you have been dealing with the browser hijacker lately and your web browsers have experienced unwanted changes, it is time for you to remove Utilitool permanently from your computer system and browser apps.
Utilitool removal can be performed with the help of automatical software that is capable of detecting the PUP and eliminating all the additional products that were brought by the help of the browser hijacker.
Also, you can uninstall Utilitool virus with the help of manual step-by-step instructions that have been added to the end of this writing. There you will learn how to get rid of unwanted apps from your OS and clean your web browsers such as Google Chrome, Mozilla Firefox, Internet Explorer, Microsoft Edge, and Safari from bogus extensions.
You may remove virus damage with a help of Reimage Reimage Cleaner . SpyHunter 5Combo Cleaner and Malwarebytes are recommended to detect potentially unwanted programs and viruses with all their files and registry entries that are related to them.