CStealer virus – a trojan that aims to steal passwords that have been kept in the victim's Google Chrome browser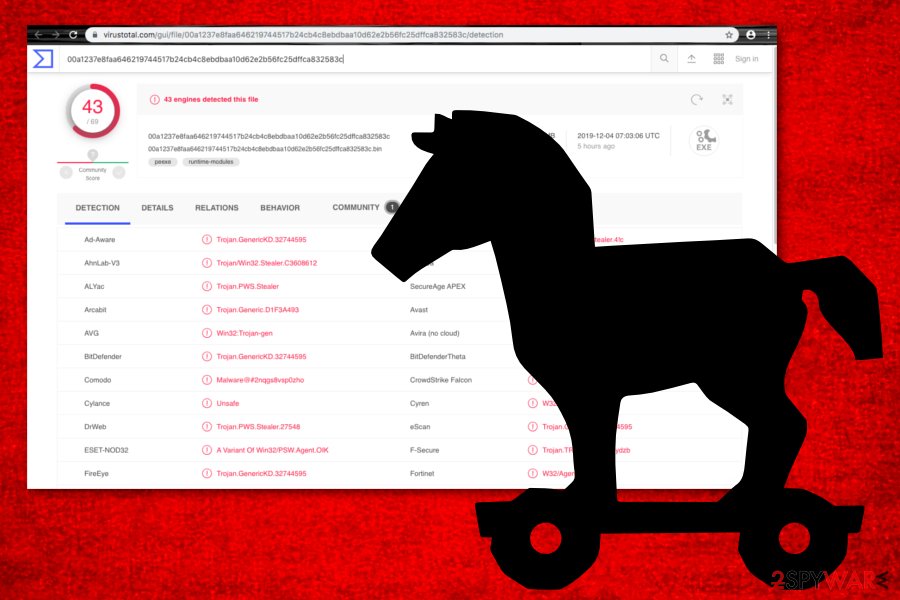 CStealer virus is a trojan that steals passwords from Google Chrome and delivers them to the MongoDB database. Thoroughly investigated by a malware researcher known as James,[1] the Trojan virus uses the MongoDB C driver to deliver the collected passwords to the MongoDB database where account credentials are included. This provides the opportunity for other remote hackers to investigate the malware and the credentials that might lead to the exposure of data that is stored in the MongoDB database. We can only think of what the criminals might do next. CStealer might be used for exposing personal information, stealing big amounts of money directly from victims' banking accounts, or infiltrating other parasites.
Name
CStealer
Type
Trojan virus/malware
Purpose
This dangerous infection aims to record passwords stored in the Google Chrome web browser and transfer them to the MongoDB database
Risks
The malware might steal your personal data, swindle your money by emptying your bank account, deliver malware to your friends by logging into your accounts, install other virtual parasites
Signs
It might be hard to recognize a trojan at first, however, there are some symptoms that might give you a clue – increased CPU usage, struggling computer, freezing programs and windows, bogus processes and entries in your machine, etc.
Spreading
Malware often gets delivered through peer-to-peer sources, cracked software, phishing email messages and their malicious attachments
Elimination
You should employ reliable antimalware software to safely remove the virus
Repair tip
If the Trojan virus has compromised some system files, try repairing them by employing

Reimage

Reimage Cleaner
CStealer trojan has been discovered by 43 AV engines out of the total 69, according to the latest information by VirusTotal.[2] Popular AV engines such as BitDefender, Malwarebytes, AVG, Kaspersky, and others detect this malware string during the computer checkup process.
However, finding CStealer with the help of antivirus software is much easier than recognizing the infection by yourself. Usually, trojans do not show any signs at first that would be identified as malicious symptoms. However, if you spot some of the following signs, be quick to perform a malware scan as a virtual parasite might be compromising your PC:
An immediate increase of the CPU power;
Unnoticeable processes running in the Task Manager;
Very similar two processes running in the Task Manager;
Bogus Registry entries that you do not recall installing;
Slow computer work, freezing windows, and software.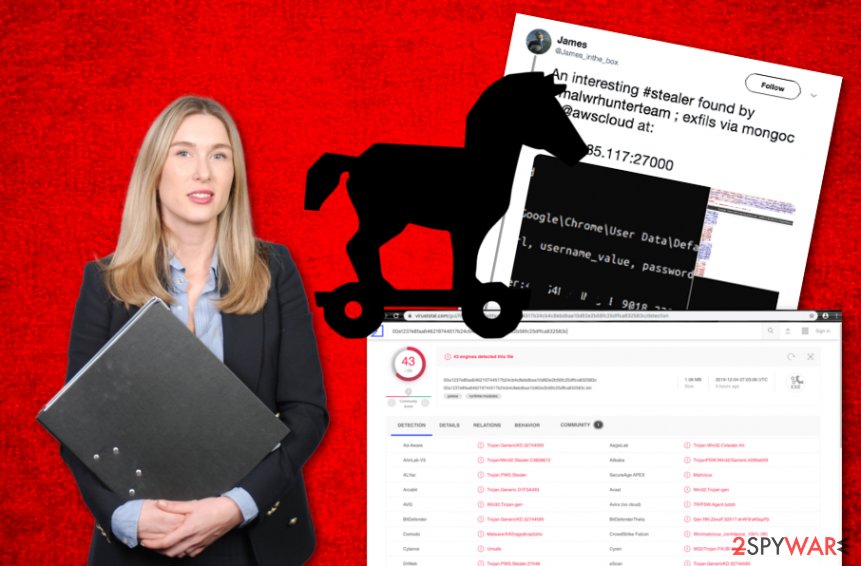 CStealer virus is a trojan that records passwords stored in Chrome and delivers them to a MongoBC database
If you see at least one or two of these signs, do not hesitate and run a malware scan with a reliable tool as you might need to perform the CStealer virus removal even if you do not think so. These programs tend to act very discreetly while hiding their true purposes and operating in the background of the user's activities.
As we have already mentioned, CStealer steals passwords that have been stored in Google Chrome and this can be very dangerous. The criminals might be able to access some of your online accounts and misuse the information that is located there. For example, these people might log into your Facebook account and start delivering malware to your friends.
Continuously, if CStealer finds any banking or credit card information, it might not take long for the hackers to empty your bank account. This way you might experience huge monetary losses (with no return) or see that you have purchased various products and services that you do not remember ordering.
You should not play with dangerous malware or postpone the removal process as it might completely ruin your computer system, software, finances, your friends' computers, etc. Use strong software to remove CStealer virus from your machine. For fixing damaged system objects, you can try using a program such as Reimage Reimage Cleaner .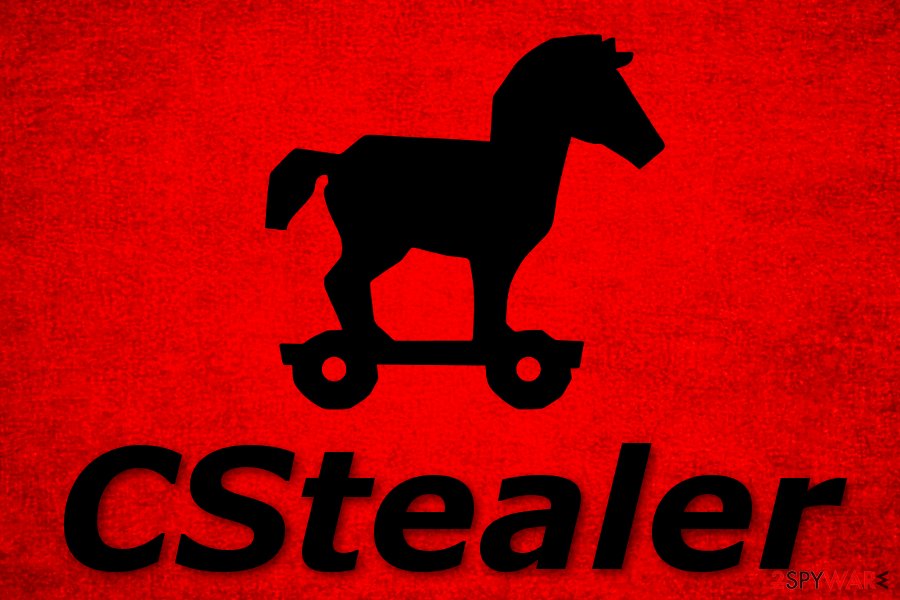 CStealer virus is a trojan that can relate in the increased CPU power, freezing programs, bogus Task Manager processes, etc.
The most popular malware distribution techniques and how to avoid virtual parasites
Security experts from Virusai.lt[3] state that trojans and other malware are commonly distributed via p2p websites such as The Pirate Bay, eMule, and BitTorrent. The parasite comes in a software crack and aims to place itself on computer systems that have a weak security level.
This is one of the main reasons why installing strong antivirus protection on your machine is necessary. These tools will regularly scan your computer system, search for cyber threats, and alert if anything bad has been discovered.
Continuously, Trojan viruses can be spread via phishing email messages that claim to arrive from reputable companies and organizations. The crooks often pretend to be from FedEx/DHL and attach an executable, word document, or PDF file to the email message where the malicious payload lies.
A tip would be to always investigate your received email carefully. Check the sender and the content of the message. If you get any concerns, delete the letter right away. Also, never open a questionable attachment that you were not expecting to receive without scanning it with antimalware software.
It is better to remove CStealer virus only automatically
We do not recommend performing CStealer virus removal on your own as you risk making mistakes or skipping some infected components. Employ software such as SpyHunter 5Combo Cleaner and Malwarebytes to find out all malicious strings in your Windows system. Afterward, you can try repairing the system with Reimage Reimage Cleaner .
It might not be that easy to permanently remove CStealer virus when it is running malicious processes on your computer system that have been provoking the program to run repeatedly or evade antivirus detection. To dimish all malicious activities, you should boot your machine in Safe Mode with Networking or enable System Restore. If you do not know how to do that, you can check the following guidelines that are provided by our security specialists.
This entry was posted on 2019-12-04 at 07:37 and is filed under Malware, Trojans, Viruses.