Apple virus is the type of malware that is illegally using the name of the tech giant Apple in fake alerts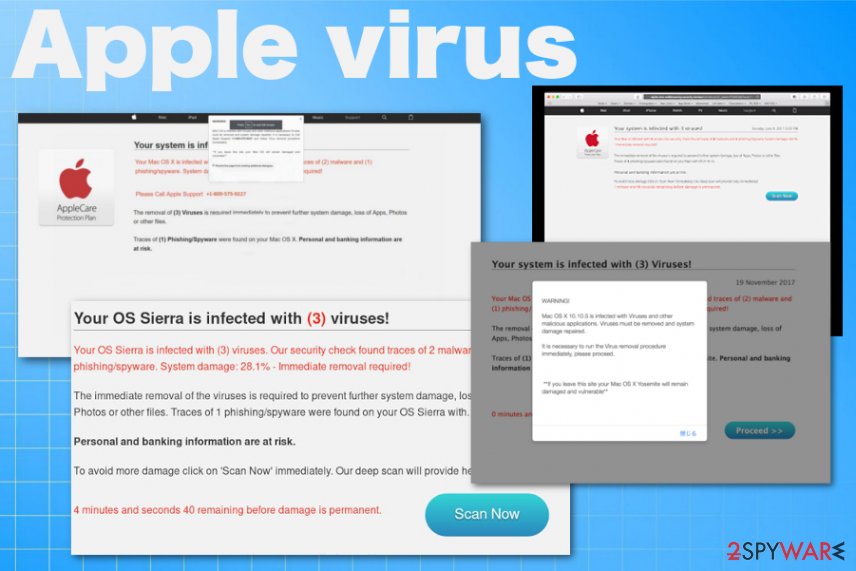 Apple virus is the term that includes various technical support scams, adware-type threats, and malware designed to infiltrate only Mac devices. Various support scams and phishing campaigns[1] target such machines to get valuable information or even money directly from the victim.[2] Mac malware became a real cybersecurity issue in recent years, although people still believe that Apple machines are safe from viruses and cyber intruders in general. This misconception leads to malware attacks or scam campaigns during which your personal information, data, or even money is at risk.
Apple virus is the type of cyber infections that, in most cases, pose as messages from Apple or another legitimate software provider, company. Notifications often even show malware detection or warnings about possible attackers and damage. All of those claims are false, and scammers are the ones that can damage your machine or infect the system with malware.
Name
Apple virus
Type
Malware
Symptoms
Fake messages with warnings, system alerts, false malware detections
Distribution
Deceptive techniques like bundling, other programs, spam email campaigns
Versions

Technical supports scams;
Email scams;
Adware-based scams.

Main tactics
Scare people into calling the provided number or installing suspicious software
Eliminations
Reliable anti-malware tools and full system scan can help remove Apple virus
Apple virus can be set to generate many functions and affect different parts of the targeted device. The primary goal and tactics depend on the scammer behind the threat. However, social engineering is the primary technique that all these attacks are based on.[3]
You can tell that your device has an Apple virus or any other malware when:
the device starts behaving erratically and crashes or freezes unexpectedly;
the machine starts running slow;
advertisements, banners, and redirects fill up the screen;
applications, tool, or browser content, appears out of nowhere.
Unfortunately, people believe that Apple virus is not the real threat and keep on browsing on various questionable websites where malicious material can be spread. This is the main technique used to deliver various cyber threats, especially the ones that involve scamming people with fake system alerts and messages about malware. This is the reason these notification appear out of nowhere.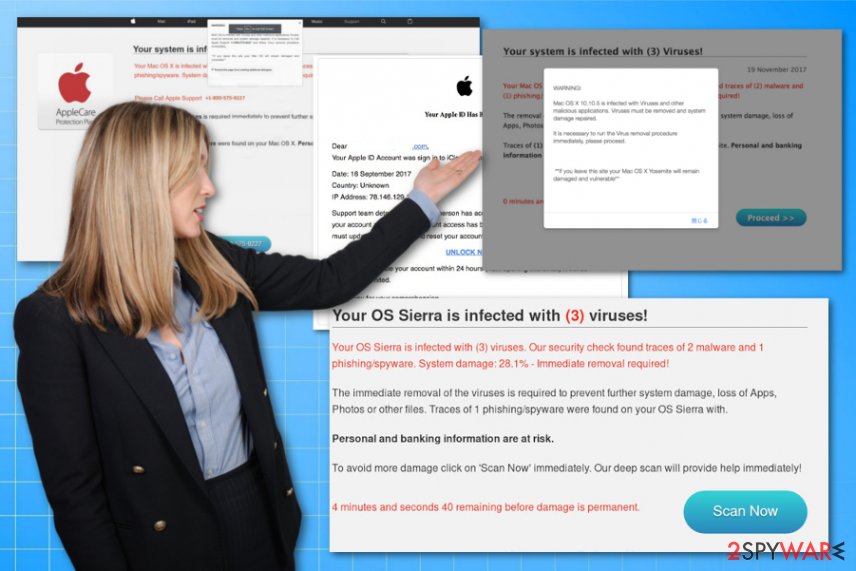 Apple virus is the type of malware focusing on Apple devices including iPhones and computers.
The main target of Apple virus – unaware PC users
Apple virus affects computers, iPads, iPhones, and other devices that run the Mac operating systems. People can fall for the scam when the message resembling official providers appear on the browser, especially when the screen is locked and the only notification is the one stating about malware or system damage issues. In this case, they are urged to dial the given number to contact Apple support.
When the alert stating about issues related to the machine or possible risks appears to you out of nowhere, there is no surprise that you can be tricked into dialing the number in the alert. However, be aware that Apple is not the company that shows messages like this with phone numbers or direct promotional content and remove Apple virus from the computer. You will be connected to fraudsters seeking to trick you into:
paying for useless services
downloading fake software
revealing your personal information
Unfortunately, Apple virus removal requires more than leaving the window because such messages are the result of infection running on your device already. In most cases, the message appears once, and you can exit the browser to end the process. However, clicking on any part of the lock screen and pop-ups can lead to rogue tool installations or continuous messages with fake warnings.
Don't interact with these fake messages and make sure you remove Apple virus from the system. We highly recommend running a full system scan with your anti-virus software (Reimage Reimage Cleaner or similar) to be sure that the virus is completely gone.
Staying safe requires ignoring Apple scams caused by adware
Adware is another problem that has been plaguing Apple systems for a while now and remains one of the most eminent threats in the wild. While the infection methods can vary, most users usually install adware unintentionally when establishing shareware or freeware. Another (a relatively large) portion of Apple virus category comes from intentional installation – that often happens when users are unaware that the suggested application is actually adware and will start serving intrusive ads after the installation.
While adware is mostly considered to be a nuisance rather than a real threat, adware, just one type of Apple virus, has been documented much more by security researchers recently. It is true that most adware is quite harmless (although annoying), but some of the ad-supported software crosses the link and heavily modifies the system to perform its ad-serving activities.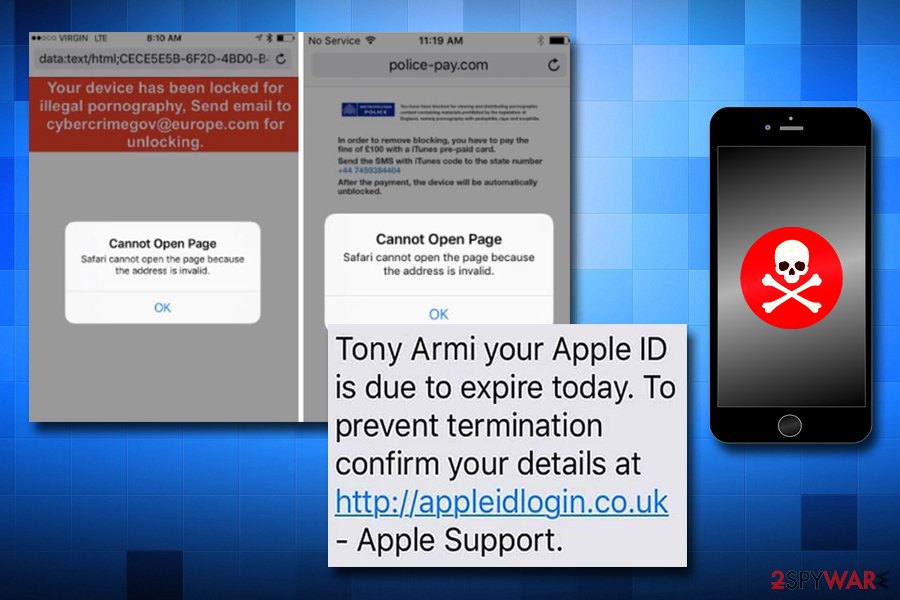 All Apple device users can face a scam, and iPhone users are no exception.
The main danger in adware is that users are often linked to phishing or scam sites that prompt download of fake optimization software or attempt to convince users that they need to call a tech support number in order to "fix the malware infection," which could result in hundreds of dollars in losses.
Therefore, you should not underestimate Apple virus infections – take care of your computer, and it will save you a lot of stress in the future.
Main types of Apple virus
Your Mac is infected with 3 viruses
Your Mac is infected with 3 viruses is one of the most notorious Apple virus scams out there. Users typically land on the phishing site either accidentally (they get redirected from a malicious site) or if their devices are infected with an adware. While most of the ad-supported programs are installed via software bundles, be aware they might also be found on official sources, so make sure you check some reviews online before installing anything.
Your Mac is infected with 3 viruses scam claims that the Apple computer is compromised and that the personal information like banking details are at risk of exposure. This is a clever trick used by Apple virus creators to scare inexperienced computer users, as they do not understand that malware detection can be only performed by dedicated anti-virus scanners.
If users perform a fake scan, they will be prompted to install bogus software, such as system optimizers like Advanced Mac Cleaner, Driver Tonic or Mac Auto Fixer. In other cases, victims might be asked to call a fake tech support number in order to scam them and pay for the bogus services.
Recently, multiple domains names were created in order to push Mac is infected with 3 viruses scam, which include:
There is no doubt that all these sites are fraudulent, and always claim virus infections (such as e.tre456_ worm_osx, which is fake), as well as the fact that personal information is in danger. The fake site does not only uses Apple's name but also includes the logo, system version, date, and similar information to deceive the victims and make them believe that these fake warnings are coming from a legitimate company.
However, cybercriminals behind these sites and the scam have nothing to do with the tech giant Apple. Do not be surprised if you encounter Your Mac is infected with 3 viruses messages on other sites as well, however.
In order to stop Your Mac is infected with 3 viruses redirects, you need to terminate Apple virus that is related to the adware from the computer – either scan your device with anti-malware software to get rid of PUPs automatically or delete all the entries manually. Additionally, if you want to make sure your Apple device is running well and all the virus damage is fixed, use Reimage Reimage Cleaner .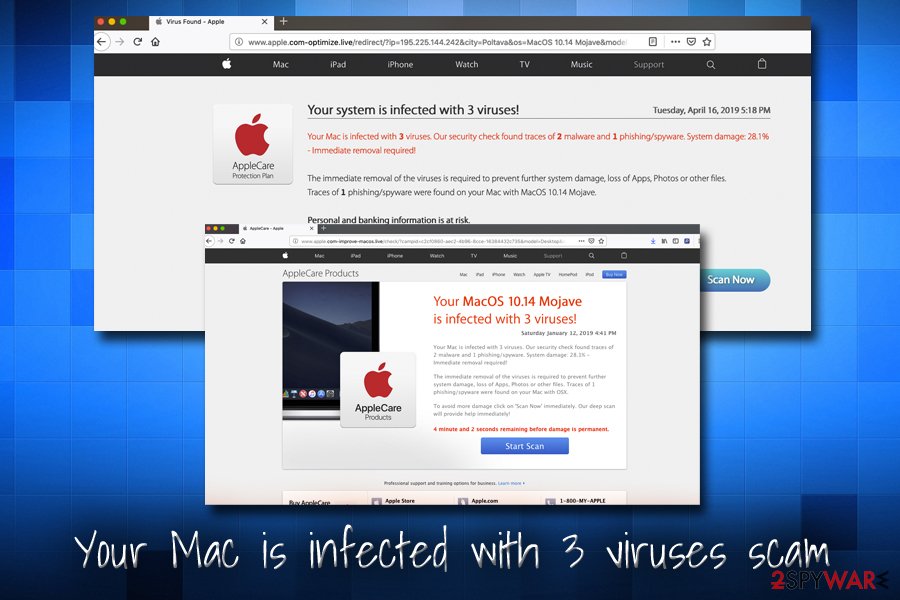 Your Mac is infected with 3 viruses scam is possible one of the most notorious scams around. Most recently cybercriminals started to use specific domain names to promote the scam campaigns.
Warning Virus Detected
Apple Warning Virus Detected is an Apple virus variant that is especially prevalent in iOS devices like iPhone or iPad, although desktop users also have seen plenty of similar examples. The pop-up message shows up on Google Chrome, Safari, Mozilla Firefox, Opera, or another browser at any time during the web browsing activities and shows various fake notifications in order to make users call a fake tech support number.
There are many different versions of "Apple Warning Virus Detected" scam in the wild – here is one of the pop-up messages users might encounter:
System Warning!

Apple iPhone is infected with virus and immediate action is required.

Continue and follow the instructions to fix your Apple iPhone. Do not close this window.

**Exit at your own risk**
Other fake messages claim that porn virus has been found or the system has crashed and needs immediate remediation. As usual, all these messages are fake, and you should not pay to any of them, and hurry up and delete the adware infection from your Apple device.
Virus alert from Apple
Virus alert from Apple is another scam that tries to impersonate Apple's technical support by displaying fake messages to users. Before trusting such claims, users should realize that browsers cannot perform any type of system scan, and only dedicated security software can troubleshoot issues and detect malware on the device. Therefore, if you saw any kind of claims that your Apple is infected and you need to take immediate action – it is a scam and should be ignored.
Virus alert from Apple might claim that there are several viruses detected on your Mac or iPhone, and also include the IP address, system version, and other details. Unlike virus infections, such information can be scanned simply because your device is connected to the internet – that does not mean that the claims are legitimate.
Just like other scams, Virus alert from Apple is fake, and if the pop-ups are persistent, Apple virus on the system must be found and eliminated.
Apple wants to make changes
Apple wants to make changes is a fake pop-up message that might pop-up at any time during the computer operation. Unfortunately, the pop-up window looks identical to the original macOS system prompts, so this time, users might believe that the pop-up is legitimate and comes from Apple.
In reality, it is just another trick used by Apple virus. It uses legitimately looking pop-up window that asks people to enter their login credentials. While most tech support scams try to make users install suspicious applications like fake optimization tools, this social engineering trick might disclose login details that can later be used to access Mac computer remotely.
In such a case, cybercriminals might access the system and install such threats as keyloggers or info-stealers. These Apple virus infections can result in money loss or even identity theft. Therefore, never enter your credentials into fake pop-ups like Apple wants to make changes, and use adware removal tools to stop these unwanted messages.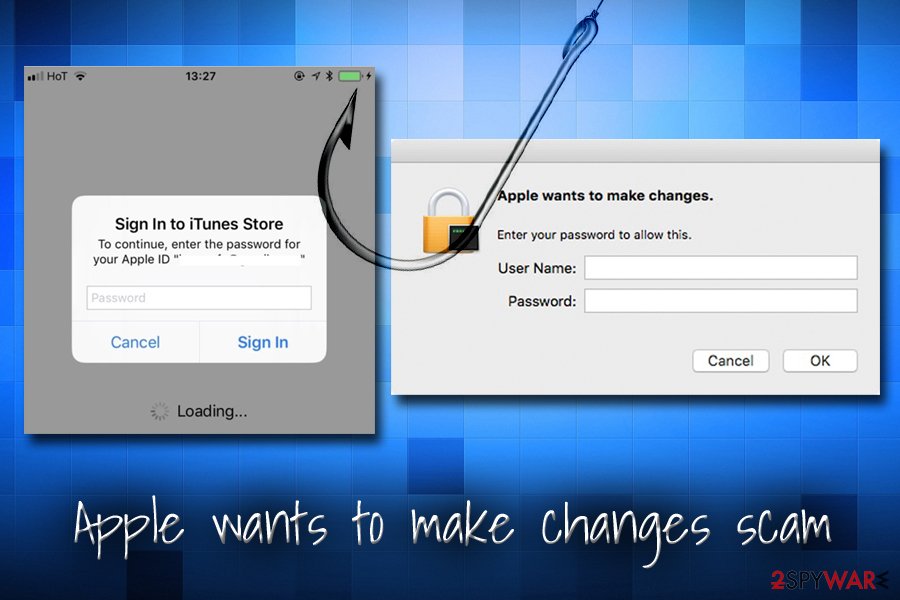 Apple wants to make changes is a clever scam that displays pop-up messages that look virtually identical to legitimate ones and make users enter their valuable credentials.
AppleCare And Warranty
AppleCare And Warranty is an Apple virus that can be encountered on Safari, Google Chrome, or other browsers. While it has many similarities with other scams that target Mac users, this fake website tries to imitate the original Apple design, mimicking its official website. Crooks simply are trying to make users associate the scam with AppleCare program – extended Warranty for Apple products.
However, this is AppleCare And Warranty is a scam. It implies that the system is infected with a virus, although the text is not very believable – most likely written by a non-English speaking person. This type of Apple virus states the following:
AppleCare and warranty Internet Security Damaged !!! Call Help Desk at 1-888-621-0834
Suspicious activation detected on, your IP address due to harmful virus installed in your computer. This virus can also damage the firewall security which can result in data loss or hard drive crash. Call immediately on the number provided, to rectify the issue.
We have disabled your computer to stop further damages to your computer. Do not restart your computer or shutdown. It may result in data loss. Please call us immediately to fix your security and to update the service agents of your computer software.
Do not call the provided number, as cybercriminals might convince you to pay the fees for the face services, or ask you to provide remote access to the machine and install spyware to steal your banking or other sensitive details.
Apple Security Breach
Apple Security Breach is an Apple scam message that pop-ups on malicious websites. This technical support scam tries to make users believe that the security of the device was broken and pictures and other data is being transferred to unknown sources. The fake Apple support number provided is 1-800-711-9001, although it might differ.
Additionally, users are also urged by Apple virus to install the alleged protection software:
Call 1-800-711-9001 immediately to connect with Apple Technical Support for installing the Protection Software.
This is another attempt to mimic the industry giant Apple tech support. However, be aware that the official messages would never prompt you to call anyone. If you need to contact Apple tech support, there are several ways of doing so via the official web site. Thus, the URL address is often a quick giveaway when it comes to scam messages like Apple Security Breach.
Apple Security Alert
Apple Security Alert is the scam that shows warnings on Apple devices including iPhones and aims to scare people with various error messages, including error codes or specific names of malware. The Apple virus notification provides contact information and suggestions to write or call the technical support team for instructions on fixing the issue. Unfortunately, third-party program installations may lead to malware infections or even hacker attacks on your machine.
All these campaigns often end up in lost information, stolen credentials, or even money from your account. This happens when the victims get tricked into paying for the alleged help, and all those online banking details get captured by keystroke loggers or other malware.[4]
Apple Rewards Event
Apple Rewards Event is another hoax developed by cybercriminals in order to get valuable personal information out of unexpecting users. However, this is not a technical support scam but rather a survey scam – these fake alerts used by Apple virus usually target a particular group of people (Apple product users, in this case) and claim that they are eligible to an expensive gift, such as iPhone, iPad or a large sum of money.
Allegedly, all users need to do is answer simple questions in a short survey. Those who get tempted by gifts and proceed with answering the questions (the scam is programmed to work no matter if the answers are correct) eventually land on a page which asks for personal information, such as credit card details. In other cases, users are subscribed to a useless service and charged every month.
Thus, never trust Apple Rewards Event scam – there are no free prizes around this type of Apple virus.
Apple Security Damaged
Apple Security Damaged is the scam that gets triggered and fake alerts stating that your machine can get damaged appears. Technical support scams like this one aim to make these alerts appear more realistic and this goal gets achieved when they show notifications with Apple logo or delivers pop-up on the browser resembling the system error messages. People fall for these scams when the message used by this type of Apple virus looks legitimate. Unfortunately, scammers get even more creative when it comes to such scam campaigns.[5]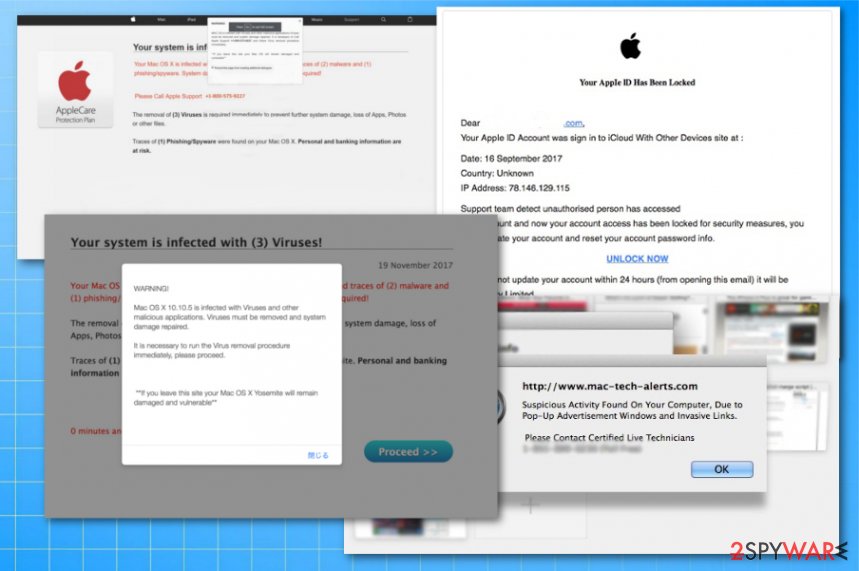 Apple virus mainly consists of technical support scams with fake system messages stating about damage or possible malware infiltrations.
Prevent Apple virus by being extra cautious while downloading freeware
These technical support scams and social engineering attacks are not the threat that affects your machine the most. This is merely a result of a potentially unwanted program or a different cyber threat running on the system already. Silent infiltration methods is the reason why you cannot see the program causing such behavior like redirects and false messages.
Potentially unwanted programs that come from deceptive commercial pop-ups or banners and via software bundling are the ones that cause these scammer attacks. If you want to avoid these infections, always keep paying attention to processes happening on the machine.
By choosing Advanced or Custom installation options instead of Recommended or Quick, you unpack the list of all the includes programs and can choose what to install on the device from the list. Freeware comes bundled with PUPs, and that's how computers get infected with adware and browser hijackers.
Apple virus removal explained
You should be aware that Apple devices are not immune to cyber threats, although various sources may claim so. When such intruders affect the machine, it shows that your device is infected with Apple virus and can be damaged if you don't react as soon as possible
Remove Apple virus as soon as you notice any suspicious message and scammer alerts, even though you exited the window. Staying away from these notifications can help avoid additional malware infiltrations but doesn't help with initial PUP termination.
Perform Apple virus removal by installing the anti-malware tool and running a full scan on the machine. During such check of all the parts on the computer or device program indicates all errors and real issues with the system, including malicious programs and infected files or PUPs that cause these scary warning.
You may remove virus damage with a help of Reimage Reimage Cleaner . SpyHunter 5Combo Cleaner and Malwarebytes are recommended to detect potentially unwanted programs and viruses with all their files and registry entries that are related to them.