Regin malware is a Trojan developed by National Security Agency to gather intelligence information on targeted Windows machines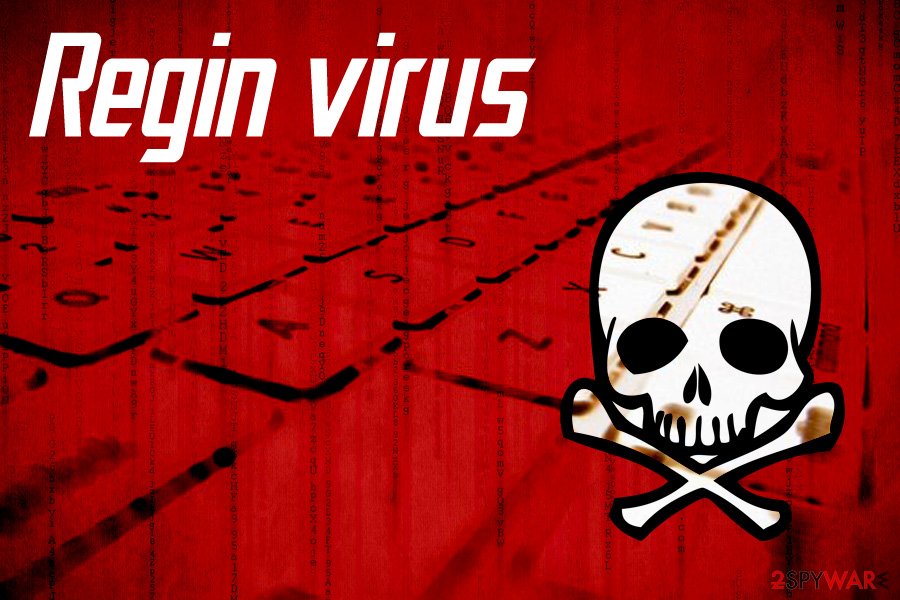 Regin is a sophisticated APT that is capable of taking control over the host machine on all levels
Regin virus is a multi-stage malware program designed to open a backdoor[1] on the infected system in order to steal and deliver various information. It is an extremely sophisticated, multi-modular threat that is capable of taking over the host machines and the connected networks, and performing such actions like taking screenshots, controlling the mouse, stealing MS exchange emails, keylogging, controlling GSM networks, stealing files, etc. Regin was named by various security researchers as one of the most advanced Trojans that surpass such sophisticated threats like Turla.
| | |
| --- | --- |
| Name | Regin |
| Also known as | QWERTY, Prax |
| Type | Backdoor, remote access Trojan (RAT), Advanced Persistent Threat (APT) |
| Functionality | Takes screenshots, seals files, monitors traffic, reads emails, performs keylogging activities, etc. |
| Attacked countries | Algeria, Afghanistan, Belgium, Brazil, Fiji, Germany, Iran, India, Indonesia, Kiribati, Malaysia, Pakistan, Russia, Syria |
| Developer | Some secret documents published by Edward Snowden in 2013 hinted that the malware is developed and utilized by National Security Agency (NSA) |
| Symptoms | Regin is extremely stealthy malware that does not leave much footprints, and only sophisticated security solutions can detect it |
| Removal | Use reputable anti-malware software that can detect and delete all the malicious modules and components of Regin virus – scan your machine in Safe Mode with Networking |
Seemingly developed by the National Security Agency as early as 2003, Regin was first discovered by Kaspersky, Symantec and The Intercept security researchers in 2014, although some sames were noticed on Virus Total in 2011. Because the malware is deemed to be used by the NSA, as well as its British counterpart Government Communications Headquarters (GCHQ) to gather intelligence from foreign targets in Afghanistan, Russia, India, Germany, and other countries, multiple research networks called the malware the "NSA's secret weapon,"[2] although no definite proof was provided. Regin malware was also defined by researchers as an Advanced Persistent Threat (APT).[3]
Regin malware connection to the NSA was indicated by German magazine Der Spiegel, and its claims were based on secret documents that were uncovered thanks to the informer Edward Snowden. One of such documents from 2010 mentions cyberattacks that were performed against a EU diplomats, although Regin virus name was never mentioned.
Symantec researchers claimed that Regin virus is one of the most advanced customizable cyberthreats ever created:[4]
Backdoor.Regin is an extremely complex back door Trojan that enables stealthy surveillance activities. It can be customized with a wide range of different capabilities, which can be deployed depending on the target. It is a multi-staged, modular threat, meaning that it has a number of components, each depending on each other to perform attack operations.
One of the recent high-profile Regin malware incidents dates to October/November 2018, when it was spotted attacking Yandex development and research servers. Kaspersky researchers claim that the attacks were observed in the following countries and targeted government, financial, research, and similar institutions:
Algeria
Afghanistan
Belgium
Brazil
Fiji
Germany
Iran
India
Indonesia
Kiribati
Malaysia
Pakistan
Russia
Syria
Nevertheless, Regin virus can also be used by cybercriminals in order to exfoliate data; thus, anyone could get infected with this malware. Consequently, users might face severe ramifications, such as money loss, infiltration of other malware, or even identity theft. Those infected should immediately perform Regin removal with advanced security programs like SpyHunter 5Combo Cleaner or Malwarebytes.
After you remove Regin malware from your machine, you should also remediate Windows OS files that might have been affected during the attack. For that, we highly recommend using Reimage Reimage Cleaner , as it can save you from reinstalling the OS completely.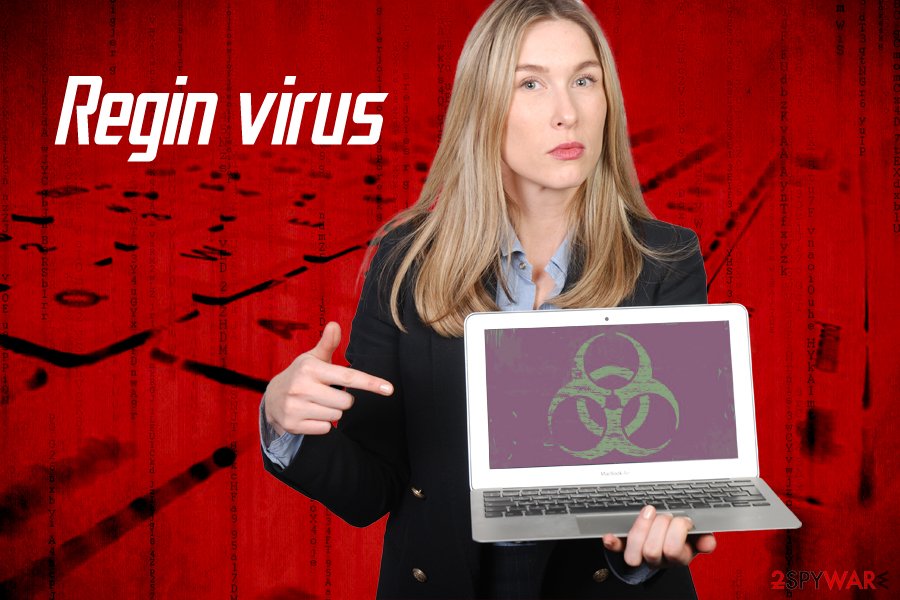 Regin malware is malware that was designed by the NSA to gather intelligence information from foreign institutions
Malware infection routine and avoidance tips
Just like trojans, rogue anti-spyware, and other malware, Regin trojan uses stealth techniques to infiltrate its targets. Nevertheless, because the malware is extremely sophisticated and used for international intelligence gathering, it is highly likely that it is deployed with the help of targeted attacks. The virus uses multi-stage infection methods to avoid detection during infiltration. Nevertheless, the most advanced anti-malware software should be able to detect and remove malware from the computer.
Security experts also recommend practice the following precautionary measures in order to avoid Advanced Persistent Treats in the future:
Use next-gen anti-malware software that uses machine learning and other advanced malware detection technologies;
Only provide administrator-level privileges to applications that are secure and trusted;
Secure all the accounts and RDP connections with comprehensive passwords or use a password manager;
Do not open email attachments that contain file types common used in malware distribution, such as .vbs, .exe, .bat, .scr, .doc, and others;
Turn off file sharing feature;
Update all the applications as well as the operating system as require – do not postpone the updates;
Enable firewall that would block all the network intrusions;
Do not launch software executables unless that have been checked by anti-malware software or tools like Virus Total.
Remove Regin virus from your system
If you want to protect your confidential data and prevent the loss of your bank logins, credit card details, passwords and similar information, you should waste no time and remove Regin malware. The easiest way to do that is by running a full system scan with powerful, up-to-date security programs like SpyHunter 5Combo Cleaner or Malwarebytes. Additionally, we also recommend accessing Safe Mode with Networking in order to bypass the functionality of Regin virus – we provide the instructions on how to do that below.
We don't recommend using manual Regin malware removal, as the threat is extremely sophisticated, and revering changes that it makes to the infected machines is almost impossible without using advanced automatic tools. Keep in mind that getting rid of data-stealing malware is crucial, as the longer it stays on your system, the more information it can exfoliate, and more damage can be done to your computer, as well as personal safety.