Yaarileads.com is the suspicious domain that causes page redirects and can infiltrate any web browser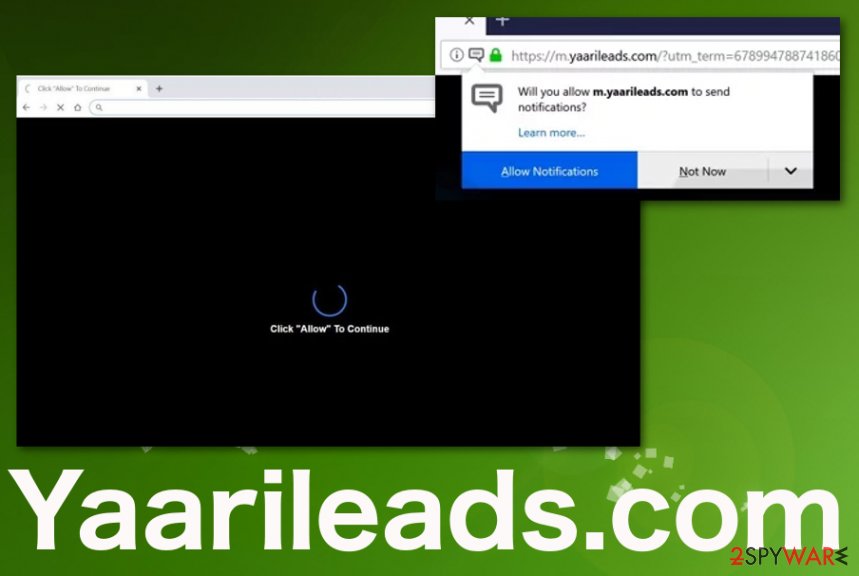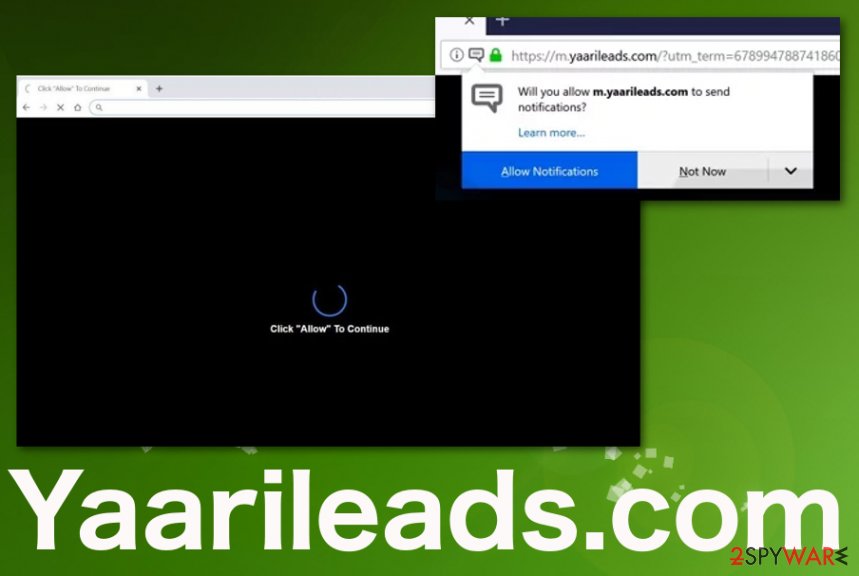 Yaarileads.com is the site that shows questionable pop-ups and other advertising content to control the traffic and expose the user to potentially dangerous online services and sites related to different advertisers. This is not a malicious program and cannot damage the machine significantly like other more severe threats, but this push notification virus is the adware-type intruder that creates redirects to sites where your personal data can be collected and tracked.[1] Such behavior leads to privacy issues and even identity theft when data gets shared with third-party actors.
This untrustworthy domain gets called a Yaarileads.com virus because it causes intrusive symptoms and suspicious behavior that involves redirects to possibly malicious pages and installations of additional extensions, applications, other programs directly on the system or in the Google Chrome, Internet Explorer, Mozilla Firefox, Safari browsers. The site itself is not the one that causes all the issues with speed and performance because redirects and advertising material is the result of a PUP infection – the adware program that runs in the background of your machine and triggers all the processes making your time online useless since you cannot access pages that you normally visit.
Name
Yaarileads.com
Type
Adware
Symptoms
Advertisements appear out of nowhere and get injected on commonly visited sites and interfere with your time online significantly with such behavior. Singe browsing session produces tons if redirects and results filled with commercial material in the form of banners, blinking boxes, pop-ups, and so on. PUP can also install other browser-based threats or apps on PC that trigger more intrusive processes
Damage
Redirects expose the user to possibly malicious online material and can lead to more issues or severe malware infiltrations this way. Also, data tracking function that many PUPs and advertisers have, lead to privacy issues and system damage
Distribution
Freeware installation setup often includes additional programs and applications or tools that get installed without additional permission asked or your knowledge, in general. Also, deceptive sites like this PUP and related advertising services lead to automatic downloads of intrusive adware[2]
Elimination
Yaarileads.com removal requires your attention to details and professional anti-malware tools that can find all associated PUPs and remove them from the system fully
Repair
Since potentially unwanted programs run in the background additional changes can be made without your knowledge and permission, so you should go through important parts of the system with a PC repair tool like

Reimage

Reimage Cleaner

and tackle virus damage yourself
Yaarileads.com pop-ups and scam messages try to trick you into subscribing to push notifications or additional content coming from this domain or another commercial service. When the site appears on the screen and displays the initial pop-up with subscription suggestion, the only thing virus needs is to get your attention and interaction with the site. When you press the Allow or Agree button it counts as the subscription to notifications, and the intrusive behavior starts.
Unfortunately, pop-ups with Yaarileads.com content fills up the screen and your browser even when the web browser is closed because PUP triggers changes in the startup settings and registry. This is how adware manages to display all the advertisers and redirects on your desktop directly without triggering other processes.
However, all the material delivered by the Yaarileads.com adware itself or related advertisers, sponsors, and domains can also involve cookies and other techniques set to collect data, information about you, and your online browsing preferences. This is not the activity that could be noticed or managed by you, so it leads to issues like identity theft or privacy problems.
You should remove Yaarileads.com once you noticed any intrusive advertisements, continuous redirecting, and other processes related to advertising material, online content that appears out of nowhere. You can at least avoid PUP damage and serious issues regarding additional infiltrations this way. However, you cannot be sure how long the adware had been on the machine until noticeable symptoms occurred. So the sooner you get rid of it, the better.
Since Yaarileads.com is not the program that you need to delete, get a proper anti-malware program and run it on the machine to clean all the PUP-related applications and files. The domain itself appears as a symptom, so exiting the window is not enough. When you fully clean the system, you can be sure that potentially unwanted program is terminated.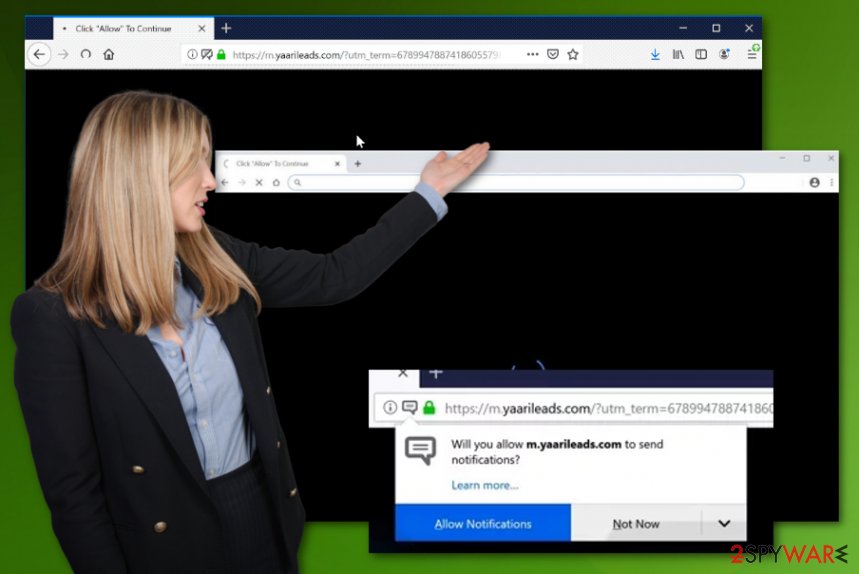 Yaarileads.com is the potentially unwanted program that redirects your browser to advertisements and injects such material on various commonly visited pages.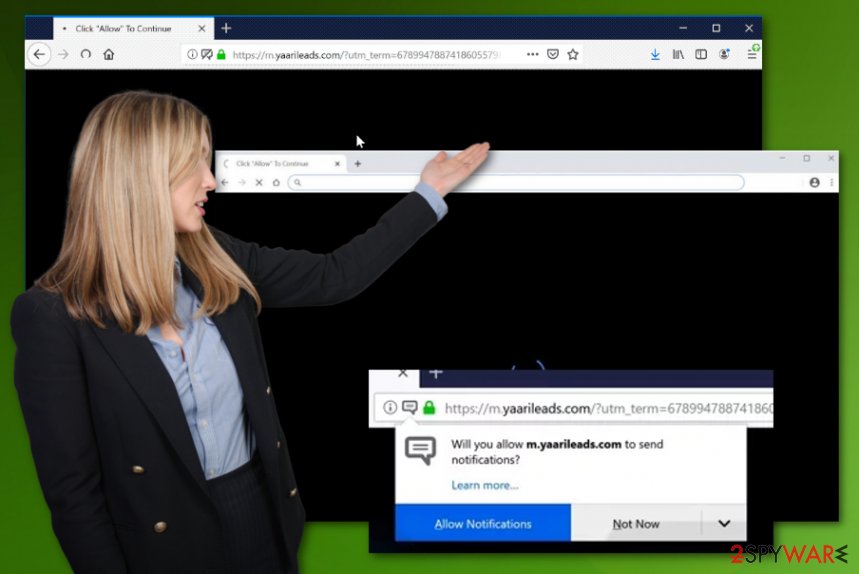 Yaarileads.com is the potentially unwanted program that redirects your browser to advertisements and injects such material on various commonly visited pages.
When you find the domain Yaarileads.com appearing on the screen once or twice you can avoid clicking on the redirect and other shady content. However, the message that gets displayed on the site and additional pop-ups is the one that triggers additional symptoms or even the infiltration of the main PUP.
Ensure that the following Yaarileads.com pop-up is not clicked, avoid interaction with any suspicious site or advertisement like the following:
Yaarileads.com wants to Show notifications
Click "Allow" to continue
You need a proper Yaarileads.com removal process if you experience more than this redirect and occasional pop-up ads. This is the indication that the machine itself is infected with the adware-type virus or a PUP. You need to remove the particular intruder, not the symptom.
Remember that Yaarileads.com also causes issues due to alterations and affected settings on the machine, so you need additional help from tools like system o[timizers or cleaners. Install Reimage Reimage Cleaner or a program that you can trust and repair the damage by cleaning the traces of this virus and fixing affected system parts or files.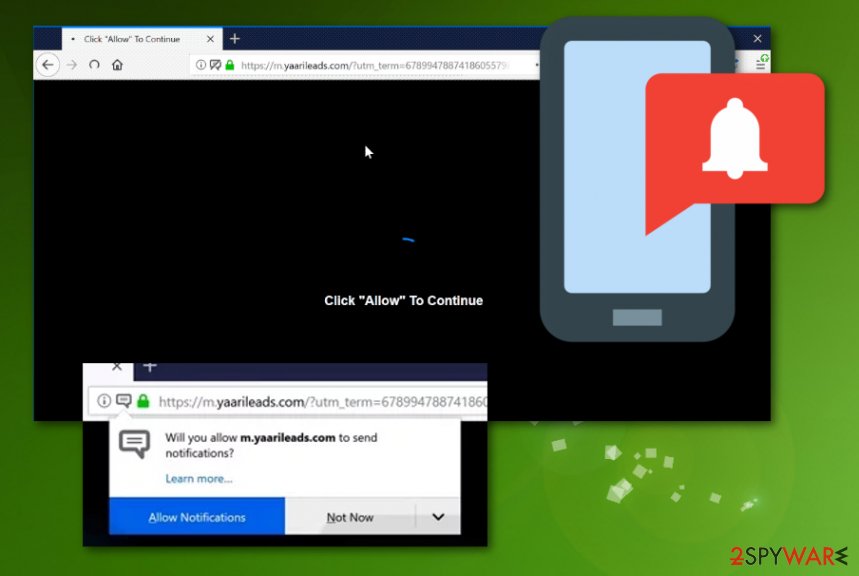 Yaarileads.com is the suspicious domain that can be called push notifications virus because it focuses on creating redirects and showing questionable material directly on the desktop.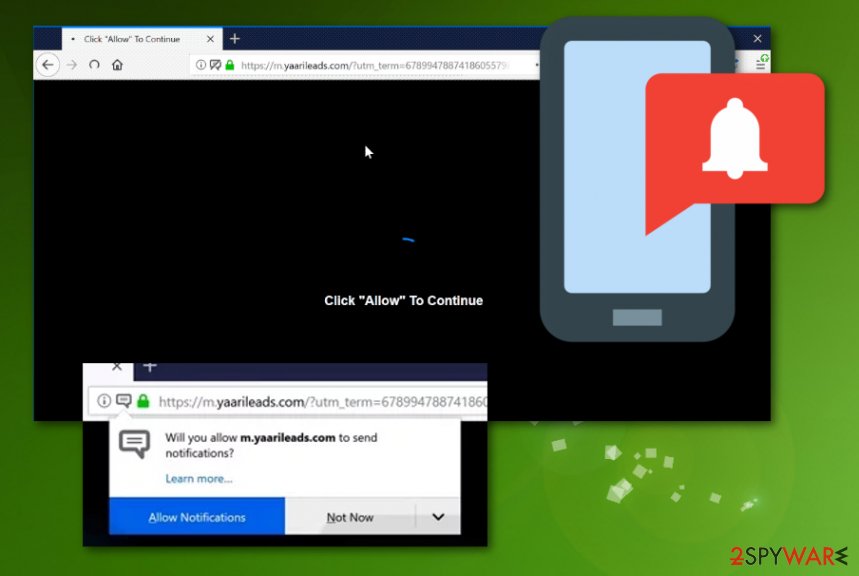 Yaarileads.com is the suspicious domain that can be called push notifications virus because it focuses on creating redirects and showing questionable material directly on the desktop.
Freeware installations require your attention especially
There are lots of processes that happen on your device, and most of them affect the performance, interfere with the normal work of your machine. In some cases, the interference is not positive, especially when the behavior is related to cyber threats, infections, and malware.
When you install software, applications or tools, and browser-based programs, you should pay close attention to details and rely on sources worthy of your trust. However, even then, skipping through steps and choosing Quick or Recommended options can lead to PUP infiltration without noticing.
Always go for Advanced or Custom installations, as experts[3] recommend. This is the way that helps you avoid installations of unwanted programs and ensures that you can control what gets on the system yourself.
Delete Yaarileads.com virus from your machine and manage to stop the advertisements and other intrusive messages
When you are focusing on Yaarileads.com removal, don't forget to choose the professional tool or a program that is trustworthy and can find PUPs, other threats. This is crucial because your machine needs to get cleaned fully before you can change those settings back to normal.
Setting and preferences that Yaarileads.com virus alters include Notification permissions and default homepage, new tab settings, homepage. PUP also installs extensions, applications or toolbars on the browser, so get a system tool and make sure to remove these additional issues by fixing parts of the system.
When you remove Yaarileads.com automatically with proper PUP termination tools and anti-malware programs, you should go through settings on every browser and change preferences, cancel subscriptions and delete shady applications. Follow the guide below for resetting web browsers to default.
You may remove virus damage with a help of Reimage Reimage Cleaner . SpyHunter 5Combo Cleaner and Malwarebytes are recommended to detect potentially unwanted programs and viruses with all their files and registry entries that are related to them.