Websearch.fastsearchings.info – a browser hijacker that can include the "Fast Searching" extension into the web browser settings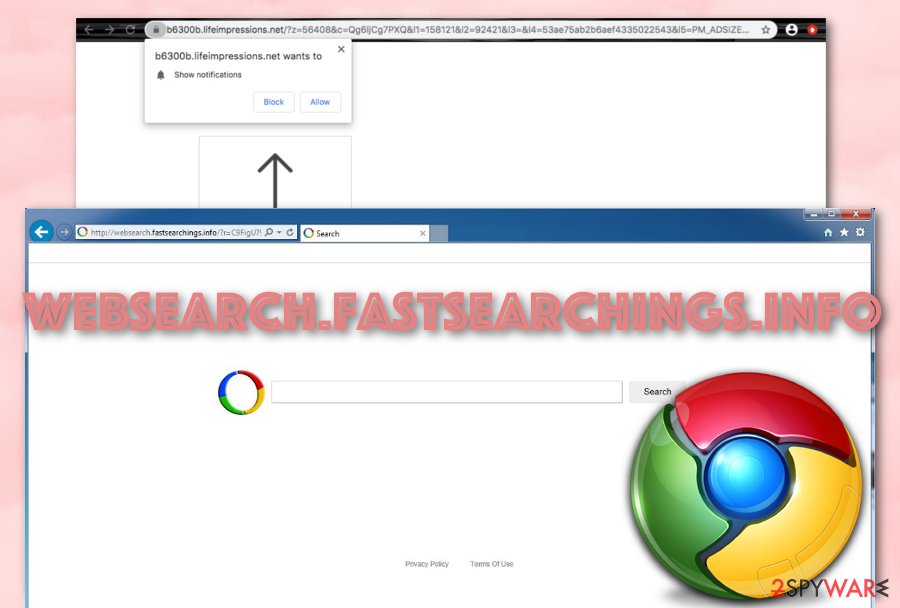 websearch.fastsearchings.info is considered to be a browser hijacker that travels with freeware and shareware installations from third-party websites such as cnet.com, download.com, softonic.com, and soft32.com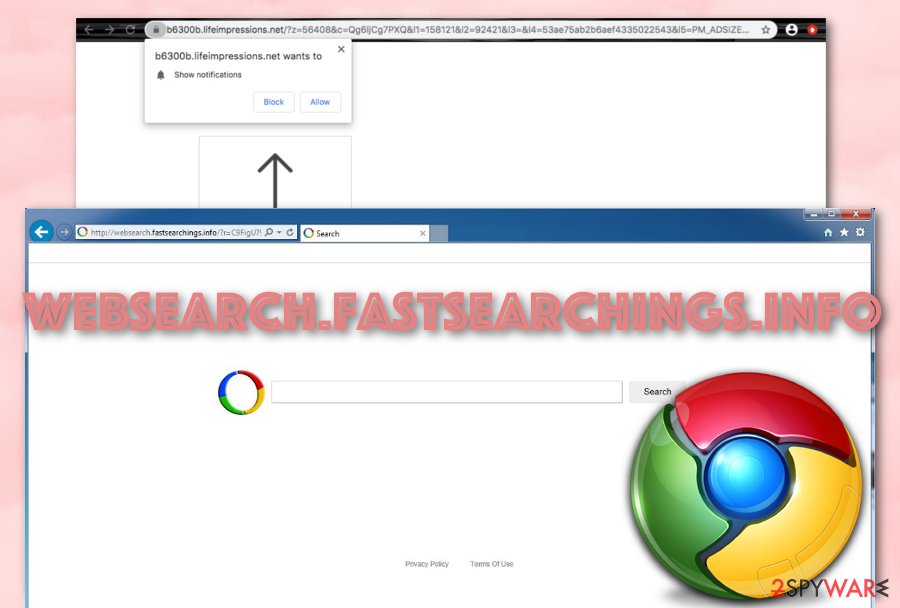 websearch.fastsearchings.info is considered to be a browser hijacker that travels with freeware and shareware installations from third-party websites such as cnet.com, download.com, softonic.com, and soft32.com
Websearch.fastsearchings.info is a potentially unwanted program[1] that converts the default search provider, homepage, and new tab URL to http://search.smartaddressbar.com. This app is not an evil one like ransomware or spyware, however, it still brings unpleasant functionality and interrupts users' activities. Also categorized as a browser hijacker, websearch.fastsearchings.info virus can make the beforementioned changes on different types of web browsers, including Google Chrome, Mozilla Firefox, Internet Explorer, Microsoft Edge, and Safari. The PUP can settle on all of these browser apps but it usually picks one, for example, Google Chrome. Afterward, you are likely to find the "Fast Searching" plug-in added into the web browser settings.
Furthermore, websearch.fastsearchings.info often is bundled with freeware and shareware such as PDF converters, download managers, and various players that come from third-party downloading sources such as softonic.com, soft32.com, cnet.com, and download.com. This type of PUP distribution technique is widespread through third-party developers and has been named as "software bundling".[2] Keep reading and learn more about all the annoying features that websearch.fastsearchings.info includes as a browser hijacker.
Name
websearch.fastsearchings.info
Type
Potentially unwanted program
Sub-type
Browser hijacker
Extension
This suspicious program can add the "Fast Searching" extension to the hijacked web browser settings
Changes
Once the browser hijacker appears on the targeted web browser, it initiates some modifications on the default search provider, new tab URL, and homepage sections and sets them to http://search.smartaddressbar.com
Targets
The potentially unwanted program can appear on any type of web browser app such as Google Chrome, Mozilla Firefox, Internet Explorer, Microsoft Edge, and Safari
Elimination
You can permanently erase the browser hijacker with the help of antimalware software or by using the manual step-by-step guidelines that have been included to the end of this page
Fix tool
Some system alterings might have shown up after the browser hijacker made a mess on your PC and browsers. If necessary, fix the affected areas by trying out software such as

Reimage

Reimage Cleaner
According to cybersecurity experts from NoVirus.uk,[3] the main sign that a browser hijacker has appeared is a different search engine than you had in the past. Legitimate and reliable search engines such as Google, Bing, or Yahoo are used by a big variety of people but any other type of search provider can signify about a browser hijacker such as websearch.fastsearchings.info.
Beware that when websearch.fastsearchings.info sets your search provider to a new one and modifies other settings such as the homepage and new tab URL bar, you will not be able to reverse these changes unless you get rid of the potentially unwanted program completely. Plus, you will be forced to complete search queries via the new search engine that might lead you to unknown directories all over the web and provide you with misleading search results.
If websearch.fastsearchings.info arrives together with the "Fast Searching" browser extension,[4] you might experience some types of other changes in some of your web browser apps. For example, the new plug-in can disable the Content Security Policy in Mozilla Firefox and also include a lock component to prevent other similar products from modifying its main settings. If it is Explorer that got hijacked, the browser might receive the modification of the load time threshold.
If it is a Windows computer on which websearch.fastsearchings.info lands, you might see that your Task Manager is filled with bogus processes that you have never encountered and some random content has appeared in the C:\ProgramFiles\ or C:\ProgramData folders. If the browser hijacker appears on a Mac computer, it might include random folders and apps in the Applications directory.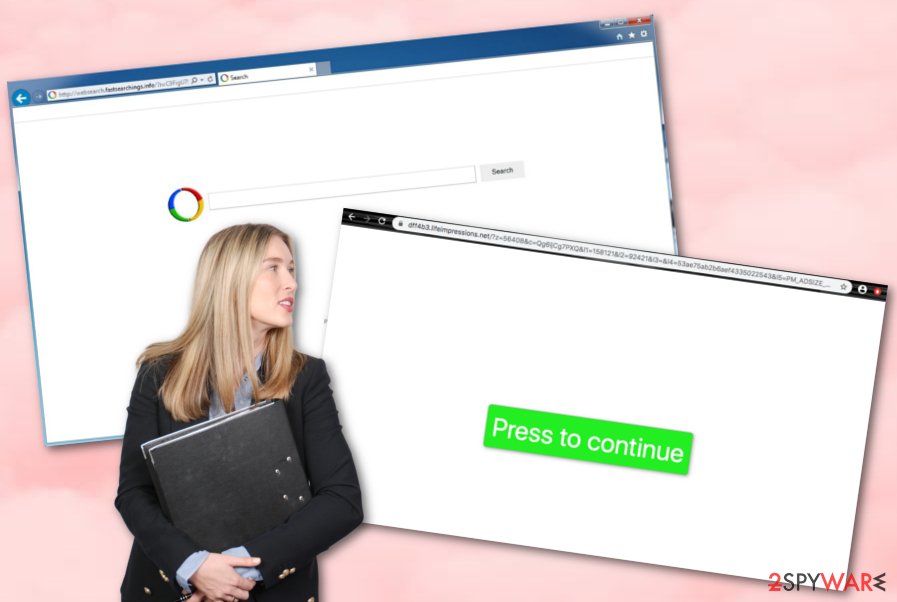 websearch.fastsearchings.info is a browser-hijacking application that can redirect the affected user to websites such as lifeimpressions.net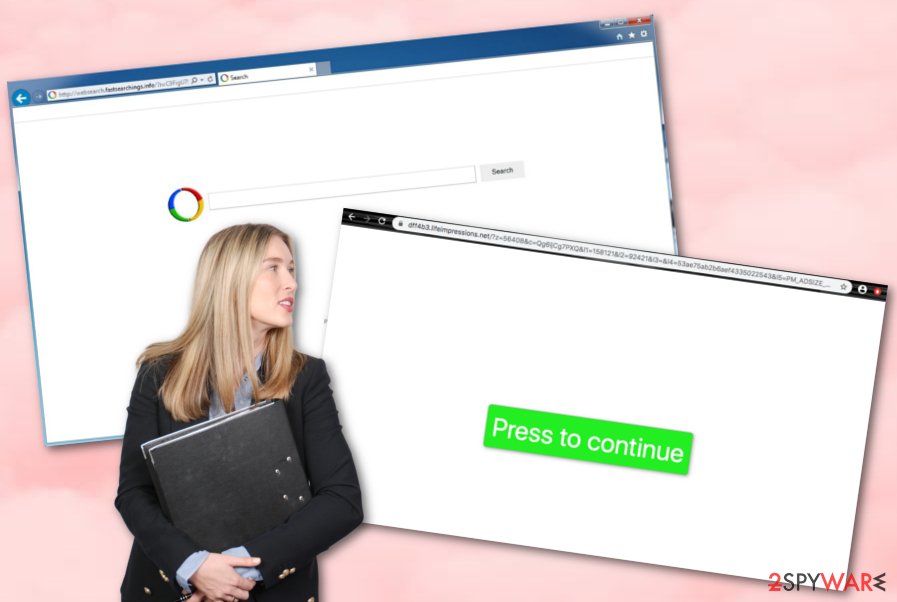 websearch.fastsearchings.info is a browser-hijacking application that can redirect the affected user to websites such as lifeimpressions.net
Furthermore, websearch.fastsearchings.info can redirect the user to odd websites such as lifeimpressions.net that can start spamming you with various offers and deals. Nevertheless, all the redirecting activity might not look that important or intrusive at first but note that the longer you keep the browser hijacker on your computer, the worse this process will get. Also, you might not notice when you land on a location that is filled with malicious software.
Websearch.fastsearchings.info can also load the user with interruptive advertising content. The browser hijacker might start pushing annoying pop-up ads straight to the computer screen when the user is completing browser sessions. These advertisements might come filled with bogus offers of fake security utilities, encourage the user to subscribe to useless services and try to lure the person in various scams.
If you have spotted the first symptoms of browser hijacking lately, you should look for ways to remove websearch.fastsearchings.info from your computer system and web browser apps. The potentially unwanted program can get successfully eliminated with the help of a malware removal tool.
Furthermore, you can do the websearch.fastsearchings.info removal yourself. Our security experts have added a detailed step-by-step guide to the end of this article where the entire process is explained. Note: do not forget to clean and refresh the web browsers as these apps are particularly filled with suspicious content after the hijack. If you do not get rid of all the bogus objects, the browser hijacker might return the next time you launch your browser.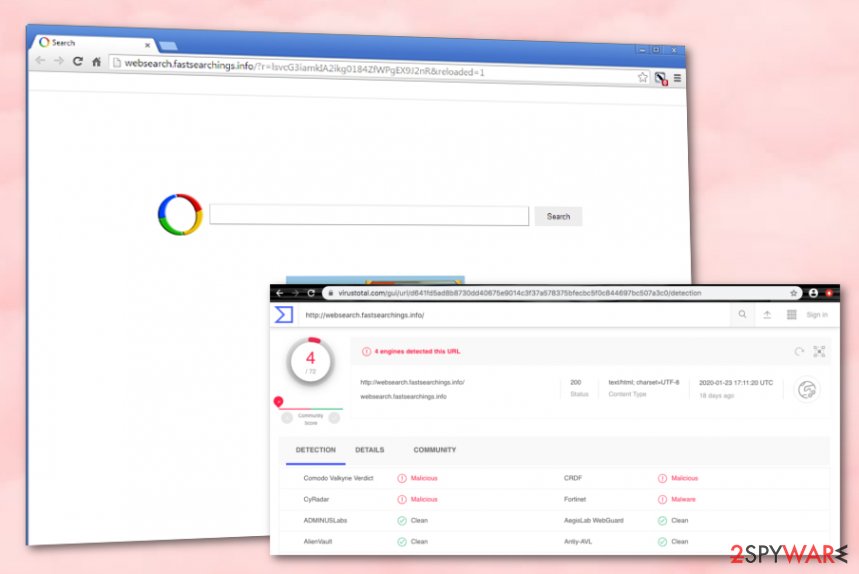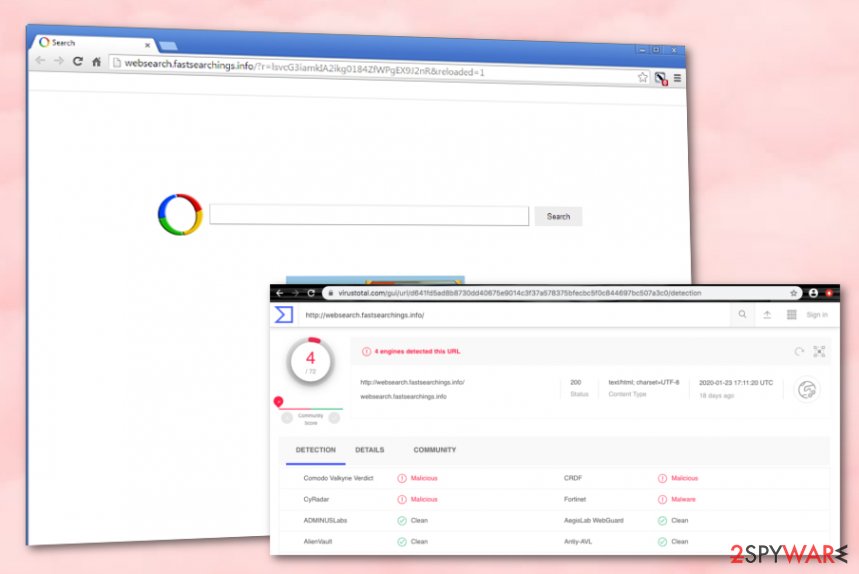 Factors that increase the risk of getting infected by a browser hijacker
There are many unsecured downloading sources such as cnet.com, download.com, softonic.com, and soft32.com that suggest downloading various PDF converters, download managers, and players for free. Regarding the fact that this type of software is free, a lot of users decided to get it instead from the official developers. However, this is a mistake to make because it increases the chances of receiving a browser hijacker on your device and web browser.
Developers often hide such potentially unwanted programs in software packages that come from secondary downloading networks. If you still decide to use the same pages for completing your downloads, you can at least be extra careful while dealing with the download/installation yourself. Do not skip any steps, select the Custom or Advanced downloading mode and make sure to opt-out of content that looks suspicious to you and raises some types of concerns.
To add, browser hijackers can get hidden in various advertisements and hyperlinks that you should be aware of while browsing the web. If you have ever entered a website that was previously marked as unsafe by your web browser or antivirus software, you should exit it immediately. Nevertheless, do not think about stepping on unknown content that is provided in such web pages as some of it might hide the potentially unwanted program.
Remove Websearch.fastsearchings.info in an effective way
Technically, Websearch.fastsearchings.info is not a virus but it still requires elimination as it triggers the natural operating process of the computer system and web browser apps. As we have already discussed, the browser hijacker initiates many unknown changes on your web browser and acts very annoyingly. These are the main reasons why we suggest to perform the Websearch.fastsearchings.info removal as soon as you discover the PUP on your computer.
To remove Websearch.fastsearchings.info effectively, you will need to use reliable malware removal software that is capable of dealing with such programs in a few minutes and cleaning the entire operating system from the browser hijacker and all the additional apps that it might have brought to it.
Furthermore, there is also a way to uninstall Websearch.fastsearchings.info virus by putting in your own effort only. However, you need to be at least a little bit experienced in manual elimination for this. If you are, follow the cleaning instructions at the end that are written for both Windows and Mac operating systems and web browser apps such as Google Chrome, Mozilla Firefox, Internet Explorer, Microsoft Edge, Safari, and others.
You may remove virus damage with a help of Reimage Reimage Cleaner . SpyHunter 5Combo Cleaner and Malwarebytes are recommended to detect potentially unwanted programs and viruses with all their files and registry entries that are related to them.