Holasearch.com – a browser hijacker that can append a rogue argument to some of the Windows desktop shortcuts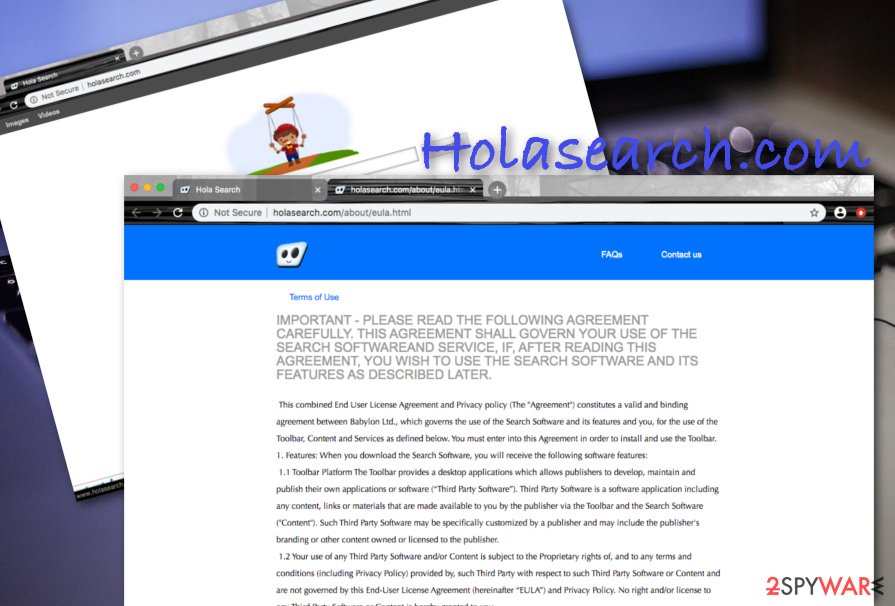 Holasearch.com is a rogue search engine that can provide misleading search results and start redirecting users to unsecured sources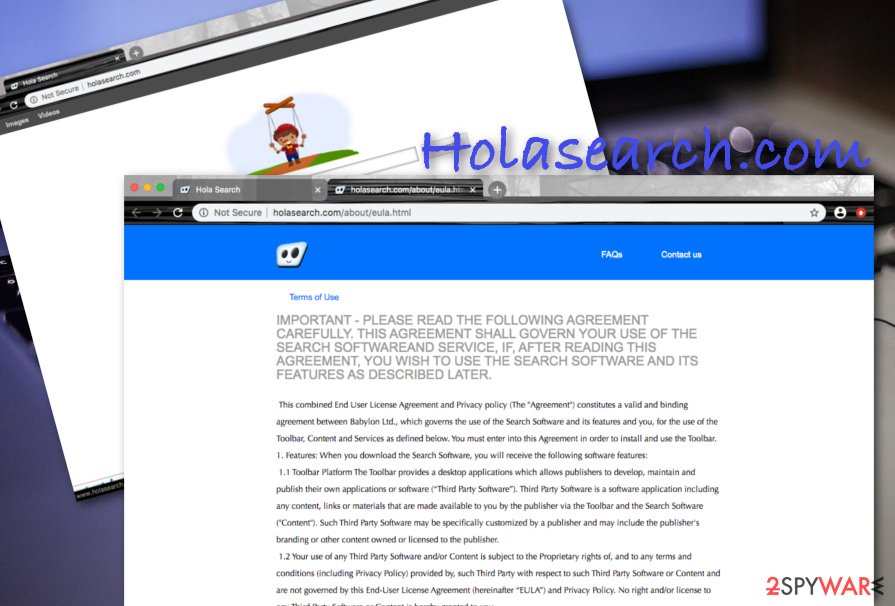 Holasearch.com is a rogue search engine that can provide misleading search results and start redirecting users to unsecured sources
Holasearch.com is categorized as a misleading search engine that comes together with the Hola Search Toolbar. Users have been complaining that this browser hijacker unexpectedly appears on browser apps such as Google Chrome and Mozilla Firefox but it mostly shows up on Internet Explorer. The PUP (potentially unwanted program)[1] leaves a rogue process named holasearch.dll that belongs to its toolbar and acts as an extension for the Explorer browser. Hola Search aims to compromise the default search provider, homepage, and new tab URL bar by setting them to http://www.holasearch.com.
If you are constantly getting redirected to Holasearch.com, this also might be a sign that you have another third-party component such as Certified Toolbar installed on your web browser. However, most of the time it is the browser hijacker that is causing all the trouble. No matter how hard you try to reset the engine back to Google, it only stays for a while until the next time you refresh the web browser and the Hola search engine reappears.
Name
Holasearch.com
Type
Browser hijacker/potentially unwanted program
Related file
This browser hijacker comes together with the Hola Search Toolbar that includes the holasearch.dll file in Internet Explorer
Changes
The rogue app can hijack web browsers such as Google Chrome, Mozilla Firefox, Internet Explorer, Microsoft Edge, Safari, and append the http://www.holasearch.com search engine, homepage, and new tab URL bar
Activities
The browser hijacker can start providing advertisements that carry rogue offers and aim to earn pay-per-click income. Also, the PUP can initiate redirects to other sponsored domains some of which might be potentially dangerous, start collecting browsing-related data by including HTTP cookies, beacons, and pixels into the browser settings
Distribution
Suspicious products such as Holasearch come bundled with other freeware and shareware from websites such as download.com, softonic.com, soft32.com, and cnet.com
Elimination
If you have been dealing with this browser hijacker lately, you should get rid of it with the help of antimalware software or by employing the step-by-step guidelines that have been added to the end of this article
Fix software
If you have discovered any compromised areas on your PC, you can try fixing them with

Reimage

Reimage Cleaner
When Holasearch.com virus gets installed on the Windows computer, it might start running questionable processes in the Windows Task Manager and inject bogus keys into the Registry section. Furthermore, you might find the http://www.holasearch.com argument included in some of the shortcuts on your desktop or on your Windows Startup Menu. If you are employing a Mac device, you might find third-party apps added to the Applications section.
Hola search, also known as ihola!, is a questionable search engine that replaces the default provider such as Google, Bing, or Yahoo. Once the settings are configured, the victim is not able to permanently reverse the engine back to its primary state. So, once the browser hijacker infiltrates your web browser, you are stuck with its new search provider. Keep in mind that you can easily be provided with fake or misleading results if you start initiating search requests.
Holasearch.com might try to fake its useful functionality by providing quick access to e-shopping platforms such as AliExpress, eBay, and other handy websites such as Booking or Tripadvisor. However, you can easily create fast access of your own by including bookmarks to your web browser. There is no need for using the PUP's services when you have other alternatives. Besides, the app will bring you more negative things than positive ones.
Holasearch.com is an unfair search engine, which can easily try to return for your altered search results and, with the help of them, may redirect you to its affiliate websites. Most of these pages are likely to be filled with sponsored advertisements, however, this is not all that you can find there. Sometimes, redirecting sessions are capable of taking the user to potentially malicious domains which often relate in severe malware infections, e.g. ransomware viruses or trojans.
While we cannot claim that this program is a virus or malware, holasearch.com should not be trusted and should never be used instead of the default search engine and the start page. Otherwise, there is no guarantee that you would not be redirected to questionable websites that are promoted just for helping them to increase their page rank or sales. Please, keep in mind that this search engine has been created for monetization purposes.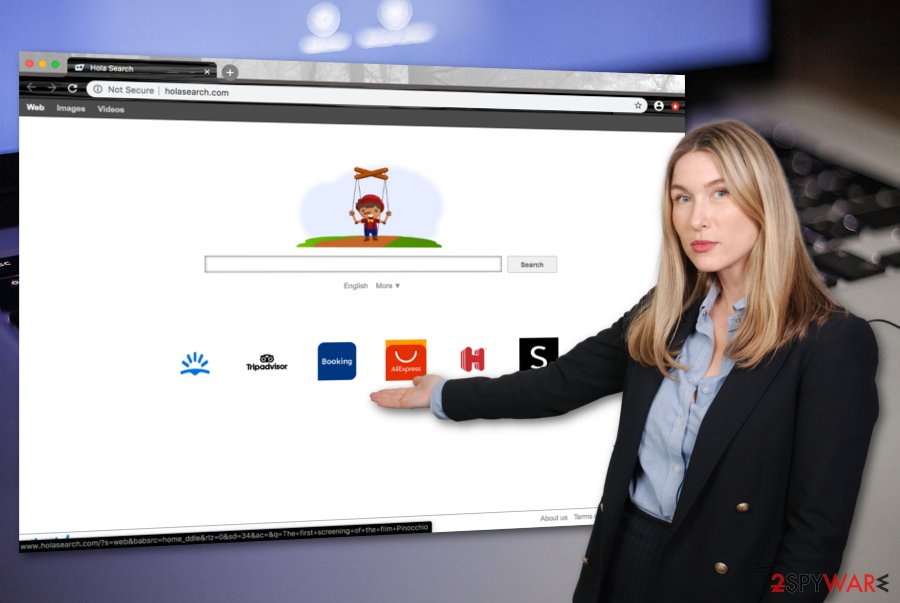 Holasearch.com – a browser hijacker that might inject HTTP cookies, pixels, or beacons to track the user's browsing history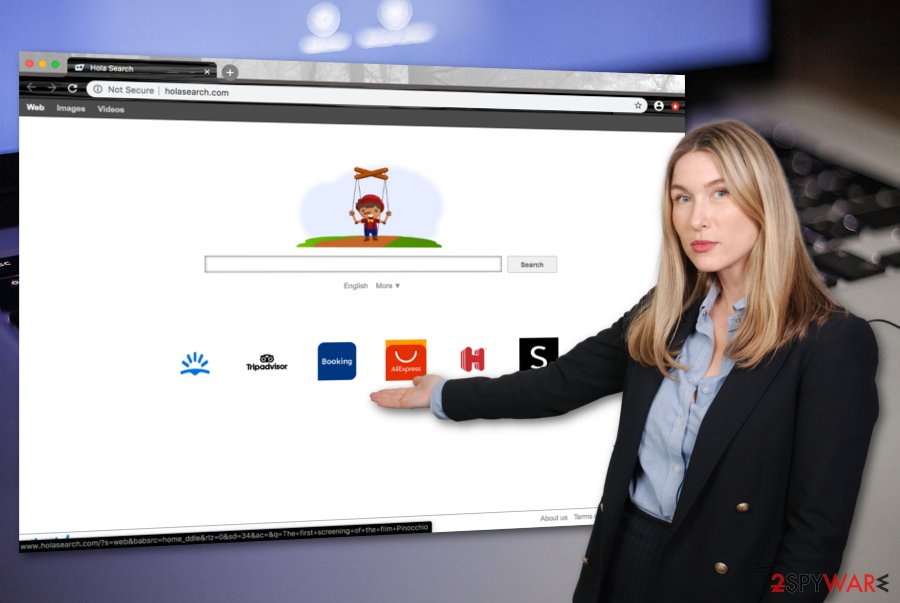 Holasearch.com – a browser hijacker that might inject HTTP cookies, pixels, or beacons to track the user's browsing history
Holasearch.com itself can deliver intrusive advertisements during browsing sessions. Most of the time, developers seek to gain pay-per-click[2] income form each click that is performed on the provided ads. However, you should not trust any content that is produced by the browser hijacker as the PUP is likely to bring bogus offers and deals to the surface. Also, you might get provided by various technical support scams, fake reward claims, and other misleading messages.
Hola search can come bundled with other potentially unwanted programs such as adware, scareware, or browser hijackers. When the mentioned app arrives at your computer system, you should initiate a full investigation process and check if has not left any other questionable programs on the device. Nevertheless, the browser hijacker can act as an intermediary for malware distribution and spread dangerous virus forms such as trojans, spyware, ransomware, worms.
Finally, beware that holasearch.com may also try to collect information about your browsing habits. Typically, this program is interested in people's search terms, mostly visited websites, data that they enter when visiting them, the IP address, geographic location, and browser technical information. When this type of information is collected by using HTTP cookies[3] or pixels, beacons, developers can share it with other parties for gaining monetary profit.
If you are willing to receive legitimate search results, you should remove Holasearch.com form each of your web browsers (Mozilla Firefox, Google Chrome, Internet Explorer, and other ones). This will also help you to avoid redirects to unknown websites, slowdowns, various pop-up ads, and similar inconveniences. Get rid of the PUP with the help of a reliable antimalware tool or by using the manual step-by-step guidelines that have been added to the end of this article.
Holasearch.com removal also includes fully cleaning web browser apps such as Google Chrome, Mozilla Firefox, Internet Explorer, Microsoft Edge, and Safari as they might also be filled with various bogus extensions, plug-ins, and add-ons. If the browser hijacker has brought other suspicious or malicious programs to your computer system, you should check it for possible damage. If you discover any altered areas, try repairing them with a tool such as Reimage Reimage Cleaner .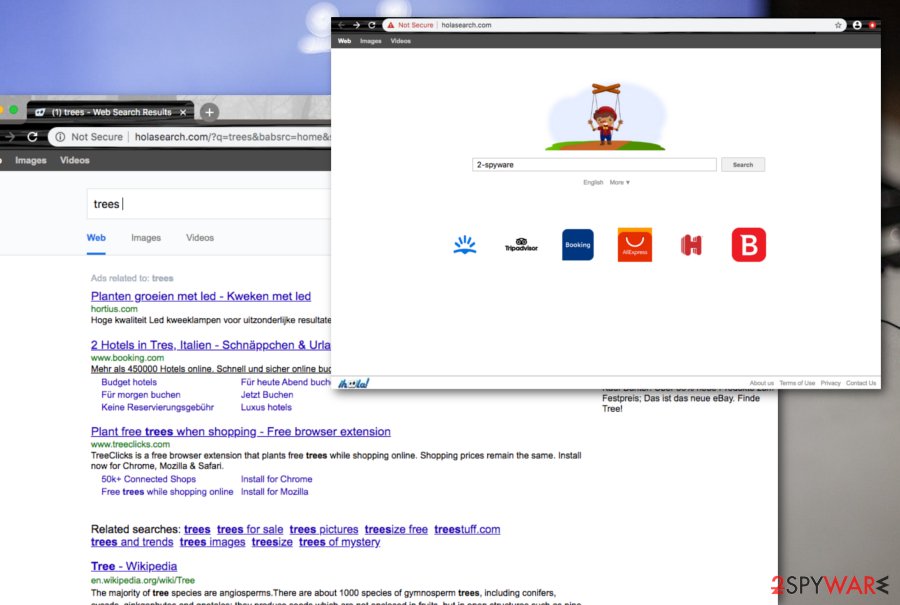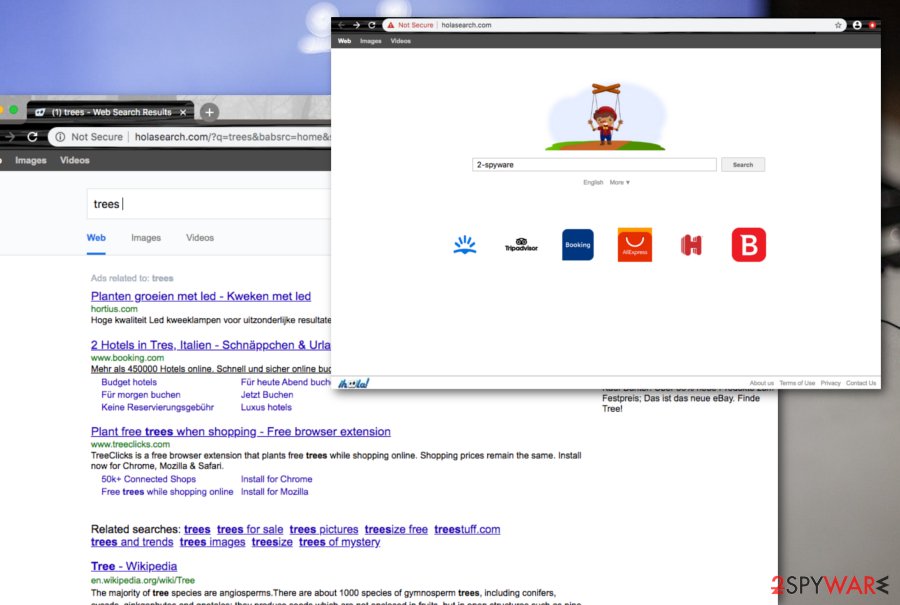 Browser hijackers employ stealth techniques to occupy browsers
Browser-hijacking applications can be easily downloaded to the system manually. However, the most used method for its distribution is called bundling and the PUP can easily infiltrate your computer in a bundle with freeware and shareware. If you do not want to download a rogue app accidentally, you should start monitoring the installation of third-party software.
You should try to pay more attention to the installation process of download managers, PDF creators and similar programs by selecting Custom or Advanced installation of the freeware. After doing so, you should deselect all suspicious checkmarks that can appear during the installation of the software. Also, avoid downloading products and services from unsecured third-party downloading sources such as cnet.com, download.com, softonic.com, and soft32.com.
According to LosVirus.es specialists,[4] browser hijackers can also invade the computer system through fake software updates. If you are browsing the Internet and get provided with a rogue update request, do not rush to agree with it. First, take your time for searching the recently released updates of the app. Then, get all required upgrades only from the official developers and original Internet sources.
Removing Holasearch.com virus permanently
Holasearch.com removal should be taken care of as soon as you see the hijacked search engine in your web browser. Keep in mind that the longer you postpone the elimination, the worse the annoying activities might get. For this process, we recommend employing reliable antimalware software that will scan your entire operating system, check it for rogue apps, and eliminate all the suspicious products that were included by the browser hijacker.
If you want to remove Holasearch.com by yourself and already have experience in this type of field, you can go for it. Below we have provided some manual guiding steps that should be helpful while trying to clean your Windows, Mac operating systems and web browser applications such as Google Chrome, Mozilla Firefox, Internet Explorer, Microsoft Edge, and Safari.
You may remove virus damage with a help of Reimage Reimage Cleaner . SpyHunter 5Combo Cleaner and Malwarebytes are recommended to detect potentially unwanted programs and viruses with all their files and registry entries that are related to them.