UtilityParse is the program that appears on Mac devices out of nowhere and raises some questions for users due to unknown activities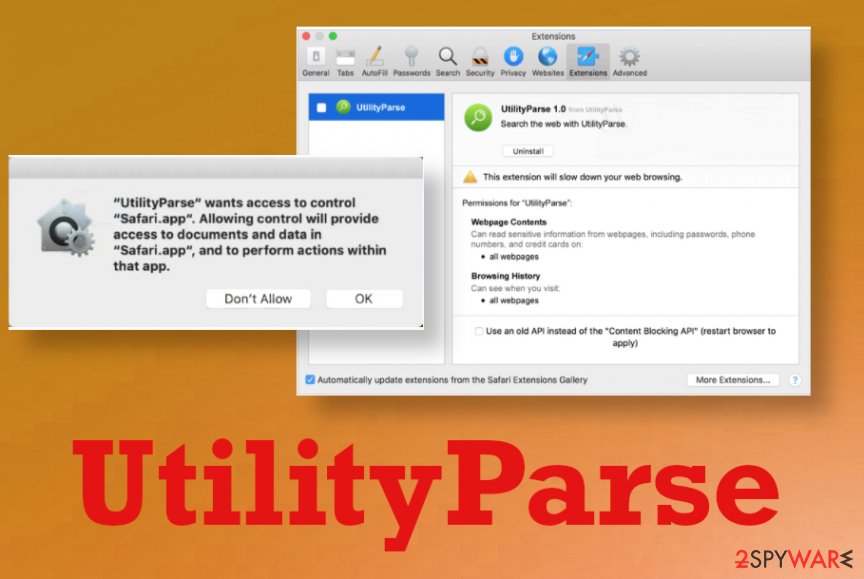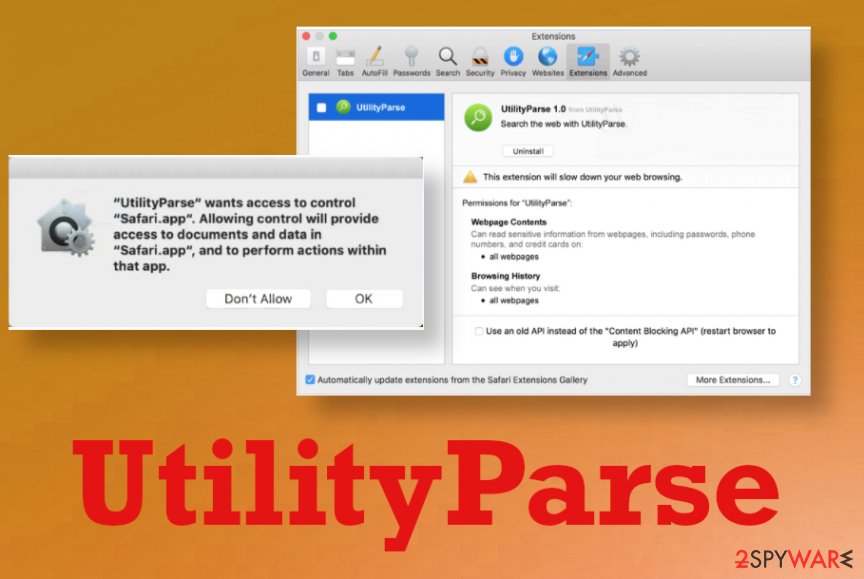 UtilityParse is the adware-based program that runs in the background and causes issues with the system, so people start searching solutions for elimination. It seems to resemble the legitimate application but it controls the online content and shows various offers, deals, advertisements on the screen, so the behavior is considered unwanted or even malicious by the users. It mainly comes up in forums[1] when users notice the program running in the background or receive alerts, error messages from the system about the access or granted controls. This program is also known as UtilityParze since it is a part of the Pirrit adware family and can come on various forms of macOS adware.
This potentially unwanted program shouldn't be called the UtilityParse virus because it is not a malicious program at all even though it gets downloaded and installed unintentionally without users' permission. Many people believe that macOS is the system immune to any threats, but this is not true, and you should take the security of the machine into consideration even though the operating system of Apple devices is more secured anti-malware tools are still needed for malware removal and PC repair purposes. You need to ignore those pop-ups with questionable messages and alerts and determine if the system is affected by a serious threat or not. Since the program can affect your browsing habits and performance of the machine, in general, the sooner you get rid of the PUP, the better.
Name
UtilityParse
Type
Adware
The system that gets affected
macOS devices receive these error messages and commercial content pop-ups
Risks
Your machine is not working properly as it supposed to anymore, so it becomes more vulnerable for malware infections and ad-supported sites can easily track and collect details about your habits and most viewed pages, searched items
Symptoms
The device becomes slow and crashes, freezes, turns off more often. Additionally, commercial content gets delivered on your browser and on the system directly.
Distribution
Freeware installations, deceptive sites, free download pages or other programs like this can easily lead to unwanted addition of PUAs, and similar intruders
Elimination
UtilityParse removal procedure can get difficult, but choosing the proper anti-malware tool compatible with your system can give the best results
Repair
When a machine is affected by any of these PUPs, functions can get disabled or files affected by this program behind your back. The best option is to use a professional system tool like

Reimage

Reimage Cleaner

Intego that can indicate and even recover damaged files for you
UtilityParse is the adware-based application, so it mainly focuses on intrusive advertisements and data collection as a typical PUP. It is the program that can interfere with the performance of the computer due to background processes too, so scanning the system fully should be one of the actions that you take into consideration.
UtilityParse or UtilityParze is pretty much identical to MacPerformance or DisplayUpdate programs that are also considered to be macOS-targeting PUAs. These applications mainly get distributed via advertisements and unsafe sites or pop-ups, banners with commercial content relations. It is common to get adware, hijacker, or different PUP when fake Flash Player installations get triggered.
UtilityParze messages can state the following:
"UtilityParze" wants access to control "Google Chrome.app" ("Safari.app"). Allowing control will provide access to documents and data in "Google Chrome.app" ("Safari.app"), and to perform actions within this app.
If you receive any similar alert regarding the Utility Parse application or any other file, folder, program, you should pay attention to details that are displayed on the alert and base your further actions of those. Do not allow anything that is offered for you on these pop-up windows and warnings because any agreements can lead to more issues with the machine since you do not know exactly what you are allowing.
UtilityParse categorizes as an adware program for a reason because it manages to install itself on the system and run for a while until the symptoms get displayed. After the successful penetration, the PUA can change various settings, affect web browsers, and install other apps without your permission. But these error messages and control agreement pop-ups show that not everything is accessible for the intruder.
Ignore any messages that UtilityParze macOS PUP delivers to you, so there are no issues with the system and documents, different data, programs, or system functions that can get altered or even damaged by the unwanted program. You can see that intruder wants to control your Safari browser or other tools, but your new browsers like Google Chrome or Mozilla Firefox may get affected by the PUA in the background, so you should get rid of it and all the alterations.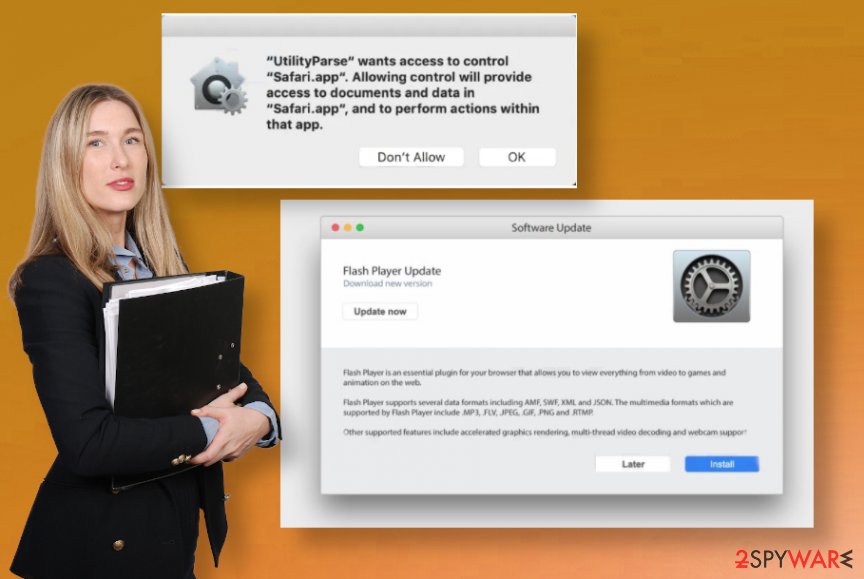 Utility Parse – the adware tool that is intrusive and displays advertisements with triggers for more shady sites.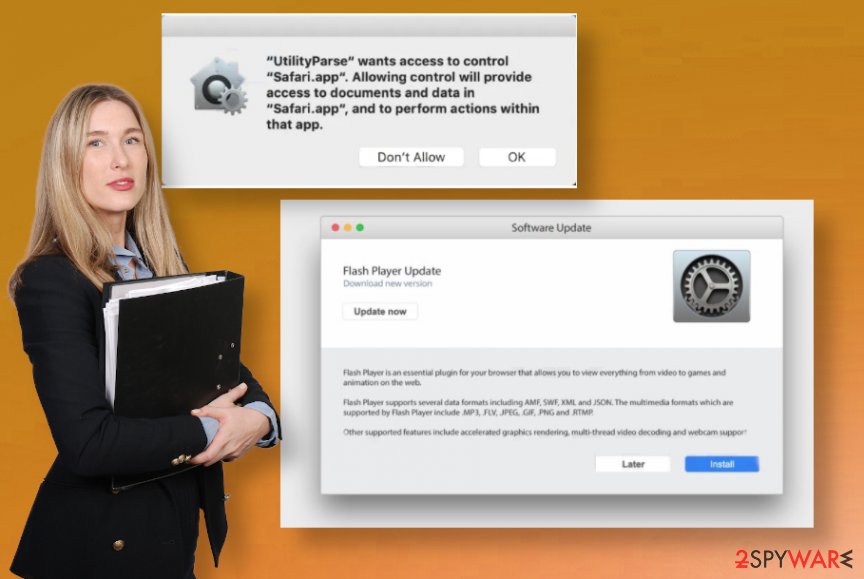 Utility Parse – the adware tool that is intrusive and displays advertisements with triggers for more shady sites.
You need to remove UtilityParse fully by scanning the system with an anti-malware tool or security utility. This is the best method because a thorough check on the machine indicates any issues regarding the system infections and data affected by the third-party commercial content, adware itself, or any other threat that may run on the PC without your knowledge.
Make sure to clean the system and ignore any messages that UtilityParze is related to, so data tracking issues[2] can be avoided. This is a serious but common problem that is related to ad-supported sites and commercial content creators because revenue is generated by collecting views and page visits, clicks on banners, pop-ups. All the redirects and third-party advertisements attract your attention and trigger more unwanted content, so information about the person that is browsing can be easily accessed.
UtilityParse can be indicated by these markers found on pop-ups or banners:
"Ads UtilityParse",
"Powered by UtilityParse",
"Advertisements by UtilityParse",
"Brought to you by UtilityParse",
"Ads by UtilityParse",
"Ads powered by UtilityParse".
Make sure to go straight to the process of UtilityParse removal, so your machine can be cleaned before any of the important settings get changed. PUPs manage to trigger installs of browser-based intruders and inject other PUAs or tools on the OS, so you should repair any damage using Reimage Reimage Cleaner Intego, or a similar application, so files or permanently damaged files get recovered automatically for you.
Choose wisely for the termination of the Utility Parse macOS virus because detection[3] of the application-related file shows that not any anti-malware tool can find the intruder malicious and remove it from the system. So base the selection on the list of possible detections, but remember that names depend on the database that AV engine uses. The same virus can be indicated as: Trojan.Adware.MAC.Pirrit.1; Adware:OSX/Pirrit; Riskware.Mac.Mlw.hanoqk; Osx.Malware.Agent-7543968-0.
PUPs get installed by the user unknowingly
In most cases, potentially unwanted programs including adware or browser hijackers can find their way on the system while the person is surfing online. It is because deceptive and misleading sites include malicious injections and advertisements that create frustration for the user due to intrusiveness and unwanted material display.
PUPs can be offered through advertisements and promotional sites, so you get the tool that is useless when you install another freeware that seems needed and wanted. It may get bundled too, so you cannot even know that you received the program or when that happened. You should be aware that anything that comes for free comes with some additional conditions.
You can avoid these shady infiltrations by selecting proper sources, going for official developers and providers instead of torrent services. Also, the freeware installation mode can make a huge difference because Advanced or Custom options provide the opportunity to remove any unwanted application from the list. Recommended or Quick installations agree to all the pre-bundled programs at once.
Get rid of the UtilityParse macOS PUP
Since the UtilityParse virus is not properly disclosing what happens on the machine once it is in, you should clean the machine by relying on the automatic methods. Since macOS is generally a safe system and devices are not that vulnerable to cyber infections, you may think that additional security tools are not needed.
However, it is not that easy to find all the files and PUP applications to remove UtilityParse manually. This is why we and other cyber threat researchers or experts recommend getting proper AV tools for the job. Security tools designed for the cleaning purposes can check and find, then remove all the threats that bother you.
When you choose the tool for the UtilityParse removal, you need to select the proper application and run the full system scan, so PUP traces get eliminated. Also, since virus damage may still trigger additional installations and issues, remove the affected files or at least check for corrupted parts with a system tool.
You may remove virus damage with a help of Reimage Reimage Cleaner Intego. SpyHunter 5Combo Cleaner and Malwarebytes are recommended to detect potentially unwanted programs and viruses with all their files and registry entries that are related to them.