Tsyndicate.com is the suspicious website indicated as dangerous by online visitors due to additional malware spreading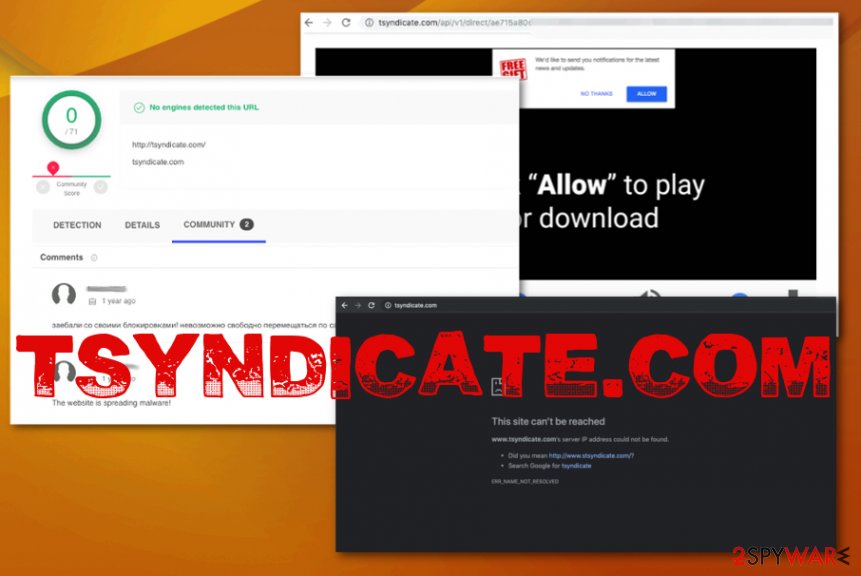 Tsyndicate.com is an adware-type intruder that focuses on redirecting the user to unsuspected and possibly harmful pages. People end up on the page unintentionally, and this is because of the potentially unwanted program that triggers such behavior in the first place. Also, adware is the program that supplies advertisements and tracks, collects users' data. When you encounter the initial redirect to this page there is nothing on the browser besides the occasional pop-up about notifications and additional content. This behavior is suspicious in the first place, but some users online have reported that visiting the page resulted in more unwanted programs or even serious cyber infection. Since potentially unwanted programs reroute the traffic to shady services it is totally possible to get the malicious programs on the machine.
Name
Tsyndicate.com
Type
Adware/ Redirect virus
Symptoms
Advertisements appear out of nowhere and on websites that you typically don't find pushing any software or shady services. The main redirect to this page also occurs from nowhere, so the online traffic is hijacked. It becomes impossible to access needed pages and use the device normally due to performance and speed issues
Main danger
Ad-tracking[1] is the main issue that should bother any victims because PUPs are related to advertisers, other shady services that rely on data tracking. Also, visiting pages filled with commercial content can lead to infiltration of more serious malware without your knowledge
Distribution
The main technique used by PUP developers is freeware bundling[2]. This is the borrowed marketing method that allows to pre-pack PUPs with programs delivered from the internet. Once you rely on torrent sites, free download pages and get apps from promotional content, you get a cyber infection without even noticing
Elimination
The best way to remove Tsyndicate.com and other associated or similar threats – anti-malware tools. These programs can indicate malicious activities and possible danger to clean the system fully
Tip for system files
Additionally, when potentially unwanted programs come on the system various settings get changed without your permission, including such important parts like the registry. To repair entries in the Windows Registry, get

Reimage

Reimage Cleaner

and run it on the system to avoid further damage
The so-called Tsyndicate.com virus is not a program that could damage your machine, but various changes made to keep the adware more persistent can affect the machine significantly. For example, startup preferences and Windows Registry entries get altered by the adware, so you need to go through them yourself and fix the changes.
Tsyndicate.com adware is potentially dangerous because the lack of knowledge can cause serious corruption in the registry. You should also check each web browser separately because PUPs can easily find their way on Google Chrome, Internet Explorer, Mozilla Firefox, or Safari and inject extensions, add-ons, plugins to affect the time online even more.
Main symptoms of such infection appear on the screen and frustrate the user, but it is possible that adware got installed way back before redirects started, so you should think about Tsyndicate.com removal as soon as you notice:
online traffic redirects;
alterations to browser preferences, settings of the search engine, default homepage;
installed extensions, toolbars, add-ons;
pop-ups with updates, promotional material.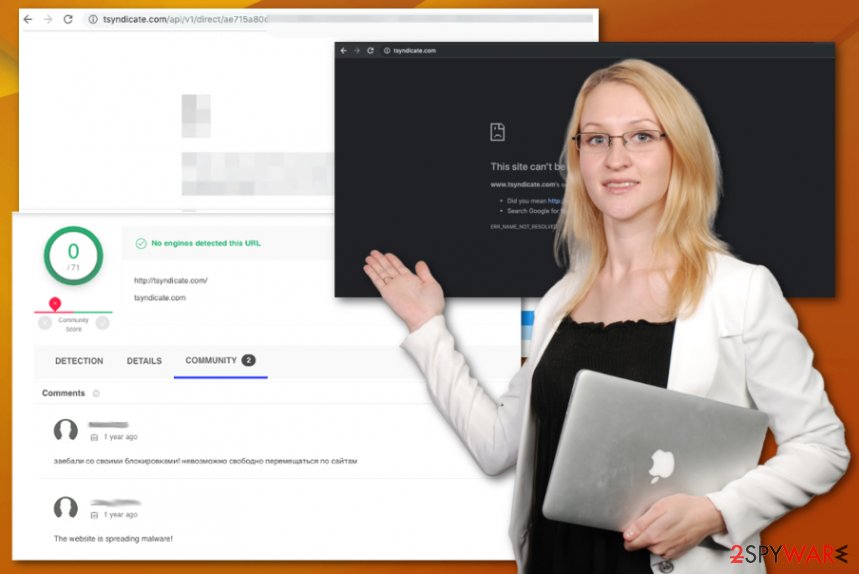 Tsyndicate.com is the ad-supported site that exposes the user to the shady material, so malware can get directly installed on the machine without your knowledge. Tsyndicate.com is the push notifications-causing program that shows commercial content and redirects the user to various pages where intrusive advertisements collect information related to the browsing activities, online content preferences. Details like IP address, location, most viewed pages, and searched items are valuable for the personalized malvertising campaigns during which such intruders can also be delivered to you.
Unfortunately, such behavior also can cause privacy issues, identity theft, problems with your data secureness. So you should remove Tsyndicate.com as soon as you notice the intrusive adware symptoms. Various domain names can appear on the screen, and you cannot indicate the program that is causing all the issues. This is why you need a proper anti-malware tool that checks your machine fully.
The program indicates potentially damaging or dangerous programs, and Tsyndicate.com-related adware can be one of them. Once you see all the scan results, you can eliminate harmful applications and clean the machine from any intruders. However, to repair possible damage and get back to normal settings you need optimization software.
Tsyndicate.com goes through various settings and makes a huge difference in performance when startup preferences, registry entries get changed. Experts[3] note that manual changes in the Windows registry can cause issues if you are not advanced and knowledgable enough. Get Reimage Reimage Cleaner or a similar program and try to repair system files safely.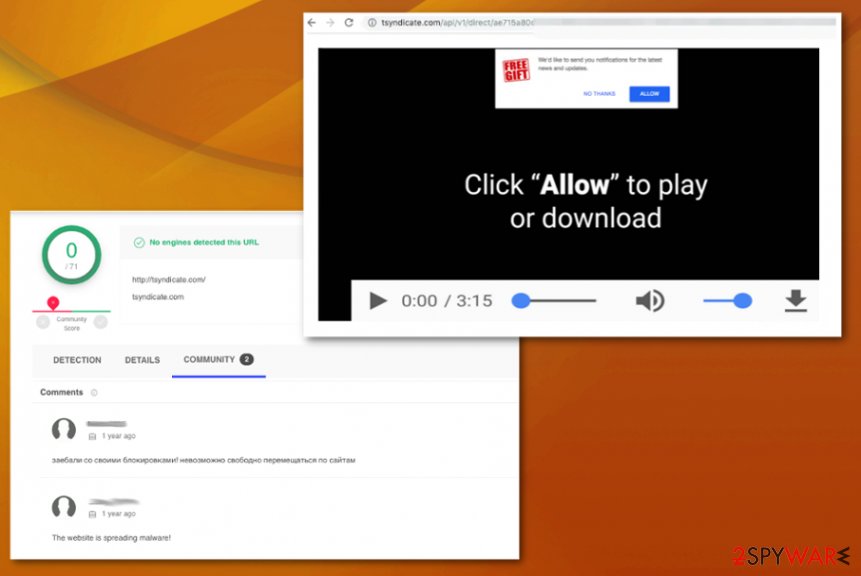 Tsyndicate.com is the adware-type cyber threat that mainly is focused on showing pop-ups, redirects with promotional content and advertisements.
Additional freeware downloads didn't get fully disclosed during the installations
Browsing online can lead to issues with your machine without your notice because tons of sites can trigger direct downloads of applications, browser extensions, and even malware automatically. Advertising services, free download sites, promotional pages all rely on ad-tracking and techniques that allow generating revenue form views and visits.
Unfortunately, when the automatic download gets triggered you are not asked to permit anything. But you can choose the source of the program and the particular installation options when you go for the more trustworthy sources of application.
Even when you go for torrent sites, shady sites where licensed programs come for free, you can choose Advanced or Custom options instead of quick or recommended ones and de-select the programs from the setup list that are not valuable or desired for you. Nevertheless, going for official providers, trustworthy distributors is the best way to go when you want to keep the PC virus-free.
Clean the machine fully to eliminate Tsyndicate.com alongside other threats
Since the so-called Tsyndicate.com virus is a shady program which cannot be noticed by the user that easily, you need to clean the machine using automatic tools. The system gets contaminated with all the adware-related files and applications, so the speed is diminished, and the PC gets exposed to harmful content.
To remove Tsyndicate.com completely from the machine, you need a scan of the system using a credible anti-malware tool. Such programs can indicate the potential risks, clean the machine, and get rid of the infection. You should also manually go through Google Chrome, Mozilla Firefox, Safari settings, and return them back to default.
This is an important step in Tsyndicate.com removal because anything changed on the browser, in system folders, settings, and startup preferences affect the persistence of this PUP significantly. Once you are done with the elimination process and manual changes, you should run a system tool to get rid of the damage.
You may remove virus damage with a help of Reimage Reimage Cleaner . SpyHunter 5Combo Cleaner and Malwarebytes are recommended to detect potentially unwanted programs and viruses with all their files and registry entries that are related to them.