Trojan.Agent is a generic definition of particular malware that can be set to do a variety of malicious tasks on the infected machine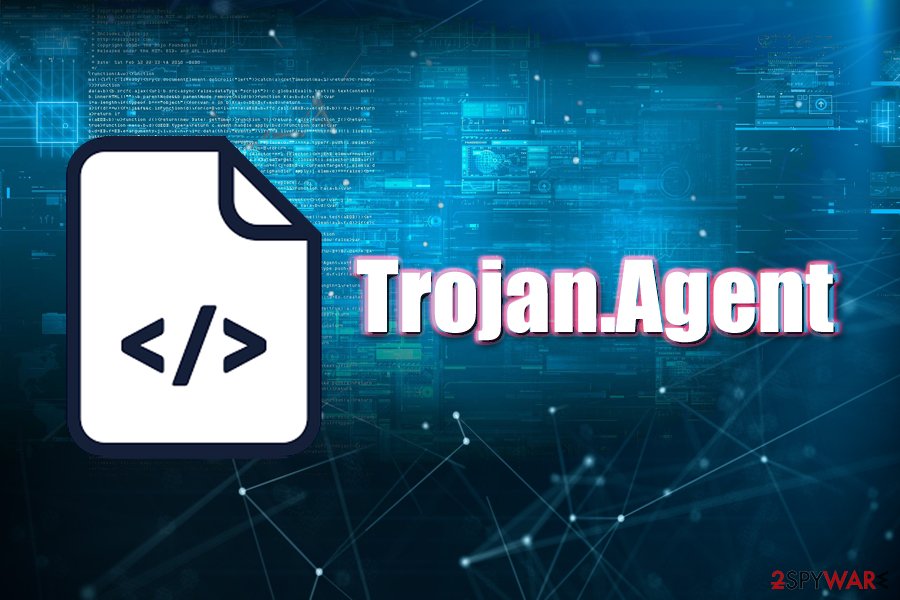 Trojan.Agent is a type of malicious software that uses deception to access user's Windows machines
Trojan.Agent is a heuristic[1] detection name of a Trojan malware category and is often used by a variety of anti-virus engines. Generic names are given to distinct malware family members or when the threat has never been analyzed before, and no detailed information is available. Nevertheless, even then, most of the reputable anti-malware programs are capable of detecting and stopping Trojan.Agent from infiltrating the computer by using machine-learning[2] and other sophisticated methods.
The main purpose of Trojan.Agent is to access the machine while pretending to be something else – in other words, Trojans are pieces of malicious software that disguise as something desirable, such as an application or an email attachment from a seemingly legitimate source. Once inside, the system, Trojan.Agent virus can be set to perform a variety of activities, including stealing information, a proliferation of other malware, logging keystrokes, send spam, and much more.
Name
Trojan.Agent
Type
Trojan
Description
Trojans can represent a wide variety of malware, as their main goal is to gain access to the computer by pretending to be something else
Alternative names
Trojan:W32/Agent, Win32.Trojan.Agent
Infiltration
Malware is usually downloaded from malicious websites, distributed via malicious email attachments, fake updates, scam sites, etc.
Symptoms

While Trojans usually lack visible symptoms, users might notice the following:

Redirects to malicious or suspicious websites
Sluggishness of the web browser
Increased usage of CPU or other computer resources
Suspicious processes running in the background
Unknown applications installed without permission
Disabled anti-malware software
System crashes, slowdowns, BSODs, etc.

Removal
Use reputable anti-malware software to perform a full system scan in Safe Mode as explained below
Recovery
In case you experience system instability after you terminate the infection, use

Reimage

Reimage Cleaner

to fix virus damage automatically
A Trojan.Agent virus belongs to the "Agent" family of malware, which can also be attributed to such threats as worms, backdoors, and rootkits. In other words, the name "trojan" defines its distribution tactic (it tries to present itself as something else), but its functions may vary greatly, so it can also be administered to threats like worms, ransomware, etc. Due to this, Trojan.Agent removal methods may vary, as each of the threats might be set to do different actions on the infected machine.
As soon as A Trojan.Agent infiltrates the system, it makes it vulnerable to other threats, which means that they can try to attack the system and initiate malicious tasks on it as preset by malicious actors who launched it. For example, it can be programmed to divert users' HTTP traffic[3] to predetermined websites where automated JavaScript launches various types of ads on Google Chrome, Mozilla Firefox, Internet Explorer, or another browser.
Trojan.Agent then leverages the ad-revenue for its authors, all while the victim is coping with high computer resources usage, sluggishness of browsers, and other issues. Therefore, despite a popular belief, the increased amount of ads does not always mean adware or a browser hijacker infection but also can be a sign of a Trojan.
Trojan.Agent, depending on its aim, can also sometimes show the following symptoms:
Increased CPU usage
Slowness of the machine
System crashes
Disabled anti-malware software
Application launch failure
Unknown programs running on the computer, etc.
In addition to these "visible" symptoms, Trojan.Agent typically drops a variety of malicious files on the system (in places like %AppData% or %Temp%), spawns various processes, modifies Windows registry keys,[4], and performs many other technical changes to Windows. However, these are not that easy to spot for novice and regular computer users.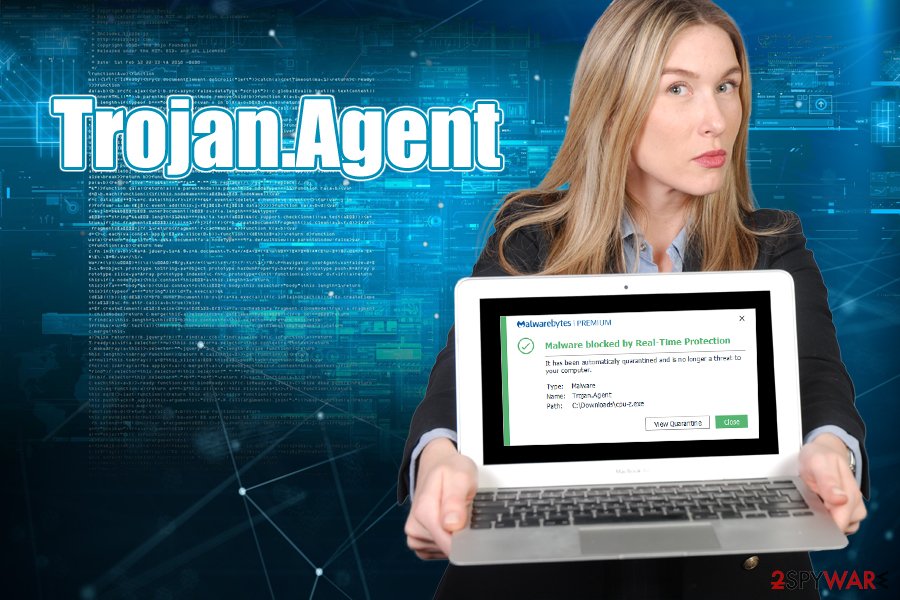 Trojan.Agent is a generic virus that can perform a variety of malicious activities on the host machine
Therefore, the best way to detect and remove Trojan.Agent form the system is by employing a reputable anti-malware program and performing a full system scan. Note that because trojans can be employed to do just anything, it is not impossible that it was used to insert other malicious software on your system. In such a case, anti-malware would get rid of that as well.
Because Trojan.Agent virus tends to modify various system files, it might render the computer damaged after it is eliminated. As a result, you Windows might start crashing, throwing BSODs,, and generally malfunctioning, which could leave you with one option – re-installation of the operating system. To avoid that, we recommend using a PC repair tool Reimage Reimage Cleaner – it can fix virus damage and restore Windows operation to the pre-infection stage.
Trojans can be distributed in various different ways
Trojan.Agent is distributed using different methods that have been widely used by virus creators: it can infiltrate your computer after visiting a malicious website that is filled with infected installers, by clicking on misleading pop-up ad that claims that you need to update one or several of your programs, after opening an infected email attachment that holds macro code inside. Typically, phishing email authors employ social engineering techniques to convince users to open a malicious attachment, so it is important not to do that, even if the email sounds convincing.
Also, downloading illegal programs and cracks can also increase the possibility of downloading Trojan.Agent to your PC system. If you have already noticed that your machine runs slower than it used to run or other symptoms of this cyber threat, you should check your computer for this Trojan horse. Otherwise, you may doom your machine for more serious infections and other issues.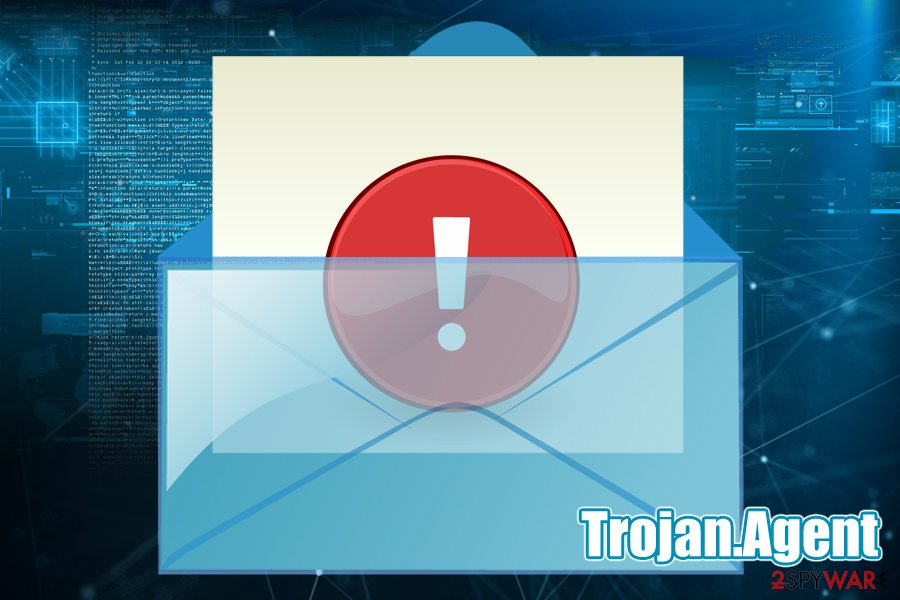 Trojan.Agent can be distributed via spam email attachments
Remove Trojan.Agent from your computer to prevent its compromise
In order to remove Trojan.Agent virus from the system, you should rely on reputable anti-malware software, as tracking all the changes made by it manually would be almost impossible for a regular computer user. However, there are several things to keep in mind before proceed with its termination – for example, the malware might disable your anti-virus to stay on the system as long as possible. Additionally, it could load other malware payloads.
Therefore, Safe Mode might be a mandatory option for a full Trojan.Agent removal – simply follow the guide below. This mode only loads the necessary drivers and processes in order to launch the OS, so malware components are not operational.
Additionally, as a precautionary measure, we also recommend resetting all the installed browsers and resetting all passwords and checking the online banking for illegal money transfers.
This entry was posted on 2020-01-22 at 07:09 and is filed under Trojans, Viruses.