SearchMine.net is a rogue search site that promotes sponsored Yahoo results and compromises browser's settings without permission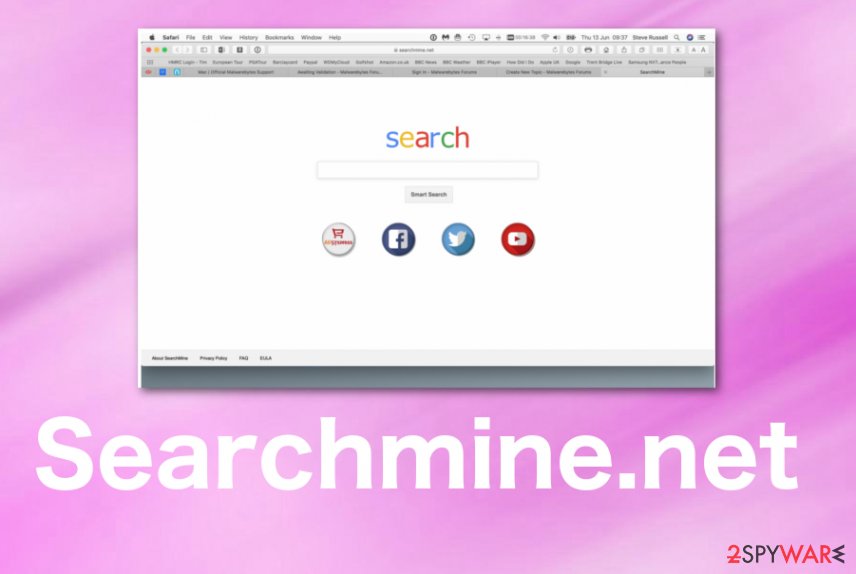 Searchmine.net is the browser hijacker that alters browser settings and replaces the homepage, new tab, and default search engine.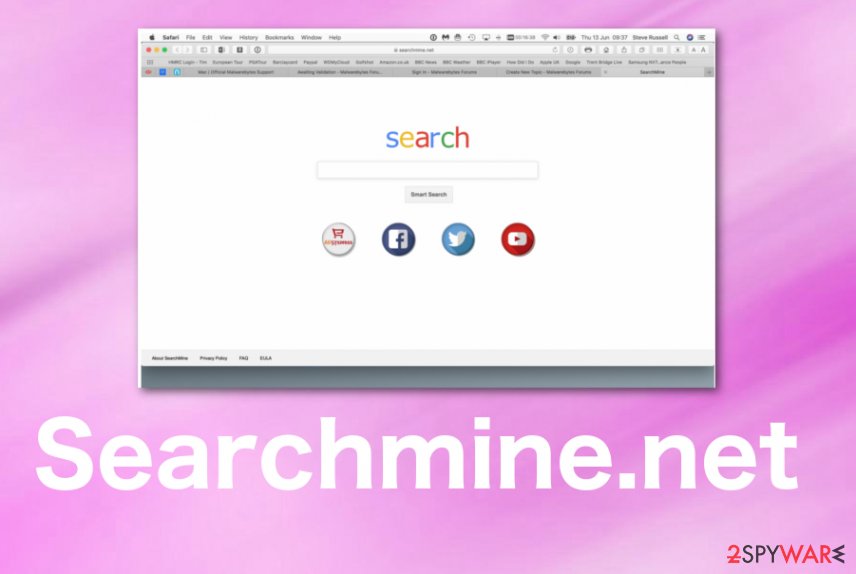 Searchmine.net is the browser hijacker that alters browser settings and replaces the homepage, new tab, and default search engine.
Searchmine.net, also known as SearchMine, is classified as a browser hijacker and potentially unwanted application (PUP) due to shady distribution via freeware bundles[1] and aggressive technique of taking over web browser's settings. In most of the cases, this hijacker spreads in disguise with freeware and adware like Bundlore. Upon installation, it settles down on a default web browser (Google Chrome, Safari, Mozilla Firefox, etc.) as an extension, set the homepage to hxxp://searchmine.net and search.yahoo as a default start page. Such modifications are not only intrusive but also pose a risk of being exposed to phishing websites or offensive content.
Searchmine.net is dubbed as a Mac virus since statistically most of its victims are Mac OS users who employ Safari or Google Chrome web browsers in particular. However, it does not mean that Windows users cannot get infected with this browser hijacker. Beware that it may try to push Web Crawler search results aside with Yahoo, which is yet another dubious search engine used for marketing purposes solely.
Thus, users who have already experienced searchmine.net hijack are strongly recommended to close the browser temporarily and initiate a full system scan to get rid of the malware. Otherwise, this rogue search may continuously expose you to sponsored websites, generate intrusive ads some of which may be used for malware distribution, and even record your web browsing history for sharing it with third-parties.
Name
SearchMine.net
Type
Browser hijacker
Bundled with
Bundlore and other adware apps
Targeted OS
macOS, Mac OS X
Symptoms
Alters new tab, homepage, search engine settings, delivers intrusive ads and redirects all in-browser searches
Risks
Exposes users to suspicious and potentially dangerous content, collects and tracks user information
Distribution
Software bundles, deceptive advertisements, P2P and other third-party sites
Mostly affected browsers
Mainly targets Safari and Google Chrome web browsers on Macs
Elimination
To remove potentially unwanted programs, you should check the instructions below. Additionally, you should scan your machine with security software and reset browsers if necessary
Optimization
To optimize your Mac and delete junk files, download and install

Reimage

Reimage Cleaner

Intego
Users affected by Search Mine hijack will see numerous sponsored links when looking for the information online, which consequently changes which sites they visit, especially if they are unaware that their machines are infected in the first place. Nevertheless, most users will indeed notice that something is wrong because of a new start page, search provider, new tabs, toolbars, and other unapproved changes.
Despite the fact that this rogue search doesn't seem dangerous and its plane style can even appear useful for some people, the bulk of Mac users performed searchmine.net removal right after installing it. However, the problem is that this hijacker tends to returns or does no uninstall completely.[2] In such a case, other malicious programs might be involved, and their termination is required to stop the intrusive ads, redirects, and other unwanted activity.
The ad network is vast, and sometimes, it is hard to determine which company is related. Regardless of how many times you will get redirected, however, you can be sure: multiple parties are receiving revenue. Moreover, they do not care that you are stuck with searchmine.net redirects; contacting these people might be impossible.
Besides, searchmine.net developers hurry to prevent themselves from being accused of anything based on their End User License Agreement:[3]
THIS DISCLAIMER OF LIABILITY APPLIES TO ANY DAMAGES OR INJURY CAUSED BY THE SERVICE, INCLUDING WITHOUT LIMITATION AS A RESULT OF ANY FAILURE OF PERFORMANCE, ERROR, OMISSION, INTERRUPTION, DELETION, DEFECT, DELAY IN OPERATION OR TRANSMISSION, COMPUTER VIRUS, COMMUNICATION LINE FAILURE, THEFT OR DESTRUCTION OR UNAUTHORIZED ACCESS TO, ALTERATION OF, OR USE OF ANY DATA OR INFORMATION, WHETHER FOR BREACH OF CONTRACT, TORT, NEGLIGENCE, OR UNDER ANY OTHER CAUSE OF ACTION.
Searchmine.net virus primarily targets devices running on macOS and particular Google Chrome and Safari browsers with all the hijacker activities. The attack starts when preferred browsers start displaying Searchmine as the in-browser search engine and appear every time you open the new page or new tab.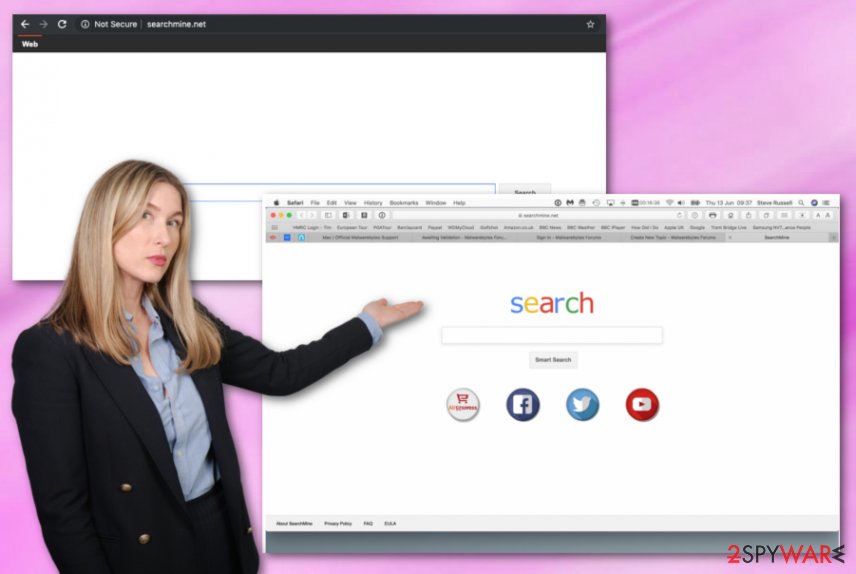 Searchmine is the browser hijacker-type PUP that infiltrates machines without any users' knowledge or permission.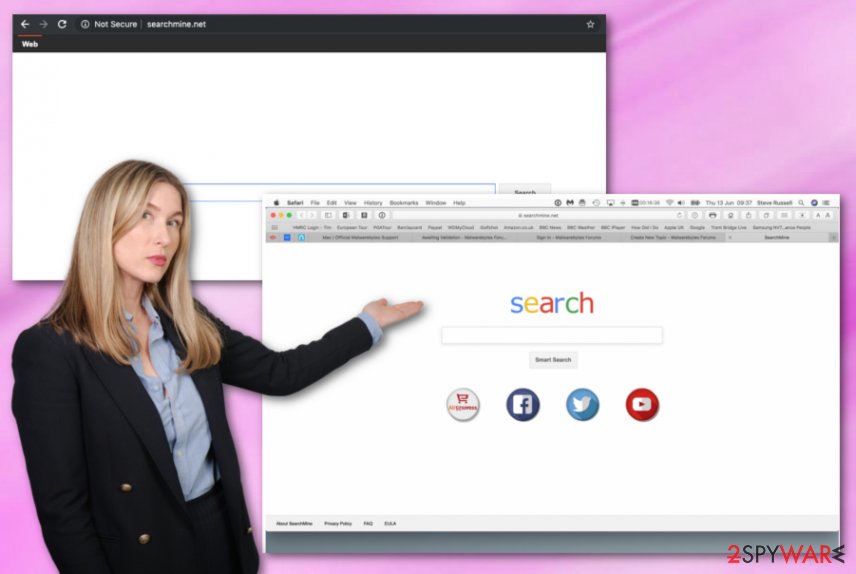 Searchmine is the browser hijacker-type PUP that infiltrates machines without any users' knowledge or permission.
Since Searchmine.net is the potentially unwanted program, you need to be aware that many other tools or browser programs can get added without your knowledge. This feature also helps to keep the persistence of this initial intruder because you need to delete all the content related to the hijacker to end its intrusive processes.
Main symptoms of such programs like searchmine.net hijacker involve:
changed appearance of the browser;
altered homepage, new tab, search engine preferences;
commercial content injected on the browser;
pop-up ads[4] and redirects showing up constantly;
diminished performance of the PC;
affected system speed.
Once a potentially unwanted program as the searchmine.net virus starts affecting the PC, the performance of the machine significantly diminishes. It also affects the processes and the general speed of a machine. You need to get rid of this program entirely from the system to get back to the device that performs normally.
Search Mine can be associated with other potentially unwanted programs, so don't be surprised when the computer gets additional tools or in-browser extensions. All the popular web browsers can get affected by such intruders, so make sure to eliminate these PUPs as soon as you notice the intrusive behavior.
You should remove searchmine.net as soon as your browser stars delivering suspicious results or causing redirects to sponsored pages. Commercial content creators, advertisers focus on creating redirects to their sites, so all the pop-ups or banners cause a new page or new tab appearance once clicked.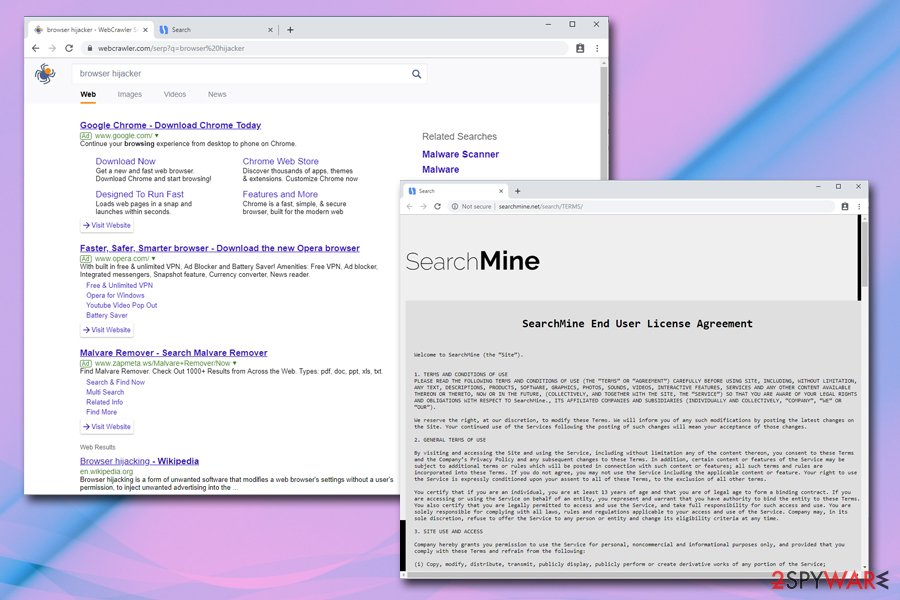 Not only is Searchmine bundled with adware apps like Bundlore, but it also protects itself from any responsibility via the EULA provided on the main site.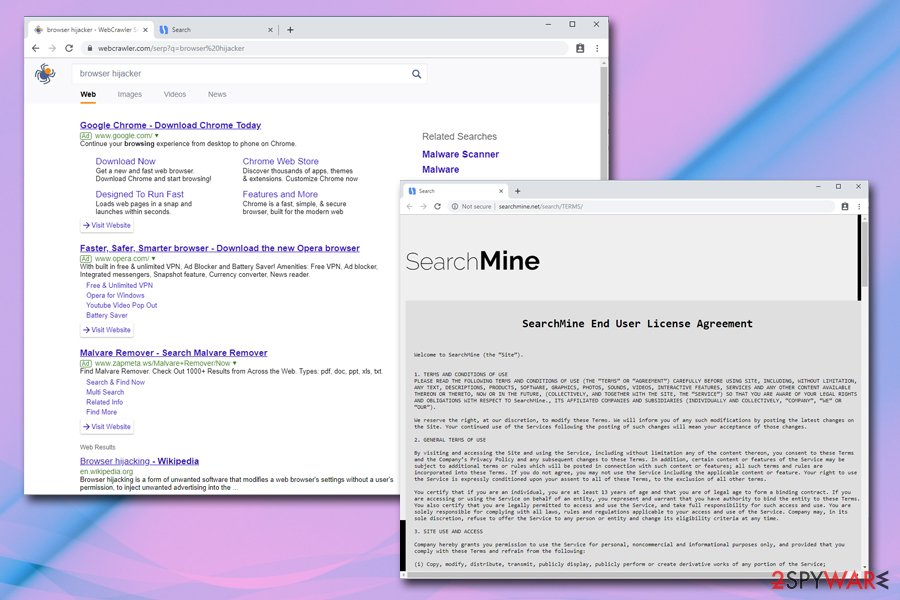 Not only is Searchmine bundled with adware apps like Bundlore, but it also protects itself from any responsibility via the EULA provided on the main site.
Unfortunately, you cannot notice the initial infiltration of searchmine.net malware, so it is unknown when the PUP got on your machine. You need to eliminate this threat, so your data remains safe because potentially unwanted programs have the functionality of tracking and collecting various data regarding your online preferences and location, details about the device.
PUPs such as the searchmine.net virus can access details about your online browsing, search queries. Most visited sites and searched items, IP address, location, and other information about your online browsing preferences can be useful for advertisers when they created commercial content, so this data is shared with all the sponsors and third-party companies. Also, the Privacy Policy of this program claims that some technical data is also gathered:
Certain technical information regarding your device, and your Use of the Software & Services and other third party software and applications installed on your device (the "Other Software"), including the type, name and version of operating system and Other Software including, without limitation, their interactions with the Software & Services, ISP (Internet Service Provider), location, Internet protocol (IP) address, anonymous user identifiers, device configuration and identifiers (IDFA (Identifier for Advertisers used in IOS), Advertising ID (Identifier for Advertisers used in Android) and the like), version of the Software & Services, and your configuration and settings of the Software & Services;
Experts[5] recommend using professional anti-malware for Searchmine.net removal because all the programs and files might not be easily found manually in some cases. Additionally, for maintenance purposes and better operation of the Mac, we recommend using Reimage Reimage Cleaner Intego.
You should also keep such tools on the machine and run occasional scans to ensure that any PUPs like Searchmine.net cannot infiltrate the system. Often these programs can block unwanted applications and suspicious pages before you even enter them. Besides, it is a good piece of software while wanting to speed up your computing processes.
Remove Searchmine.net and all the secretly installed browser extensions, toolbars, or bookmarks by resetting the browser to default and changing all the settings back to your preferences. You can find all the PUP removal tips below the article in the step-by-step guide. These steps are valid for Chrome, Firefox, Edge, Explorer, and Safari browsers.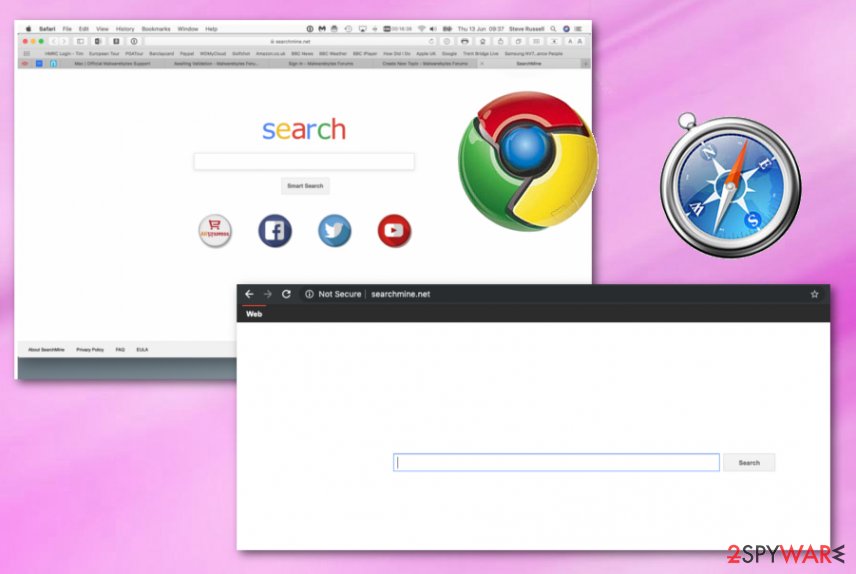 Searchmine.net virus is the potentially unwanted program that makes a huge difference in the speed and performance of the infected PC.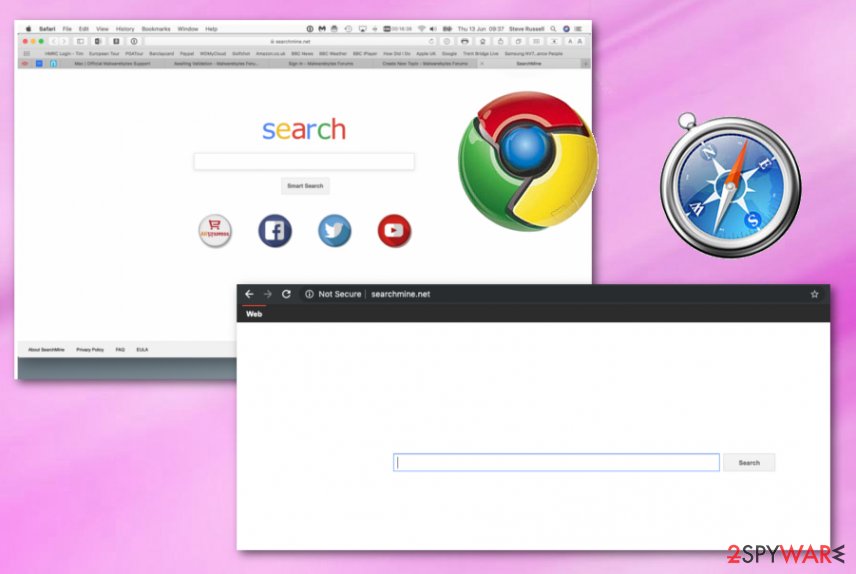 Searchmine.net virus is the potentially unwanted program that makes a huge difference in the speed and performance of the infected PC.
Click-bait ads on shady websites can lead to easy PUP infiltration
Deceptive advertisements redirecting to questionable websites, pages filled with commercial content, and other intrusive pop-ups or promotional material can lead to unwanted infiltrations of programs like adware or browser hijackers. Clicking on suspicious ads, visiting questionable pages, and so on can expose to various malicious sites.
However, the primary method used to deliver cyber infections and all those intrusive potentially unwanted programs is software bundling. This technique involves freeware distributors and PUP developers who pack their products in bundles and spread around the internet with the help of torrent sites, p2p[6] sharing services, and installations setups.
These unwanted programs come as additional installation parts when users download applications from the internet via questionable sources or providers. The main issue is with installation options because choosing Recommended, or Quick installations agree to get all the programs packed in the bundle. If you opt for the Advanced or Custom process, you can see all the included apps and de-select any suspicious tools from the list.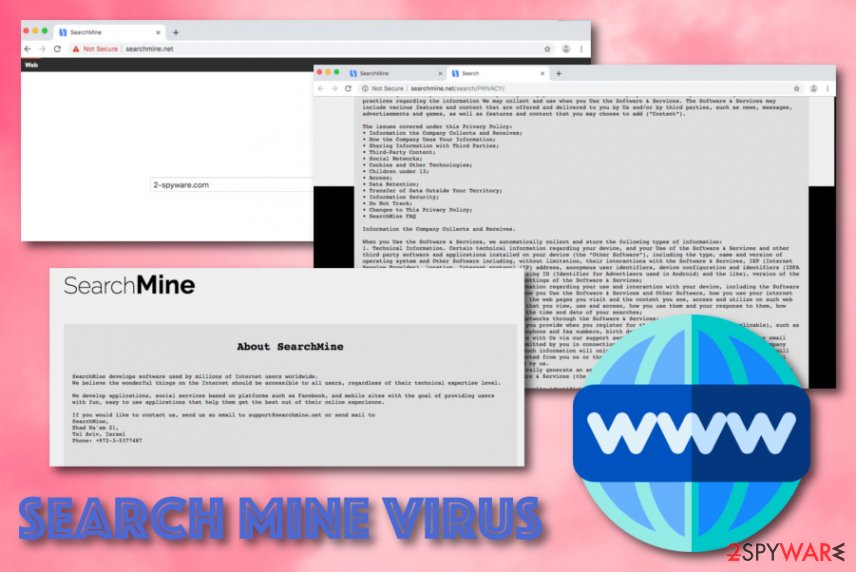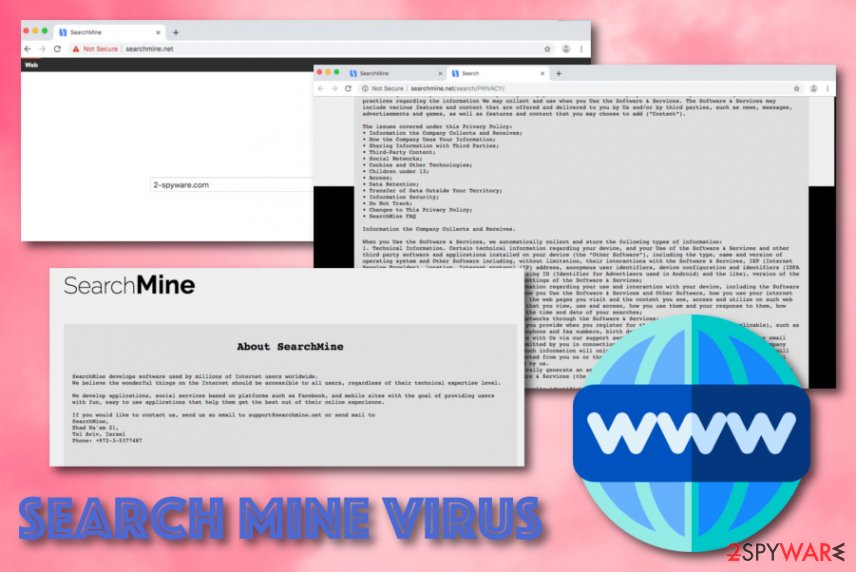 Delete Searchmine.net virus and all the associated programs to restore machine's stability
You should be aware that any program like potentially unwanted applications, adware, and rogue tools can automatically install files and in-browser content behind your back. Merely for that reason, Searchmine.net removal requires attention and professional tools, so that all the intruders get eliminated.
You can try to remove Searchmine manually, but PUPs come with additional files and functions, so full system cleaning can help to fix additional issues with your computer that may be caused by the infiltration of this cyber threat. Get anti-malware tool, download the program from a reliable source, and scan the machine thoroughly.
If, after all, you are determined to eliminate searchmine.net virus from the system manually, follow the guide submitted below and initiate every step in the right sequence. Note that it is not enough to get rid of the malware installer. The browser hijacker will reappear every time when you reopen the browser as long as the browser's settings won't be restored to the state before the attack.
You may remove virus damage with a help of Reimage Reimage Cleaner Intego. SpyHunter 5Combo Cleaner and Malwarebytes are recommended to detect potentially unwanted programs and viruses with all their files and registry entries that are related to them.