EasyXplore is a potentially unwanted program that injects unwanted toolbar and generates sponsored search results
EasyXplore is a free desktop toolbar app for Windows that creates an impression of a legitimate search tool. However, it's yet another potentially unwanted program (PUP)[1] that is being actively promoted via hyperlinks on shady websites and freeware downloads. Its installer easyxplore-setup.exe can also be downloaded right after clicking on click-to-download ads. Although technically PUPs are not malicious, they can implement unpleasant activities, diminish the system's performance, and even provoke the installation of malware.
The cybersecurity community started referring to this toolbar as a virus when people flooded forums with a question on how to uninstall easyxplore app. Although it's promoted as a "simple, but efficient desktop browser," it runs various background processes, installs a direct search toolbar on the Windows desktop, can promote sponsored Yahoo search, and load many commercials during web browsing. Such modifications are as intrusive as potentially dangerous due to misleading content that may be presented to the users. Moreover, upon the browser's hijack, this toolbar may regularly record and share people's browsing history, thus posing a risk of privacy violation.
Name
EasyXplore
Classified as
Potentially Unwanted Program (PUP) / browser hijacker
Compatibility
Windows OS
Distribution
The toolbar can be downloaded from the official website. However, typically it is installed after clicking on hyperlinks positioned on the affiliate websites or along with freeware
Symptoms
The main symptom – a simple black search toolbar installed directly on Windows desktop. Aside from that, search results may be generated via an alternative search engine, people may receive loads of ads and popups, the performance of the system may diminish, etc.
Danger
This PUP is not dangerous. It's a free app that can be used if the user approves of such service. However, it may get installed without permission, run background processes, display sponsored content among search results, or harvest search data. Thus, it is not recommended using.
Elimination
People who seek to remove easyxplore malware can use a free manual elimination tutorial submitted by our technicians. However, it is advisable to get rid of it using a professional AV tool, especially it has been installed via freeware.
Damage fix
This application might have initiates changes in AppData, Local, System32, and other directories. Moreover, some Registry entries can be modified, which is why a thorough scan with

Reimage

Reimage Cleaner

Intego repair tool is recommended
Information on what is EasyXplore and its functionalities people can find out visiting its official website. However, in short, it's promoted as an easy-to-access desktop-based search toolbar, which has a go back / forward and refresh functions. Besides, it is supposed to display Google-based search results.
One user on Reddit[2] provided an overview of the easyxplore toolbar and, in fact, expressed likes for its performance. However, he pointed out that it lacks some features, for example:
No extensions allowed;
No availability to access browsing history, bookmarks, and download list;
Shortcuts like Ctrl + Shift + T do not work;
Private browsing option missing;
No settings introduced (themes, clear cache, history data, autofill data, saved passwords, etc.).
Nevertheless, there are more negative references to this toolbar than positive. In fact, the most common discussions related to it on online forums escalate easyxplore removal problems. It turns out that it may not be easy to delete this application from the system even though it has a direct uninstaller.
Cybersecurity experts from novirus.uk[3] initiated research on this PUP and claim that easyxplore removal can be disrupted by additional processes that it runs in the background of the system. The processes associated with it are the following:
$RT6JV30.exe (often flagged by AV engines as malicious). It is described as easyxplore Update process.
EasyXplore.exe is the main executable of the program. You may not be allowed to delete the app as long as this process runs in Task Manager.
easyxploreUpdate.exe
npeasyxploreUpdate3.dll
psuser_64.dll, etc.
Usually, these files are located in the following directories: c:\$Recycle.Bin\S-1-5-21-1747808641-3243463197-911884978-1001\, System32, AppData\Local, System32\Tasks, and similar directories. However, even knowing the package of files that belongs to the easyxplore virus is not a solution because detecting and disabling them manually may be difficult or impossible.
If you have installed this PUP accidentally, use programs like SpyHunter 5Combo Cleaner or Malwarebytes to remove easyxplore completely. This way, you will ensure the successful elimination of the entire software bundle. Besides, don't underestimate the need to recover the system after malware infiltration. Compromised registries and other side effects can lead to various disruptions and significant slowdowns.
As we have pointed out before, this questionable toolbar is not malicious. However, it may be a reason why your web browser's settings have been altered without your permission, why you keep being redirected to questionable websites, or why you see intrusive ads all the time. Beware that easyxplore redirects can be used for promoting affiliate websites the content of which is not controlled by this policy of the toolbar.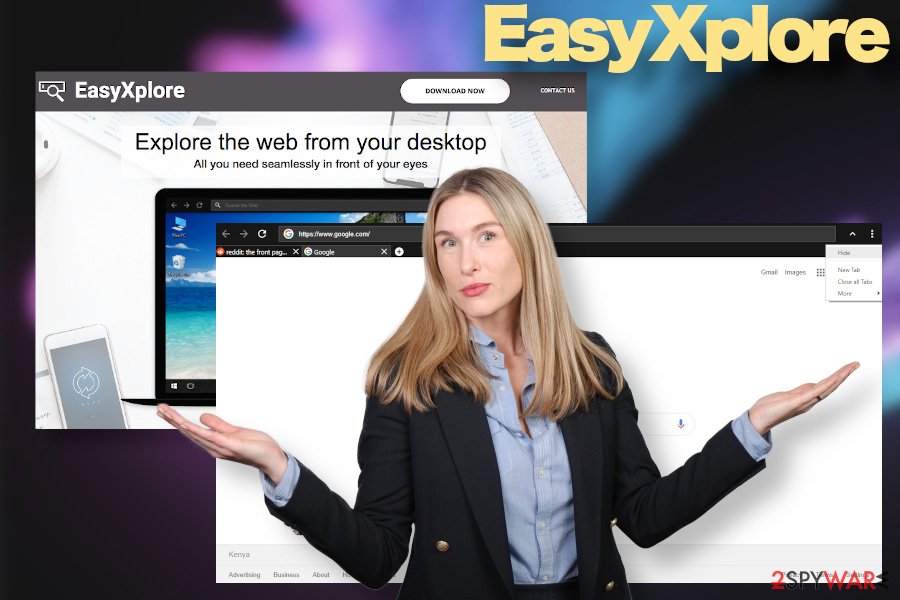 EasyXplore is potentially dangerous application as it may display hyperlinks and redirect to suspicious websites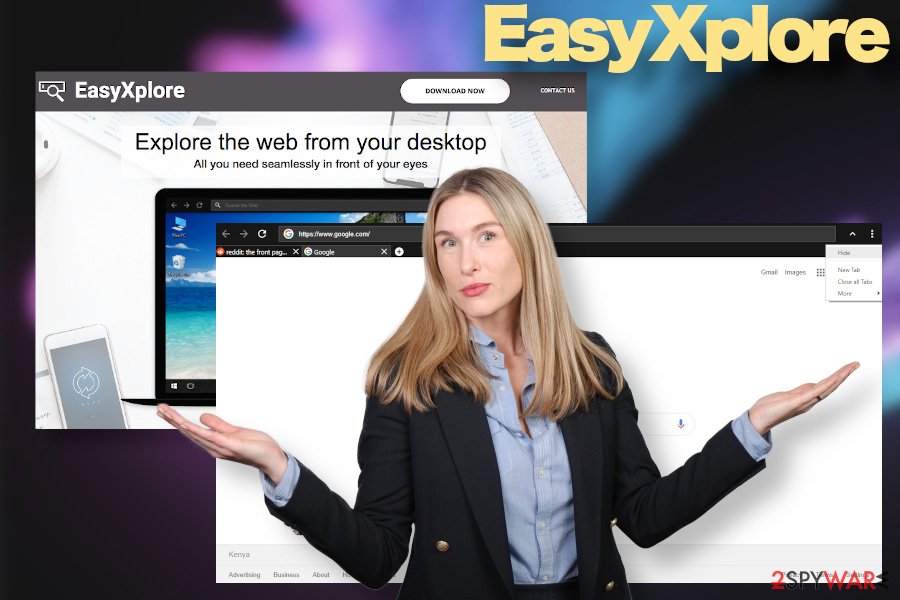 EasyXplore is potentially dangerous application as it may display hyperlinks and redirect to suspicious websites
Moreover, easyxplore spam can be extremely intrusive. The toolbar may inject ads on every website that you visit or turn random texts into hyperlinks. An accidental click on any of these commercials can trigger the browser's redirects thus disrupting your activities and posing a risk of being exposed to dangerous domains. Here's an excerpt from the EULA[4]:
Our Service may contain links to external sites that are not operated by us. If you click on a third party link, you will be directed to that third party's site. We strongly advise you to review the Privacy Policy and terms and conditions of every site you visit.
Last ground why you should consider the easyxplore virus removal is related to privacy issues. The PUP may be continuously gathering browser-based information, such as search queries, IP addresses, visited domains, clicks, geolocation, and similar. If you are not fond of sharing it with third-parties, the elimination of this intruder is all you need to do.
Means used to disseminate Potentially Unwanted Programs
Potentially Unwanted Programs or PUPs include programs such as adware and browser hijackers under the list. These programs are non-dangerous, though they lack users' choice in many aspects, including installation, changes of settings, content delivery, or removal.
If you don't want to end up with intrusive apps hijacking your web browser, it's important to remember that this type of threat is usually downloaded with some freeware or shareware. As the most typically PUP bundlers, PDF converter, download managers, software updates (from third-party websites), games stand in the priority.
Experts recommend people to be cautious with apps promoted on third-party sites such as cnet.com, download.com, and softonic.com. They monetize free services by bundling apps with additional installers often. If, however, you need an app from these sites, make sure to select the Advanced or Custom installation technique. This way, all setup windows will be disclosed to you, including the ones containing preselected optional components. All you have to do is to remove checkmarks placed aside additional offers.
Besides, be careful on websites that your browser redirects you to. Misleading pop-up ads, software update promote or hyperlinks can also work as click-to-download content leading to PUP infiltration.
EasyXplore malware removal options
EasyXplore removal is the only remedy to disable unwanted toolbar from your desktop and finish intrusive redirects to unwanted websites. Note that this PUP is typically distributed along with other suspicious programs, so experts recommend removing it with the help of automated software utility.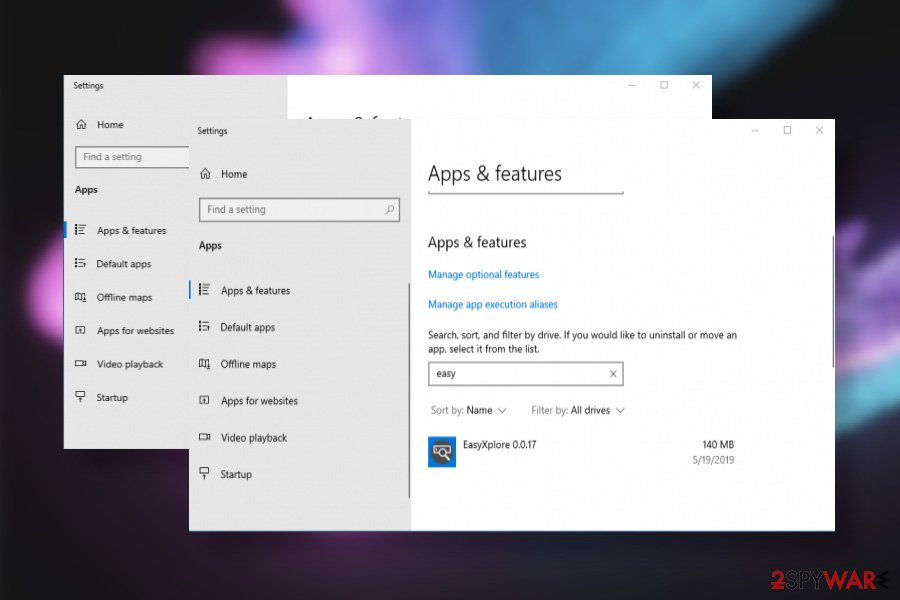 EasyXplore elimination can be disrupted by supporting files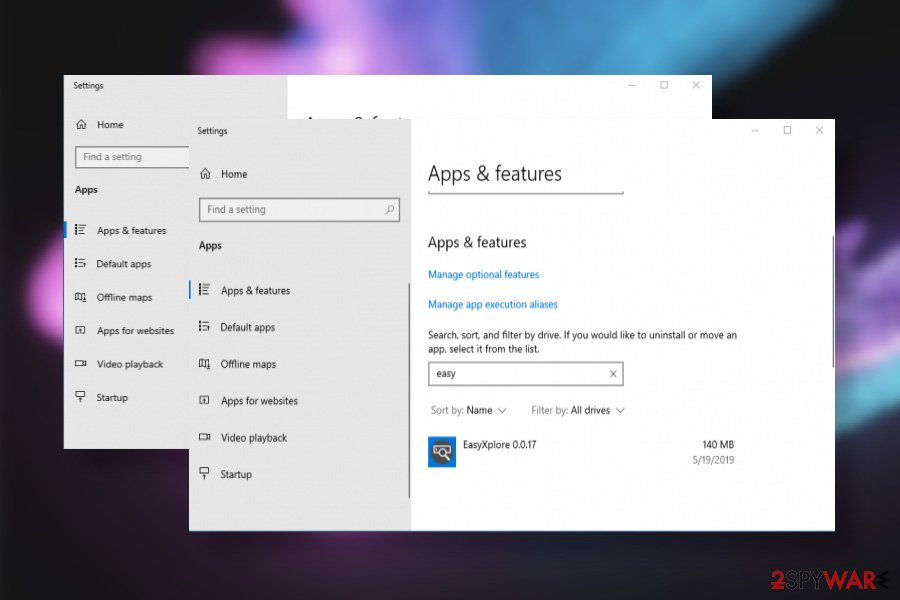 EasyXplore elimination can be disrupted by supporting files
If, however, you want to remove EasyXplore by yourself, you can find a specific guide at the end of this article, which contains a step-by-step tutorial with illustrations helping you to navigate the procedure. This particular malware is compatible with Windows OS only, so stick to the guide for this OS.
If you cannot uninstall EasyXplore because of an error message saying that this app is in use, open Task Manager and disable the main executable, which should be disclosed as EasyXplore.exe. After that, remove the main installer and reset your web browser's to disable related extensions and cookies. Finally, fix the system's alterations with the help of Reimage Reimage Cleaner Intego repair tool.
You may remove virus damage with a help of Reimage Reimage Cleaner Intego. SpyHunter 5Combo Cleaner and Malwarebytes are recommended to detect potentially unwanted programs and viruses with all their files and registry entries that are related to them.
This entry was posted on 2020-05-28 at 03:14 and is filed under Malware, Viruses.