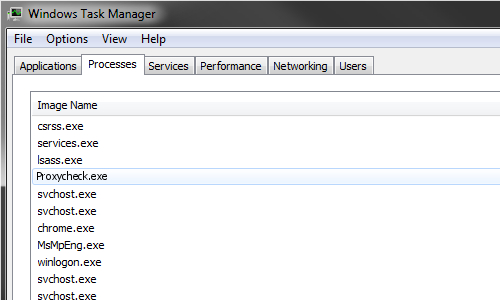 Proxycheck.exe – a suspicious process that should not be running on your computer
Proxycheck.exe is a process that belongs to a potentially unwanted program (PUP) called Anonymizer Gadget. It operates as adware on Windows computers, so users might notice an increased amount of ads showing up on the browser, redirects to questionable websites, and other suspicious activities on the browser.
If you see multiple instances of the Proxycheck executable running in the background, you should take that into consideration and try to at least check for intruders that can be terminated. It utilizes CPU and displays various intrusive pop-ups on the computer. There is nothing valuable about the file or the package it belongs to.
The particular file is even called Proxycheck.exe adware due to possible relation to the questionable program and symptoms typical for PUP-type intruders. There are many annoying features that you can encounter that indicate particular infiltration of the PUA.
Name
Proxycheck.exe
File type
Executable file/ a part of the package that belongs to advertisements delivering PUP
Related software
AnonymizerGadget
Operating Systems affected
Windows 10/8/7/XP
Related to
Adware or more serious malware
Elimination
Download anti-malware tool that can find and eliminate particularly malicious or possibly dangerous files
System repair
The option for better system clearing should include PC repair applications like

Reimage

Reimage Cleaner

Intego that can check for affected files and corrupted parts of the system
This ad-supported application typically installs Proxycheck.exe in a specific folder in C:\Program Files directory. Additionally, this process is visible in the Windows Task Manager. In some cases, it might use lots of computer's CPU. This activity makes the system sluggish.
However, the main activity of the Proxycheck.exe virus is to display various commercial content on the affected web browser. It might display the following types of online advertisements:
banners,
pop-ups,
in-text ads,
hyperlinks,
other types of ads.
In order to do so, adware might alter browser's settings or shortcuts, and install plug-ins, extensions, or other helper objects. Therefore, after the infiltration, you might find unknown applications installed on your browser or computer.
Proxycheck.exe adware floods the browser with ads and diminishes browsing experience. However, developers of the ad-supported application get profits from this activity. Each click on the ad or visit to a sponsored site is worth a specific amount of money. There's no doubt that developers want to get as much money as possible, so affected browsers often crash from the commercial content.
However, the biggest problem is that users might unintentionally click on a malicious link or ad, enter a phishing or tech support website. Therefore, it's important to remove Proxycheck.exe and its related adware before it tricks into visiting sites owned by cybercriminals.
We want to point out that Proxycheck.exe removal requires not only stopping the process in the Task Manager. Uninstall programs, files, and browser extensions associated with this PUP are needed too. However, instead of doing this job manually, you should consider using an antivirus or security tool to determine if there are any intruders.
Some of your files in the system can get altered by Proxycheck.exe or the PUP that is associated, so try to repair the damage using Reimage Reimage Cleaner Intego or a different system optimization tool.
The adware spreads in software bundles and might get installed without user's consent
Proxycheck.exe appears on the system when adware called AnonymizerGadget is installed on Windows computer. This application typically spreads together with various free programs as an optional component. When users do not pay proper attention to freeware installation, this PUP sneaks into the system.
The secret hijack might occur when you use Quick or Recommended installation settings that do not openly disclose about third-party components spreading in the same software bundle. To "unpack" it, it's necessary to use Advanced or Custom settings. However, it's important to follow the guide attentively, and opt-out third-party apps spreading in this shady way.
The correct way to stop and eliminate Proxycheck.exe in Windows
If you have tried to remove Proxycheck.exe by simply stopping the process and deleting the file, you may have found it reappeared soon after a system reboot. It happens because Anonymizer Gadget adware installs it back. You may need some file repairing and solutions that allow you to fix virus damage caused by the shady app. Check for corrupted files with Reimage Reimage Cleaner Intego.
Therefore, the correct Proxycheck.exe removal requires uninstalling adware from the computer. We suggest using an anti-malware tool for this task. As we have mentioned before, there might be numerous files or apps associated with the PUP that might be hard to locate manually. So, you should take advantage of the automatic elimination option with tools like SpyHunter 5Combo Cleaner or Malwarebytes.
This entry was posted on 2020-07-23 at 08:47 and is filed under Files, Spyware related.