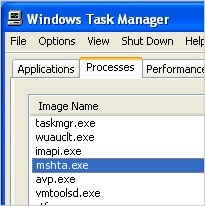 Mshta.exe is an element of Microsoft HTML Application Host
Mshta.exe is a process that is a part of a legitimate Microsoft HTML Application Host for Internet Explorer. This utility executes HTA or HTML files on Windows operating system. The executable file is not harmful to your computer if it is located in C:\Windows\System32\ directory. Otherwise, the name of Mshta.exe might be used as a disguise for a Trojan horse, like Hshta.exe.
The initial symptom that the Mshta.exe may be malfunctioning is related to the CPU consumption. If you started noticing that this process takes up over 40% of CPU power, it's not normal. We suggest checking the location of the file and if it is not situated within the C:\Windows\System32\ directory, do not wait any longer and initiate a full scan with robust anti-malware. This executable file has been actively misused by hackers to bypass application whitelisting defenses and browser security settings[1] and, therefore, allowing attackers to utilize already existing system components instead of injecting new ones. Thus, it's important to remove Mshta.exe trojan before it launches the secondary payload, which may be ransomware.
Legitimate file
Malicious file
Name
Mshta.exe
Mshta.exe
Type
System file
Trojan horse[2]
Danger level
Not dangerous
High. Can be used to infiltrate the PC with ransomware
Related to
Microsoft HTML Application Host
Chromium virus
Distribution
Installed together with Internet Explorer
The common distribution source is malvertising, unprotected P2P networks, or software-bundles
Location
C:\Windows\System32\
C:\Windows\SysWOW64\ or other directories
Symptoms
The process is used to open HTA or HTML files
Might cause system slowdowns, crashes or increase CPU usage as well as help infiltrate the computer with malware
Elimination
You can uninstall Mshta.exe if it is dangerous to your system with

Reimage

Reimage Cleaner

Intego
According to the experts, those who wonder is Mshta.exe safe should identify how this executable file appeared on their computers. The legitimate file must be located in C:\Windows\System32\ directory and installed together with Internet Explorer. Mshta.exe executes the Microsoft HTML Application Host program once IE is installed.
Microsoft HTML Application Host consists of the following elements which are compatible with Internet Explorer:
VBScript;
JScript;
Dynamic HTML;
HTML.
Mshta.exe is necessary for Microsoft HTML Application Host. Thus, we do not recommend you to terminate this process. Otherwise, you might encounter various problems with Internet Explorer after Mshta.exe removal. Instead, ensure that this executable is actually dangerous.
Cybersecurity researchers say that the name of Mshta.exe might be exploited to disguise Trojan horse on the system. Recently, computer users report about suspicious pop-up windows which urge to update Chromium. After checking the location of Mshta.exe file, the person found it in C:\Windows\SysWOW64\ directory.
Therefore, there is a substantial risk that Mshta.exe might be related to the Chromium virus. Trojan horses are highly dangerous cyber threats which are sophisticated enough to mimic the activity of legitimate system files while performing the following malicious operations in the background:
Mining cryptocurrency, like Bitcoin or Monero;
Logging keystrokes and stealing personal data;
Displaying fake login windows to obtain credentials and banking information;
Distributing other malicious programs, including ransomware.
Additionally, Mshta.exe Trojan has the ability to hide on the computer. Novice PC users might not even have a chance to detect the infection manually. Thus, we strongly advise using professional anti-malware tools to scan your files. If the security software recognizes any potential dangers, it will remove Mshta.exe automatically. Reimage Reimage Cleaner Intego is an excellent choice.
Trojan horses have multiple attack vectors
Malicious programs are created to not only hide their presence on the computer but also employ sophisticated infiltration techniques. Additionally, hackers combine social engineering tactics with multiple distribution techniques to increase the rate of infections.
Usually, users can be tricked to install Trojan horses via the following methods:
Deceptive ads and pop-up windows;
Unprotected peer-to-peer (P2P) file-sharing websites;
Bundled with third-party tools.
Likewise, users are advised to download programs only from reliable sources. Additionally, it is advisable to stay away from software cracks and suspicious updates. Instead, browse in verified sites and avoid clicking on commercial content on your frequently visited pages.
Malicious Mshta.exe elimination guide
It is evident that some programs might be categorized as the Mshta.exe[3] virus. Although, it is essential to be sure that the process is actually dangerous to your computer's system before heading to the elimination procedure. First, check the location of Mshta.exe.
If it is placed in multiple or suspicious places on your system, you should remove Mshta.exe right away. As it was mentioned, Trojan horses can employ sophisticated tactics to remain persistent. Therefore, you should rely on professional security tools to protect your PC.
Mshta.exe removal can be completed by scanning your device with SpyHunter 5Combo Cleaner or Malwarebytes. These antivirus programs are designed to detect even the most advanced cyber threats and uninstall them quickly. Note, that you should not hesitate to get rid of the malicious Mshta.exe file as it might open paths for malware.