Protection-fix.fun is the site that hijacks iPhone devices and appears injected on the calendar events with promotional notifications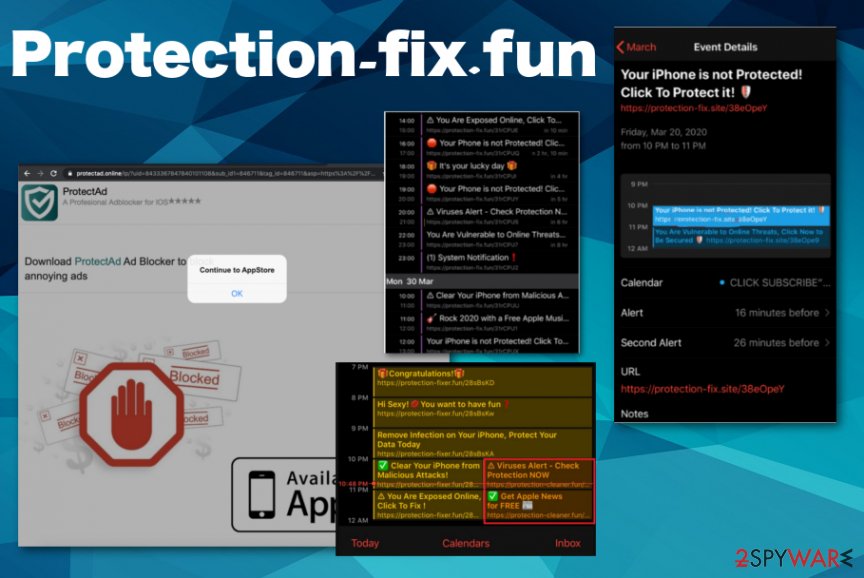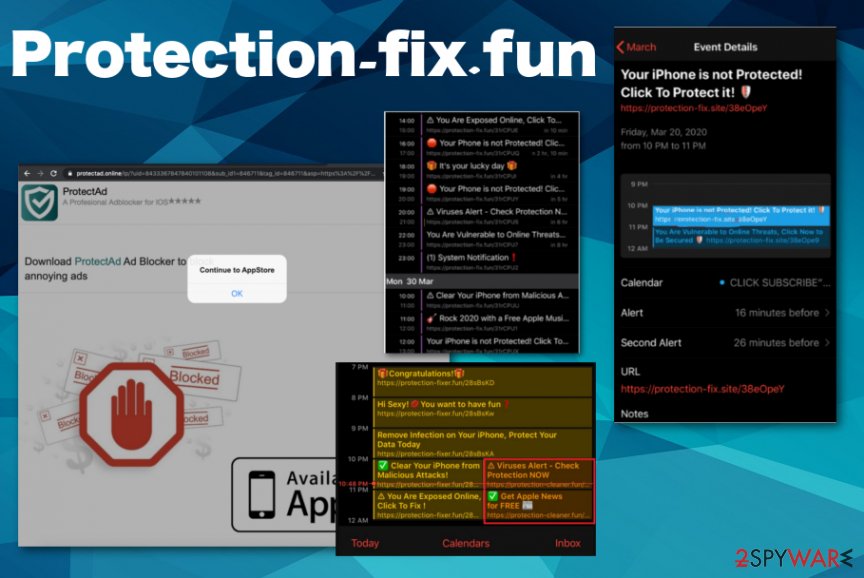 Protection-fix.fun is the redirect appearing on Apple products, that takes different forms and promotes various tools for the system or redirects to commercial sites. This pop-up can also appear as the direct browser redirect and trick you into installing unwanted programs or visit shady pages.[1] This is a PUP itself that triggers various material coming to the screen, so the person is exposed to commercial sites, promotional ads, and can generate views and page visits on needed pages. In reality, this is not a virus, but a sign of an adware-type infection that manages to change notification settings, install other applications on the browser and on the system without any permissions required.
Unfortunately, the PUP that controls the activity of this Protection-fix.fun virus hides in the background and can run on the machine for a longer period to affect more parts of the device and control various functions of the infected device. This is a version of the Calendar virus that is hijacking calendar applications and showing notifications about dubious events, promotes tools, and shows the material that attracts users' attention with lotteries, prizes, and other deceptive claims. It is not harmful itself, but the constant redirects and advertisements can expose you to dangerous pages or even malware-laden sites.[2]
Name
Protection-fix.fun
Type
Mac malware/ Adware
Associated
Calendar virus is the main term for such a program that shows alerts claiming that your device has malware or tricking you into opening the lottery pages, links to commercial sites
Symptoms
Questionable alerts start coming from the calendar applications about unknown events, and all the notifications contain links to additional commercial pages and promote rogue tools and different products. False virus alerts state that you need to get the suggested tool to remove malware that supposedly got blocked by the application, and these pop-ups get injected all over the events in the calendar app on your iPhone or tablet. Additionally, redirects and advertisements appear on the screen constantly due to the PUP that is running in the background of your device
Distribution
This threat has various layers and distribution techniques, so it can be installed via the shady website, phishing email or during the insecure freeware installation. Also, the PUP manages to end up on the device via other intruders already installed on the targeted machine
Affects
Apple devices are the ones that get these issues. Users of iPhones complain the most often
Elimination
Protection-fix.fun removal shouldn't take time if you rely on an anti-malware tool that can find and delete all possible intruders. You can get a proper application from the official source and run the full system check
Repair
As for additional issues regarding the system files and virus damage, you should repair the important features by running a system optimizer or a repair app like

Reimage

Reimage Cleaner

Intego to find and fix problems with the performance
Protection-fix.fun redirects are annoying, and all the notifications, added events frustrate people that encounter these pop-ups on their mobile devices. Numerous strategies can be used to spread these commercial content-based notifications and install those shady PUPs on devices.
The domain itself already promotes the shady software that claims to protect your device from malware and ads. Notifications containing the hyperlink to Protection-fix.fun also state that your iPhone is not protected or that the device is exposed to malware, so you need to install their tool and secure the connection and machine fully.
All those claims are false, and there is nothing legitimate about the domain nor the program that this site promotes and delivers to users without their permissions and knowledge. Protection-fix.fun is considered as dangerous because of the traffic, content it displays, and additional pop-ups that show fake alerts and contain only promotional ads.
Any messages like the following are false, and you should stay away from this or any similar domain:
OUR IPHONE IS NOT PROTECTED! Click to protect it!
If you click on anything associated with PUP, Protection-fix.fun ads, other redirects, and ad-supported sites you may end up on the dangerous page that injects malware on the machine after one or two clicks. This can happen pretty quick, and since mobile devices have screens you cannot exit easily, you may not have any other options but to visit promotional pages and expose yourself to commercial material.

Protection-fix.fun is the site that is not considered safe or good because of the intrusive material.

Protection-fix.fun is the site that is not considered safe or good because of the intrusive material.
There is no guarantee that ads or redirects are not related to malicious content not only shady promotional sites. So try to remove Protection-fix.fun and anything that comes out of nowhere on the screen. Once you can control the screen and activities, you should get the AV tool and run that on the system to find all shady programs and delete them.
This full Protection-fix.fun removal is the only method that can help with PUPs and similar programs because there is no simple way to find all the applications, browser-based content, and other suspicious parts of the Calendar virus. It is not a manual procedure, so rely on professional anti-malware programs and save time.
When you terminate all the apps and machine is cleaned, you can go through settings that PUP changed and remove Protection-fix.fun from any notification preferences, block it on calendar programs and reset web browsers to default, so all the apps and extensions installed behind your back get deleted completely. Anything that may be left on the machine or web browsing tools can still interfere with the speed and performance of the device.
Remember that this an adware-type intruder, so as with any other PUP, experts[3] recommend clearing all parts of the machine as soon as possible because this Protection-fix.fun itself and material that is shown via those constant redirects contains ad-tracking functions.[4]
Your personal details are not accessed, but other non-identifiable data like location, IP address, social media preferences can be attacked, recorded and even shared with any third-party companies that are related to Protection-fix.fun PUP developers. Some of the browser-based applications left behind can easily continue to gather such details, so make sure to remove them all and repair system with Reimage Reimage Cleaner Intego that can find any useless programs and improve the performance for you.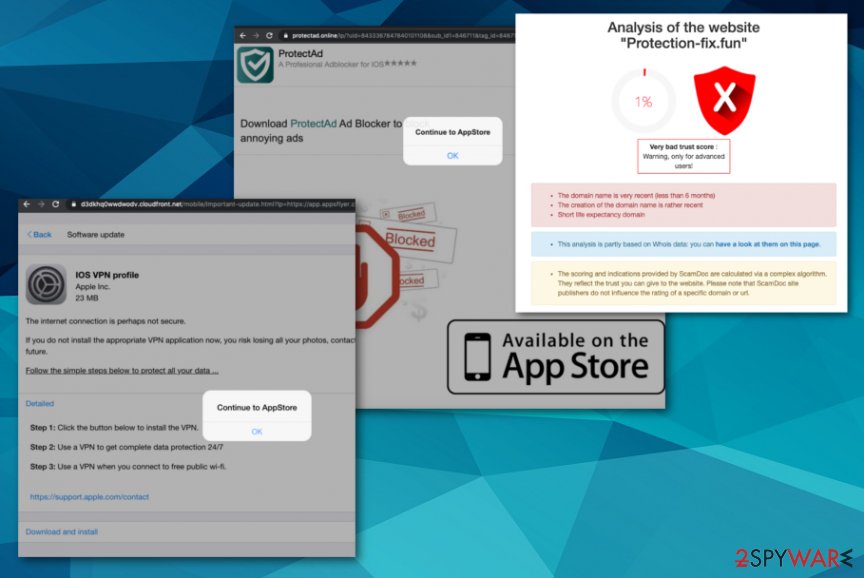 Protection-fix.fun is the Mac malware-type adware program that shows fake messages and pop-ups to trick people into installing useless security tools.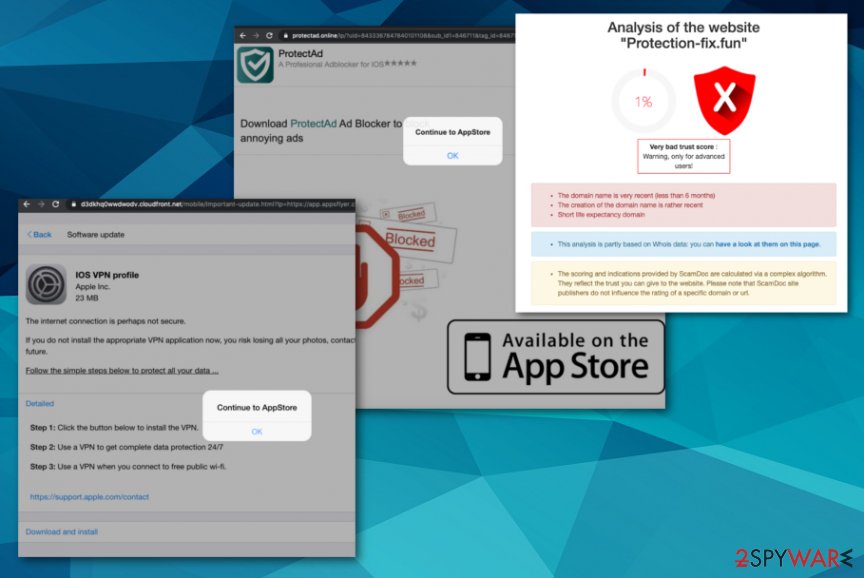 Protection-fix.fun is the Mac malware-type adware program that shows fake messages and pop-ups to trick people into installing useless security tools.
iPhone malware use various deceptive and stealthy methods
These misleading campaigns that provide shady tools for users can involve claims about malware, show false winning alerts and other pop-ups to make sure that people are clicking on the needed material. This redirect virus and calendar scam can be spread around by relying on phishing methods or typical technique – freeware installation with bundled PUPs.
Criminals can make various social engineering strategies useful and attempt to trick people into thinking that these alerts are real notices, so victims install the program themselves. Also, messages on pop-up ads trigger installations of PUPs without causing any additional permission forms.
Mobile browsers often get plugins and applications installed out of nowhere, so the user is exposed to harmful material already, and visits on third-party sites get them to direct downloading pages. Try to keep closer attention to sites you visit and always go for Advanced or Custom installation options to control the downloads fully.
Clear all the events, files, and apps related to Protection-fix.fun PUP
Protection-fix.fun virus a browser-based threat as the domain related to ad-supported sites and other shady advertisers. However, this is a domain that is included as part of the calendar applications-affecting campaign. There are tons of issues that redirects to this site can create.
Unfortunately, this intruder can affect more parts of the device that you can imagine because this program gets, even more, sneakier than other adware-type threats or PUPs, in general. You need to remove Protection-fix.fun as soon as you notice any symptoms like notifications, pop-ups, advertisements or redirects, so the damage is not done yet.
However, the full Protection-fix.fun removal process may seem difficult since there are many parts of the campaign that need to get terminated. Rely on anti-malware tools and get rid of the intruder completely. You should also go through calendar app settings and delete any subscriptions and calendars that got saved without your knowledge.
You may remove virus damage with a help of Reimage Reimage Cleaner Intego. SpyHunter 5Combo Cleaner and Malwarebytes are recommended to detect potentially unwanted programs and viruses with all their files and registry entries that are related to them.