Polleryou ransomware is a file encrypting virus that provides ransom note in English and Russian languages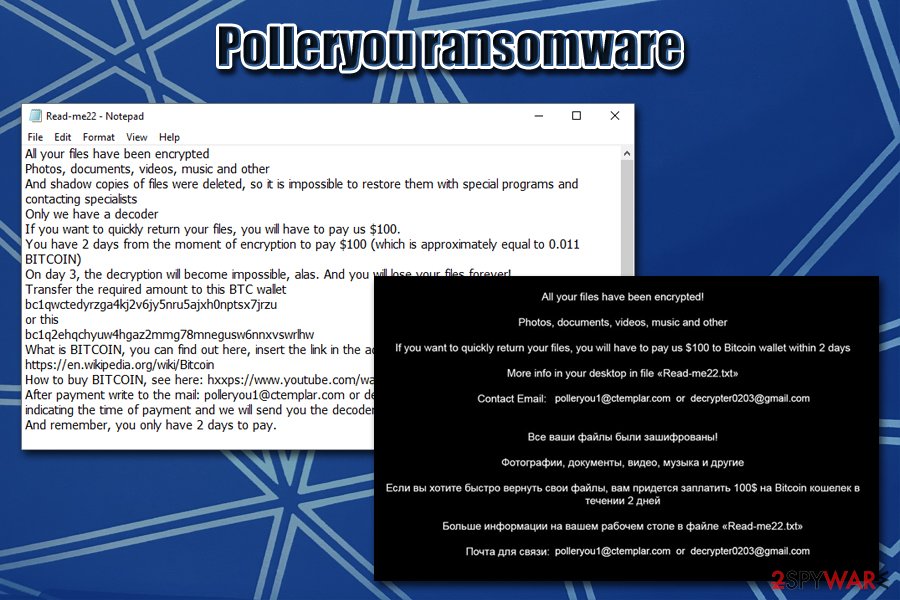 Polleryou ransomware is a file locking virus that asks for $100 in Bitcoin for decryption software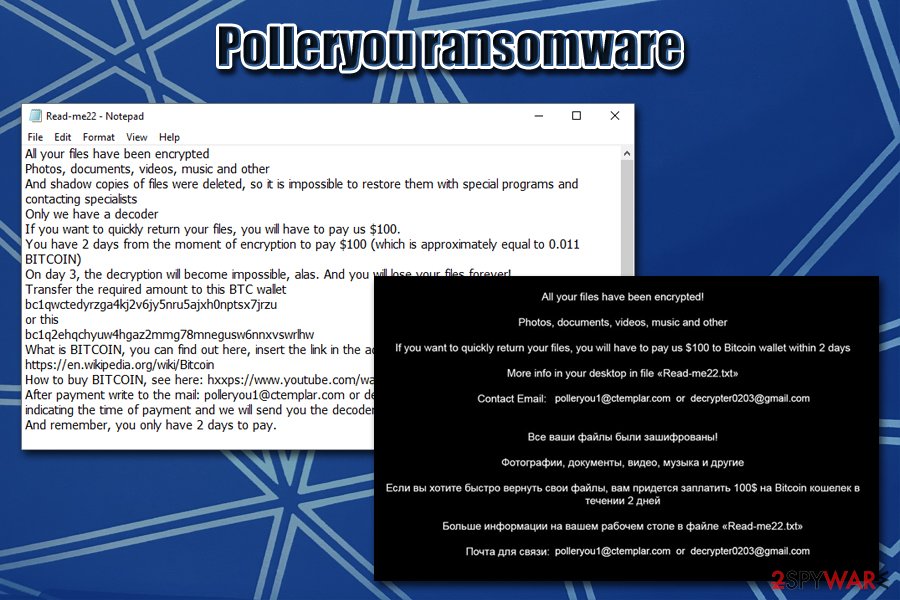 Polleryou ransomware is a file locking virus that asks for $100 in Bitcoin for decryption software
Polleryou ransomware, otherwise known as Rentyr ransomware, is a cryptolocker that was first identified by security researchers in mid-February 2020. Just as many other viruses of such kind, it is designed to extort money from the infected victims by locking their files with a strong encryption algorithm (AES). However, unlike other file lockers, Polleryou ransomware does not append any extensions at the end, although it still means that users' access to data is restricted.
Soon after the infiltration and data encryption, the Polleryou virus replaces a default wallpaper of the victim with a "1.jpg" picture, which serves as a short version of a text-based file Read-me22.txt. The latter holds a more extensive explanation in English and Russian about what happened to victims' files and that their only way to recover them is to contact hackers via [email protected] or [email protected], and then pay $100 in Bitcoin for Polleryou ransomware decryptor.
Name
Polleryou ransomware
Type
File locking virus, crypto-malware
Also known as
Rentyr ransomware
Related files
Com.exe, Rentyr.exe, l.bat
Encryption algorithm
Malware uses symmetric encryption algorithm AES to lock all pictures, documents, databases, videos, and other personal files located on the hard drive and connected networks
File extension
Unlike many other ransomware viruses, Polleryou does not append any extension to files, so they might visually look the same but still are not accessible
Ransom note
A text file Read-me22.txt is dropped into almost every folder located on the PC; additionally, a shorter version of the ransom note is presented on a desktop wallpaper "1.jpg," which is altered soon after the file encryption process. Both notes include information written in English and Russian languages
Contact
[email protected] or [email protected]
Ransom size
Cybercriminals ask to pay $100 in BTC that should be transferred within two days of the initial infection; otherwise, the decryption key will be deleted permanently
Bitcoin addresses

bc1qwctedyrzga4kj2v6jy5nru5ajxh0nptsx7jrzu
bc1q2ehqchyuw4hgaz2mmg78mnegusw6nnxvswrlhw

File recovery
Recovering encrypted files without paying criminals is difficult – the only secure way is to retrieve data from backups. Nevertheless, in some cases, third-party recovery software may be able to help, so check the recovery section for more information
Malware removal
Download, install and scan your system with reputable anti-malware software, such as SpyHunter 5Combo Cleaner or Malwarebytes
System fix
Malware may damage Windows system files. To fix them, scan your machine with PC repair software

Reimage

Reimage Cleaner

after ransomware termination
Currently, researchers have not yet established Polleryou virus' associations with other malware families, which means that developers are also unknown. However, because the ransom note is written in both Russian and English languages, there is a high chance that the Polleryou ransomware authors are Russian. The prevalence of this malware is currently low, as Bitcoin wallets provided by the attackers have no funds transferred them yet.[1]
Even though Polleryou ransomware is not that prevalent, those infected can sustain maximum damage by it, as currently, there is no free decryption tool available that can recover encrypted files for free. It is also important to note that Polleryou ransomware removal will not provide access to locked files. Nevertheless, termination of malware is necessary to ensure system security and prevent further file compromise.
There are several anti-malware you could remove Polleryou ransomware with. Virus Total reports the following detection names:[2]
Trojan/Win32.Occamy
Win32:Trojan-gen
Ransom:MSIL/CryptInject!MSR
Gen:Variant.Barys.53380
HEUR:Trojan-Ransom.MSIL.Agent.gen
Trj/GdSda.A
Trojan.MSIL.MALREP.THBADBO, etc.
If you need instructions on how to access Safe Mode with Networking (which might be necessary for Rentyr/Polleryou termination in some cases), check the detailed instructions below. If you experience system crashes, errors, and other stability issues post-termination, you can scan the system with Reimage Reimage Cleaner to fix virus damage automatically.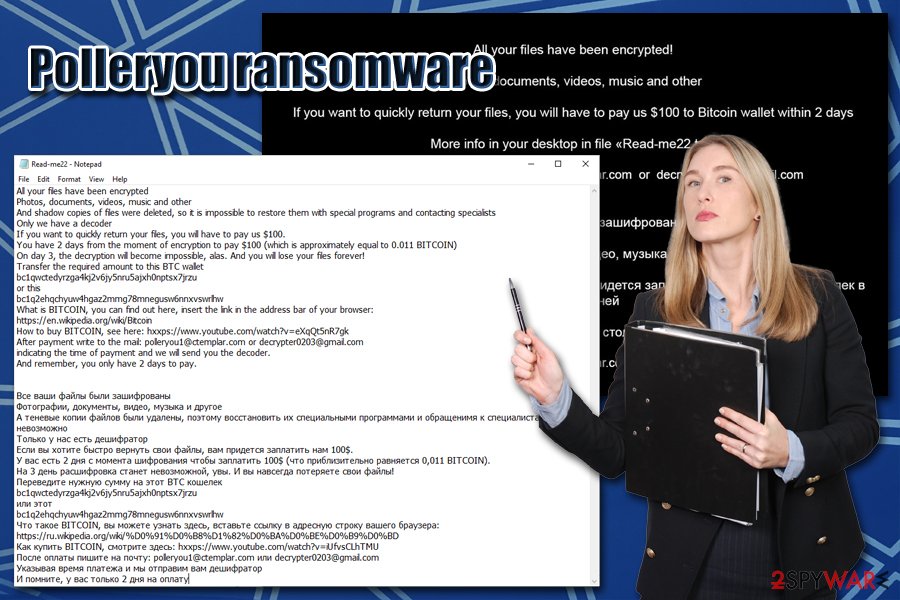 Polleryou ransomware is a cryptovirus that provides ransom note in English and Russian languages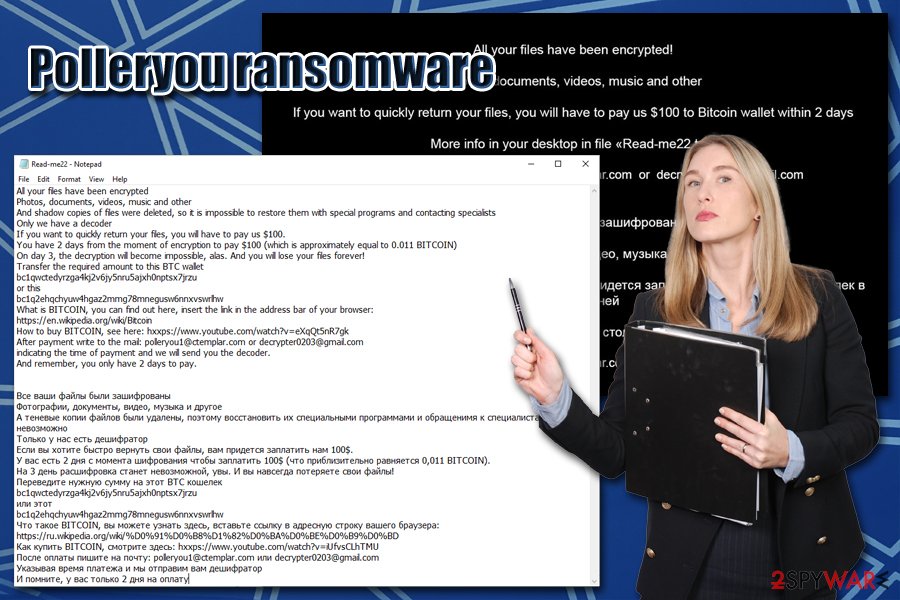 Polleryou ransomware is a cryptovirus that provides ransom note in English and Russian languages
Polleryou ransomware operation principles
Just as many other ransomware, the Polleryou virus targets almost all versions of Windows operating systems with the help of various distribution techniques, including spam email attachments, malicious installers, software cracks, weakly protected RDP connections, exploits, and many others. Typically, the main executable is called using a random name – Com.exe and Rentyr.exe were both spotted in the wild.
Once the main executable is launched, it begins the infection routine, which populates malicious files in %User%, %Temp%, and other folders. Additionally, Polleryou ransomware also performs routine changes to the system before file encryption process, which include Windows registry modification, deletion of Shadow Volume Copies, etc. Malware modifies these Windows sections and files in order to escalate privileges, establish persistence, and prevent quick recovery.
Just as many other malware of this type, the Polleryou file virus targets the most common file types such as MS Office, archived, video, PDF, and others. For the encryption process, hackers employ symmetric encryption algorithm AES,[3], which uses the same (secret) key to lock and unlock data. This unique key is, unfortunately, only accessible to the attackers, as they keep it on a remote server.
As previously mentioned, Polleryou ransomware does not append any file extensions to the locked data. While victims may see no changes to the file names, they will notice that file icons are blank, and they are unable to open anything that has been altered by the virus. The message from Polleryou ransomware authors states that decryption is only possible within two days of the infection:
All your files have been encrypted
Photos, documents, videos, music and other
And shadow copies of files were deleted, so it is impossible to restore them with special programs and contacting specialists
Only we have a decoder
If you want to quickly return your files, you will have to pay us $100.
You have 2 days from the moment of encryption to pay $100 (which is approximately equal to 0.011 BITCOIN)
On day 3, the decryption will become impossible, alas. And you will lose your files forever!
Transfer the required amount to this BTC wallet
bc1qwctedyrzga4kj2v6jy5nru5ajxh0nptsx7jrzu
or this
bc1q2ehqchyuw4hgaz2mmg78mnegusw6nnxvswrlhw
What is BITCOIN, you can find out here, insert the link in the address bar of your browser:
https://en.wikipedia.org/wiki/Bitcoin
How to buy BITCOIN, see here: hxxps://www.youtube.com/watch?v=eXqQt5nR7gk
After payment write to the mail: [email protected] or [email protected]
indicating the time of payment and we will send you the decoder.
And remember, you only have 2 days to pay.
However, paying a ransom is not recommended by cybersecurity experts, as many users already got scammed by hackers before. In other words, by paying the Bitcoins to criminals, you also risk losing your money along with the already compromised files. Instead, backup the encrypted data and make use of tips we provide in our recovery section below – you might get lucky and recover at least some of Polleryou ransomware-locked files.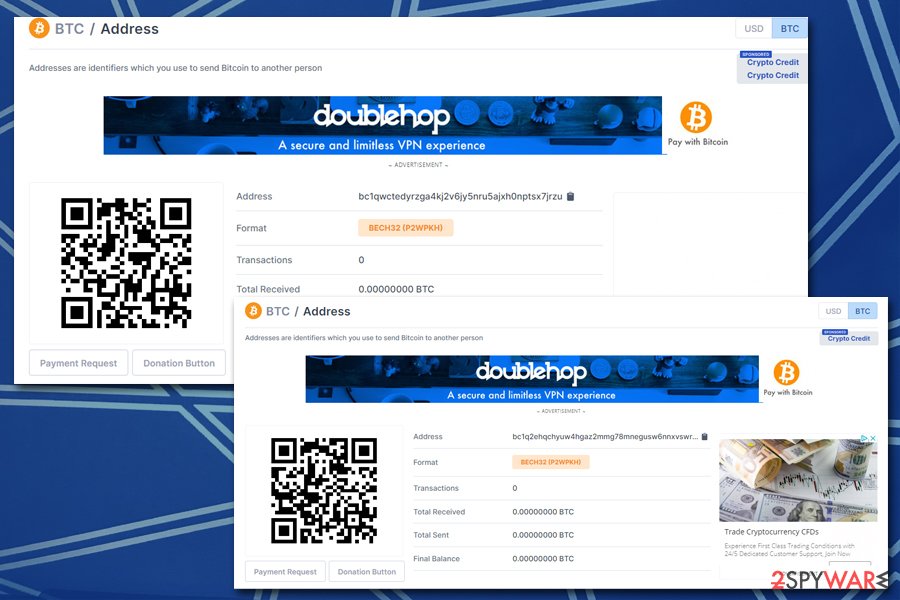 Luckily, no victims paid ransom to Polleryou ransomware authors so far, as Bitcoin wallets remain empty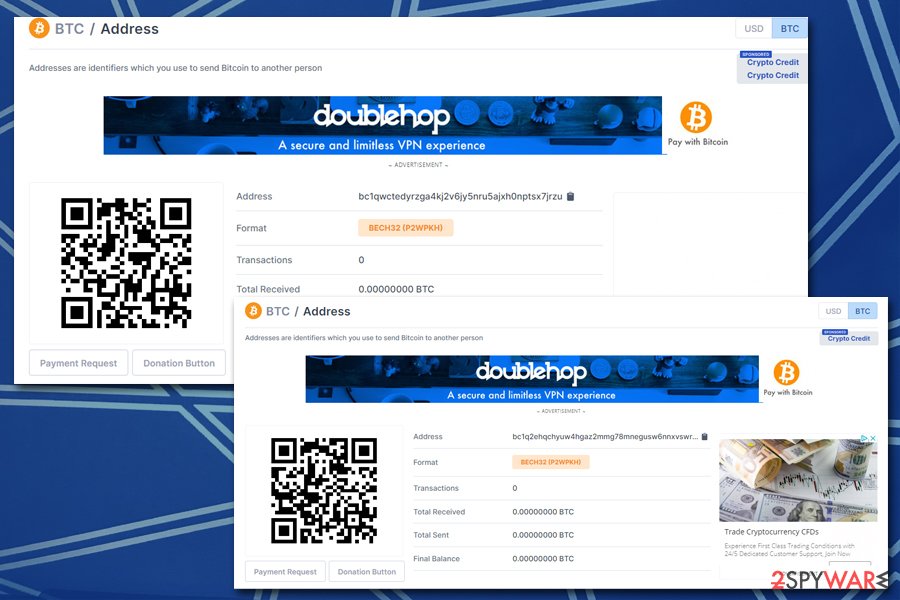 Luckily, no victims paid ransom to Polleryou ransomware authors so far, as Bitcoin wallets remain empty
Ransomware may be distributed in various ways – protect yourself comprehensively
As mentioned above, there are several different methods that malicious actors could employ in order to deliver ransomware to as many users as possible. While some of these techniques are less sophisticated than the others, it does not mean that they are ineffective; for example, distributors of the widely-spread ransomware family Djvu exclusively use software cracks as the main attack vector and manage to infect hundreds of users daily.
There were very few instances when users got infected with ransomware without having anything to do with it. In other words, malware does not simply appear on a computer for no reason. In most cases, certain negligent actions (either intentional or not) contribute to the ransomware infection. Of course, cybercriminals also employ tricks to deceive people, such as fraudulent downloads and phishing messages.
Thus, you should always be aware that the internet is still a dangerous place (despite users becoming more aware of risks), and you should never treat cybersecurity carelessly. Such infections, like ransomware, can bring devastating consequences, such as hundreds of dollars in damages or permanent data loss.
Follow these tips provided by security experts:[4]
Install next-gen anti-malware software with real-time protection feature;
Backup all your important files regularly;
Do not allow suspicious email attachments to run macro function ("Allow content") and refrain from clicking on deceptive hyperlinks inside and email;
Install Windows and software updates as soon as they are released;
Never download pirated program installers or software cracks/keygens/loaders/cheats;
Use secure passwords for all your accounts, including Remote Desktop connections;
Employ two-factor authentication;
Install ad-block and enable Firewall.
Polleryou ransomware: a correct removal guide
As previously mentioned, Polleryou ransomware removal will not return your files to their working state – these two processes are separate from each other. The first step for you now is to establish whether you genuinely need the encrypted data and whether you had backups or it. If you are not too fussed about losing files, simply remove Polleryou ransomware with anti-malware software and then reinstall Windows or employ repair tools like Reimage Reimage Cleaner to fix it.
However, most users are keen on restoring the locked files, as they are often important. In such a case, you should first make a copy of the data you need and only then terminate the Polleryou virus from your machine. After that, you can try third-party software or other solutions we provide in our recovery section below. If no luck, your only option is to pay the $100 ransom and hope that the attackers will be kind enough to send you back the required decryption tool (remember, this option is not safe and is discouraged by many security experts!). Alternatively, you could wait for free decryption software from AV vendors, although considering the low prevalence of Polleryou, it is highly unlikely to happen.
This entry was posted on 2020-02-19 at 07:55 and is filed under Ransomware, Viruses.