Other:Malware-gen [Trj] – a heuristic detection name for malware that can be encountered on various websites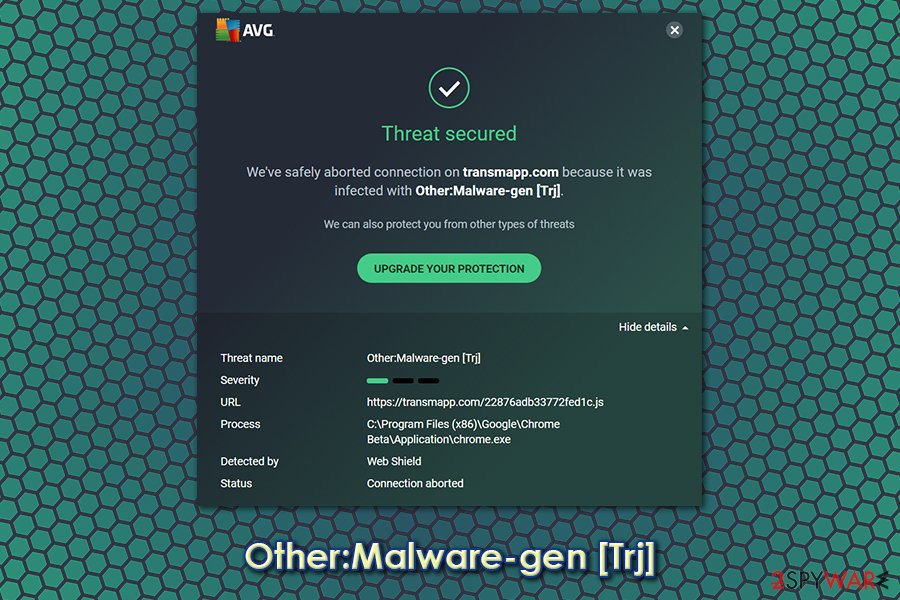 Other:Malware-gen [Trj] is a malicious program that might steal sensitive data or install other malware on the infected system, although can also indicate a false-positive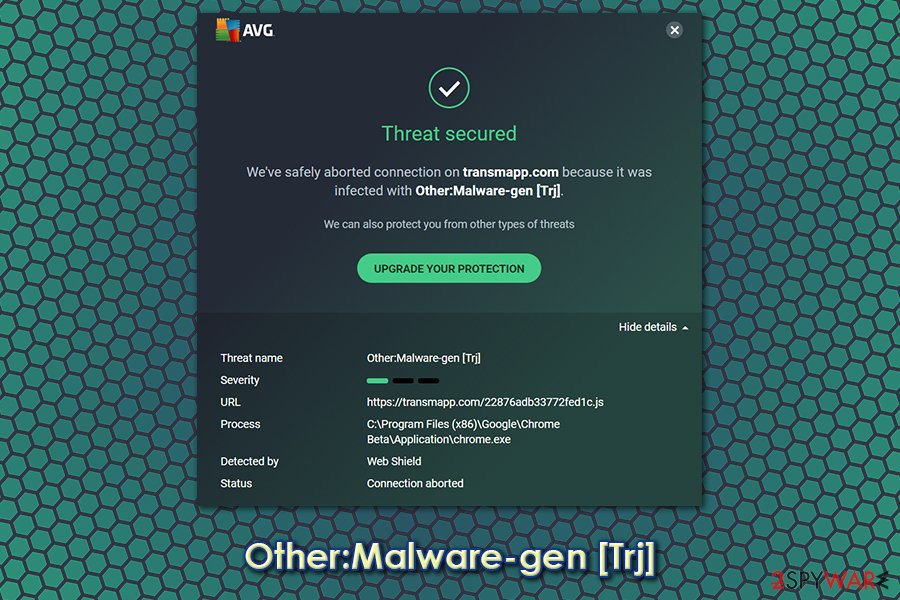 Other:Malware-gen [Trj] is a malicious program that might steal sensitive data or install other malware on the infected system, although can also indicate a false-positive
Other:Malware-gen [Trj] is a computer infection that defines a particular type of computer applications or malicious online connections that can occur via Google Chrome or another web browser. The name is typically used by Avast or AVG security software and is typically connected to various browser-related components that might have been dropped by malicious scripts on various sites. Users started to complain that the pop-up shows up as soon as they try to access relatively harmless websites, or even with every browser launch.
While Other:Malware-gen [Trj] might also be a false-positive (in most cases, it occurs due to corrupted AV program files or outdated database), it is important to investigate each case carefully, as it might indicate malware. Nevertheless, it is possible to double-check it by scanning the device with a different security tool and then adding the particular website to exclusion if it is a false positive.
Name
Other:Malware-gen [Trj]
Type
Malware (could be a false-positive)
Detected by
Avast and AVG
Related
Win32:Malware-gen, Hacktool:win32/keygen, Win32:Dropper-gen
Infiltration
The detection might pop-up at any time and might stem from malicious browser extensions, installed apps, or various components stored within the browser. PUPs are malware that can be installed in various different ways, including software bundles, spam emails, exploits, fake updates, etc.
Symptoms
In the case of a Trojan infection, users are highly unlikely to experience visible infection symptoms, although it is possible to observe suspicious processes running in the background, as well as computer errors or crashes. However, in most cases, users only experience Other:Malware-gen [Trj] pop-ups regularly
Removal
There are several methods to eliminate the detection pop-ups. Scan your machine with another anti-malware software and then add an exclusion if it is a false-positive. Otherwise, reset Chrome Sync or the web browser itself
System fix
If you machine was infected with malware, repair the damage done to it with tools like

Reimage

Reimage Cleaner

Intego
Users can only see the Other:Malware-gen [Trj] detection if they have particular security applications installed on their devices. In most cases, the source for the detection seems to be Chrome.exe, although the websites that are detected as malicious can vary.
Users claimed that Other:Malware-gen [Trj] pop-ups constantly return, even after the security software detects and seemingly sends the detected items to the quarantine. However, once the quarantine is checked, no files are shown inside. Nevertheless, users are soon reminded about the same issue, and they do not know how to remove Other:Malware-gen [Trj] once and for all.
In case Other:Malware-gen [Trj] is not a false-positive, it can be a result of real Trojan infection. These types of malicious applications are usually disguised as something legitimate, such as email attachment from a seemingly reliable source, or a useful application that was placed on a third-party website. In some cases, users can encounter Trojans when they download software cracks or keygens – these are particularly dangerous as there is no way for a regular user to check whether such tools would actually result in malware infection.
Trojans such as Other Malware Gen Trj can be set to perform a variety of different tasks on the infected machine. Typically, the infection routine starts and completes very quickly, all while the Windows changes are applied in the background without users' noticing.
Depending on malware's features, Trojans can usually perform the following tasks on the infected machines:
Establish background connections to remote Command & Control servers[1] controlled by hackers;
Steal financial information, browser cookies, crypto-wallet data, etc.;
Take screenshots and use video camera remotely;
Proliferate other malware, such as ransomware, behind users' backs;
Gain elevated privileges within the system, which allows the attackers to move laterally within the network if such exists;
Send spam and connect the affected machine to a botnet,[2] etc.
As evident, Other:Malware-gen [Trj] infection can cause serious financial losses, compromise privacy, and result in personal data loss. Therefore, it is vital to ensure that Trojans do not gain access to your system.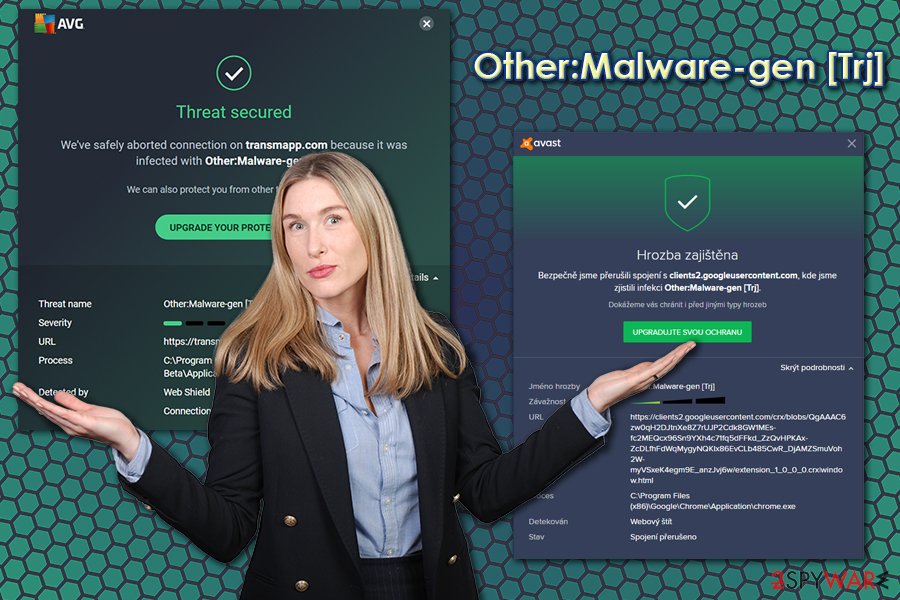 Other:Malware-gen [Trj] is a detection name for malicious files and components that can originate from various websites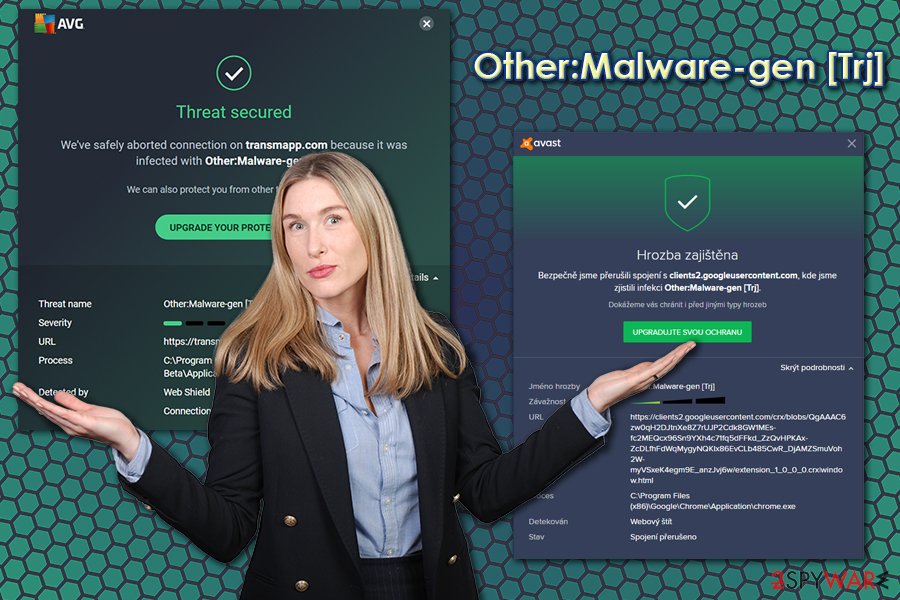 Other:Malware-gen [Trj] is a detection name for malicious files and components that can originate from various websites
Since the detection of this kind can mean many things, there are also many ways to perform Other:Malware-gen [Trj] removal. First of all, it is important to make sure as your security software is running on the latest version, as new definitions and updates ensure that false-positives are eliminated and do not bug users.
If the Other:Malware-gen [Trj] virus detection is still present, we highly advise performing a full system scan with another security software, such as SpyHunter 5Combo Cleaner or Malwarebytes. This second check will help to confirm or deny malware prescience on the system. In case nothing is found, it is highly likely to be a false-positive, although we do recommend contacting the AV maker if some doubts remain. Finally, if your computer was indeed infected, eliminate malware and then fix the damage that was done to system files with Reimage Reimage Cleaner Intego.
In some cases, there might be some files that are hidden within Google's servers. In such a case, it is recommended to reset sync of the account. For more instructions, please check the bottom section of the article.
Prevent malware infections on your machine
Trojans are typically advanced malware infections that can initiate thousands of changes to the infected machine without producing any symptoms. This happens because these malicious apps are programmed to work stealthy, although it is no secret that there is a lot of badly coded malware that would instantly give away its presence or simply crash the computer. In some cases, however, this might be even worse than the infection itself, as broken code might permanently corrupt vital system files.
Nevertheless, users should not get infected with Trojans in the first place, and for that, multiple security measures should be applied when browsing the internet or even checking your inbox. Here are several tips provided by security experts from dieviren.de:[3]
Employ a reliable anti-malware software and keep it updated at all times;
Apply security patches as soon as Microsoft releases new updates;
Do not allow spam email attachments to run macros or click on links embedded inside the email;
Protect all your accounts with strong passwords and never reuse them;
Do not click on links that come via IM applications or social media platforms.
Get rid of Other:Malware-gen [Trj] in one way or another
To remove Other:Malware-gen [Trj] from your machine, you should first perform a full system scan with another security software and also ensure that your security software that shows pop-ups is up-to-date. Avast and AVG did state that several domains where whitelisted after users reported that it was a false-positive.
In case another AV tool did not find any infections, we recommend going to Chrome's Sync page and resetting sync of your account so that the data on the servers would be eliminated at once.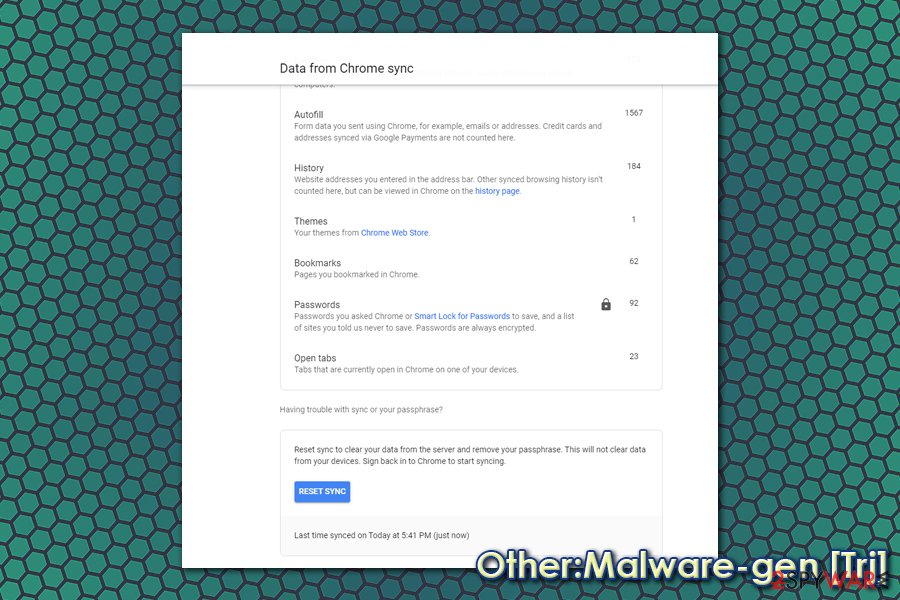 Reset Chrome sync to get rid of Other:Malware-gen [Trj] pop-ups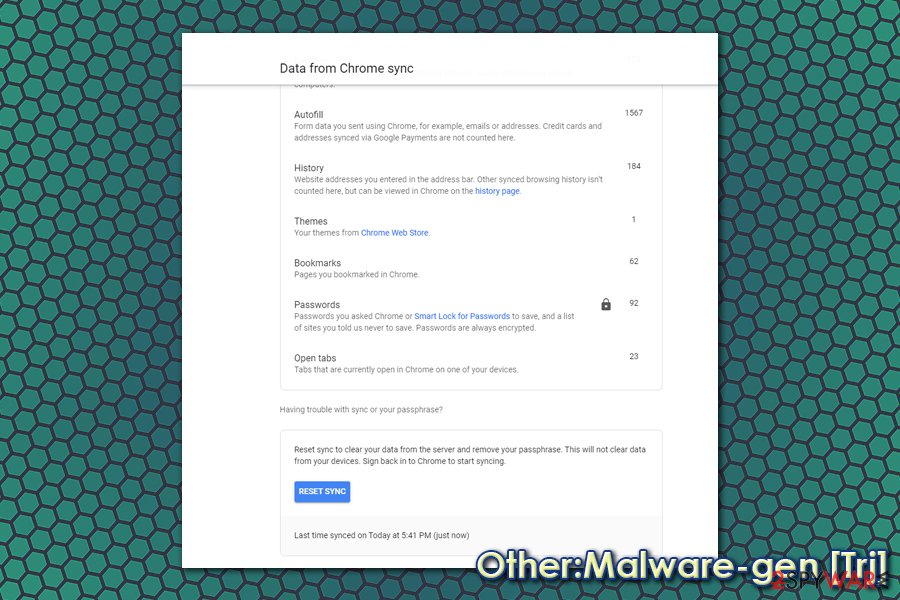 Reset Chrome sync to get rid of Other:Malware-gen [Trj] pop-ups
Another method to remove Other:Malware-gen [Trj] is to reset the installed web browsers – we provide detailed instructions below. Some components are stored within the web browser's settings and can only be eliminated with a full browser reset.
You may remove virus damage with a help of Reimage Reimage Cleaner Intego. SpyHunter 5Combo Cleaner and Malwarebytes are recommended to detect potentially unwanted programs and viruses with all their files and registry entries that are related to them.
This entry was posted on 2020-05-29 at 10:02 and is filed under Malware, Viruses.