Kfx7-67 virus pop-up is a malicious advertisement that is usually encountered by Android users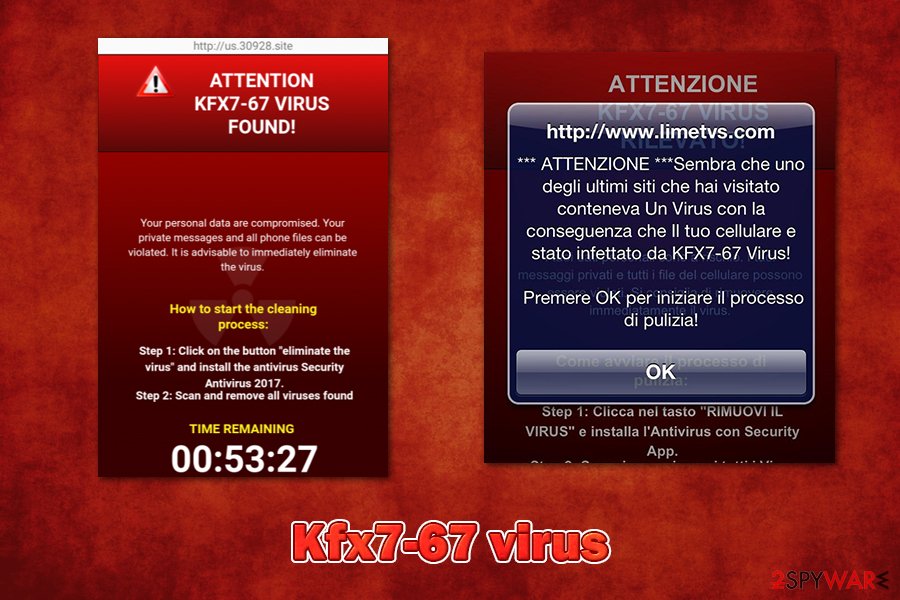 Kfx7-67 virus is a scam that users can encounter on a random website or after they click on a malicious ad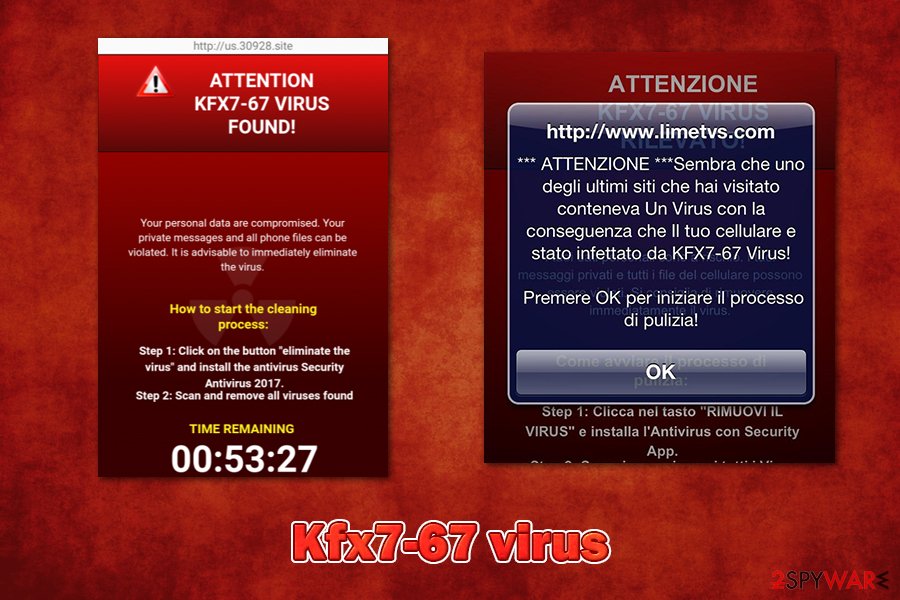 Kfx7-67 virus is a scam that users can encounter on a random website or after they click on a malicious ad
Kfx7-67 virus is a fake alert that Android users might encounter at any time while browsing the internet on Google Chrome, Mozilla Firefox, Opera, or another web browser. The notification can usually be seen after a suspicious advertisement within an app or a website is clicked, or due to browser redirects. The latter is typically caused by adware[1] installed on users' devices when downloading software from insecure third-party sources.
Upon accessing a malicious site, a Kfx7-67 virus pop-up shows up immediately, claiming that the phone was infected with malware. After clicking "Ok," users are redirected to a website that is designed to look threatening – a huge "VIRUS" warning and red color are used to intimidate the visitor. Since many users are unaware that this type of notification is a scam, they believe that they have been actually infected with malware and that they need to eliminate it with the provided "Security App." However, the Kfx7-67 virus is a hoax, and users should not install anything offered by this rogue notification.
Name
Kfx7-67 virus
Type
Malicious advertisement, browser redirect, Android virus
Targets
The fake alert mostly targets Android device users (Samsung, LG Moto, Google Pixel, OnePlus, Xiaomi, and others)
Distribution
The pop-up can be encountered on a random website by chance, although frequent redirects to suspicious and malicious websites can be caused by adware, which is typically distributed via software bundles, fake updates, or bogus virus infection notifications
Symptoms
A pop-up shows up within the browser after clicking on an advertisement or being redirected from another website. Once "Ok" is clicked, users are led to another warning in a red background, which claims that the Kfx7-67 virus was detected on the device and that the "Security App" should be installed to remove it. Otherwise, personal information will be supposedly leaked to hackers
Risks
Since the pop-up uses social engineering to frighten users about their devices' security, they might install a malicious app after encountering a prompt. As a result, personal information can be stolen (passwords, logins, bank account details, etc.), other malware installed, and financial losses suffered
Elimination
To delete adware from Android device, you should perform a full system scan with anti-malware software or look for the suspicious apps manually as explained below
System fix
In case your computer was affected by malicious software, you can fix damage done to system files with the help of

Reimage

Reimage Cleaner

Intego or a similar repair tool
While Kfx7-67 virus alert usually shows up on Android phones or tablets, it does not mean that the pop-up cannot be seen on Windows or Mac machines. Therefore, if you saw the notification on another operating system, you should follow the guide below that would explain how to reset the installed web browsers and remove Kfx7-67 virus related entries once and for all. Additionally, for computer users, we recommend using Reimage Reimage Cleaner Intego in case the infection was found.
There are two scenarios of how you can encounter Kfx7-67 virus alert:
You click on an advertisement within the application or on a random website;
You are redirected via the browser automatically.
Upon entry, you are shown a pop-up window, which is usually accompanied by a "www.website.com says:" phrase (note that URL differs greatly) and the message is as follows:
ATTENTION
KFX7-67 VIRUS FOUND!

You personal data are compromised. Your private messages and all phone files can be violated. It is advisable to immediately eliminate the virus.

How to start the cleaning process:

Step 1: Click on the button "eliminate the virus" and install the antivirus Security Antivirus 2017.
Step 2: Scan and remove all viruses found

TIME REMAINING

00:50:14
This message is a classic when it comes to online scams – it uses human psychology in order to make users believe that their device is infected with viruses (the technique is called social engineering). For example, the color red is often associated with danger, and the provided timer creates a false sense of urgency. This way, Kfx7-67 virus scam authors manipulate visitors' emotions to make them download (possibly) malicious applications.
However, deception is really easy to stop, especially for those who already encountered such fake alerts before. There are hundreds of thousands of fake websites that specialize in such notifications, namely, "Your system is infected with 3 viruses," "5 Billionth Search," "Pornographic virus alert from Microsoft," etc.
Kfx7-67 virus pop-up works by the same principle as the mentioned scams: it imitates a legitimate warning about malware infections and threatens with a password and other data loss. These messages are usually littered with grammar/spelling mistakes, and also include a timer – a classic for a scam of such type.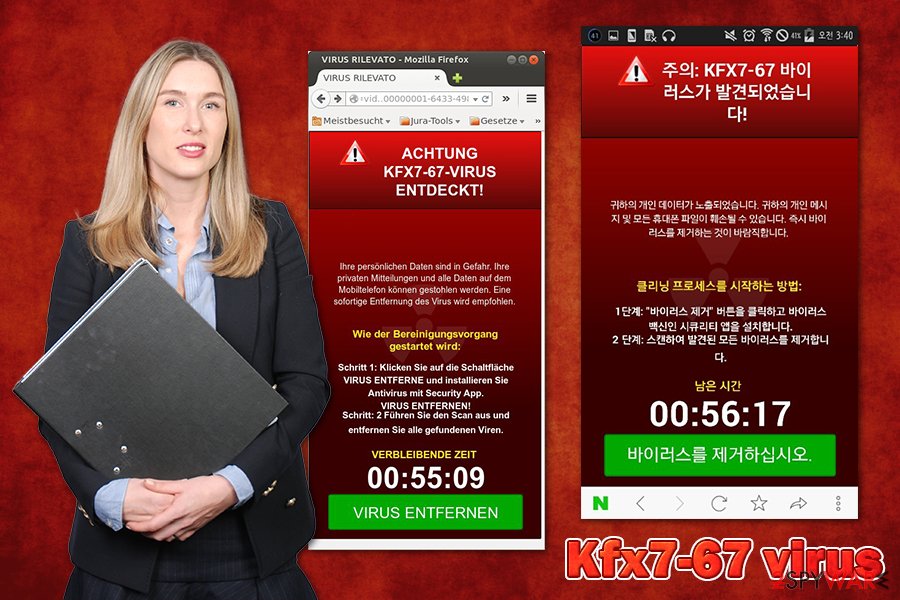 Kfx7-67 virus is a hoax designed to trick users into downloading malicious apps on their Android devices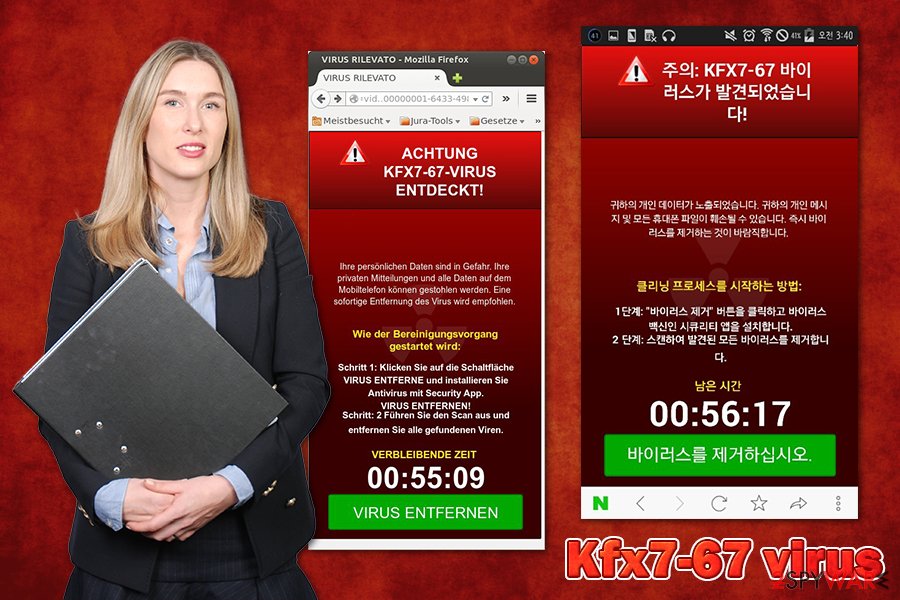 Kfx7-67 virus is a hoax designed to trick users into downloading malicious apps on their Android devices
Another sign that the Kfx7-67 virus is fake is that the notification about the alleged malware infection comes from within the web browser. The truth is that only a reputable security application installed on the device can detect viruses on the system, so you should not believe fake alerts coming from random websites. Therefore, do not install anything the Kfx7-67 virus scam is offering, as you could actually infect your phone with malware. Simply close down the webpage immediately.
The fake Kfx7-67 virus notification changes its language depending on location, so users can encounter it in many different languages to make it more accessible and ensuring that everybody would understand it. So far, the malicious pop-up was spotted in the U.S., Germany, Russia, China, Italy, South Korea, and other countries.
Since the alert comes from within the browser, and the malware name is fictional, there is no need for Kfx7-67 virus removal. However, we would still recommend checking the device with reputable anti-malware software to ensure that it is secure. Also, you should clear cache and data from Chrome or another web browser that you use.
Learn to spot deception while installing apps or browsing the web
The Internet has become a much safe place than it used to be, as many security measures and content filters were applied to the search engines. Despite these efforts, there are millions of malicious websites out there that seek to trick users into providing their sensitive information, downloading malicious apps, or calling fake tech support in order to extort money. Therefore, it is important to be vigilant while browsing the web, since encountering scams is not that rare of an occurrence, especially if the machine is infected with adware.
Therefore, never trust pop-ups or notifications about virus infections, missing Flash plugin,[2] free expensive gifts, and similar unrealistic scenarios. These messages come from within the browser, and there is nothing real about them – they were compiled to scam people.
It is also important to note that adware can also be a major cause for intrusive pop-ups, banners, deals, offers, interstitial, and other ads. Potentially unwanted programs are often installed with elevated permissions, which allow them to display content over other apps. To avoid PUPs, you should never download apps on mobile from third-parties and only trust sources like Google Play. As recommended by experts,[3] on a PC, always opt for the advanced/custom installation method instead of recommended/quick one to avoid optional apps being installed in the background.
Remove Kfx7-67 virus from your screen once and for all
Many users who encountered the malicious pop-up claimed that the issue is recurring, which means that they are constantly encountering fake alerts. While there is no need to remove Kfx7-67 virus since it is fake, it is necessary to check your device for adware or other malicious software. Since these apps are downloaded from third-party sources, they are installed with elevated permissions during careless installation. Thus, always check which permissions are asked prior to the installation.
Finding adware might not always be easy, however, as these apps might hide under legitimate names. You should go to the app list on your Samsung or another Android phone, and eliminate everything suspicious at once. Once done, you should remove cache and data from Google Chrome:
Go to Settings > Apps/Applications.
Expand the full list of the installed apps.
Tap on Google Chrome and select Storage & cache.
Clear storage and clear cache of the app.
You can also check the Special app access > Display over other apps section to see which apps are allowed the function. This way, you can prevent apps from showing ads for you.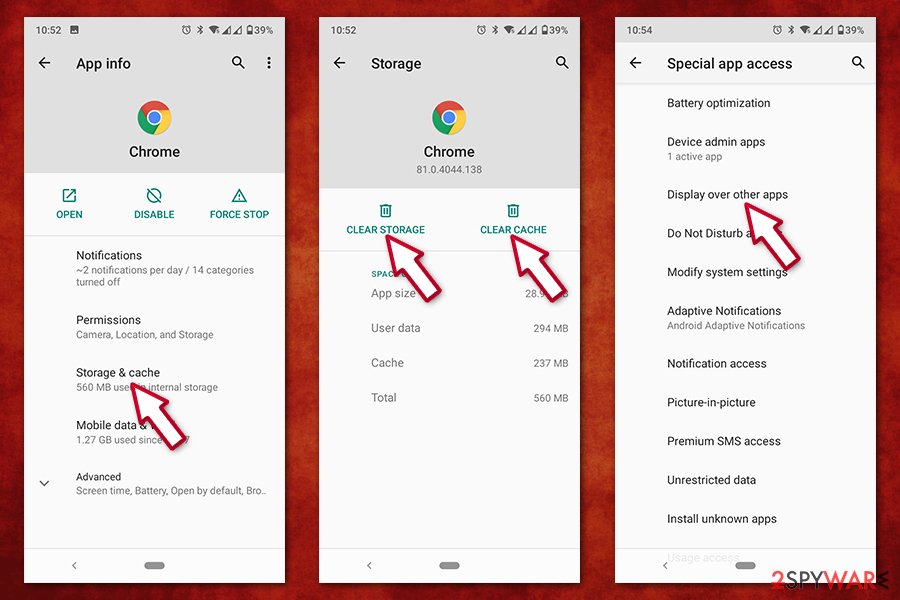 To ensure no Kfx7-67 virus notifications come back, clear your browser's data and cache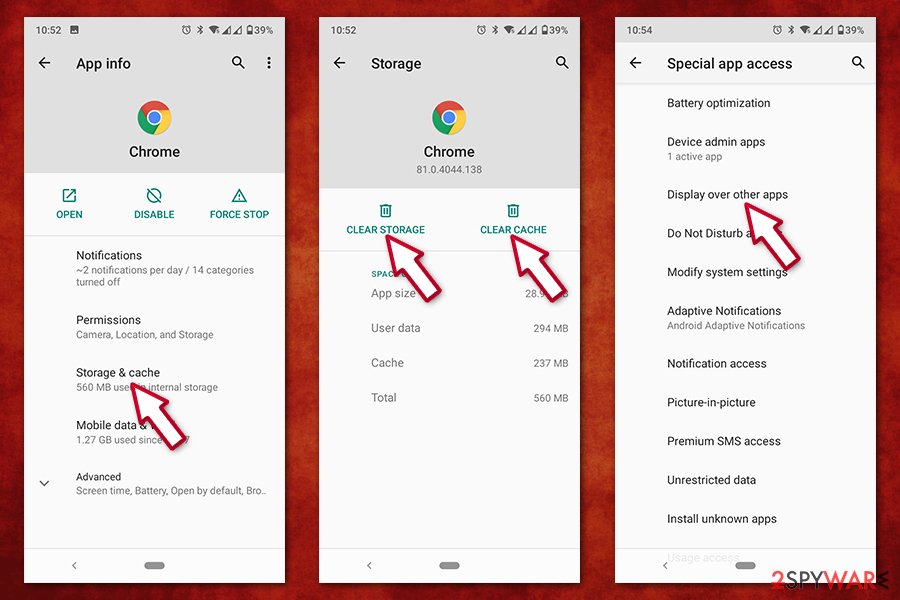 To ensure no Kfx7-67 virus notifications come back, clear your browser's data and cache
For those who only encountered the alert by accident, nothing needs to be done in terms of Kfx7-67 virus removal, as long as the webpage is closed down immediately upon entry. If you installed some unknown application from a scam site, you should immediately perform a full system scan with anti-malware.
You may remove virus damage with a help of Reimage Reimage Cleaner Intego. SpyHunter 5Combo Cleaner and Malwarebytes are recommended to detect potentially unwanted programs and viruses with all their files and registry entries that are related to them.