Notube.net is one of many online video converting sites which might be used for illegal music or movie downloads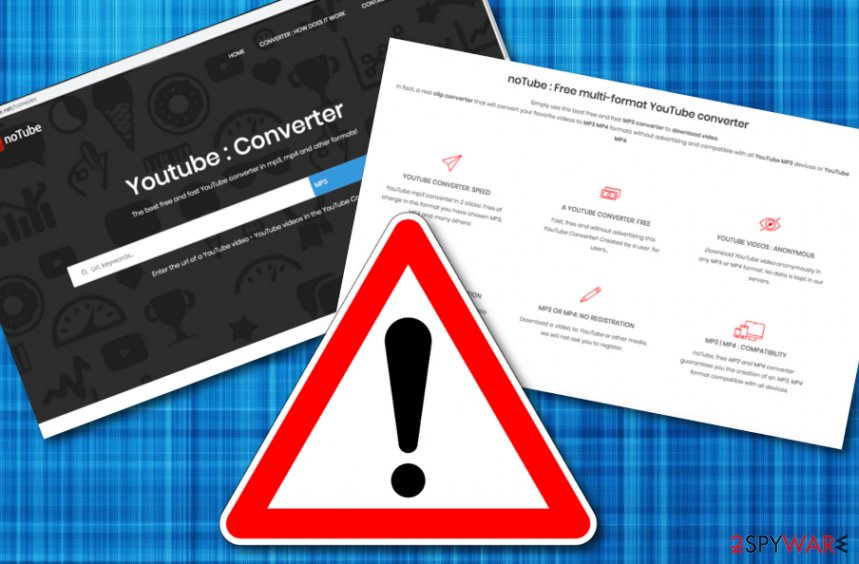 Notube.net is adware that redirects people to odd sources that promote MacKeeper
Notube.net is a website that claims to incorporate a free video conversion function that works with YouTube, Dailymotion, and other popular video streaming sites. As usual, the developers promise a requirements-free approach and allow visitors to contact videos to MP3, MP4, or other formats without having to register or download anything. However, there is more to Notube.net than it might seem at the start, and not all features are that secure or even legitimate.
Notube.net is a tool that allows users to enter a URL into the site's search engine, convert the video, and then even download it. While there is nothing wrong with performing such actions, there is plenty of content on YouTube and other services that are licensed and are not meant to be downloaded for commercial or personal use. Which brings us to the point that using Notube.net is illegal for such purposes and might lead to fines or other punishments.
Besides, Notube.net uses plenty of unsafe ad-networks that might land on sites that ask you to register for bogus giveaways, enroll in easy money earning schemes (get rich fast click-bait), install potentially unwanted programs or even lead you to malicious sites filled with malware.
Name
Notube.net
Type
Video conversion and downloading service
Functionality
Allows users to covert and download YouTube, Dailymotion and other sites' videos for free
Risks
Notube.net service is illegal if it is used for downloading copyrighted material and might lead to fines; the site uses unsafe ad networks that directs users to scam sites of all kinds (tech support, push notifications, fake giveaways, etc.) and might result in infiltration of adware/malware
Other connections
In some cases, ads by Notube.net might appear on the screen due to adware infection
Elimination
To get rid of adware, you can check our manual guide below or scan the machine with anti-malware software; if you enabled push notification feature from a scam site, remove the entry from the "Allowed" list on your browser
Repair process
If your machine was infected with adware or malware, we highly advise using

Reimage

Reimage Cleaner

to fix virus damage and prevent unexpected system errors or crashes
In some cases, Notube.net virus does not truly fulfill its function. Instead of converting videos to MP3 format, the site aims to redirect the user to other suspicious websites after entering the downloading link into the converter and pressing the "OK" button and promote rogue security software such as MacKeeper.
There might be a chance that you will be loaded with Notube.net ads even if your browser is closed. By clicking them, users risk entering websites that might promote other potentially unwanted programs or malware, which can consequently modify the settings of the operating machine and reduce its security.
Also, Notube.net might fill browsers such as Chrome, Firefox, Explorer, Edge, and Safari with unwanted extensions, plug-ins, and add-ons if not being careful enough. Afterward, you will be provided with a flow of pop-ups, pop-unders, coupons, banner ads,[1] in-text ads, deals, offers, and other ads.
Be aware that Notube.net might try to trick you into claiming some time of rogue rewards or try to get you involved in technical support scams where the hackers might try to swindle some money from you by providing fake software or try to connect to your computer for remote monitoring by urging for technical details.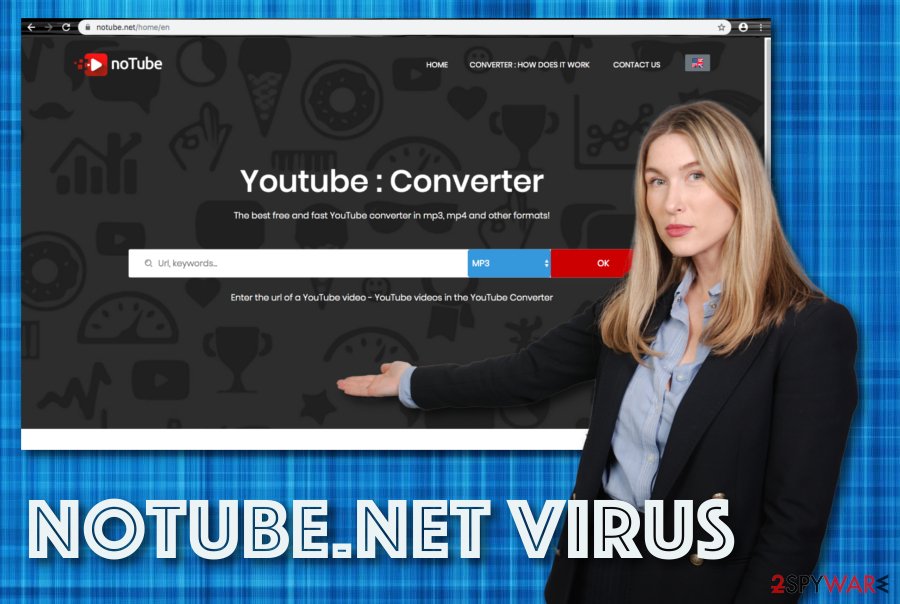 Notube.net is adware that engages users in frequent advertising
Be careful with the content that comes from Notube.net website. Do not enter any personally identifiable information as you might have to face identity theft or big monetary losses later on. Another indirect danger that can be provoked by this adware is redirecting through browsing sessions.
Even though Notube.net redirects are here to take you to affiliate sites, some of them might forcibly land on an infected place and get your computer destroyed by malware.[2] Regarding these negative effects, you should remove Notube.net from your web browsers by employing reliable anti-malware or performing the below-added step-by-step guide.
After Notube.net removal, you should check your entire system for compromised files and entries as the adware might have affected these components. If you find any signs of compromisation, you can try repairing the affected files by employing system repair software such as Reimage Reimage Cleaner or any other helpful tool.
Keep in mind that Notube.net ads might sometimes appear while visiting unsecured third-party websites and this is completely normal. If you want to avoid repeated advertising, you should download an ad-blocking tool[3] to your web browser app. Besides, check the Notifications list in your web browser as the odd domain might be added there:
Open the web browser that has been showing ads.
Find the three dots on your upper right and click them to enter the menu.
Go to Settings > Advanced.
Afterward, search for Notifications that should be added after Site Settings.
Scroll through the list until you find Notube.net or any other suspicious URLs.
Click remove/disable.
Notube.net cannot technically be called malware or a dangerous parasite as it does not cause severe system damage, however, it still makes your computer vulnerable to some malicious infections. The fact itself that you have missed the adware installation process signals about the weak security level of your computer.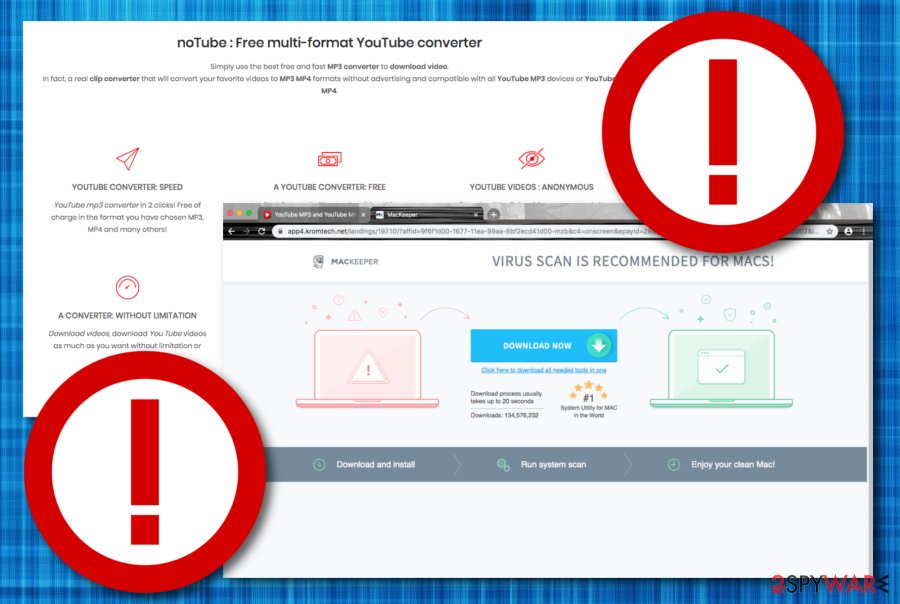 Always keep an eye on your computer security
Experts from LesVirus.fr[4] claim that adware is often bundled with other third-party apps from various secondary downloading sources such as cnet.com, softonic.com. It is very important to avoid getting your software and services from untrusted sources. However, there is one thing that is even more important than this.
Always pick the right downloading/installing mode. This means that you have to choose the configuration that is marked as "Custom" and skip all "Recommended" settings. The first option gives you full control of your incoming objects when the second variant allows potentially unwanted apps to slip into the system easily.
Continuously, adware can get downloaded from infectious hyperlinks and ads that are added to third-party websites. For this purpose, avoid visiting online sources that have been flagged as unsafe to proceed with. Also, do not install any rogue software updates that you might be provided along the way. Check the developer's page instead.
Last but not least, investing in antimalware security is crucial and you should do it too. Search for specialists' reviews on specific AV tools and choose the most suitable one for you. Also, do not forget to update it once in a while.
Manual/automatic removal of Notube.net adware
There are two ways to remove Notube.net from your computer system and which you are going to use is totally up to you. However, you should view the advantages and disadvantages of the methods before choosing one. The automatical elimination is a better option in our opinion.
Notube.net removal by using antimalware software ensures that all bogus products are completely gone which will result in an effective process that will supposedly be completed in a few minutes of time. However, people who do not want to spend any money on security tools might find the payment as a con.
There is another option that you can take and get rid of Notube.net virus from your computer and web browser apps. Below we have provided some step-by-step guidelines that are here to help you to fully clean your OS and browsers. However, note that this process will take longer and might be a little bit difficult for inexperienced users.
You may remove virus damage with a help of Reimage Reimage Cleaner . SpyHunter 5Combo Cleaner and Malwarebytes are recommended to detect potentially unwanted programs and viruses with all their files and registry entries that are related to them.