"Its you" Facebook virus is the malicious social media campaign used to extort personal details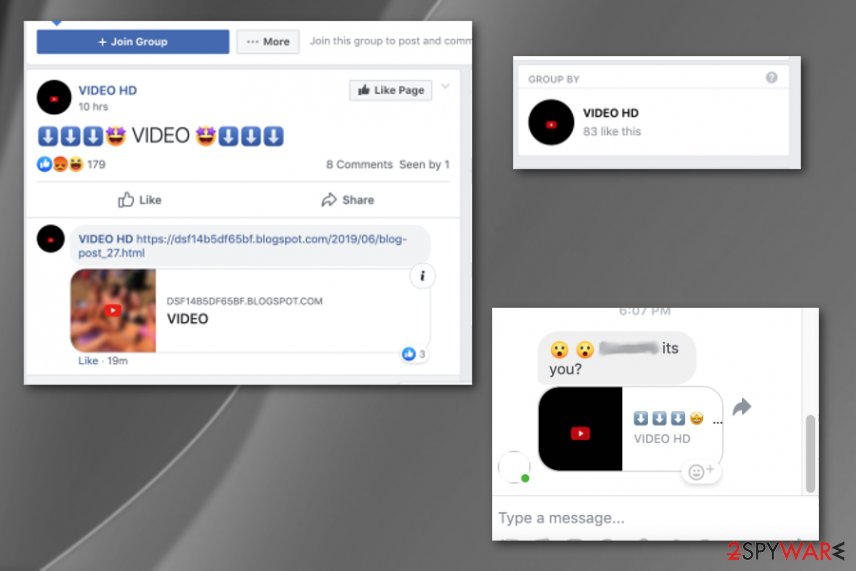 "Is that You" Facebook virus is the messenger threat that has many versions including this one that redirects to a questionable Video group of Facebook once you click the content in the message.
"Its you" Facebook virus is the text message that shows up on social media applications and claims to have information or content regarding the victim. Typically, users are tricked into clicking the link because videos, photos or any other material looks legitimate, and the sender seems to be a real-life friend. However, this campaign is only seeking to get you into liking the group "VIDEO HD group" and clicking the link which seems like a Youtube link.
Recently, in December 2019, the virus came back with the "It looks like you" Facebook virus version. It does not differ much but you must stay away from the given link because you can either be infected with malware or tricked into logging to your authentic Facebook account and revealing your login information, such as name, password or any other valuable credentials to scammers.
It's you Facebook virus scheme resembles an old "hahaha" Facebook virus and other types of Facebook virus. People receive an instant message via Facebook Messenger that includes their name, a link to a "video"[1] and the question "Its you?" Usually, a "video" link seems to be redirecting to Youtube, but it typically ends with the malicious login page seeking to trick you into passing your Facebook account to the bad guys.
Name
"Is that you" Facebook virus
Type
Malware
Symptoms
Shows the message stating that it is you in the video on Facebook Messenger
Version of
Danger
Aims to trick people into revealing their credentials, redirects to dangerous pages, installs malicious extensions, also known as malware
Distribution
Facebook messenger
Elimination
Ignore "Is that you" message on Facebook and clean the machine with anti-spyware if you clicked on the link which has a great potential of being malicious. Virus damage can be fixed with

Reimage

Reimage Cleaner
It's you video virus is yet another type of Facebook virus[2] distributed by scammers to obtain people's login credentials or disseminate malware. The virus was initially detected in 2017. This time, Facebook team patched the vulnerability quickly and stopped its distribution. However, apparently, it hasn't been terminated entirely since the latest wave of scam campaign was revealed recently in June, 2019.
The main reason why is this social media scam[3] categorized as extremely dangerous is that it may cause the leakage of private information. Once the user clicks on a "video" link, it's you Facebook Messenger virus redirects to fake Youtube website and then launches a Messenger-like login website. The scam asking are you in this video facebook virus won't allow the user to see the video unless he or she enters login details. That's a catch of the Is this you YouTube virus.
"It's you" Facebook virus aims to get victims to visit the malicious page, reveal information regarding their email or social media accounts or even install anything. Cybercriminals come up with various scam techniques and tactics designed to obtain valuable details about the user. There is no doubt that you must avoid these redirects as hard as you can.

"Is that you" Facebook virus scam can trick people into giving away Facebook login details.
While trying to trick its victims into corresponding activities, Facebook video of you virus uses fake claims about the content regarding you or your relatives, mostly close people. Unfortunately, virus developers can even pose as your close friends and messenger contacts, so you don't think twice before clicking the provided link or a video.
However, clicking on the content displayed by "Is that you" Facebook virus can lead you to numerous places which are considered as unsafe:
commercial pages;
ad-supported sites;
affiliated content;
sites with malicious material;
promotional pop-ups.
"Is this your video" Facebook virus scam doesn't end there with the initial message about the compromising video. Once the link or the video itself gets clicked, a form with login information gets prompted to "help" you log into your Facebook account or email. Unfortunately, that's the point when the information you enter gets recorded and collected.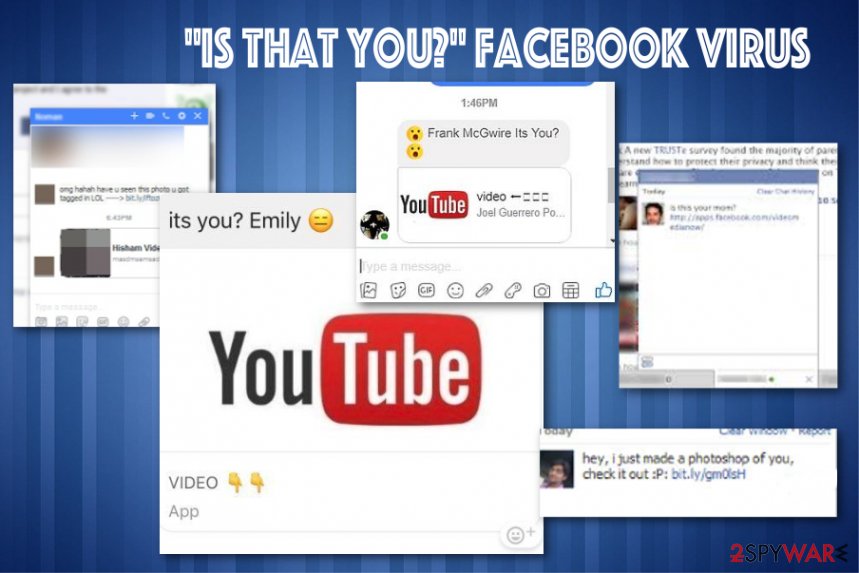 The collected logins and passwords can be used in numerous ways, including personalized scams and phishing campaigns. Such data like passwords can be often used in direct extortion and email scams because people use the same password for a few accounts. Additionally, if your Facebook account is commercial and connected to your PayPal account, hackers can steal your money.
Unfortunately, there are other instances when hackers and criminals can obtain such data or use the stolen and recorded information. "Is that you" Facebook virus is only a version fo the malware set to take the information.
Beware that the Facebook virus has many versions that aim to get personal information, steal credentials or any other valuable data from the victim. Additionally, you can be redirected to malware-filled websites offering quick links to malicious extensions and similar content. As we have already warned you, it's you Facebook virus is showing increased activity on the web, so be prepared and also warn people around you.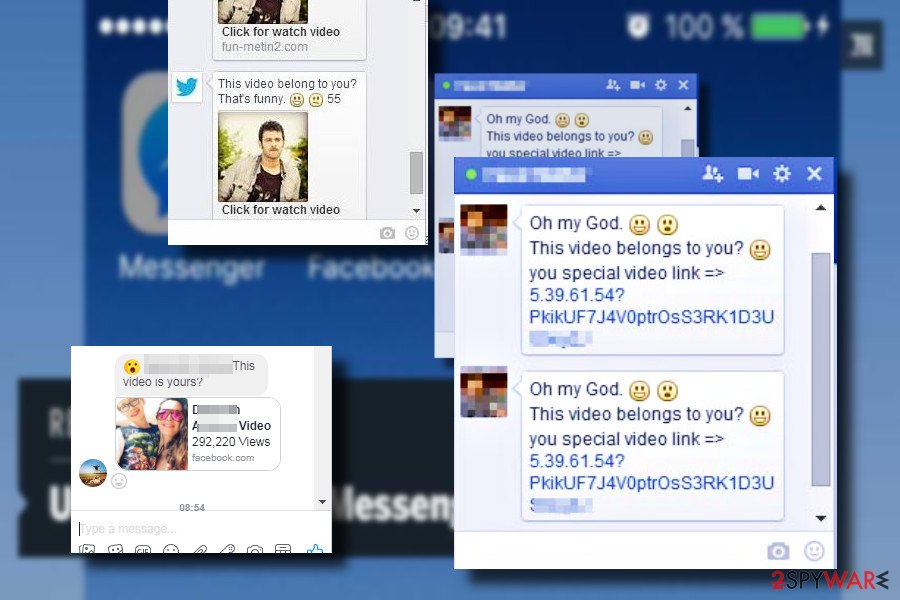 "Is that you" Facebook virus appears in messenger and aims to trick people into visiting malicious sites by showing alleged video of the victim.
Other dangers related to "Is that you" Facebook virus
The malicious links on social media can also be used for distributing malware or severe cyber infections, so before clicking on doubtful messages that do not look naturally written, ask your friend or acquaintance if he or she send that to you. Most probably his/her account has been infected with the Facebook virus, which is why it's generating malicious messages automatically.
If you think that your Facebook account has been infected with It's you youtube facebook virus, you should immediately report that to Facebooks support team and change your account's password.
Then download a professional anti-malware or update the one that you have and run a full system scan with it. That's the quickest and most reliable way to remove "Is that you" Facebook virus. If the virus cased errors on the system, we recommend using Reimage Reimage Cleaner .
The distribution of message virus variants is still the same
Although not in all cases, most frequently social platform users are attacked via messages from one of the contacts. The infection spreads using a chain scheme, i.e., people get infected from one another by clicking on malicious links.
The is this you virus generates the messages that have the following scheme – the name of the potential victim, then a word "video" linked to a malicious domain and random emoji. Cybersecurity experts found out that the virus is translated into various languages, so if the location of the victim is Italy, he or she will get the message in the Italian language.
To protect your social media account from the attack, it's a must to stay away from misleading advertisements and news feeds provided on the platform. Do not fall for offers to win Ryanair tickets or iPhone offers for one euro. Newsfeeds about a half-naked woman with slogans like "The girl ruined her life in two minutes" are also a scam, which may redirect to phishing websites.
Security experts from NoVirus.co[4] recommend people to enable two-factor authentication. This feature is a useful precautionary measure that helps to prevent account hack. With the feature enabled, each time someone will try to log into your account, you will get a confirmation request asking to enter a unique security code.
Learn how to remove "Is that you" Facebook virus completely
"Is that you" Facebook virus is a dangerous piece of malware, which lock you from the Facebook account or trick you into installing another cyber infection. Therefore, as soon as some of your friends tell you that you are sending messages via Messenger asking are you in this video facebook virus, immediately scan the system with professional security software, such as SpyHunter 5Combo Cleaner or Malwarebytes. Reimage Reimage Cleaner will help you eliminate corrupted and damaged files.
Besides, don't forget to change your Facebook's password ASAP to prevent identity theft and information leakage. It's also advisable to report your friends that your account might be hacked and that they should now open suspicious messages that are sent via your account to them.
"Is that you" virus removal also requires a close investigation of app settings on Facebook. To disable malicious add-ons, you should perform these steps:
Log in to your Facebook account and click on a little triangle on your right;
Click Settings to open General Account Settings window;
Look on your left and select Apps;
Click Edit button on Apps, Websites and Plugins option;
Select Disable to protect your account from unauthorized access to third-party apps.
This entry was posted on 2019-12-05 at 07:30 and is filed under Malware, Viruses.