MyMacUpdater is a potentially unwanted application that sets all web browser search engines to WeKnow.ac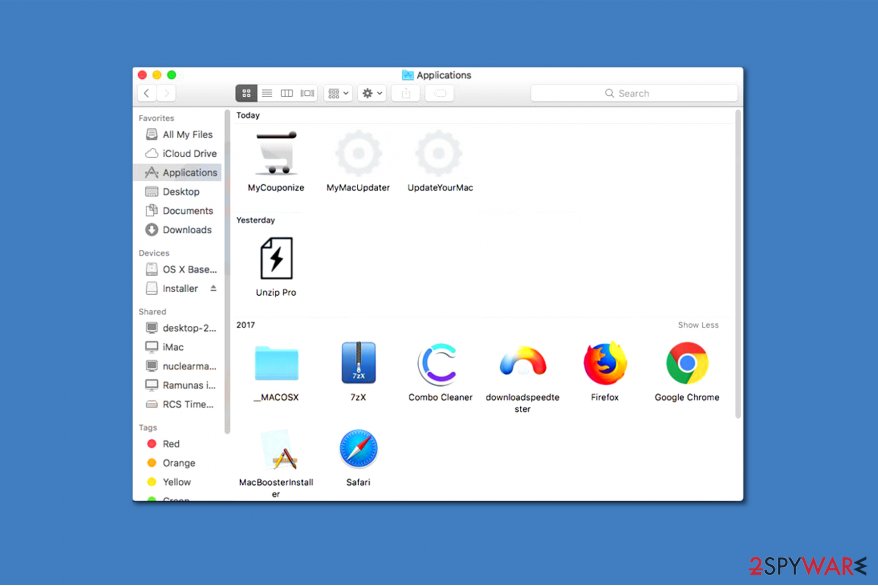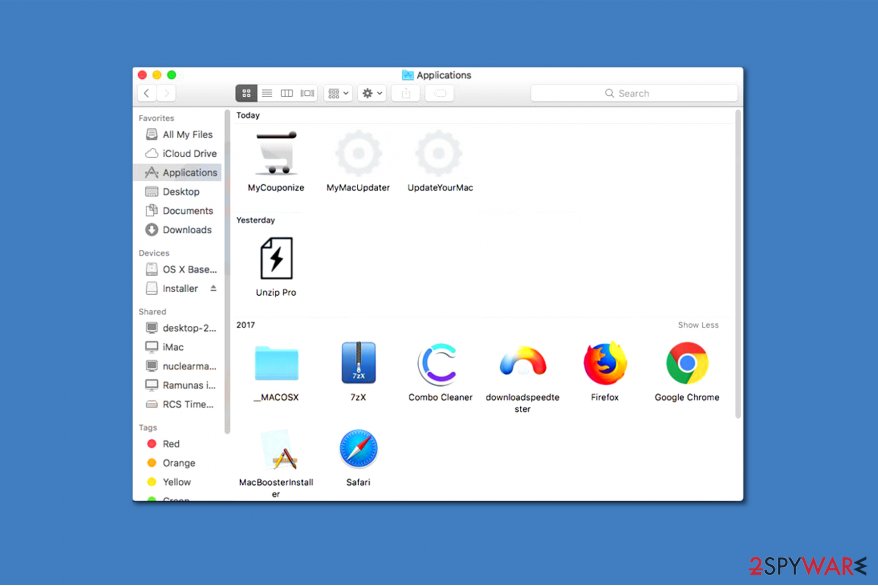 MyMacUpdater is a Mac virus that users typically install on their systems unintentionally while allowing apps from unofficial sources. While many security solutions mark it as a potentially unwanted program or adware, it has multiple characteristics that are common in malware. For example, MyMacUpdater changes web browser settings on Google Chrome, Safari, Mozilla Firefox, or another browser and applies weknow.ac as the main search engine and homepage. While typically this behavior is acceptable, MyMacUpdater virus prevents users from removing the search engine by applying malicious settings within the Mac.
Besides altering web browser settings, MyMacUpdater virus will also download other potentially unwanted programs on the system, such as Shopperify or OptiBuy. These crapware apps do not benefit users in any way but instead, fill their web browsers and Macs with obnoxious advertisements and offers to upgrade the software, cluttering and slowing down computers in the process. Besides, automatic download and installation of PUAs on the system might indicate a far bigger problem – such as Shlayer Trojan infection.[1] You should not delay MyMacUpdater removal, as you might compromise your online safety.
Name
MyMacUpdater
Also known as
MacUpdater
Type
Potentially unwanted program, Mac virus
Distribution
The unwanted app was found packaged along with other apps into a standalone installer – these are usually acquired from unapproved sources. MyMacUpdater is also known to be distributed with the help of fake Flash Player installers
Related files
com.MyMacUpdater.agent.plist
Similar PUPs
Shopperify virus; My ShopMate ads; etc.
Symptoms

Changes a new tab URL, homepage and the search engine to www.weknow.ac
Displays intrusive pop-ups asking to pay for the licenced version of the app
Downloads and installs other potentially unwanted programs, such as OptiBuy
Establishes background processes and connects to a remote server
Slows down macOS signisficantly

Termination
Due to possible MyMacUpdater connections to other malware, as well as erratic behavior and obfuscation, we highly recommend scanning the computer with anti-malware software, such as SpyHunter 5Combo Cleaner
System optimization
In case your Mac is still slow even after malware removal, you can clean it up with tools like

Reimage

Reimage Cleaner
MyMacUpdater is borderline malware, so there is no surprise there that it is distributed with the help of unfair techniques, including software bundles and fake Flash Player installers. The latter is extremely popular among cybercriminals, as it works wonders when it comes to users who don't know anything about the software itself – it was so popularized throughout the years that they now associate Flash logo with a legitimate app. However, it is far from the truth – stay away from MyMacUpdater and similar malware, as well as Adobe Flash (the latter is not malicious, but is fundamentally flawed and is about to be discontinued anyway).
Once inside the system, MyMacUpdater virus escalates its privileges by adding com.MyMacUpdater.agent.plist entry into the LaunchDaemons folder inside the Library – this allows the PUP to take over the Mac and manage its background processes. As a result, users may find suspicious applications installed on their systems without approval.
All the actions performed by MyMacUpdater to accomplish the main goal – help the developers to gain pay-per-click[2] revenue from the user traffic brought to the affiliate pages. Unfortunately, the only party which benefits from such activity is the contrivers.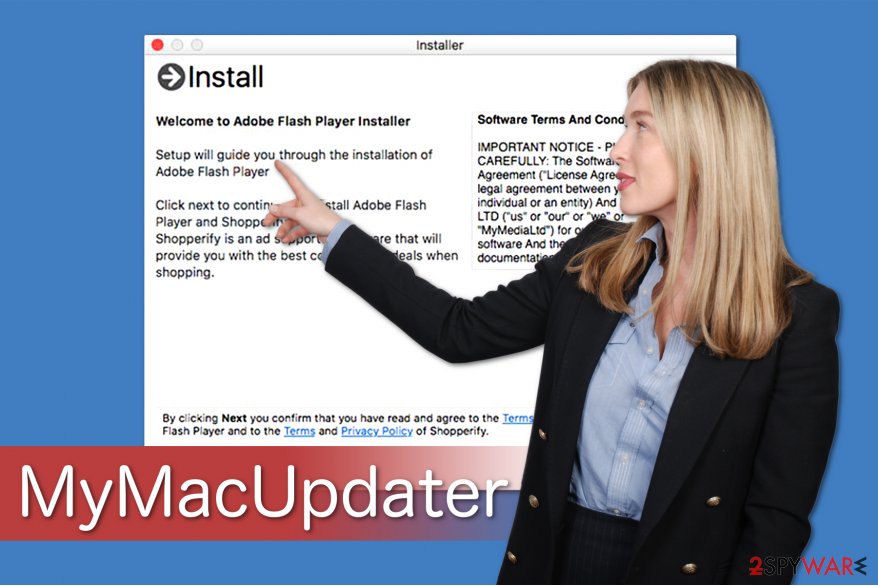 MyMacUpdater is a potentially unwanted application which comes in a bundle with suspicious third-party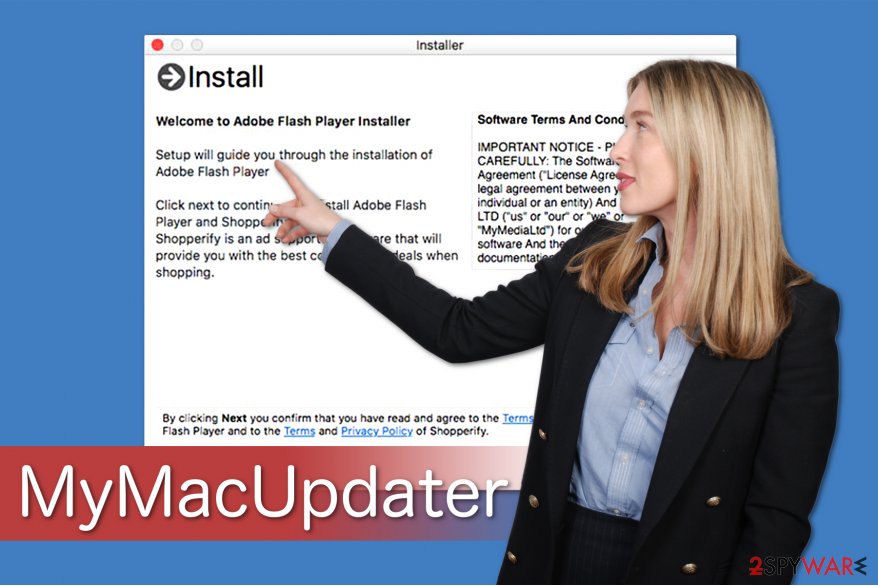 MyMacUpdater is a potentially unwanted application which comes in a bundle with suspicious third-party
Besides portraying as a useful addition to any macOS, MyMacUpdater is designed to track its users and gather information about their browsing habits. However, some of that data might personally identify you and lead to serious privacy issues or even identity theft.
Some of the MyMacUpdater virus collected information may include:
IP address
Geolocation
ISP
Search queries
Links clicked
Timestamp
Cookies, etc.
This information is later used to alter the delivered ads to suit your interests. This way, developers are sure that you will be more attracted to click on the displayed commercial content and generate them revenue.
Sadly, they are not responsible for the content of the pages where MyMacUpdater redirect tendency leads you, so by clicking on those ads, you risk to end up on a suspicious page or malware distribution source. Likewise, this program is potentially dangerous, and you should get rid of it right away.
You can learn how to remove MyMacUpdater from Mac by following the instructions given below. However, ad-supported[3] programs are inextricably linked to other PUPs, so you must uninstall them all. Thus, manual elimination is neither the safest nor the most convenient option.
Instead, get SpyHunter 5Combo Cleaner or another powerful security software for MyMacUpdater removal. If you suffer from stability or speed issues even after malware's termination, you can fix these problems with Reimage Reimage Cleaner .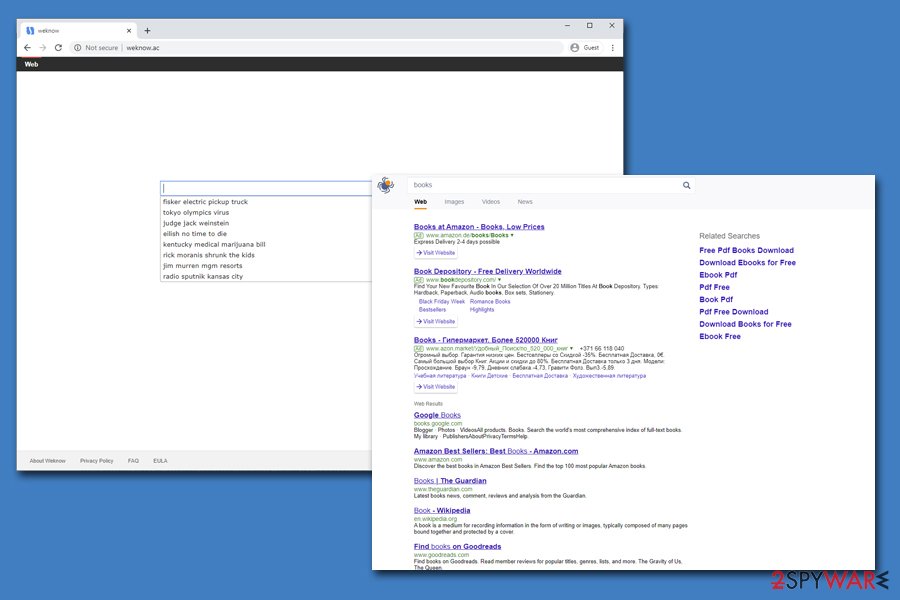 Besides downloading other PUPs, MyMacUpdater also alters web browsing settings and changes homepage to weknow.ac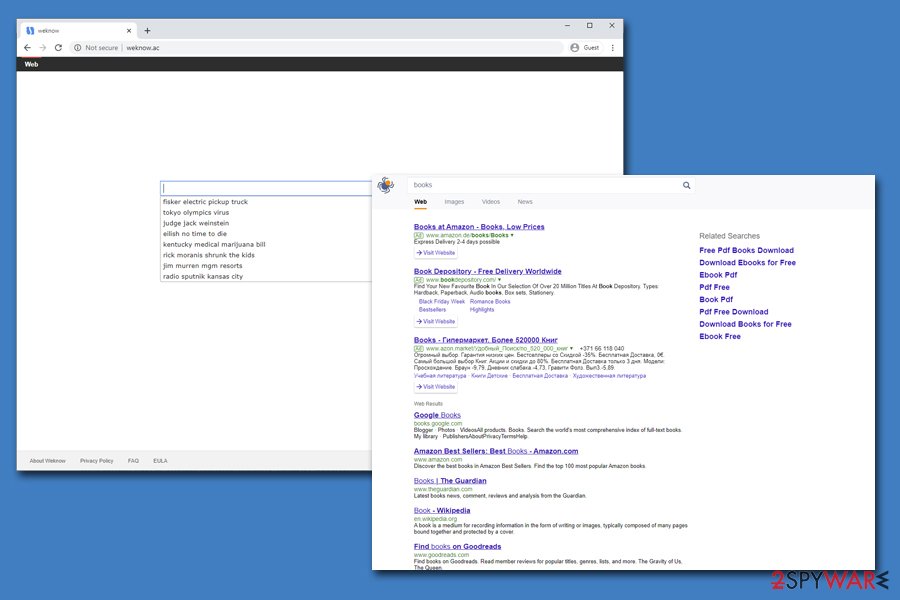 Besides downloading other PUPs, MyMacUpdater also alters web browsing settings and changes homepage to weknow.ac
The PUP infiltrates computers using very stealthy methods
All potentially unwanted programs have one common feature — they are distributed the same way. Their developers spread the products via a marketing scheme called bundling, which hides the information about the PUP during the installation of free applications. Likewise, people do not notice when it sneaks into the system.
Experts report that people should not only wonder how to get rid of this PUP, but also take into account the precautionary measures to protect their computers in the future. For that, we suggest paying close attention during the installation of third-party software.
You must choose Custom or Advanced settings and de-select all marks which grand your permission to let the potentially unwanted program in your system. Additionally, you can use a robust antivirus to help you fight them automatically. If anything, the best choice for security would be staying away from third-party sites and opting for official sources like Apple Store – it holds more than two million apps for your disposal.[4]
Additionally, please watch out for online scams, such as those that claim your system is outdated, infected by malware, or that it needs Flash Player. None of these are true; you should ignore these statements and close down such pages immediately without downloading anything.
Learn how to remove MyMacUpdater from Mac
We have received numerous questions asking how do I remove the MyMacUpdater virus? Likewise, we have prepared two options to get rid of this cyber threat. The first one is to eliminate the adware automatically by installing professional security software and running an entire system scan.
Another one is to complete MyMacUpdater removal manually. However, Lesvirus.fr[5] team says that this PUP is linked to other potentially unwanted programs that are installed together. Thus, you must get rid of them all to stop seeing annoying ads. Besides, it is important to reset all the installed web browsers in order to prevent unwanted ads and redirects.
Taking this warning into account, we have attached guidelines showing how to uninstall MyMacUpdater Mac at the end of this article. They should help you to complete the elimination process safely.
You may remove virus damage with a help of Reimage Reimage Cleaner . SpyHunter 5Combo Cleaner and Malwarebytes are recommended to detect potentially unwanted programs and viruses with all their files and registry entries that are related to them.
This entry was posted on 2020-02-14 at 06:10 and is filed under Mac Viruses, Viruses.