HackTool:win32/autoKMS is the generic Windows Defender detection alert stating about malicious behavior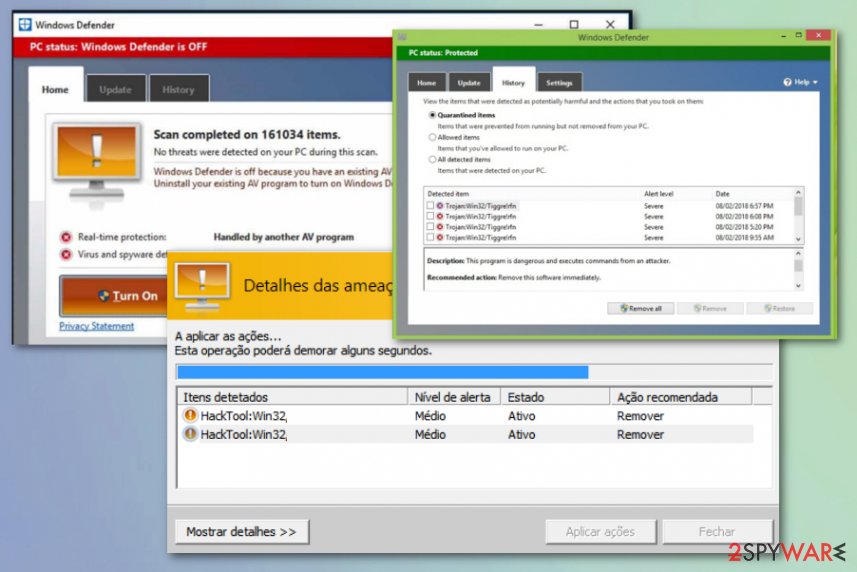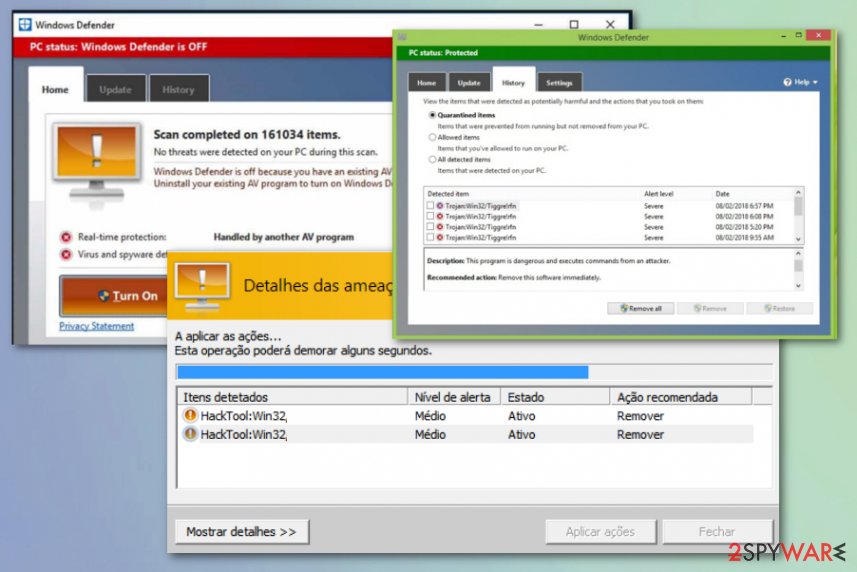 HackTool:win32/autoKMS is the threat that can be used to crack or patch unregistered copies of various Microsft software. This heuristic name is reported by researchers[1] and indicated on various forums by users themselves.[2] There are many possible outcomes when such an alert appears on the system because it either shows the malicious behavior of actors and malware on the device or is reporting false infection. Unfortunately, in most cases, such detection can be actually related to malware or unwanted programs, so remove the program or file if your AV or security engine suggests you to do so.
Hacking tools like HackTool:win32/autoKMS virus can be set to spread malware and help hack systems. This particular detection can be possibly related to KMSpico tools. If you installed any of such tools yourself, your device may be safe and secure, but when these alerts are not associated with a program that you added and know about, make sure to take action and avoid serious infections since this may lead to malware issues.
Name
HackTool:win32/autoKMS
Type
Hacking tools, possibly trojan or other malware
Symptoms
Malicious behavior detection-based engines alerts users about the suspicious program or file and offer to delete the threat. The virus itself is not causing any issues besides occasional pop-up messages about software issues
Danger
The detection can indicate serious malware infection and lead to the damaged system if you remove the program that is essential, or decide to leave the intruder running
Distribution
Malicious websites and other services that offer free downloads of programs and tools lead to infiltrations of malicious applications. It is possible to install a particular malicious program on your device during installation of other freeware or get the executable file with malicious code from legitimate-looking but the insecure email notification
Elimination
HackTool:win32/autoKMS removal can happen with your program that indicated this intruder in the first place. You need to rely on professional anti-malware tools or security programs to avoid possible file corruption
Repair
When the program can run in the background and affect processes crucial for the infected device, you should run a system tool like

Reimage

Reimage Cleaner

and look out for the damaged files or entries that can trigger malicious activities
HackTool:win32/autoKMS pop-ups and detection alerts mean that there is a potential risk on the machine, and you should take malware infection into consideration. Using hack tools is not recommended by any experts[2], on the opposite, these programs can be considered dangerous and malware, hence these generic detections.
When malware is associated with the detection and manages to run on the machine, HackTool:win32/autoKMS virus may be set to:
connect to the remote server;
receive additional configurations or files;
install and download programs;
execute arbitrary files;
steam or upload data on the system;
take actions from a remote attacker.
HackTool:win32/autoKMS, or Auto KMS in particular, can be associated with automatic windows operating system activation services, so when you use the fake version of the software, you can get these alerts. However, removing the threat can lead to corruption of your device, unless you use a genuine Windows version.
The best way to react to this detection would probably be a secondary check with alternate anti-malware tools or software. When you get additional suggestions to remove HackTool:win32/autoKMS from more than two programs, you should do as suggested and clean the machine. Anti-malware programs can do that for you without damaging additional processes or files. But the intruder itself may affect system files and services, so rely on system tools or cleaners like Reimage Reimage Cleaner , so affected files can get repaired.
HackTool:win32/autoKMS can be associated with particular hacking tools or illegal software. If that is the case, the following pop-up can possibly appear on the screen occasionally:
AutoKMS 2.4.3.0 Ran At.
Attempting To Activate Microsoft Office
Attempting to Activate OfficeProPlus-KMS_Client
Product activation successful
HackTool:win32/autoKMS can make changes in the registry and other system folders, affect processes, damage functions, and features since there are many possible functions such intruder can rely on. Once it gets on the computer, it drops various files to activate specific processes and places data, malicious code to ensure that it gets launched with every system reboot.
Since there are no particular symptoms HackTool:win32/autoKMS removal can get difficult. You need to find and remove all associated files and programs that may interfere with the particular hack tool functions or the trojan that is associated with this detection name.
There are no physical programs of such threats like HackTool:win32, in most cases, so you need a professional anti-malware tool that can find various applications and files. However, remember that no visible symptoms and discrete operations can mean attackers and silent executions, so double-check before adding any files or programs on the machine.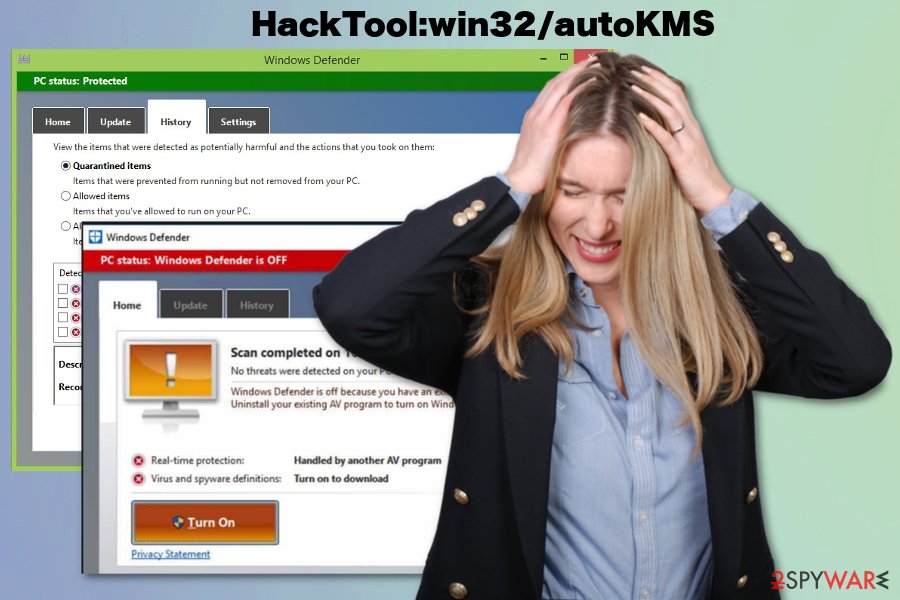 HackTool:win32/autoKMS is the program that may be designed to act like a trojan or a different malware program, to affect the machine it gets on significantly.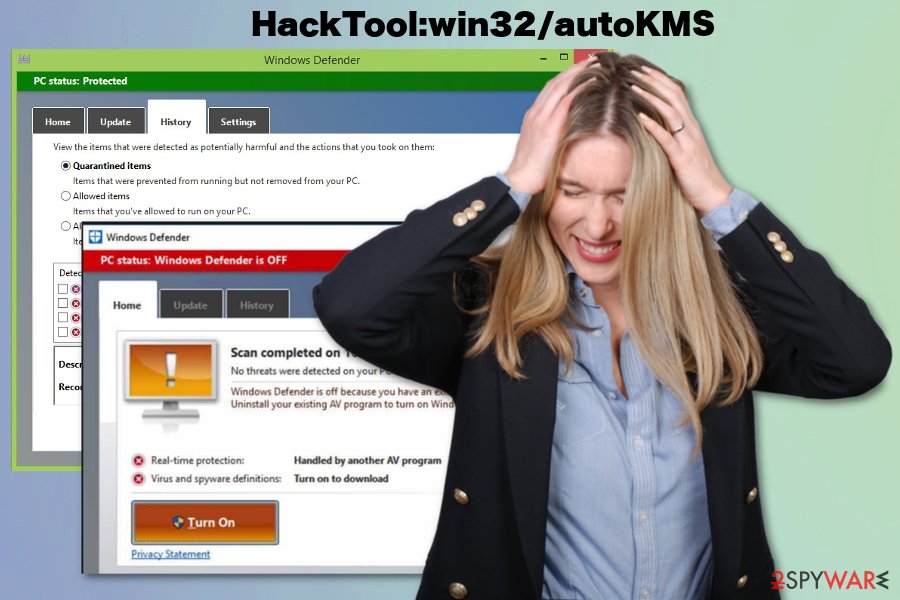 HackTool:win32/autoKMS is the program that may be designed to act like a trojan or a different malware program, to affect the machine it gets on significantly.
Malicious tools and programs get delivered via deceptive sites and other applications
The payload of threats that run in the background, in most cases, gets on the machine without users' permission or even knowledge because this malware drop is a silent process. Sometimes malicious websites offer these programs as deals or extra applications during the initiated download of freeware.
In most cases, these hacking tools or crack software is installed by the person that wants to use the illegal application. Torrent services and pirated sites often distribute these programs, so you should pay attention if you go for these methods of installations or choose to crack apps and cheat.
The best advice is to use legal applications, official providers, and developers as your main source of freeware. Also, choosing correct installation options could help you, so always go for Advanced or Custom options and control programs that you install. Avoid surfing on suspicious or potentially malicious pages, so you can keep the machine virus-free and safe.
Terminate HackTool:win32/autoKMS as soon as you can to avoid possible damage
Once HackTool:win32/autoKMS virus gets n the system it can download other threats and launch processes. The malware[3] runs on the machine without causing particular issues or noticeable symptoms, so it is not the program that could raise questions until alerts start coming to the screen.
You should note that threats like this can become exceptionally persistent and hide core files all over the system, or disable AV tools to avoid detection. You can go for Safe Mode reboot and then focus on HackTool:win32/autoKMS removal. Such an option allows running the anti-malware program on the machine without interruption.
To remove HackTool:win32/autoKMS once and for all, rely on programs like SpyHunter 5Combo Cleaner or Malwarebytes. Anti-malware programs can find and indicate various types of malicious programs and files, remove such content from the system, clean your device from PUPs and viruses. Also, remember to check system files and affected parts using Reimage Reimage Cleaner that can find and repair various virus damage,
This entry was posted on 2020-02-14 at 05:27 and is filed under Malware, Viruses.