Myattwg is a website that AT&T users encounter seemingly out of nowhere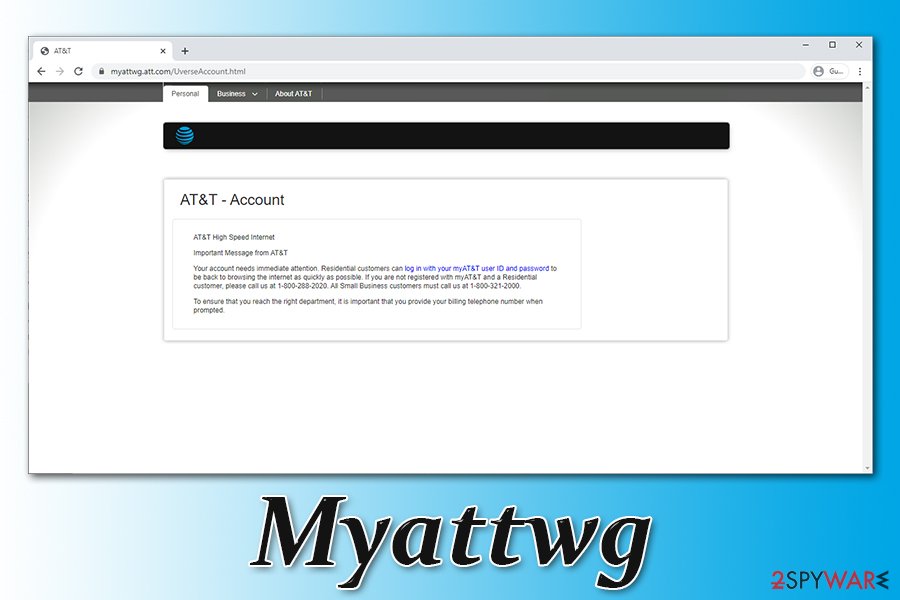 Myattwg is a support site used by AT&T to report that users have not paid for their accounts or there are other issues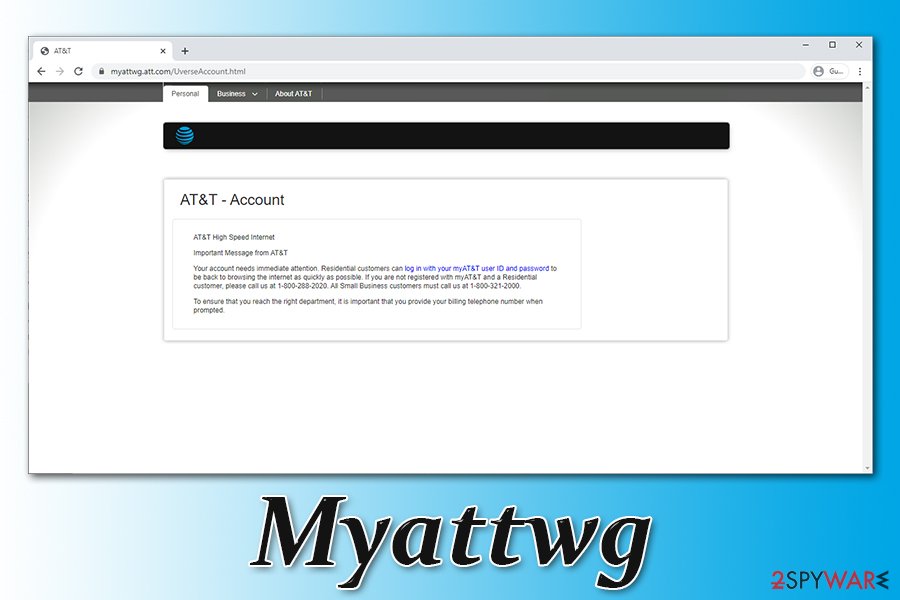 Myattwg is a support site used by AT&T to report that users have not paid for their accounts or there are other issues
Myattwg is a redirect issue that many users reported for several years now. Apparently, as soon as users try to access even the most popular websites, such as Gmail, eBay, YouTube, they are simply being redirected to a https://myattwg.att.com/UverseAccount.html website instead. This behavior does not change on all web browsers, including Google Chrome, Mozilla Firefox, MS Edge, Safari, or others. As a result of Myattwg redirects, users are unable to use the internet as they would normally would, which causes a lot of frustration to many.
Naturally, some came to the conclusion that Myattwg is related to a virus, as browser infections often lead users to unknown websites filled with pop-up ads and other commercial content. However, myattwg.att.com website is legitimate, and it belongs to AT&T – an American telecommunications giant used by millions to ensure internet connections at home and work. Thus, users are baffled why this activity occurs, and what are they supposed to do to remove Myattwg from their browsers once and for all.
Name
Myattwg
Related site
https://myattwg.att.com/UverseAccount.htm
Owner
AT&T
Affected OS
Windows, macOS/Mac OS X, Android, iOS
Symptoms
Inability to access even the most popular websites, such as Gmail, eBay, Wikipedia, etc., as the browser redirects to Myattwg instead
Solution
Unpaid AT&T internet bill restricts users access to the internet, hence they are unable to access various websites. In other words, you should check whether your internet bill is not overdue
Further actions
While Myattwg is a legitimate website owned by AT&T, it does not mean that somebody will not create a fake website where adware or malware-infected users could get redirected to. Thus, if, along with the redirects other suspicious indicators are present, you should scan the computer with anti-malware software and, if something is found, repair virus damage with

Reimage

Reimage Cleaner

Intego
Myattwg redirect reports are scattered across multiple tech forums and support boards. While some claim that they can access a limited number of websites, such as the Apple support page,[1] others are unable to use the internet regularly at all, as they constantly land on myattwg.att.com/UverseAccount.html instead. Also, the issue is prevalent on both Mac and Windows systems.
There were several speculations that the Myattwg site is a scam, as it provides several contact numbers, and also uses text that is typical to online fraud schemes:
AT&T High Speed Internet

Important Message from AT&T

Your account needs immediate attention. Residential customers can log in with your myAT&T user ID and password to be back to browsing the internet as quickly as possible. If you are not registered with myAT&T and a Residential customer, please call us at 1-800-288-2020. All Small Business customers must call us at 1-800-321-2000.

To ensure that you reach the right department, it is important that you provide your billing telephone number when prompted.
The fact that users get concerned and do not call the provided number is very important, as cybercriminals are often impersonating legitimate messages and embedding malicious links in similar messages inside a spam email or a specially crafted scam site.
Due to Myattwg redirects, users tried to fix the issue in various ways, such as setting their DNS settings to Google's, resetting web browsers, scanning computers with anti-malware software, resetting router/modem but to no avail.
However, Myattwg is not a scam and is an attempt from AT&T to limit the bandwidth to users who did not pay the bill on time. Indeed, the attempt to inform users about the overdue payment is very poorly executed – it does not explain so in the message that is delivered via the browsers, confusing customers even more.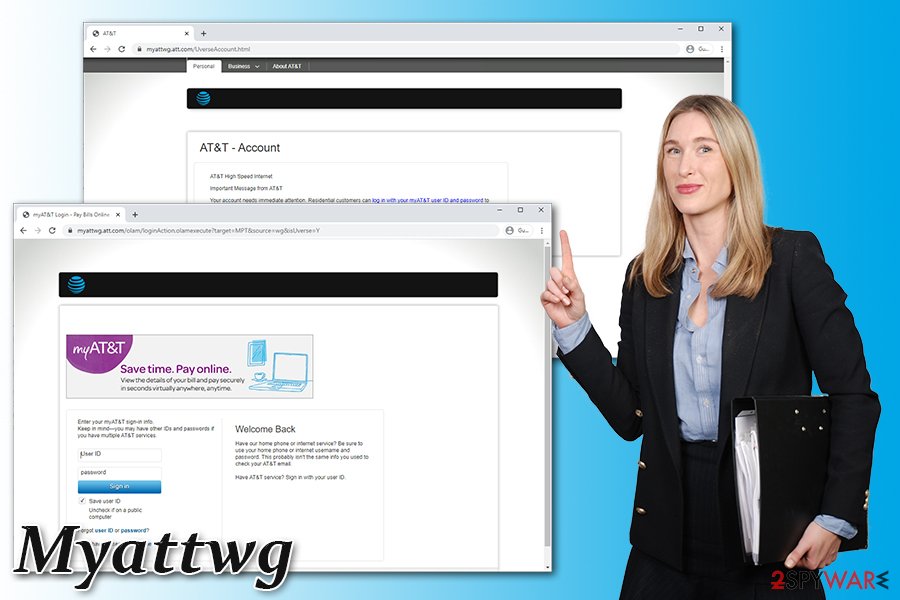 Myattwg is a website that users reported are being redirected to as soon as they are trying to access any website on the internet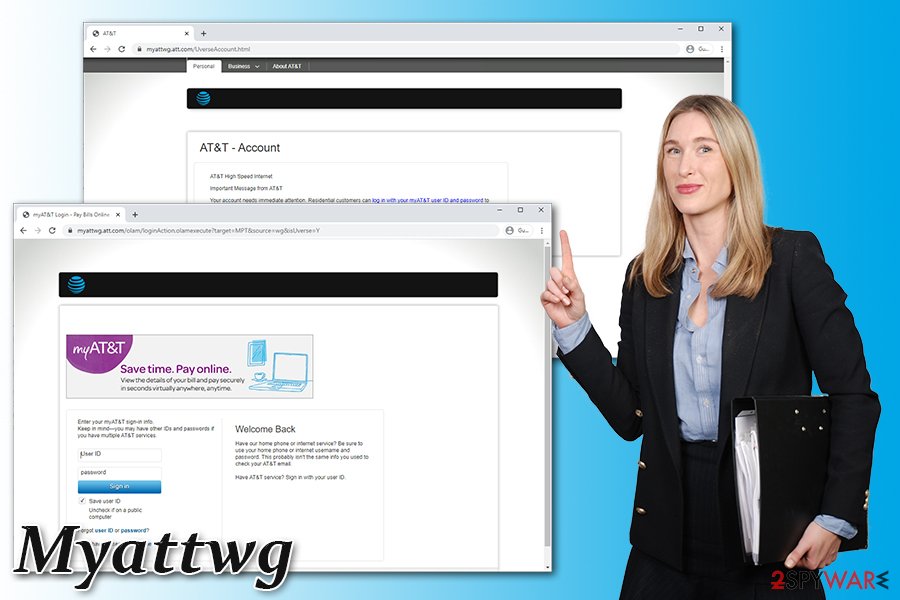 Myattwg is a website that users reported are being redirected to as soon as they are trying to access any website on the internet
Thus, if you experience redirects to the site, you should ensure that your internet is paid for. If the latter is true and you still are unable to access the internet normally while being redirected to myattwg.att.com, you should contact AT&T directly and explain the situation. Also, you could try solutions for Myattwg removal we provide below.
Nonetheless, if you experience redirects to other suspicious/malicious websites, and you also noticed an increased amount of ads along with the Myattwg issue, you should still be concerned about the web browser or computer infections.
Thus, while Myattwg is not a virus and the site itself is not malicious, you should still perform some mandatory checks just in case. As a first resort, you should scan your machine with anti-malware software such as SpyHunter 5Combo Cleaner or Malwarebytes, and, in case something is found by the security software, you can also use Reimage Reimage Cleaner Intego to fix virus damage to your computer.
Ways to avoid unwanted software on your computer
Potentially unwanted programs can often cause browser redirects to suspicious, ad-filled, scam, and similar websites. Generally, these apps are not considered a major security risk, but nonetheless should be looked into and promptly terminated, as some adware turned out to be more dangerous than anticipated (for example, the seemingly innocent pre-installed app Superfish on Lenovo computers turned out to be intercepting HTTPS connections and rendering users vulnerable to cyberattacks).
Therefore, even a potentially unwanted program that seems more like a nuisance can seriously compromise one's security and also be a privacy risk due to information tracking practices. Here are some tips from experts[2] that could help you avoid suspicious apps like adware:
If possible, choose official sources for your programs, such as Chrome Web Store, Microsoft Store, App Store, etc.;
When downloading freeware, keep in mind that installers are often bundlers – they include several optional apps;
During the installation, always choose Advanced/Custom option instead of Recommended/Quick one;
Remove all the ticks from pre-ticked boxes next to browser extensions, media players, PDF creators, system optimizers, and other bloatware;[3]
Watch out for other tricks used by freeware authors and third-party site owners: pre-ticked boxes, fine print text, misplaced buttons, etc.;
Employ anti-malware software with PUP recognition function.
Fix Myattwg redirect issue by following these steps
As previously mentioned, Myattwg redirect is only applicable to AT&T users, and the reason for it is an unpaid bill. If you have already paid the bill but are still experiencing restrictions and cannot access any (or some) websites, you should reset your modem/router by pressing the reset button (it might be located at the back). However, this might not yet conclude Myattwg removal.
To remove Myattwg redirects once and for all, you should also clear your browser caches and cookies. To do that, follow these steps:
Google Chrome
Press three dots at the top-right and select Settings
Under Privacy and Security, click on Clear browsing data
Under Time range, pick All time
Select Cookies and other site data (you can also check other fields)
Pick Clear data
Mozilla Firefox
Click on menu at the top-right corner and pick Options
Select Privacy & Security on the left
Scroll down to reach Cookies and Site Data section
Click on Clear Data…
Tick Cookies and Site Data, as well as Cached Web Content
Pick Clear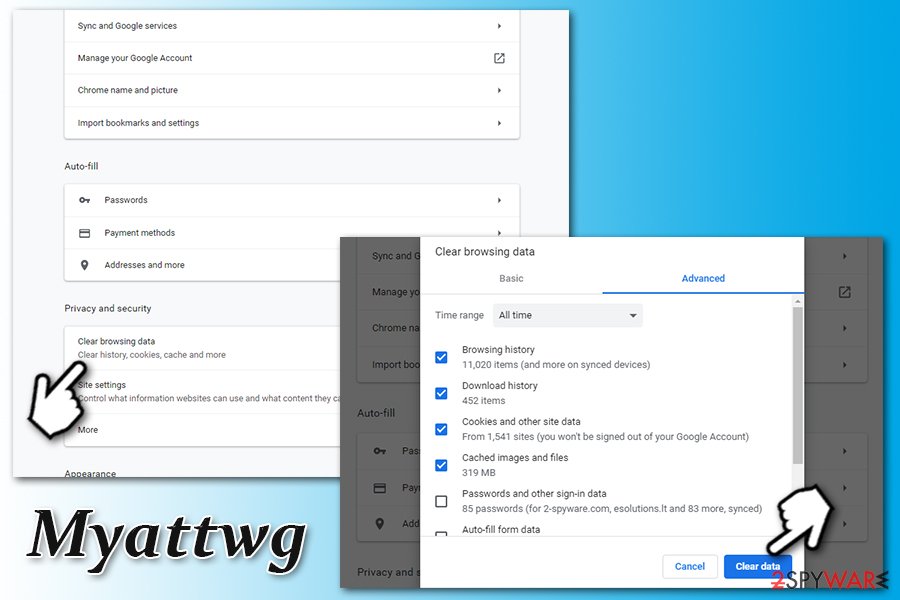 If you have already paid the bill and are still experiencing Myattwg redirects, you should remove the browser cache and cookies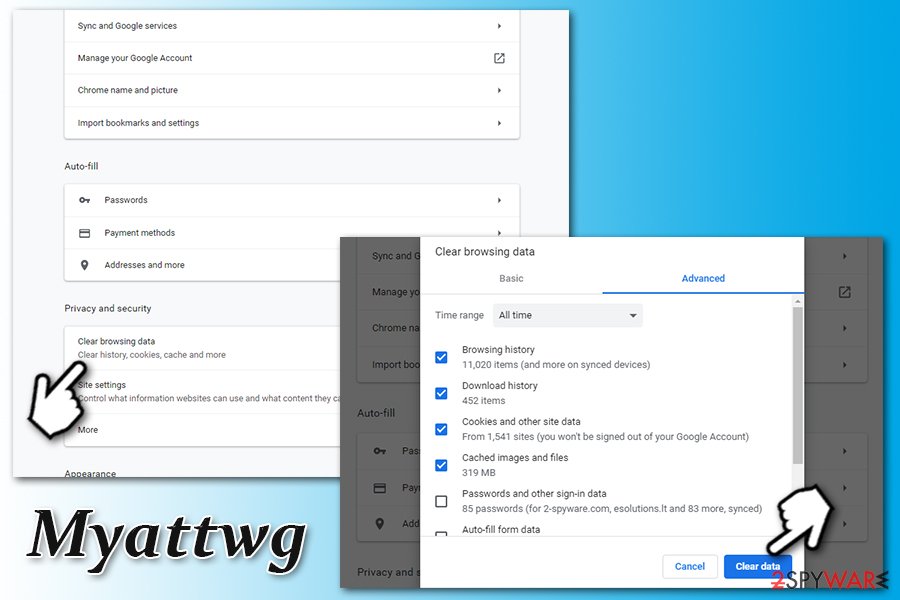 If you have already paid the bill and are still experiencing Myattwg redirects, you should remove the browser cache and cookies
MS Edge
Click on three horizontal dots at the top-right and pick Settings
Go to Privacy and services
Scroll down to reach Clear browsing data section
Pick Choose what to clear
Select Cookies and other site data and click Clear now
If these steps did not help you resolve Myattwg redirect issues, you should contact AT&T directly.
This entry was posted on 2020-04-23 at 03:30 and is filed under System tools, Viruses.