Virtumonde is a Trojan that is designed to make users install rogue anti-spyware programs by showing fake alerts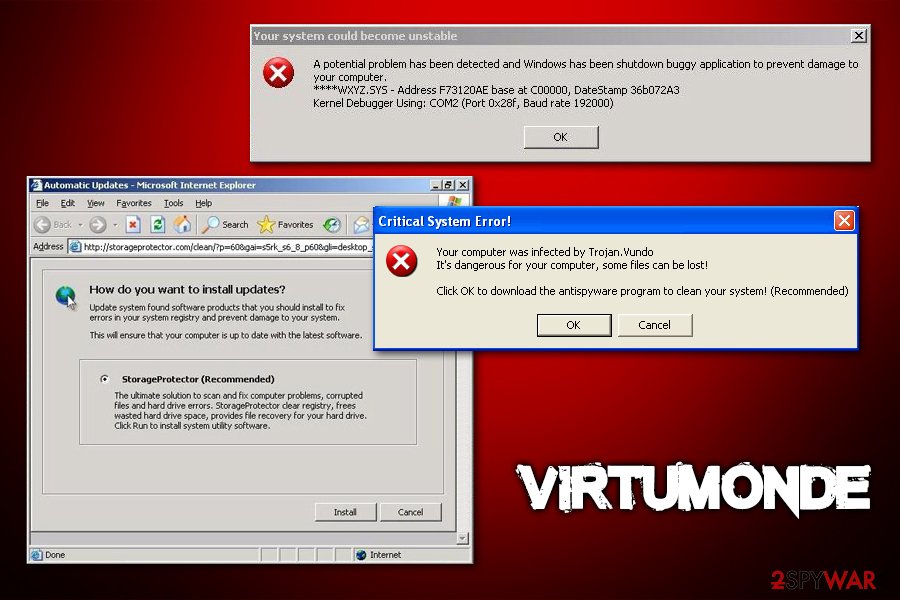 Virtumonde is a Trojan that is capable of installing other malware on the system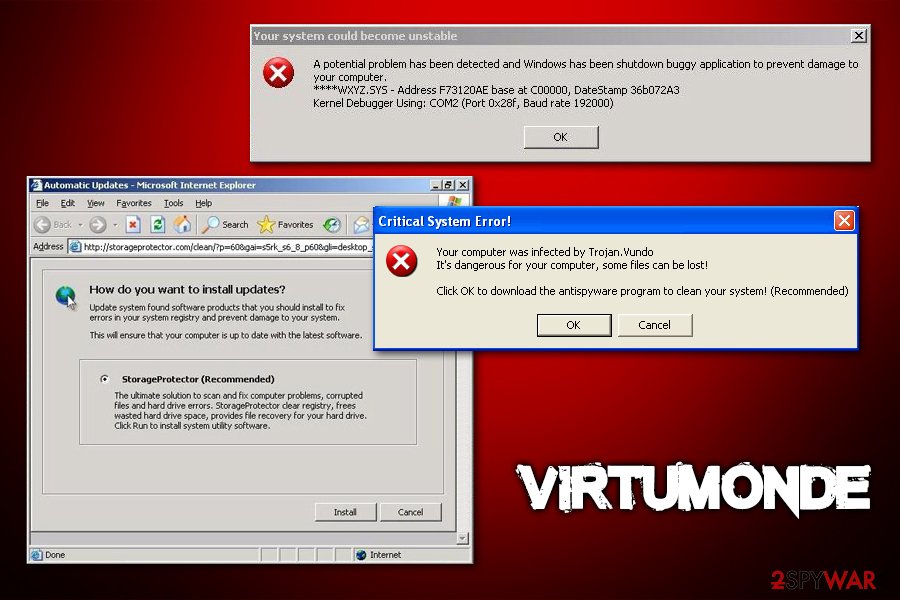 Virtumonde is a Trojan that is capable of installing other malware on the system
Virtumonde, otherwise known as Vundo, is a multi-functional Trojan with worm-like features that was developed in the late 2000s. The malware mainly spreads via contaminated spam email attachments or through a web browser or plugin, such as Java, exploits – these techniques ensured the large size of infections across the globe. Once inside the system, malware changes several Windows functions to be able to operate as intended, and users begin to experience Virtumonde virus infection symptoms immediately.
Over the years, Virtumonde Trojan was tweaked and improved, although its primary function was to show users malicious and fake pop-ups that advertised rogue anti-malware programs such as WinFixer, AntiSpywareMaster, SysProtect, and many others. Once installed, these malware apps would cause an array of additional problems to victims, deteriorating the user experience and system functions even further. Later, Trojan.vundo was also used to perform DDoS (Distributed Denial-of-Service)[1] attacks and proliferate other malware such as rootkits and ransomware.
Name
Virtumonde
Aliases
Vundo, Virtumondo, Trojan.vundo, Troj.vundo, Trojan:Win32/Vundo
Type
Torjan with worm-like capabilities
Functions
The malware can be employed to perform a variety of functions on the host machine, including other malware proliferation, fake alert display that promotes malicious software, DDoS functionality, etc.
Promoted rogue software
WinFixer, AntiSpywareMaster, SysProtect, WinAntiSpyware, AntiSpywareExpert, Desktop Defender 2010, XPAntiVirus, and many others
Symptoms
Intrusive pop-up alerts about allegedly infected/damaged system, inability to update Windows, inaccessible websites, system freezes/crashes, disabled anti-virus software, fake blue screen of death warnings, etc.
Risks
Vundo can render the system vulnerable to malware, so users might be infected with other infections over time. Consequently, users might have their financial or other sensitive information stolen. Also, due to a variety of processes that the malware initiates, users might not be able to use their computers normally, constantly experiencing system crashes and lags
Related
Virtumonde.dll, slmnvnk.dll,
Removal
Perform a full system scan with the help of reputable anti-malware software, such as SpyHunter 5Combo Cleaner or Malwarebytes
System fix
The infection might completely destroy some Windows system files. In order to avoid OS reinstallation process, we suggest using

Reimage

Reimage Cleaner

Intego to fix virus damage and remediate the computer, bringing it back to a pre-infection state
Rogue anti-spyware tools were extremely widespread during the 2000s, mainly because of a lack of regulations related to internet and application safety. As a result, thousands of malicious apps that were presented as legitimate security tools were developed and distributed in various deceptive ways, including the Vundo Trojan.
Users infected with Virtumonde would see pop-ups, alerts, and other misleading notifications about their allegedly infected/damaged computers every time they open the web browser, no matter if it is Internet Explorer, Google Chrome, or Mozilla Firefox. The notifications often claim that malware was found on their computers and that they need to download the recommended tool for its termination.
While the messages claiming that the computer is infected with malware, the reason for these to appear is the Virtumonde infection. The virus may use several different malware names (fake or real) in order to make users believe that they need to download advertised software. In installed, these rogue tools will compromise the PC further, which might complicate the Virtumonde removal even further.
Another danger of Virtumonde-promoted programs (besides being non-functional and harmful) is that users will be constantly asked to purchase a "full" version to delete malware on the system. Those who agree to proceed with the payment might be handing their credit card information directly to cybercriminals, which might result in financial losses and even identity fraud/theft. Thus, if you have been seeing these misleading Trojan.Vundo alerts, do not download, install, or pay for anything.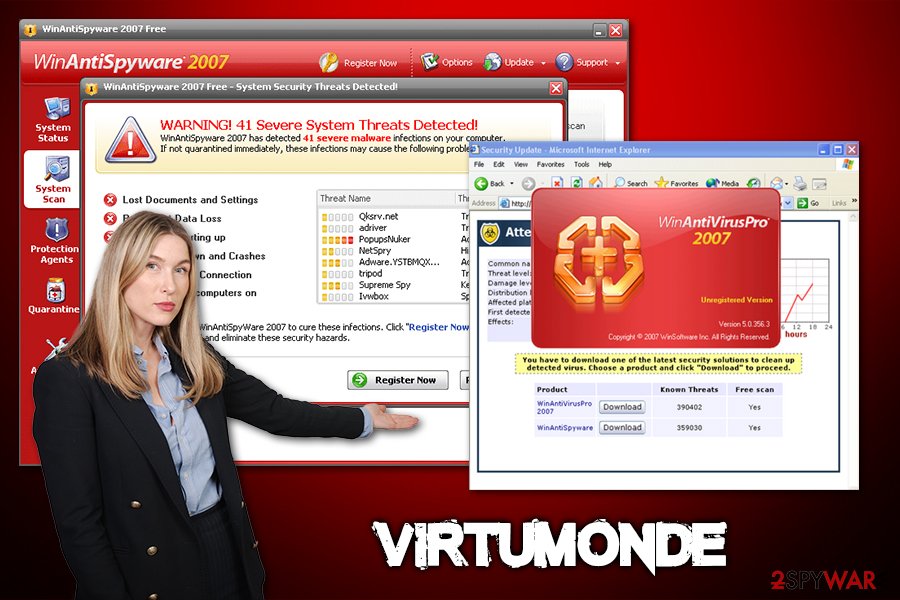 Virtumonde is a type of malware that uses Browser Helper Objects and other functions in order to display users fake notifications about computer security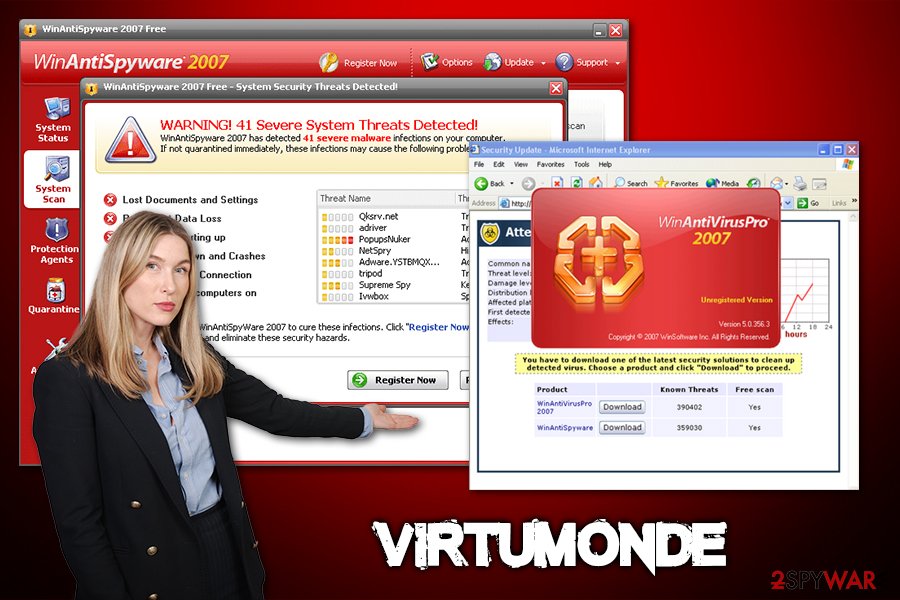 Virtumonde is a type of malware that uses Browser Helper Objects and other functions in order to display users fake notifications about computer security
Besides showing users false-positives and other malicious messages, Virtumonde virus might also display the following (visible) symptoms:
Changed desktop wallpaper and screensaver – fake errors and BSODs shown instead;
Websites fail to load or do that very slowly;
Some Windows functions disabled, such as the Task Manager, Registry Editor, etc.;
Explorer.exe crashes;
Deleted network connections;
Blue screen of Death (BSOD)[2] errors and system shutdowns, etc.
Virtumonde Trojan also possesses several persistence functions as well. In order to prevent users from detecting and eliminating the malware easily, it greatly weakens and disables certain built-in Windows defenses. For example, it prevents users from downloading the latest security updates, and might sometimes disable legitimate anti-malware software altogether. Also, some versions prevent users from visiting security-related websites (this is typically achieved by modifying Windows "hosts" file).
The newest versions of malware also incorporate rootkit[3] functionality, which makes it very difficult to remove Virtumonde from the infected computers. Essentially, this feature allows threat actors to execute commands remotely, download malware updates, and change system configuration files with admin-level privileges. Generally, detecting and removing rootkits is very difficult, hence not all security software can accomplish that.
For this reason, a specific rootkit removal software might be required to eliminate this version of Vundo malware. There are plenty of tools available for this particular function – they use behavior-based and memory dump analysis techniques, as well as signature scanning.
Nevertheless, versions of Virtumonde without rootkit functionality can be eliminated relatively easily with the most up-to-date, modern security software. We recommend using tools like SpyHunter 5Combo Cleaner or Malwarebytes, although there are plenty of others you could choose from based on your personal preferences.
In many cases, users infected with Vundo virus are forced to reinstall Windows, as, even after malware removal, they still experience system crashes, lags, BSODs, and similar. This is because anti-malware software is not capable of fixing some damaged system files. For that purpose, we recommend using Reimage Reimage Cleaner Intego – it can replace malware-affected system components with working Windows files.
Update your software on time and watch out for suspicious emails with attachments
While Troj.vundo is an old malware, it does not mean that it is not present in cyberspace. Despite the overall awareness and security is increasing among computer users, there are millions of vulnerable devices that are not protected by anti-malware software or/and are running unsupported Windows versions. These machines are perfect targets for old malware like Virtumonde, so it is important to take precautionary measures in order to avoid it.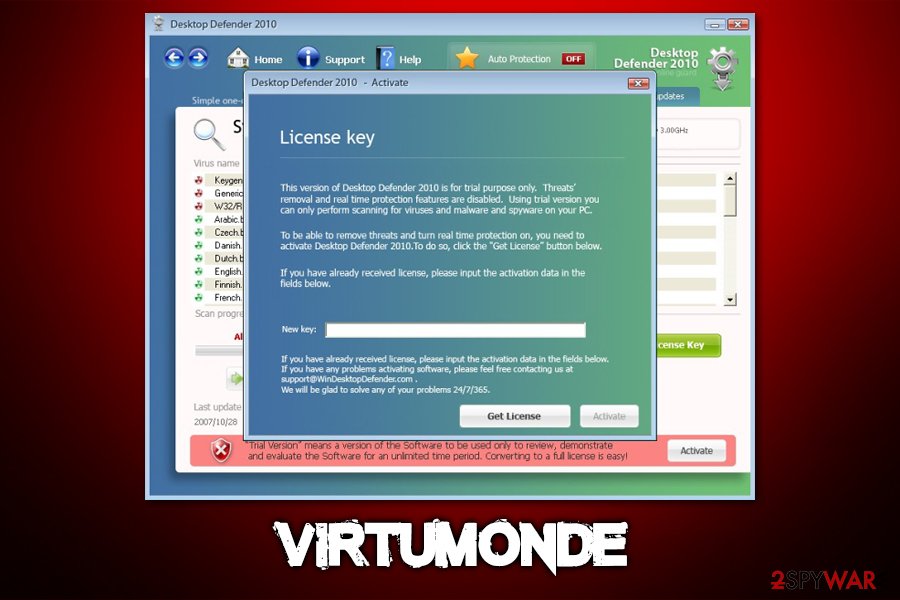 Virtumonde is capable not only promoting rogue-anti spyware, but is also very difficult to eliminate due to its rootkit capabilities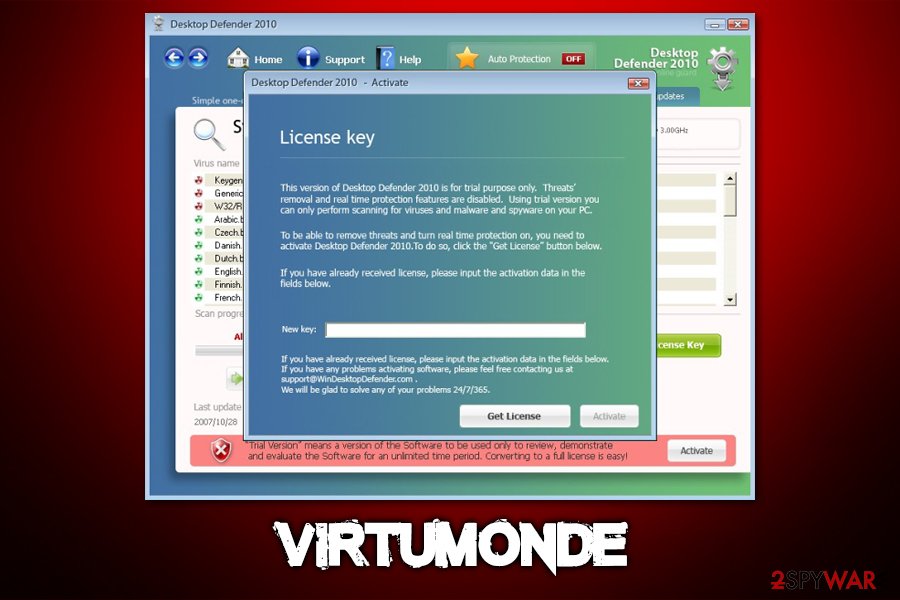 Virtumonde is capable not only promoting rogue-anti spyware, but is also very difficult to eliminate due to its rootkit capabilities
The first step into a secure computer is ensuring that it is running a supported operating system (i.e., Windows 10, Windows 8, or Windows 8.1), which is constantly being patched with the latest security updates. Additionally, all the installed applications, browsers, and plugins (especially Java and Flash, as these often suffer from vulnerabilities and are abused by hackers) should be set to an automatic update function. The operating system should also be protected by a high-end anti-malware software that is capable of stopping old and new threats at all times.
Another very important security measure is avoiding spam emails that carry macro-embedded attachments. While previously, users were simply sent executable files that would install malware directly, nowadays, more advanced methods are used, and the infection can be triggered by PDF, .doc, and similar files. In most cases, body text claims that there is an urgency to open the attachment (it can be presented as a bill, tax refund form, application, etc.); the attackers also often use well-known company names, such as Amazon, UPS, JPMorgan Chase, and similar.
Remove Virtumonde from your machine and fix Windows system files
Since the virus is a multi-functional and can heavily modify Windows system configuration settings and files, Virtumonde removal can be a very difficult task. Nonetheless, there are several different versions of the malware – older variants are likely to lack the advanced functionality, such as rootkit capabilities. Besides, anti-malware makers are now employing advanced techniques for malware detection and termination, so it is highly likely that you would be able to remove Vundo by performing a full system scan with security software.
If you encounter difficulties with Virtumonde virus termination, you should access Safe Mode with Networking, as explained below, and perform a full system scan. Also, you could try System Restore if the malware did not disable it during the infection process. As previously mentioned, you might have to use an anti-rootkit application that is specifically developed to find malware like Virtumonde.
This entry was posted on 2020-04-23 at 07:42 and is filed under Trojans, Viruses.