Converto.io is a shady online YouTube video converter that promotes nasty clickbait ads and enables push notifications without being asked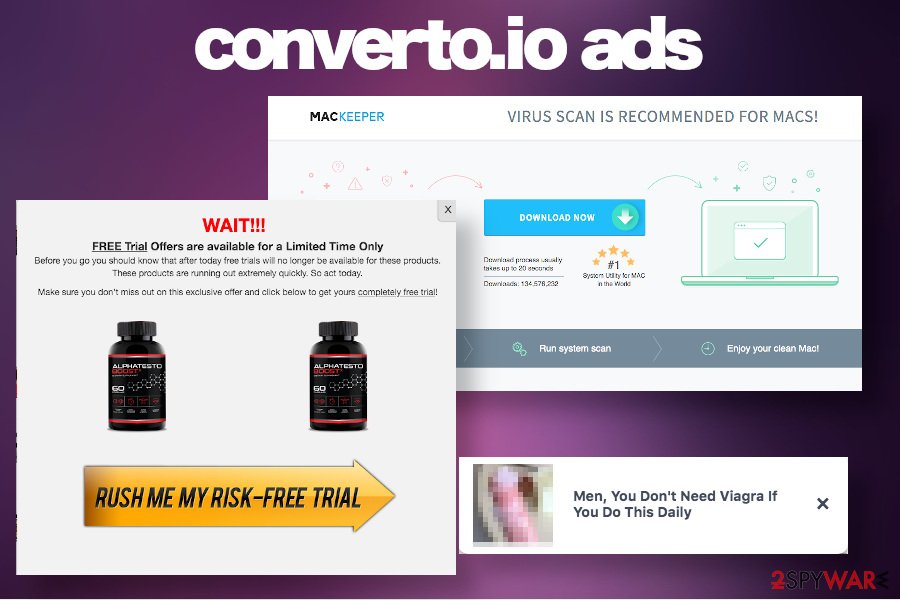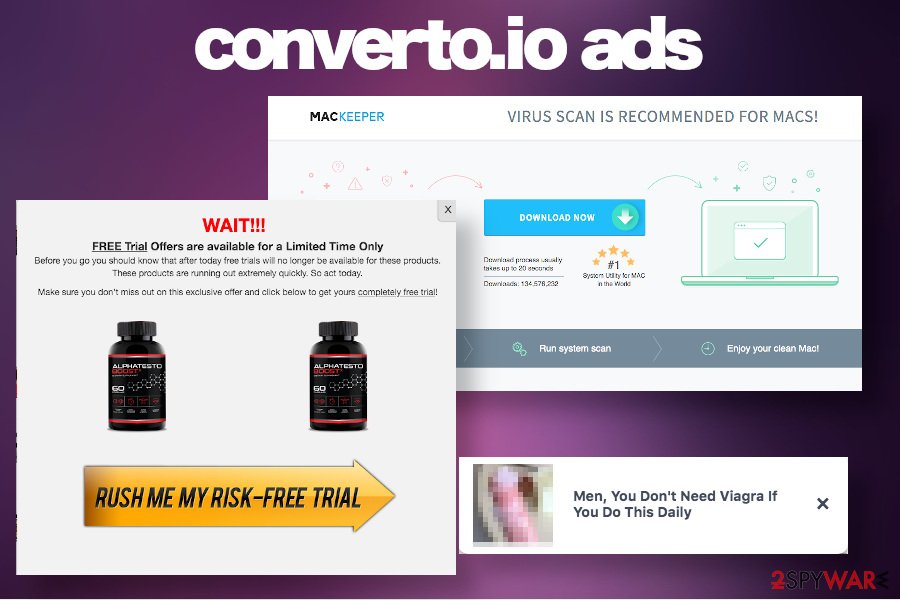 Converto.io is a website that carries an international classification of adware and potentially unwanted program (PUP). Although it offers a free YouTube file conversion service that attracts millions of users worldwide, the website itself is implementing aggressive advertising campaigns[1] that may result in malware infiltration or privacy issues.
Although this service is not bound to a particular application and does not require any downloads, it may initiate a web browser's changes and enable push notifications on Google Chrome, Mozilla Firefox, Safari, and other web browsers without being asked for. Therefore, upon using the service, people may start encountering misleading converto.io popups claiming that a device is infected or lacks crucial updates. Besides, regular websites may get filled with intriguing clickbait ads, which once clicked redirect to fake BBC news site, MacKeeper download website, poorly written blogs, and similar affiliated websites. Suchlike activity pushed the website's ranking down and most of the users are recognizing this converter as a converto.io virus.
Name
Converto.io
Classification
Adware, Potentially Unwanted Program (PUP)
The basis for classification
Suspicious infiltration, continuous flow of misleading ads, redirects to potentially dangerous websites
Distribution
Converto.io ads usually emerge as if out of nowhere. That's because related adware is installed via freeware bundle without asking user's approval in a proper manner
Symptoms
The clearest sign of adware infection is a flow of intrusive popups, banners, hyperlinks, and other clickbait content. Typically, Converto.io ads feature pornographic or weight loss content. However, popups reporting a supposed virus infection or request for crucial updates are also common
Related programs
AdsKeeper
Compatibility
Google Chrome, Mozilla Firefox, Safari, Internet Explorer, or any other web browser on both Windows and Mac OS can be hijacked
Removal possibilities
The malware can be eliminated manually or with a professional AV tool. Anyway, it's important to get rid of related add-ons from the web browser and disable push notifications
Possible damage
Any type of malware can initiate multiple changes files and processes of the system. To fix any damage, employ

Reimage

Reimage Cleaner

Intego repair tool
The converto.io domain offers an online-based YouTube file converter only. The website contains a field for a YouTube link and a "Convert" button. It allows users to convert files to MP3 or MP4 formats, as well as cut selected parts of the videos, change quality on Settings, create albums, and apply covers. Seems good to be true for a free service.
However, once landing on the website it gets clear that there's something wrong. The homepage is filled with ads that covert half of the screen exhibiting pornographic, weight losing, disease-related ads. Moreover, the headings of the converto.io ads are by default translated into the language based on the IP address[2].
A thorough investigation of the converto.io popups and banners outlined a clear relationship between the described converter and the AdsKeeper service. The latter is infamous for altering web browser's settings, inserting ads into visual layers, and generating income with the help of pay-per-click traffic. It seems that the converto.io virus is taking advantage of the AdsKeeper traffic monetization service.
Those who have been dealing with the converto.io adware reported that the ads it generates redirect to unrelated websites, most of which seem to be fake. A research carried out by NoVirus.uk[3] cybersecurity team adds to the topic and claims that these ads contain redirects to fake BBC News sites, rogue websites, off-topic random domains, or download websites for MacKeeper and other malware.
If you noticed converto.io ads while browsing the web, it is important to skip each of the ads without clicking on it. Otherwise, you may get exposed to dangerous content used for spreading other potentially unwanted programs. Or you will simply waste your time visiting useless third-party websites that have been developers for monetization purposes only.
Apart from displaying ugly and intrusive converto.io ads, this adware may also be included in data tracking. As pointed out above, once landing on the website, the headings of the ads are translated according to the visitor's IP address. That indicates the fact that it uses cookies or other tracking software and collects non-personally identifiable information (IP address, geolocation, search queries, clicks, websites, visited, etc.) without asking for visitor's permission.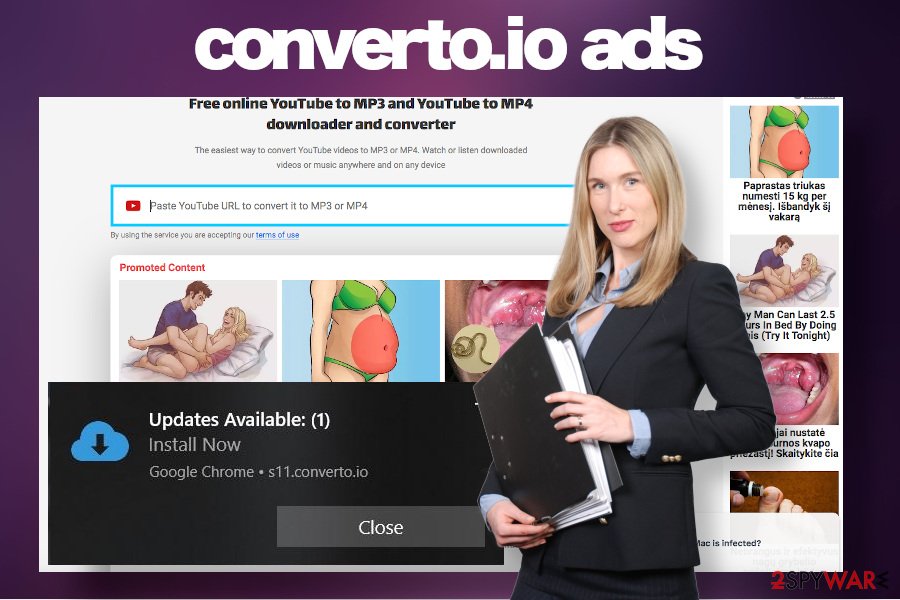 Converto.io is a domain offering a free of charge YouTube video conversion service. However, it may generate intrusive ads and cause redirects to unsafe websites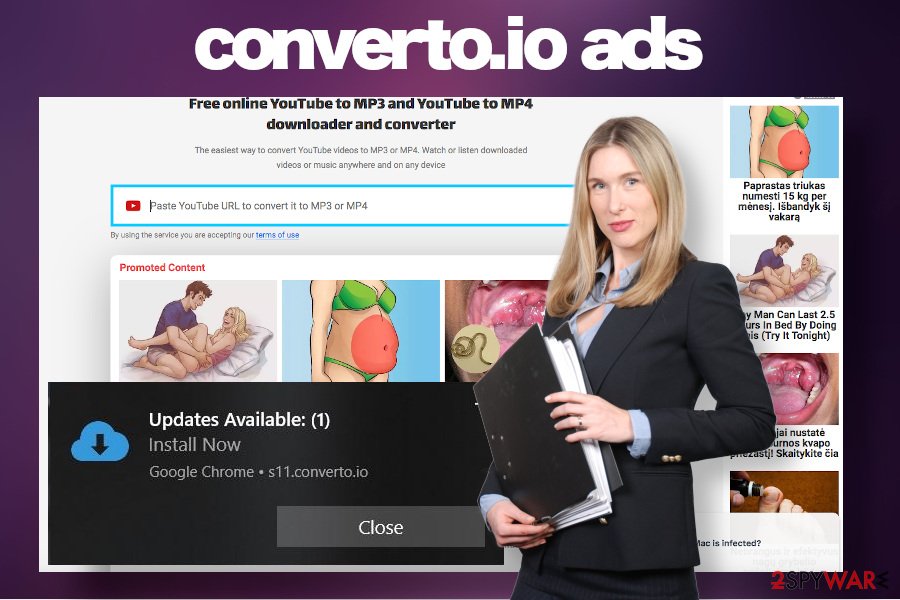 Converto.io is a domain offering a free of charge YouTube video conversion service. However, it may generate intrusive ads and cause redirects to unsafe websites
All in all, if you've been using the service for some time and now suffer from the side effects, such as spammy ads, do not waste your time and initiate a full converto.io removal. Normally, the removal of PUPs is not difficult as all people have to do is to eliminate unknown apps from the system and reset the web browser. In this particular case, it's not clear which program is responsible for triggering converto.io popups and ads. According to experts, these malicious ads may not be related to any programs but rather appear on the web browser because of converto.io server might have turned push notifications on. Nevertheless, these ads may be triggered by other PUP that you might have installed earlier, for example, AdsKeeper or MacKeeper.
Therefore, to remove converto.io virus from the system, navigate to the apps and programs folder, and carefully check what kind of programs are installed. Remove each application that you are not familiar with or don't remember installing. It is advisable to eliminate PUPs using reputable antivirus engines, such as SpyHunter 5Combo Cleaner or Malwarebytes. The manual converto.io removal may lead to the reemergence of the ads.
Finally, upon eliminating unwanted programs, navigate to the settings of the web browser, and open Advanced Settings. Locate Content Settings, and then click on the Notifications option. Find converto.io domain on the list, click on it, and select Block.
Unwanted web browser's behavior usually manifests after reckless installation of freeware
Google Chrome and other web browsers are a common target of third parties who seek to increase visitors' rates to their websites or generate income from the ad click. However, PUPs like adware or browser hijacker are not built on malicious codes that would allow to inject them without user's consent. In this case, freeware is invoked for help.
The so-called bundling distribution technique enables PUP developers to spread their products in the form of web browser plug-ins and add-ons, which are typically disguised under Quick or Basic installation techniques as pre-selected components.
Consequently, if the potential victim opts does not monitor the installation of a freeware bundle and agrees with the installation of all components unconsciously, unwanted programs come in and start exhibiting behavior that they are programmed to. To prevent bundled installers, you should follow such recommendations:
Avoid downloading free programs from infamous sources;
Initiate quick research on the app that you are planning to download;
Select Advanced or Custom techniques for freeware installation;
Carefully monitor the installation process of the free app reading all terms displayed;
Look for offers to install plug-ins, add-ons, toolbars, or similar content;
Remove checkmarks from pre-selected freeware components.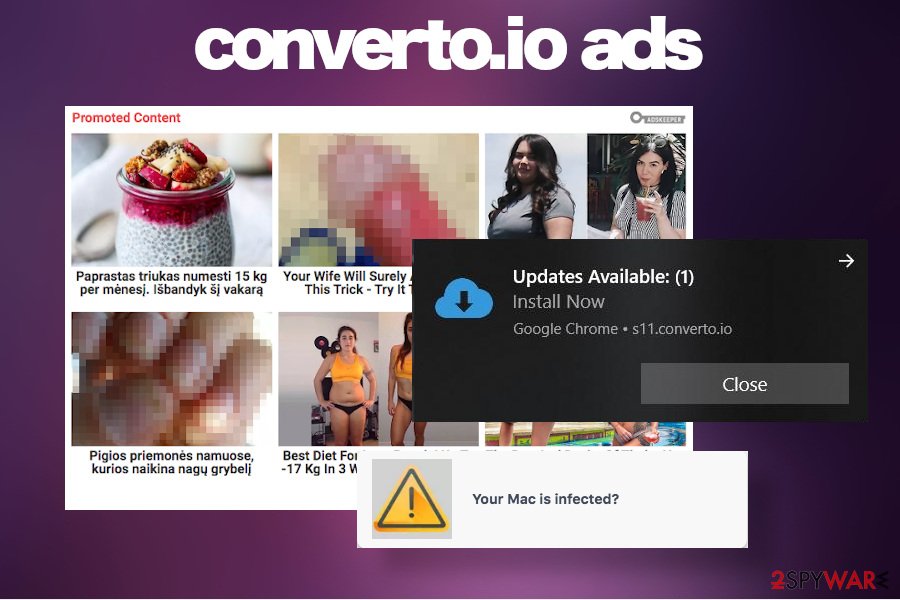 Converto.io ads may report a supposed virus infection or trick people into believing that crucial updates are missing. Suchlike ads may redirect to malware download websites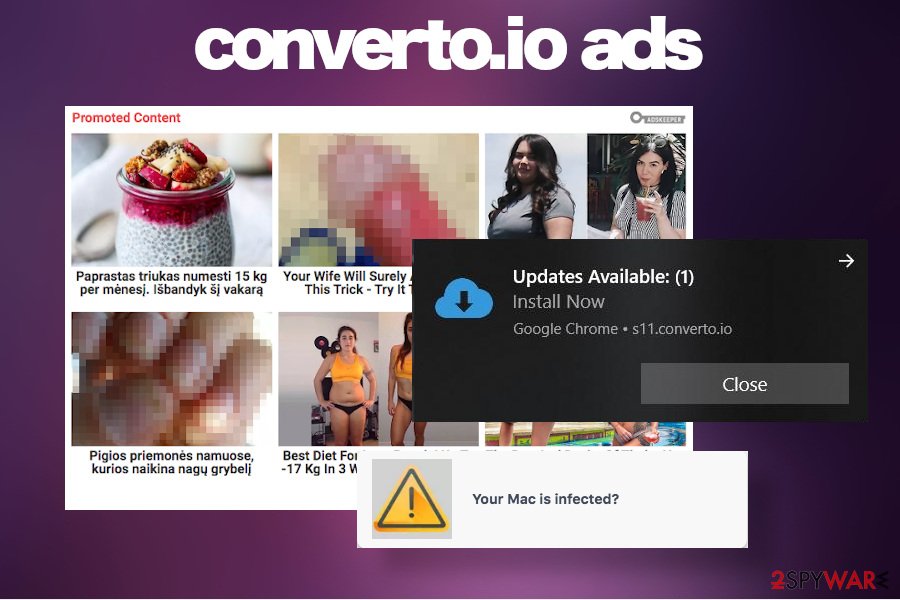 Converto.io ads may report a supposed virus infection or trick people into believing that crucial updates are missing. Suchlike ads may redirect to malware download websites
Finally, it's important to keep a reputable anti-malware program with real-time protection installed on the system. Regularly install definition updates to maintain its ability to terminate the latest malware variants.
Learn how to terminate Converto.io ads and eliminate PUPs from the system
Anyone suffering from intrusive advertising campaigns can quite easily remove Converto.io virus. Manual analysis of the system's programs is time-consuming, so we strongly recommend using an automatic malware removal solution using programs like SpyHunter 5Combo Cleaner or Malwarebytes.
However, Converto.io malware may initiate several changes on the system, for example, install suspicious entries on the Windows registry. To fix any changes that malware might have initiated on a host machine, it's advisable to run a scan with a professional repair utility Reimage Reimage Cleaner Intego.
Finally, to finish Converto.io removal, get rid of its remnants on the affected web browser. You should either reset the web browser's default settings of try to delete unwanted add-ons and push notifications.
Those who are suffering from Converto.io ads, but there is no malware on the system, should disable the permission of this server to generate push notifications. To do that, follow these steps:
Open the affected web browser.

Navigate to Settings section.
Click Advanced Settings on the Settings window.
Find Content Settings option and select Notifications.
Now you should see the list of denied and allowed Notification permissions. Find Converto.io in the allowed list, click on the three dots on the right and select Block.
You may remove virus damage with a help of Reimage Reimage Cleaner Intego. SpyHunter 5Combo Cleaner and Malwarebytes are recommended to detect potentially unwanted programs and viruses with all their files and registry entries that are related to them.