MSN virus – malware that spreads via instant chat application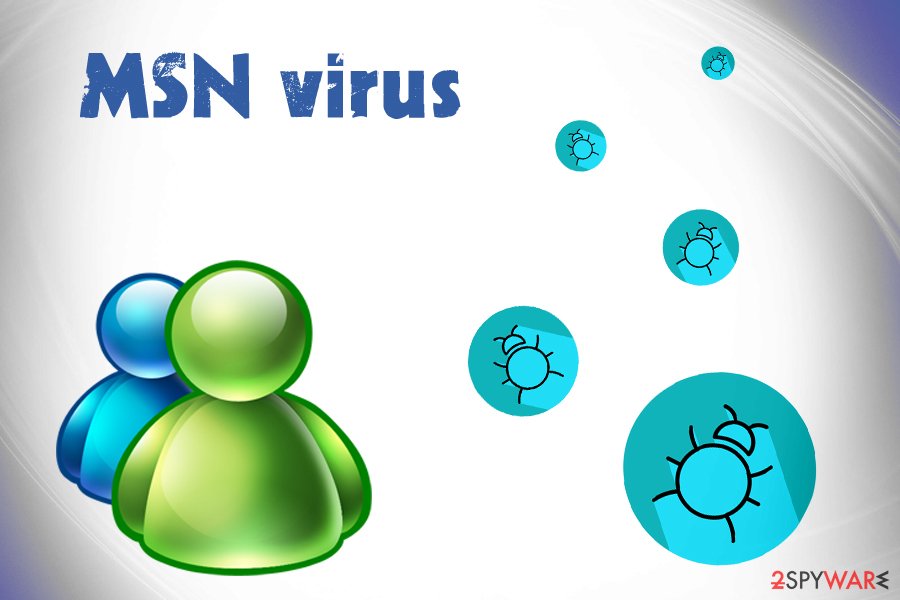 MSN virus is a malware that infects users machines and starts sending spam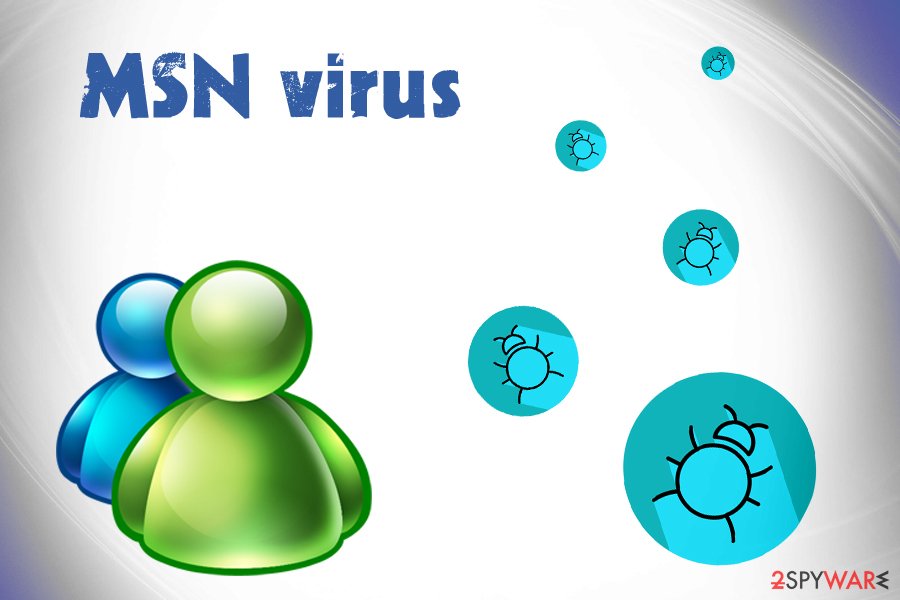 MSN virus is a malware that infects users machines and starts sending spam
MSN virus is a type of computer threat that aims to infect Windows Live Messenger users. Initially released in 1999, the chat application was shipped with Windows OS and was often used as a communications app within the office environment, as well as home users. Besides communication using text messaging, MSN also supported video calling and file transfer function. The platform was eventually discontinued by Microsoft in 2013, although many users kept employing it for online communication. Unfortunately, because the service is no longer supported, it became much more susceptible to cyberattacks, and MSN malware remains a significant risk to Windows users to this day.
Name
MSN virus, MSN malware
Type
Malware, Torjan
Distribution
While the virus is mainly spread via the Windows Messenger platform automatically, users might also get infected via other sources, such as spam emails, exploits, software cracks, infected external drives, etc.
Functionality
Once malware populates its payload, it begins sending phishing messages to all the people in the contact list; collects sensitive information on the host machine and delivers it to the attackers – it can be used for various malicious purposes, such as money theft
Symptoms

Unknown processes run in the background
Computer slowdowns, lag, or crashes
Private messages with embedded links sent to friends via MSN Messenger without permission

Termination
The best way to get rid of malware on the system is scanning it with powerful anti-malware software like SpyHunter 5Combo Cleaner or Malwarebytes
Recovery
If you have problems with Windows after malware removal, use

Reimage

Reimage Cleaner

to fix virus damage
Similarly to other computer parasites that spread via VoIP applications like Facebook's Messenger or WhatsApp, MSN virus uses the platform for distribution. The files that are sent via the Messenger can be of various formats, including .zip, .pif, .xls, .arj, .exe and others. Once clicked, the MSN virus is immediately launched on the system, which also begins the Windows system modification routine (you can revert this damage with tools like Reimage Reimage Cleaner ).
Nevertheless, users can get infected with it not only by clicking on a malicious link delivered to them, but also in other ways, which include:
Spam email attachments and embedded hyperlinks;
Software cracks or pirated program installers;[1]
Infected external drives (USB flash, external HHDs, etc.)
Fake updates and scam websites, etc.
MSN virus is classified as a Trojan[2] – a type of malware that enters the machine when users believe that it is something else. Due to this functionality, the distribution means can vary greatly (as mentioned above). Nevertheless, those who do get infected with malware should think about MSN virus removal immediately, as it can cause various privacy and security risks.
Nevertheless, in some cases, noticing the infection of MSN malware might not be that easy – Trojans are usually stealthy so that they can remain on the system for as long as possible. Among the symptoms that users may experience are the unsolicited messages sent via their MSN Live Messenger client, as well as occasional system slowdowns.
Those who are more experienced with malware and the Windows process might notice other signs that might not be apparent straight away. For example, MSN virus may spawn new Services, shut down automatic restore points, run processes in the background, connect to a remote server, etc.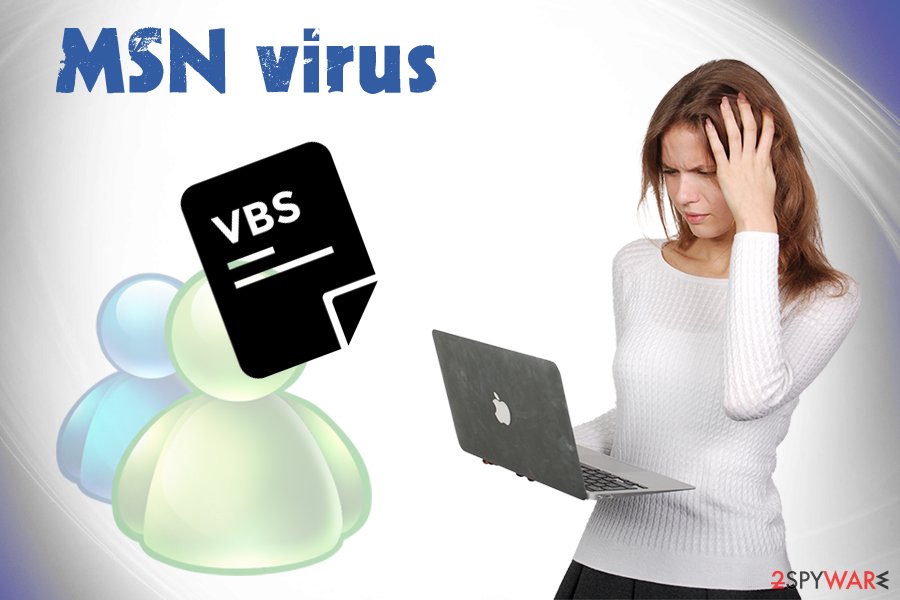 MSN virus is a Trojan that gathers sensitive information from the infected machine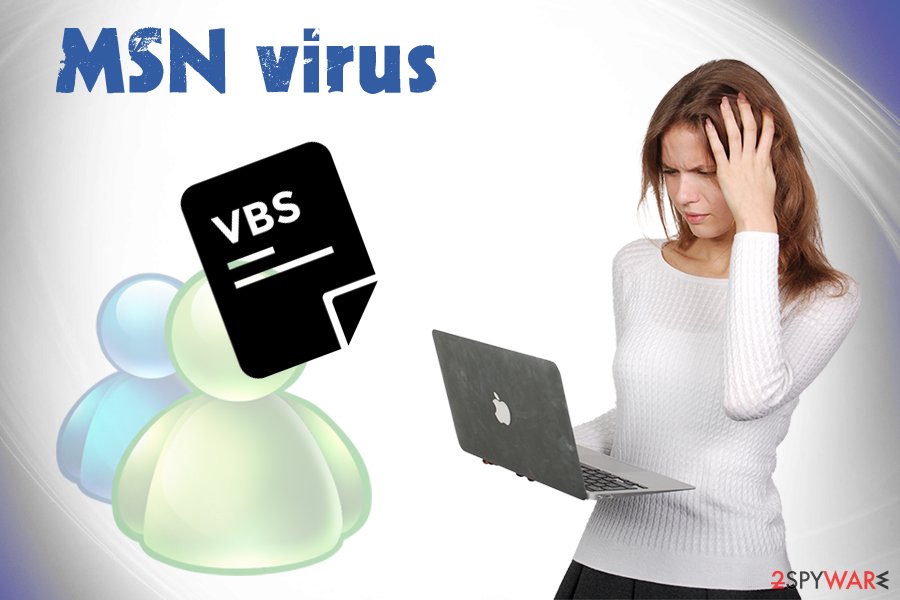 MSN virus is a Trojan that gathers sensitive information from the infected machine
Speaking of which, besides sending spam, MSN virus is designed to steal sensitive information on the machine, which means that all the information you are typing in via your keyboard can be transferred to a remote server controlled by attackers. Once harvested, such data can be used for various malicious purposes or sold on the Dark Web for profits.[3]
All in all, you need to ensure that you remove MSN virus from your machine as soon as possible. The best way to do that is by scanning your computer with anti-malware software, such as SpyHunter 5Combo Cleaner or Malwarebytes. For more information, check the removal section below.
Messenger viruses spread not only via the chat app
Since one of the main traits of the virus is to send spam to other users on the contact list, this is it's one of the main propagation methods. Typically, the phishing message arrives from somebody that the victim already knows with a curiosity-sparking line of text, such as "Is that you in the photo?" which includes a link to an unknown domain. Once clicked, it brings users to a malicious website where they are asked to download a seemingly innocent file disguised as a picture, such as "photo656.pif" or "database99.jpg.vbs." In reality, these types of files are executables that run a script in the background which downloads malware payload from a remote server.
However, this is not the only way that a Trojan can break-in into the computed of thousands since hackers use other methods to expand the malicious campaign. For example, a malicious file can come via the email – it typically includes a phishing message urging to open it. Additionally, crooks may also use hyperlinks, email spoofing, and other tricks in order to make users execute the malware.
To protect yourself from malware attacks, equip yourself with sophisticated anti-malware, web protection, ad-block, and Firewall. Besides the automatic tools, you should also practice caution when browsing the internet – never download software cracks, use secure passwords, not open spam email attachments, update the installed software regularly, etc.
Get rid of the MSN virus at once
If you want to fully remove MSN virus from your computer, you should use an automated anti-malware program. Nevertheless, because some Trojans might be capable of disabling anti-malware software on the infected machine, you should access Safe Mode with Networking if you encounter any problems with MSN virus removal process – we explain how to reach this mode below.
Because of MSN malware's ability to steal personal information, you should also take extra precautionary measures and reset all the passwords with unique, alphanumeric ones. Additionally, you might want to keep checking your online banking account in order to spot unsolicited transactions – you can usually undo them by contacting your bank as soon as possible and explaining the situation.
This entry was posted on 2020-03-05 at 04:43 and is filed under Malware, Viruses.