Makop ransomware is the cryptovirus that encrypts users' files and affects the system by running additional processes in the background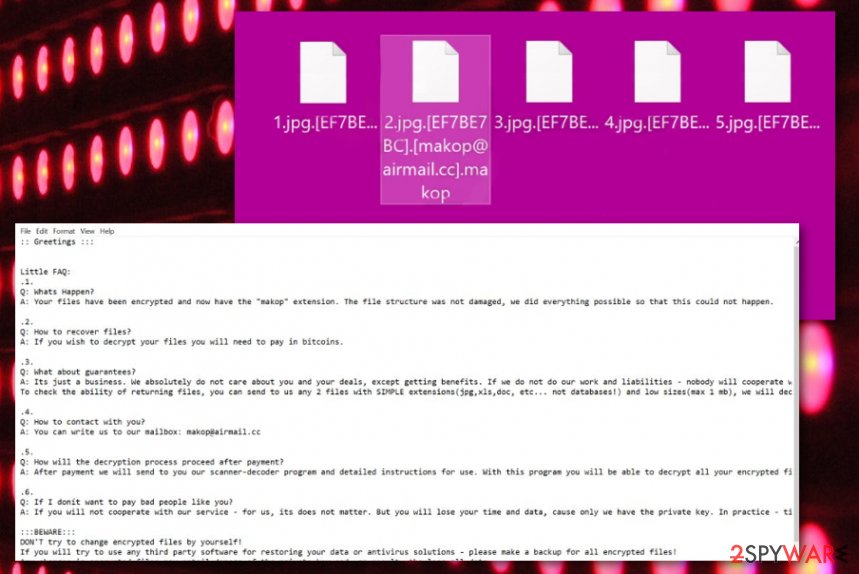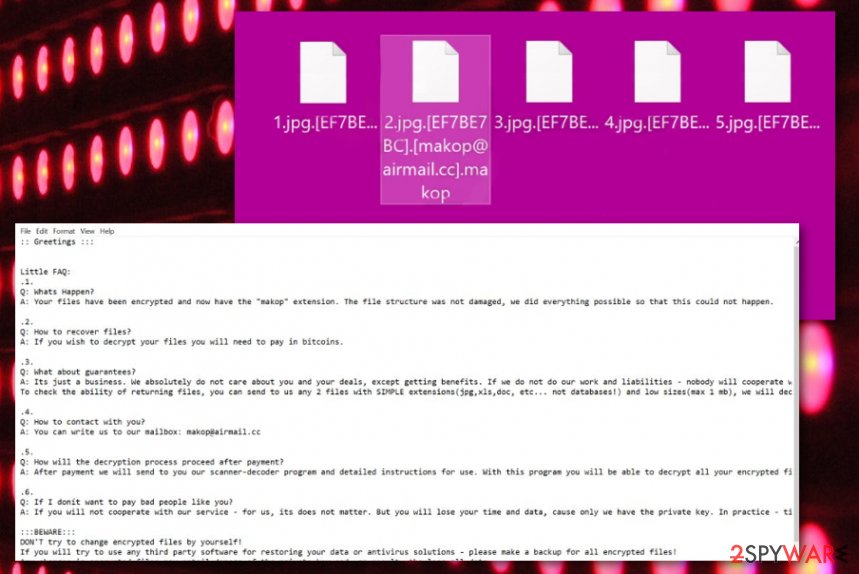 Makop ransomware – a virus that can be categorized as file-locking malware of a cryptovirus because it is based on cryptocurrency-extortion. This malware gets on the machine, scans for commonly used and valuable files, and employs an army grade encryption algorithm for the process of encryption. Once data gets encoded and affected all files get renamed with a pattern that includes the original filename, victims' ID, and email address belonging to cybercriminals, .makop file extension. So the full extensions look something like .[ID].[[email protected]].makop, hence the name of this virus given by malware researchers.
Also, when Makop ransomware virus is done with encryption, the message from criminals gets delivered on the desktop in the form of a text file with the title readme-warning.txt. This note contains instructions and primary information needed for the victim. This note encourages people to pay the ransom to get their files recovered with a decryption tool that is promised by the extortionists. However, these decryption tools that criminals talk about, in most cases, are not even sent to you after the payment. The ransom is demand in Bitcoin cryptocurrency, but the particular amount gets determined for each victim separately after the initial contact.
Name
Makop ransomware
Type
Cryptovirus[1]
File marker
.makop is the appendix indicating the encrypted files, but it is the part of a full pattern involving contact email and victims' particular ID
Ransom note
readme-warning.txt is the ransom message containing file, that provides details needed for further actions and encourages victims to pay for the supposed decryption tool that criminals claim to have. This note also has a suggestion for test decryption that should prove that decoding software is real and working
Contact emails
mak[email protected], [email protected], [email protected]
Distribution
Files attached to emails can get injected with malicious code and spread direct ransomware payload on the system that receives the email and enables particular malicious macros[2] embedded on the document or other types of data. Such a technique can also get used for malware distribution that is designed to spread ransomware as a secondary payload
Elimination
To remove Makop ransomware completely from the system, you should get a proper antivirus program and run that on the machine, so all parts of the infection get detected[3] and deleted
Repair
There is a huge issue with system files and functions because ransomware is the threat that can easily access such parts and damage them. To repair Windows registry and other entries, you should get a PC repair tool like

Reimage

Reimage Cleaner

, or a different system optimization utility
Makop ransomware is the infection that drops on the system without your knowledge or permission, so initial infiltration is not noticed. However, the encryption starts almost instantly after the payload drop, so you should react to the ransom demanding message ASAP and clean the machine from any possible threats or intruders.
Unfortunately, Makop ransomware virus is not the program that can be easily found on the machine, in any of the program folders, so the process of eliminating the virus is not that easy. The best option for such infection is anti-malware tools that can run on the system and find various risks, malware, and malicious or dangerous files, applications.
Makop ransomware is the type of threat that is focused on generating profit, so the following instructions are encouraging people to pay up as soon as possible:
::: Greetings :::

Little FAQ:
.1.
Q: Whats Happen?
A: Your files have been encrypted and now have the "makop" extension. The file structure was not damaged, we did everything possible so that this could not happen.

.2.
Q: How to recover files?
A: If you wish to decrypt your files you will need to pay in bitcoins.

.3.
Q: What about guarantees?
A: Its just a business. We absolutely do not care about you and your deals, except getting benefits. If we do not do our work and liabilities – nobody will cooperate with us. Its not in our interests.
To check the ability of returning files, you can send to us any 2 files with SIMPLE extensions(jpg,xls,doc, etc… not databases!) and low sizes(max 1 mb), we will decrypt them and send back to you. That is our guarantee.

.4.
Q: How to contact with you?
A: You can write us to our mailbox: [email protected]

.5.
Q: How will the decryption process proceed after payment?
A: After payment we will send to you our scanner-decoder program and detailed instructions for use. With this program you will be able to decrypt all your encrypted files.

.6.
Q: If I donít want to pay bad people like you?
A: If you will not cooperate with our service – for us, its does not matter. But you will lose your time and data, cause only we have the private key. In practice – time is much more valuable than money.

:::BEWARE:::
DON'T try to change encrypted files by yourself!
If you will try to use any third party software for restoring your data or antivirus solutions – please make a backup for all encrypted files!
Any changes in encrypted files may entail damage of the private key and, as result, the loss all data.
We recommend ignoring any messages from Makop ransomware developers and claims about possible decryption or decoding software because these people shouldn't be trusted. You need to note that your files may not ever get decrypted by them, even when you pay the ransom. The test decryption is there to fake the legitimacy and trust between you and attackers.
You need to go straight for Makop ransomware removal instead of even considering to pay the demanded sum. The amount of money asked from you can differ depending on the value of files stored on the machine or direct data that criminals have found on the machine. No matter how little the amount is, contacting these malicious actors can lead to issues with your privacy or even data and money loss.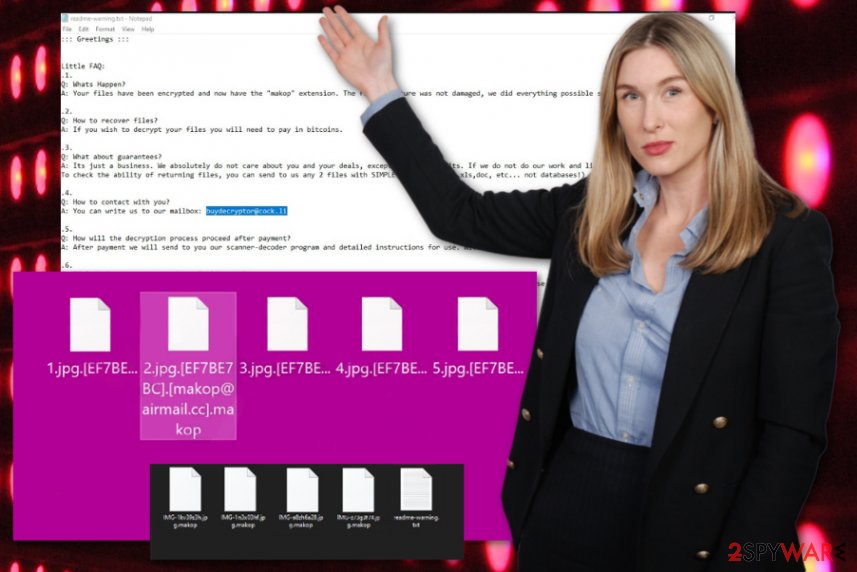 Makop ransomware is the threat that is focused on sending extortion-based messages for victims, so they are falling for the claims and sending Bitcoins for criminals.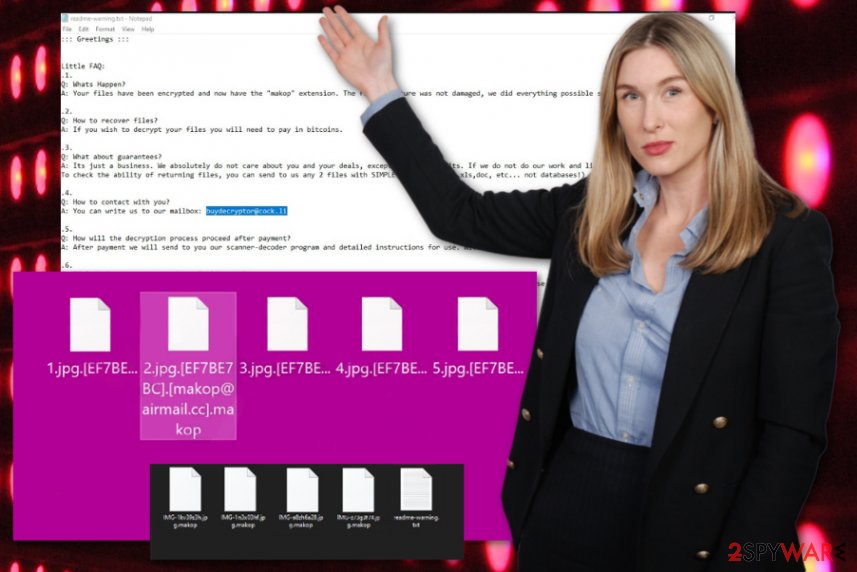 Makop ransomware is the threat that is focused on sending extortion-based messages for victims, so they are falling for the claims and sending Bitcoins for criminals.
Extortionists that created this Makop ransomware can lie about pretty much anything and claim to have various personal files, offer the decryption software that is not even existing. Cybercriminals shouldn't be trusted, so make sure to react as soon as you receive the ransom note and clean the system from any of the programs.
You need to remove Makop ransomware using automatic methods – anti-malware programs because this technique allows checking many parts of the system where threats like this and related files or applications can get hidden. AV detection engines can indicate various potential threats and make your device virus-free again.
However, those system files, functions, and programs or vital features that Makop ransomware manages to damage cannot get repaired without additional help from proper cleaners or system optimizers. Programs like Reimage Reimage Cleaner can fins those affected or even damaged files, repair needed registry keys without damaging other functions of your computer.
As for encrypted files, Makop ransomware elimination and virus damage repair procedures are not affecting them. You need to have data backups on an external device or a cloud service, os ransomware cannot encrypt them, and you may replace encoded files with safe copies.
Unfortunately, not everyone has those files backed up or stores their files on separate devices, so Makop ransomware attacks can be devastating. However, systems have some features that can help you. Firstly, System Restore feature can help with virus elimination and then, you can rely on Windows Previous Versions. Other methods and decryption alternatives listed below.

Makop cryptovirus locks files and delivers the readme-warning.txt file to your screen immediately after the encryption.

Makop cryptovirus locks files and delivers the readme-warning.txt file to your screen immediately after the encryption.
Malware payload droppers attached to email notifications as files or embedded as hyperlinks
The infection that involves money extortion, blackmailing, and other dangerous processes can spread around using various misleading and deceptive methods including file-sharing pages, social media, and such services like emails. Payload file can get sent in a message on the social media platform as a link to malicious or hacked sites. In such cases, you only need to enable the file by clicking a button on the page.
File-sharing or pirating pages can spread these malicious scripts even more silently because when you download a package with software, game cheatcodes or licensed keys, cracks you cannot notice the included file that triggers that infection directly on your device. Staying away from these services or choosing Advanced/Custom installation options should be the best way to avoid infection.
However, when it comes to ransomware-type viruses, files attached to legitimate-looking emails from companies like DHL, eBay, FedEx, and other shopping sites or shipping services are the most employed for such a process of spreading malware. Order information, invoices, and other documents with financial data get attached to emails and once the user downloads the said file and enables macro viruses, ransomware directly gets dropped on the system.
Clean the machine as soon as possible to eliminate the Makop ransomware virus without causing additional damage
When you decide to remove Makop ransomware, you should go straight for anti-malware tools and reliable sources for such software. This is the bost option because your machine gets fully scanned and checked, so various malware gets indicated when found and can get completely deleted.
During the proper Makop ransomware removal, anti-malware software shows you the list of quarantined or detected malicious programs and files, that you should remove. You need to follow any suggestions from the program like SpyHunter 5Combo Cleaner or Malwarebytes. Security tools and AV detection engines are based on finding malware, so ransomware should get eliminated on the first try.
If you still think that traces of Makop ransomware virus may lure on the system – double-check with the alternate tool. Then, rely on Reimage Reimage Cleaner and search virus damage that requires fixing. After that, your machine should be completely clean and ready for data recovery, no matter which method you choose for that. Check a few options that we listed below.
This entry was posted on 2020-02-27 at 04:53 and is filed under Ransomware, Viruses.