Buffstream.stream is an online sport-watching website that starts dropping annoying ads while employing its services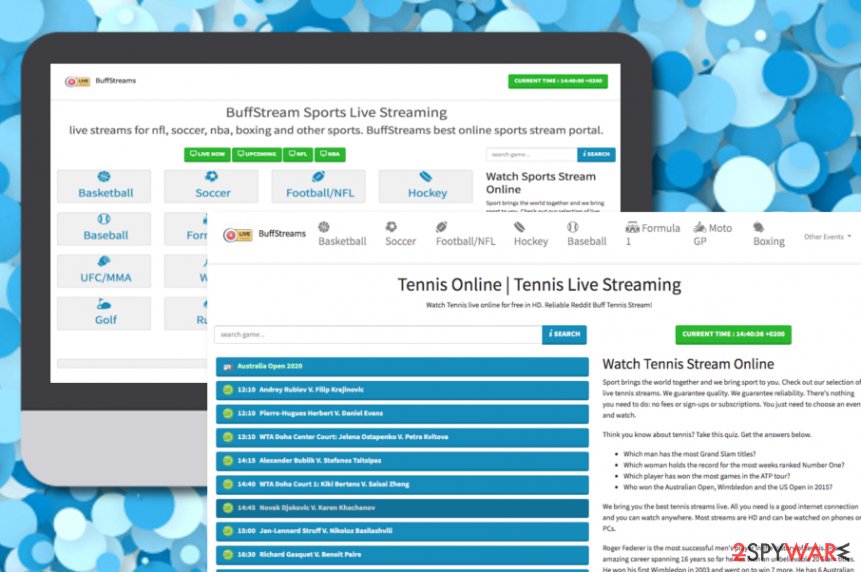 Buffstream.stream – a potentially unwanted application that will likely start throwing unexpected advertisements on your computer screen while completing web browsing sessions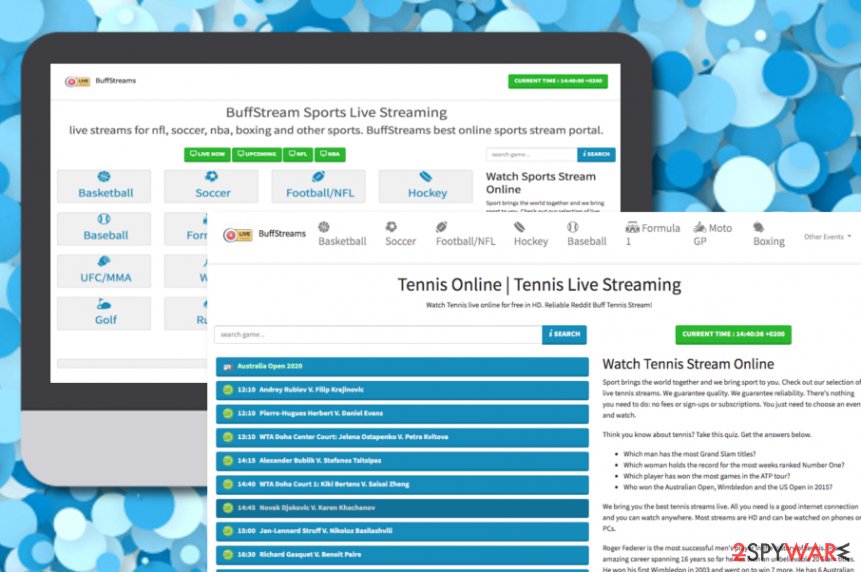 Buffstream.stream – a potentially unwanted application that will likely start throwing unexpected advertisements on your computer screen while completing web browsing sessions
Buffstream.stream, also known as Buffstream.tv, is a questionable third-party website[1] that provides live streams of various sport game matches such as basketball, football, boxing, tennis, rugby, golf, and others. However, this app is also recognized as a potentially unwanted program and adware that starts delivering intrusive advertising content and redirecting the user to affiliate sources while using its services. Buffstream.stream virus can also provide you with a Show Notifications box on the upper left of your browser window. We strongly recommend selecting the "Block" option, otherwise, you will likely get spammed with multiple notifications coming from the domain.
Name
Buffstream.stream
Type
Adware application
Category
Potentially unwanted program
Aim
This rogue domain provides sport-watching services where the user can pick to watch his wanted matches. However, this is just a way to attract more users and convince them to stay on the website
Activities
Due to the fact that this app is described as a PUP and an adware program, it aims to redirect users to supported domains when you click anywhere while searching for stream videos. Furthermore, you are likely to receive intrusive advertisements that can flood your web browsers and start interrupting your online activities. Also, there is a big chance that the app will start collecting non-personal information that is related to your browsing habits and experience to share it with other parties for income
Potential risks
Even though adware is not considered to be as dangerous as notorious malware forms such as ransomware or trojans, there still are some risks that come with PUPs. First of all, hackers can use them as intermediaries for delivering malicious software. Furthermore, the app can redirect you to a potentially dangerous location from where you can bring malware straight to your computer system
Spreading
Potentially unwanted programs often spread by using deceptive techniques such as software bundling. The main way to install a random app on your computer is to download your software and services from unsecured sources and end up with an entire package of bundled programs. Also, you can catch an adware infection by agreeing with fake software updates, clicking on infectious adverts and hyperlinks
Target(s)
This ad-supported application can appear on any type of operating system, including Windows and Mac. Also, adware mostly infects web browser applications such as Google Chrome, Mozilla Firefox, Internet Explorer, Microsoft Edge, and Safari
Removal process
If you have discovered this adware on your computer system and web browsers, you should get rid of it, otherwise, you will be stuck with all the unwanted activities it performs and with all the changes that it has applied. You can remove the virus with the help of an antimalware product or by using manual step-by-step guidelines that have been added to the end of this article
Fix software
Even though adware itself does not damage computers or its software, it can bring other suspicious or malicious programs that can alter some areas on the machine. If you have found any compromisation, try repairing it with the help of software such as

Reimage

Reimage Cleaner
Buffstream.stream can operate as a typical adware program which means that the app will fulfill the characteristics of a PUP. First of all, you are likely to get loaded with annoying advertising notifications while surfing the Internet. The adware can provide you with various questionable offers and suggestions to purchase rogue software or services.
You should not fall for believing in anything that comes from Buffstream.stream as you can easily get lured into paying an inadequate amount of money for a completely useless product. For example, the app might offer to download and install rogue security software that does not fulfill the functionality of a trustworthy optimizer and cleaner.
We have discovered that once you enter Buffstream.stream website, you are provided with false recommendations to check if your Mac is infected. This might be a way to promote some type of suspicious system optimizing utility.
Furthermore, Buffstream.stream ads can come with offers to participate in various reward schemes and surveys. Be careful not to get lured in scams claiming that you can win a prize by transferring a small amount of money, registering some type of new account, subscribing to random services, or by providing some personal information into a survey.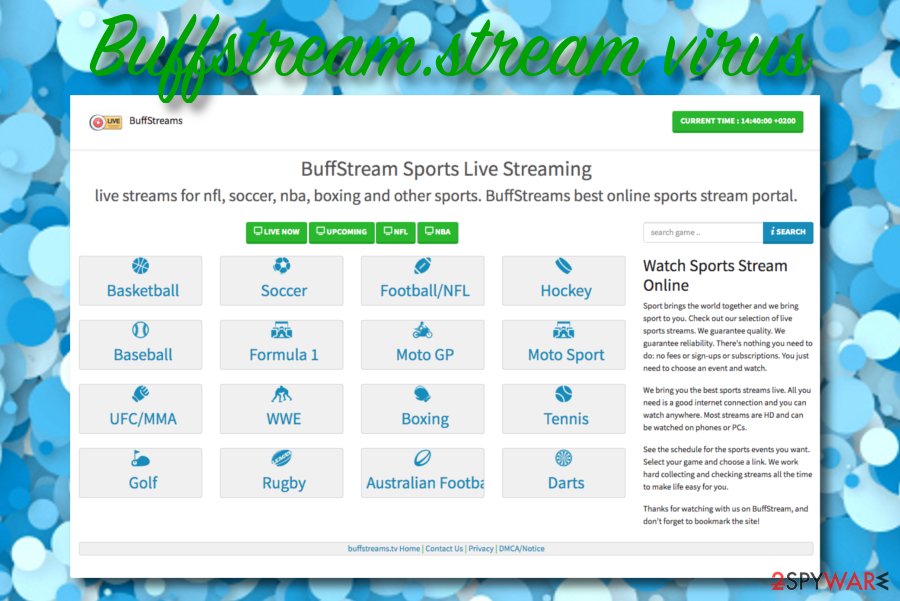 Buffstream.stream is considered to be an adware program that can collect information about the user's browsing experience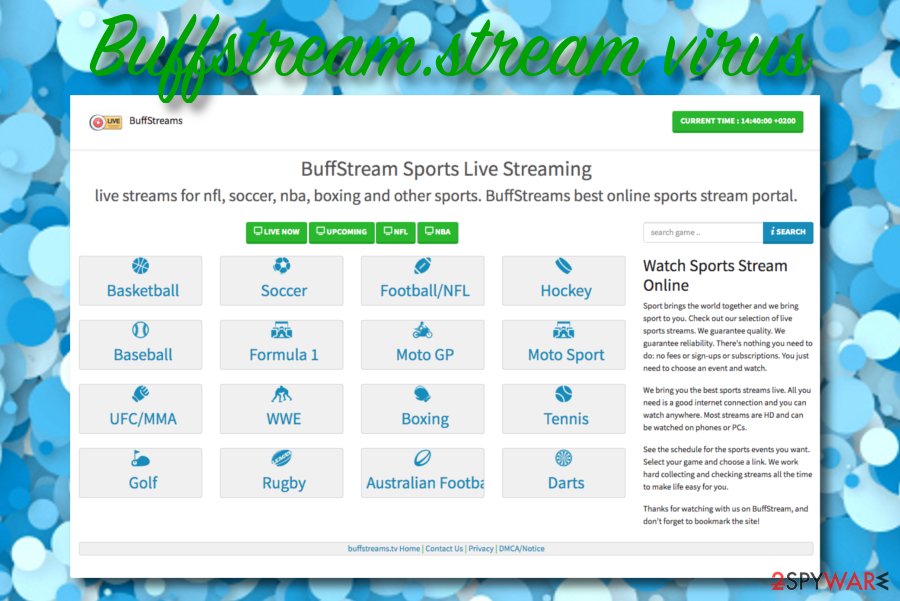 Buffstream.stream is considered to be an adware program that can collect information about the user's browsing experience
This way Buffstream.stream can end up swindling your money and leaving you with no promised prize that often should be a mobile phone device, iPad, iPod, laptop, etc. Also, avoid providing any personally-identifiable information as if the data falls in the wrong hands, it can easily be misused by malicious actors for identity theft.
Besides advertising, Buffstream.stream also initiates redirects to sponsored websites such as gambling, shopping, etc. If you decide to use the website's provided services, you can get taken to some type of affiliate domain by clicking anywhere on the page. The main risk of such activity is to land on a malware-laden location and get your PC infected.
Our security experts have made a little research on the functionality of Buffstream.stream and found out that every second time when you click on some type of sports section, you get redirected to rogue third-party domains such as thefuncoolstuff.com, routgveriprt.com, and others that try to convince the user to press the "Allow" button to watch some type of non-existing video or click on a particular place to continue. The main aim is gathering subscribers.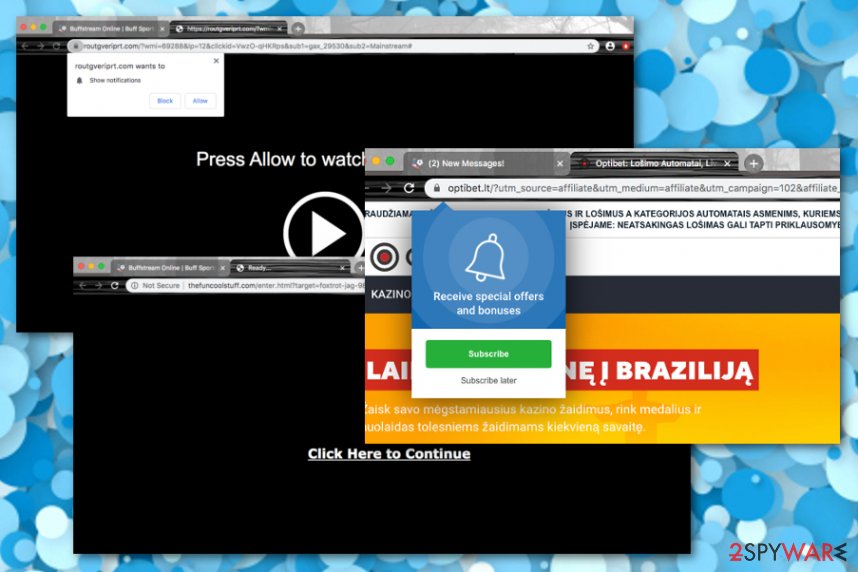 Buffstream.stream is a potentially unwanted program that redirects the user to sponsored websites which aim to gather as many subscribers as possible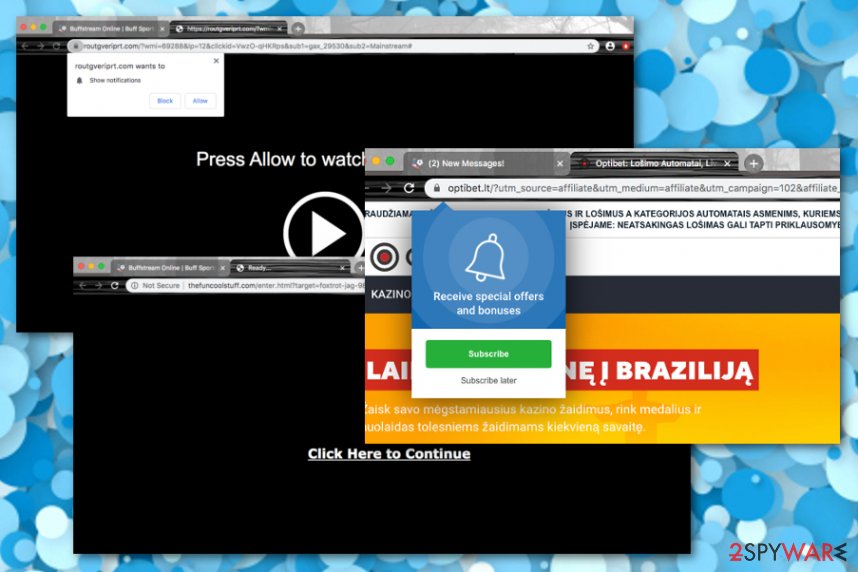 Buffstream.stream is a potentially unwanted program that redirects the user to sponsored websites which aim to gather as many subscribers as possible
Additionally, Buffstream.stream might end up modifying your web browsers such as Google Chrome, Mozilla Firefox, Internet Explorer, Microsoft Edge, and Safari. The unexpected changes are very likely to be spotted on the homepage and new tab URL bar. Nevertheless, alterings can be diminished only by removing the virus fully.
Also, Buffstream.stream can include various suspicious components such as extensions, plug-ins, and toolbars into web browsers. Furthermore, the adware might add tracking objects such as HTTP cookies,[2] beacons, and pixels that are responsible for recording non-personal information which is related to the user's browsing habits and experience.
Buffstream.stream developers might be able to track details such as recently-visited websites, hyperlinks and advertisements accessed, search query results, saved bookmarks, the user's IP address, browser type used, and so on. Afterward, the information is likely to get shared with other parties for receiving monetary benefits.
If Buffstream.stream starts completing multiple activities during one session, your web browser and computer might begin struggling to handle all of them at once. As a result, your browser app can slow down or even crash during browsing sessions and the CPU power of your computer might also start rising due to the intense work level.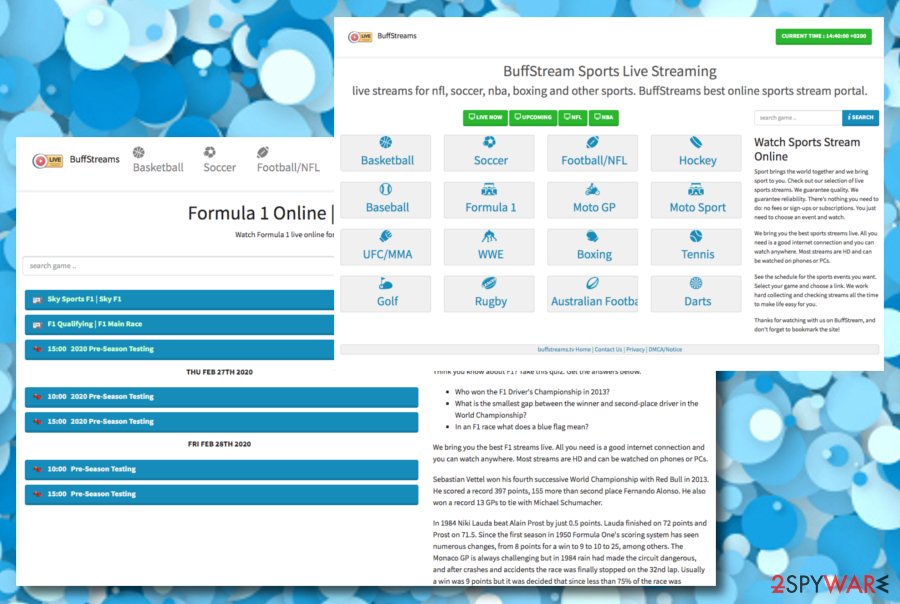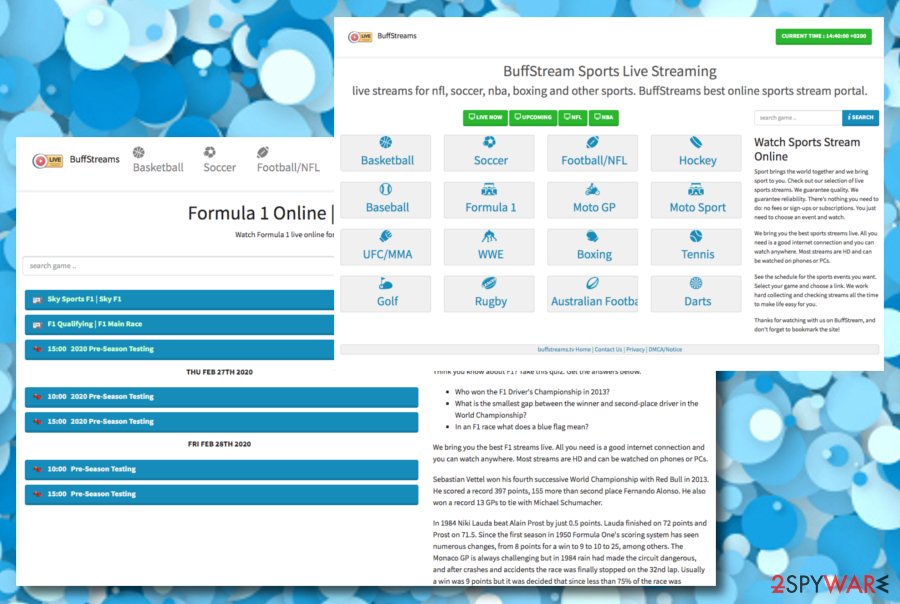 If you want to avoid all of these possibilities, you should remove Buffstream.stream from your Windows or Mac computer system and clean the infected web browser applications. This type of process can be completed with the help of antimalware software or by applying the manual step-by-step instructions that are added to the end of this article.
Buffstream.stream removal includes terminating all of the questionable components that are added by the adware program, otherwise, you might not notice how the cyber threat will return. Also, if you have discovered any system compromisation related to the PUP attack, you can try repairing the altered areas with Reimage Reimage Cleaner .
Beware that Buffstream.stream might bring other potentially unwanted programs into the computer system and place them somewhere on your desktop or in a particular folder. Notice that these apps also need to be terminated, otherwise, you can start experiencing similar intrusive activities even though you have eliminated the primary adware app.
Adware programs are sneaky apps that use deceptive techniques for entering systems
Cybersecurity experts from LosVirus.es[3] claim that potentially unwanted programs such as adware are delivered by using deceptive methods such as software bundling. Bundled freeware and shareware[4] are usually downloaded and installed from secondary sources such as cnet.com, download.com, softonic.com, soft32.com and end up on the user's computer when the Quick or Recommended download mode is set as the default configuration.
If you want to avoid the unexpected appearance of adware programs, you should change the installation mode to Custom or Advanced where you will be able to control all of your incoming downloads and deselect those objects that you do not want to see on your computer system. Besides, you should stop using unknown third-party downloading sources for getting products and start receiving all of the software from official websites only.
Additionally, potentially unwanted programs can be brought to the computer system through fake Adobe Flash Player, JavaScript, and other apps updates. You might be provided with an offer to upgrade some type of tool while browsing the Internet. Do not take such suggestions seriously before checking them on the official website of the developer or the program that is prompted to get updates.
Finally, you should avoid clicking on questionable adverts and hyperlinks that appear along your way while completing browsing sessions. If your browser reports that a deceptive website is waiting ahead, you should prevent yourself from going there. Also, download and install a reliable antivirus product to your computer system that will display you warnings if something suspicious or malicious is trying to invade your device.
Complete removal instructions for Buffstream.stream ads
If you have been bothered by the adware lately and are searching for a way to remove Buffstream.stream from your computer system and web browsers, you have come to the right location. Our cybersecurity experts have decided to provide the users with both manual and automatical elimination guidelines and it is only up to you which method you are going to choose. However, you should always measure your computer skills before picking the technique.
For users who have less experience in the cybersecurity field, we recommend completing the Buffstream.stream removal with the help of antimalware software that is capable of eliminating the cyberthreat within a few minutes. However, if you think of yourself as an advanced user, you can definitely try cleaning the operating system and web browsers such as Google Chrome, Mozilla Firefox, Internet Explorer, Microsoft Edge, and Safari by yourself.
You may remove virus damage with a help of Reimage Reimage Cleaner . SpyHunter 5Combo Cleaner and Malwarebytes are recommended to detect potentially unwanted programs and viruses with all their files and registry entries that are related to them.