Lucifer virus is the trojan that infects the machine and resides in the memory, so malware cannot be easily detected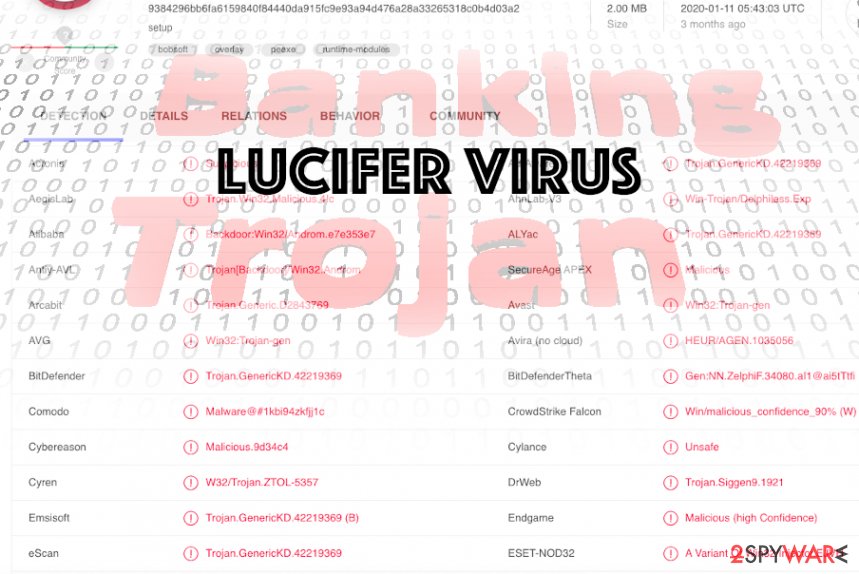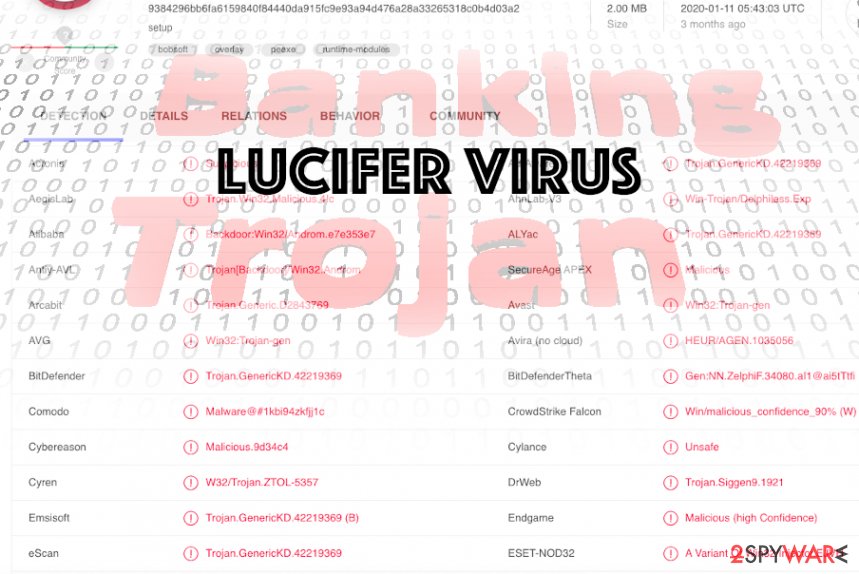 Lucifer virus – malware that is classified as a banking trojan because it focuses on getting the online banking-related information from the victim. This threat aims to steal valuable information related to email, e-commerce, and streaming platform accounts and banking credentials, so additional malicious operations can be performed using logins and passwords. It spreads worldwide, even though most of the attacks were reported on Larin America, North America, Europe, and Asia. This threat complicates the detection and can be concealed in the background for a long time because it resides in memory and splits malicious code into several files placed across the system.
This is the sophisticated malware that targets banking data[1] by monitoring websites that user visits. When Lucifer malware finds possible target websites in browsing history of the victim it can activate keylogging tools and take screenshots or directly gather information by recording various inputs that user fills on banking sites and other platforms. Cybercriminals try to obtain login credentials and other information that can be valuable and used in later attacks or enables them to make transactions of payments. These universal keylogging, and data tracking, or exfiltrating functions can help the malware expand and make the virus more dangerous when other types of details get stolen or even compromised.[2]
Name
Lucifer virus
Type
Trojan
Danger
The worm is targeting passwords and other valuable information that is related to financial sites and platforms, so stealing data, identities, and money becomes easy
Symptoms
Stealthy malware can infiltrate the machine and run in the background without any symptoms, so this silent virus affects the computer without causing any noticeable symptoms and can run in the background for a long time
Distribution
Infected email attachments marked as financial information-related files deliver the payload of this trojan. Hacked sites and malicious content on redirects and pop-ups can trigger the drop of the payload related to this trojan
Aims
Lucifer targets banking information, credit card credentials and passwords, logins to such platforms and emails
Elimination
You need to remove Lucifer virus from the system with proper AV tools because all the files that malware adds can trigger separate actions and permanently damage the machine
Repair
There are other applications that trojan can install without your permission and many files related to the virus can be scattered throughout the system folders. To find and possibly repair any virus damage run

Reimage

Reimage Cleaner

Intego on the affected computer
Lucifer virus endangers the security of affected device users because attackers can access accounts and infect the machine directly with additional malware. Such trojans can be set to run on resources in the background but also act as a backdoor malware that allows intruders or remote attackers to access the system and control all the functions. If you have passwords automatically stored on the web browser those details can easily get exfiltrated by this malicious worm.
The silent Lucifer malware can employ the infected system to distribute email spam to other devices and stolen passwords and login information is extremely valuable for such purposes. When emails get hijacked accounts connected to them can be also stolen using additional tools and accounts may be requested to reveal other details or lend money for the said friend or contact.
Lucifer virus can get money, data, and scam other people while under the disguise of a genuine person whose email account gets hacked. Fraudulent transactions can be made from financial accounts when trojan steals logins and passwords to those platforms. There are many ways that malware can use all the stolen details, so the infection may be terminated, but you need to still think about results and damage left on the machine besides be cautions later on.
Lucifer banking trojan itself is mainly spread using email campaigns when malicious files get dropped by attaching malware to common types of files and documents. This method can be used later on by the same attackers, so additional malware is delivered to your contacts or friends. Be cautious of the possibility that malware will hit your device again and actors may try to scam you.
Lucifer virus can be used to hide files and processes associated with the same malware or even other programs. When the victim looks for some items on the computer, data cannot be found and removed. It infects the machine and remains undetected for as long as it wants because it manages to reside in the memory and is less than 1,136 bytes per program.

Lucifer malware is the password-stealing infection that can cause identity theft when particular information is exfiltrated and misused.

Lucifer malware is the password-stealing infection that can cause identity theft when particular information is exfiltrated and misused.
Lucifer virus arrives on the machine with the help of an email attachment included on the notification with subject line Lucifer
will soon rise to the power that should of been his!. This email contains the short message "thou
shall give you thy soul to LUCIFER…" and once opened the attachment GRAND.BEAST.VBS triggers the drop of malicious scripts all over the system and startup files, other data that changes settings of the system and attempts to send malicious files in other parts of the machine add entries in contacts, email accounts.
Lucifer virus adds shortcuts and redirects to malicious sites, created hidden directories, and injects scripts into various channels, so copies of the malware get triggered more often. This threat can be detected[3] by various names like VenoM.Lucifer.A, but these names shouldn't be an indication of the threat. When you use anti-malware tools and check the machine for intruders, there might be tons of different detection. Pay attention to results, not names, and clear those files off of the PC regardless of the particular detection name.
You need to remove Lucifer virus, so the program needs to find it and other associated or potentially related programs and files – a full system scan with the anti-malware tool can ensure this. Some of the particular variants can use rootkits and remain unnoticed on the computers the malware has infected.
If you have difficulty to detect and remove the Lucifer virus, you may need to reboot the machine in Safe Mode with Networking and launch your anti-malware tool then. This feature gives the opportunity to disable some programs, including the disabling of security tools, so malware can be detected.
Also, remember about additional steps besides the Lucifer virus removal because it has additional characteristics and uses automatically installations of worms to control the behavior and infection. You may need to fix some damage before you can use the machine normally again, so run Reimage Reimage Cleaner Intego to repair system files and functions automatically.
The email with malware files deliver stealthy trojans
Worms spread around as trojans, ransomware, and other more severe malware does – using spam email campaigns and malicious file attachments as vectors. Irrelevant emails and suspicious messages that you were not expecting to get should raise questions and indicate possibly dangerous content. If you get anything questionable – pay close attention or delete notifications without considering to open them.
As we mentioned, threats like this can steal logins, emails, and passwords to misuse them in later attacks, so you may receive targeted emails with malicious attachments and infect the machine by clicking a few links or buttons on the suspicious email. In most cases, the bigger the malware the more stealthy it is.
To ensure that the system is free of malware and cannot get affected by threats like this, you should keep the AV tool running on the machine. Some security applications provide the option to check files before you download or open them, so you can avoid the infiltration in advance and keep the machine virus-free entirely.
Removing infected programs may not be enough to terminate Lucifer virus
Lucifer malware is not a regular infection that could be found as a program on the machine and removed by uninstalling or deleting the application. Unfortunately, malware breaks the script into many parts and adds files with the malicious script in various places of the system, so it is more difficult to get rid of the virus.
The better Lucifer virus removal option is an automatic system scan. By relying on anti-malware tools that are designed to spot and delete malicious files, you ensuring that trojan can be found and terminated alongside other payloads of malware. SpyHunter 5Combo Cleaner or Malwarebytes security programs could be helpful for this step.
Besides the need to remove Lucifer virus, you should also think about virus damage elimination and PC repair issues. You cannot find all the altered files and registry entries or parts of the programs and system functions that worm or the trojan itself affected. Fortunately, tools like Reimage Reimage Cleaner Intego can find and fix such problems for you without causing more damage to processes and apps.
This entry was posted on 2020-05-07 at 07:35 and is filed under Trojans, Viruses.