Important-notices.com is an iPhone calendar virus that prompts users to click on phishing links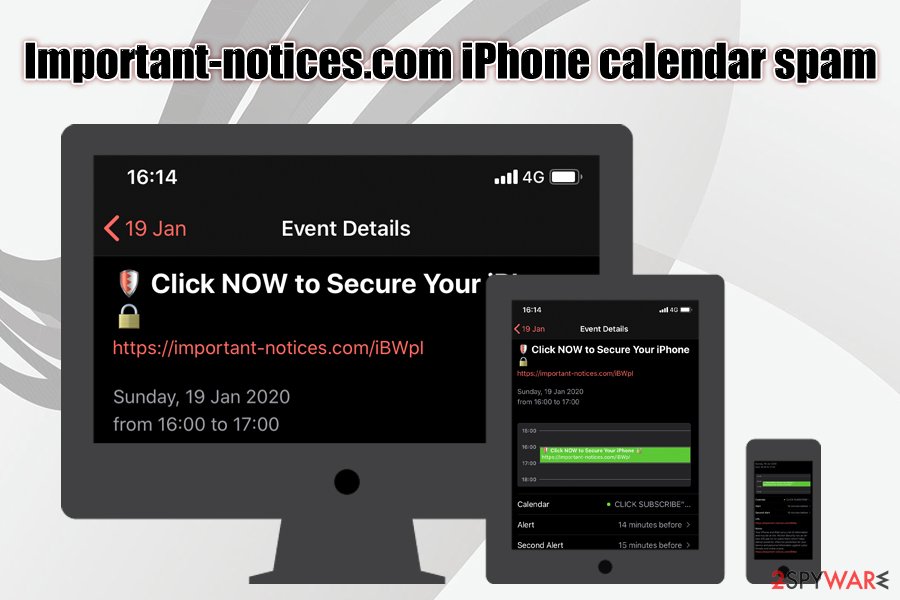 Important-notices.com is a malicious web address associated with iPhone calendar spam campaigns
Important-notices.com virus is calendar spam that promotes various fake notifications to iPhone or macOS users. In most cases, the cause of such fake alerts does not lie within malware infection, but rather a calendar entry, email account, or a malicious profile was added to the device via a spam email. In some cases, users may also subscribe to Important-notices.com notifications after clicking a malicious link on a random website.
In most cases, Important-notices.com spam claims that users' devices are infected with malware or that they are at risk of being infected and promote links to unsafe websites that allegedly hold anti-virus software capable of protecting iPhones and Macs from malicious software attacks. Additionally, other notifications incorporate a well-known survey scam technique, which promises users expensive gifts for free. As evident, Important-notices.com calendar notification links should not be clicked, as they might lead to malware infections, money loss, or sensitive data disclosure to unknown parties/cybercriminals.
In order to remove Important-notices.com spam, users need to locate and terminate an unknown email account, a profile, or a calendar that was inserted deceptively – check detailed instructions below.
Name
Important-notices.com
Type
Mac virus, calendar spam
Distribution
Malicious links embedded on various insecure websites, such as video streaming sites or
Symptoms
iPhone calendar spam appears on a regular basis (a few times a day) and displays fake notifications about device's security or promotes fake gifts
Risks
Users who visit sites via calendar notifications might infect their devices with malware, lose money, or be tricked into providing sensitive information to unknown parties
Similar scams
Your iPhone Xs Max is ready for PickUp, You Have Won iPhone X Max from AppleStore
Termination
To get rid of Important-notices.com spam, users should uncheck the subscribed option via the calendar, get rid of a suspicious email account, or remove a Profile. Check the instructions provided in the bottom section below
Additional steps
In case your macOS operation is slow and you struggle with space, we recommend using an optimization tool

Reimage

Reimage Cleaner
Without a doubt, there are plenty of insecure websites on the internet, and even the always-advancing security measures implemented by Apple, Google,[1] and other high-profile companies, cannot stop them all. Without a doubt, users also tend to visit insecure websites deliberately, even when knowing the risks. As a result, they might accidentally click on a malicious link and infect their devices with an Important-notices.com virus.
Nevertheless, the notifications from Important-notices.com do not mean that your iPhone or macOS is infected – you are most likely looking ways to remove Important-notices.com calendar spam messages. Users reported that, unlike it happens with usual calendar subscriptions, there is no button to click on to get rid of the Important-notices.com scam pop-ups, and viewing the events via the icloud.com does not help, as they tend not to appear there.
Important-notices.com virus messages may vary, and there are many different versions of the scam messages. Once such examples includes:
Click NOW yo Secure Your iPhone

https://important-notices.com/iBWpl

Your iPhone and iPad carry a lot of information and may be at risk. Norton Security has an all-new iOS app for its subscribers which helps deliver powerful, effective protection for your device and personal information against cyber threats and online scams.
While Norton is reputable and well-known security software, you should not trust Important-notices.com messages, as any type of name can be forged by cybercriminals behind the calendar scam. As a result, you might download a fake security tool that might turn out to be malware in the first place. Besides, a real and respectable anti-malware vendor would never use threatening messages to promote its product ("your iPhone may be at risk").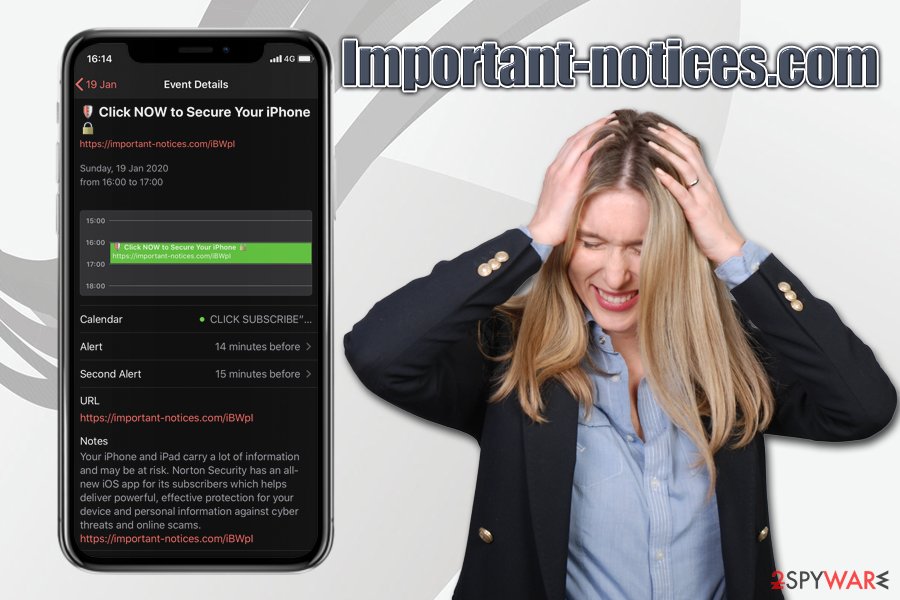 Important-notices.com is a spam campaign that aims to direct macOS or iPhone users to malicious sites via calendar notifications
As evident, never download anything promoted via this calendar spam and perform steps necessary for Important-notices.com removal from iPhone, iPad, or another macOS device.
Note: if you downloaded anything from the promoted links, you should scan your computer or phone with reputable anti-virus software to ensure you did not get infected with malware.
Calendar invitation spam is a relatively common occurrence – learn to avoid it
As already mentioned, the search provider Google blacklists many of the malicious websites and prevents users from viewing them in the first place. However, by no means that it protects users from online threats fully, and, in some cases, users don't even know that they are putting their computer safety aft risk (personal safety as well – in many cases). As the internet is not a safe space, users should take adequate measures to protect themselves.
iPhone calendar spam might also appear suddenly and seemingly out of nowhere. However, in a lot of cases, users don't realize that they received an email that included a calendar invite and, even if they pressed "Decline," it will prompt the attack to target them more, as they now know that the email is active. Therefore, if you receive a calendar invitation, do not press anything on the invite but rather delete the email completely. Note, you should also tap the "Report Junk" button before doing so.
In other cases, however, the invitation spam might be inserted directly into your Calendar without you receiving a spam email.[2] This happens because you might have inserted a new calendar by accident – this feature is often abused by cybercriminals. For example, it might be added when accidentally clicking on a link on a malicious website. Therefore, experts[3] advise staying away from high-risk sites, such as shady online streaming, torrents, software cracks, etc.
Get rid of Important-notices.com virus
Important-notices.com virus is not actually a virus, but rather a feature enabled on your iPhone or iPad device. Nevertheless, because the spam is pushing messages that direct users to phishing and other dangerous sites, you should definitely check your device for malware by scanning it with anti-virus software.
To remove Important-notices.com spam, there are several things you might have to try before being successful. First of all, we recommend you try the method that helped many other users:
Open the Calendar app on your iPhone or iPad
At the bottom, select on Calendars
Now you need to select a calendar color that matches the one that the spam is being sent you from (note: check iCloud, Subscribed, Other or any other section shown)
Tap on the malicious calendar, and at the bottom, pick Delete Calendar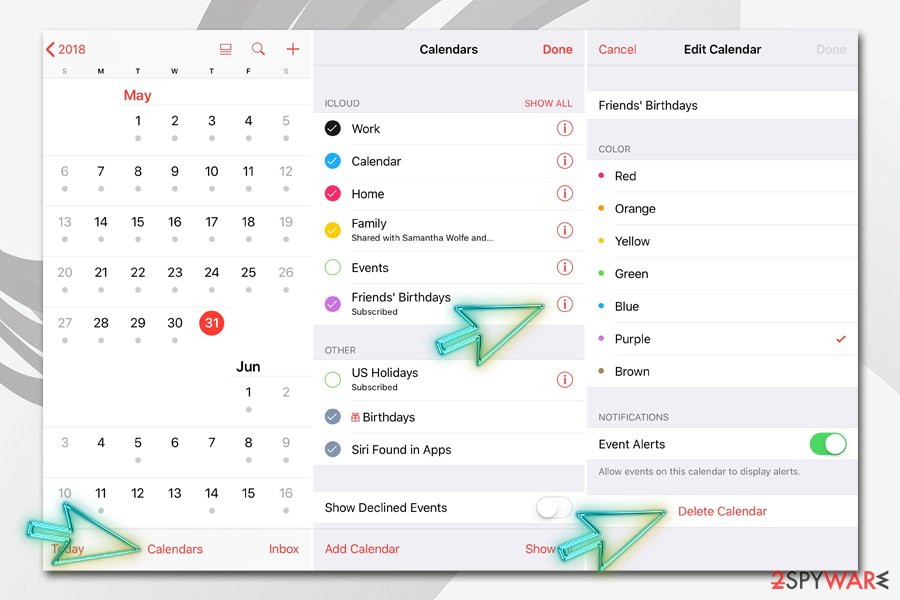 You can easily get rid of Important-notices.com notifications by removing calendar from your phone
If you cannot see any suspicious calendars, it might be that you a malicious email is added to your account. To get rid of it, follow these steps:
Go to Settings
Select Passwords & Accounts
Under Accounts, check each of the entries – remove everything suspicious
Finally, you might want to check your profiles:
Go to Settings
Select General
Tap on Profiles
Select a profile you do not recognize and delete it
This entry was posted on 2020-02-04 at 05:03 and is filed under Mac Viruses, Viruses.