Ceesty.com is a redirect virus that brings users to insecure sites and shows intrusive ads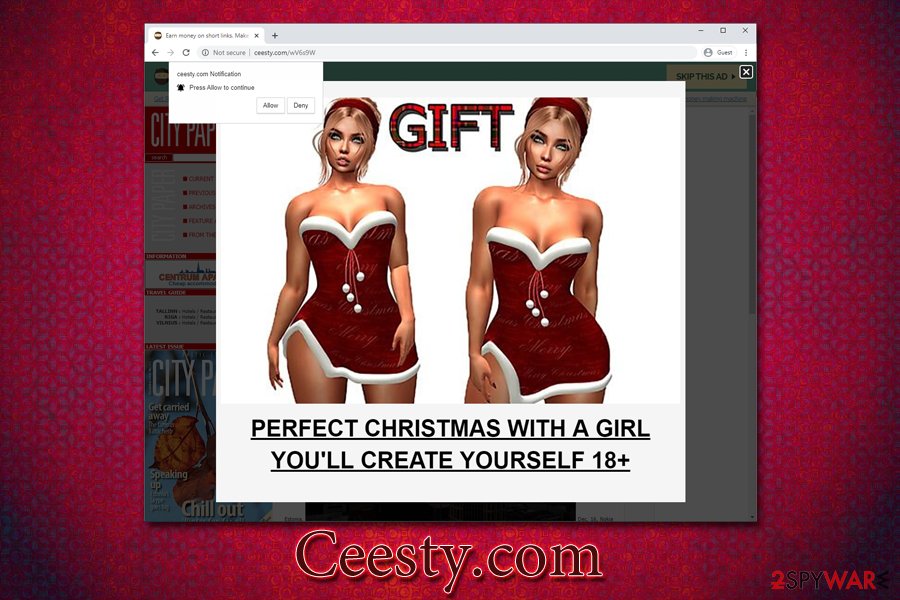 Ceesty.com is a suspicious website that shows users malicious ads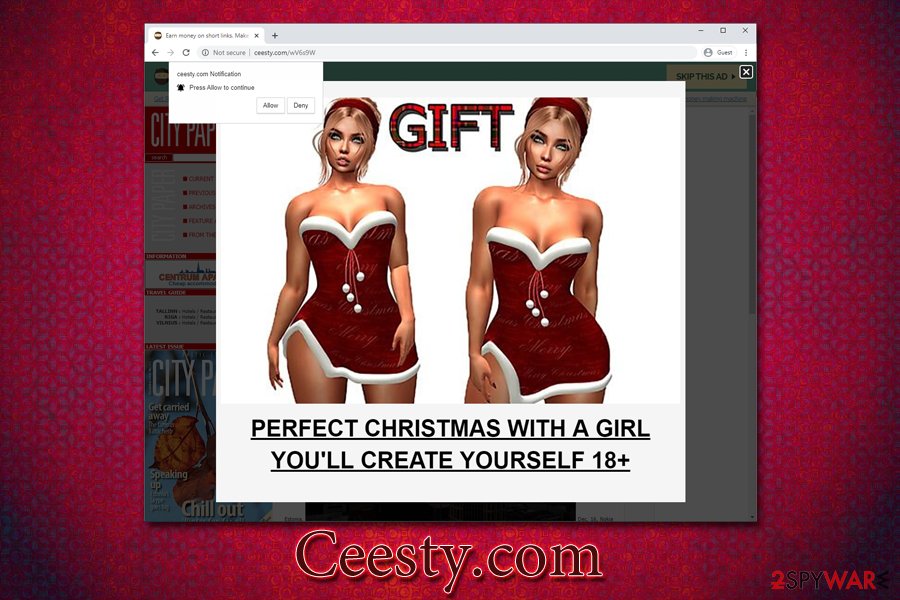 Ceesty.com is a suspicious website that shows users malicious ads
Ceesty.com is a domain that cannot be considered secure, as it brings all types of suspicious and even malicious advertisements. Users complained that their web browsers, including Google Chrome, Mozilla Firefox, Safari, Internet Explorer, or Opera, start redirecting them to this website via the shorte.st link shortening service.[1] In the meantime, they are presented with insecure content that asks users to download potentially unwanted or malicious programs, register for an allegedly adult game, or displays the push notification notice from Ceesty.com.
While some might have clicked on Ceesty.com redirect link (such as ceesty.com/wV6s9W or ceesty.com/wKumJY) somewhere on the internet, the most likely cause for the unwanted browser behavior is adware. These potentially unwanted programs are created to expose users to pop-ups, deals, offers, coupons, banners, in-text links, and other ads during their web browsing sessions. Unfortunately, Ceesty.com ads might be less than secure, and users may infect their machines with adware, or lose money to scams.[2]
Name
Ceesty.com
Type
Redirect virus, adware
Related
Ceesty.com redirects are related to the link shortening service shorte.st
IP address
185.66.120.52
Infiltration
Suspicious links might be accidentally clicked on malicious sites; adware is typically installed along with freeware applications downloaded from third-party websites
Symptoms
Intrusive advertisements are encountered on all visited websites; redirects lead to scam, click-bait or similar unsafe sites; search results are filled with ads and sponsored links, etc.
Dangers
Redirects can make users visit insecure sites that ask to allow notifications (more unsafe ads), ask to register for a fake service, or download unsafe application/malware; in some cases, victims might disclose personal or even sensitive information like credit card details to cybercirminals
Removal
The best way to terminate unwanted browser behavior is to reset it as per instructions below and perform a full system scan with anti-malware software. Alternatively, the below-provided instructions can be used to eliminate adware manually
Recovery & optimization
Adware and malware may cause various system damage, which can result in computer crashes, slowdowns and other stability issues. If that is the case for you, perform a full system scan with PC repair tool

Reimage

Reimage Cleaner
Adware, while not initially malicious, is a type of potentially unwanted program that typically travels within software bundles – this distribution method is especially common on third-party sites that host freeware or shareware apps. Software packages allow free app developers to monetize, although in many cases, optional components are deliberately hidden from users' eyes, which makes them miss the unwanted programs. As a result, they might start seeing Ceesty.com redirects seemingly out of nowhere.
Keep in mind that the appearance of Ceesty.com on your browser does not mean that you are infected with something, as you might have been redirected from another unsafe site. To prevent that from happening, you should employ the ad-blocking application/browser extension. Nevertheless, if adware is involved, you can only remove Ceesty.com virus by terminated the associated application and resetting your browsers.
Security experts[3] highly advise users to be extremely careful when dealing with shortened links online, as cybercriminals might insert malicious URLs, and visitors will not know about it because the link is disguised. While in some cases, users may be redirected to intrusive sites like Ceesty.com, other times, they might be linked to websites that would abuse software vulnerabilities and install malware automatically – this is another reason to ensure that security software is running on the system at all times.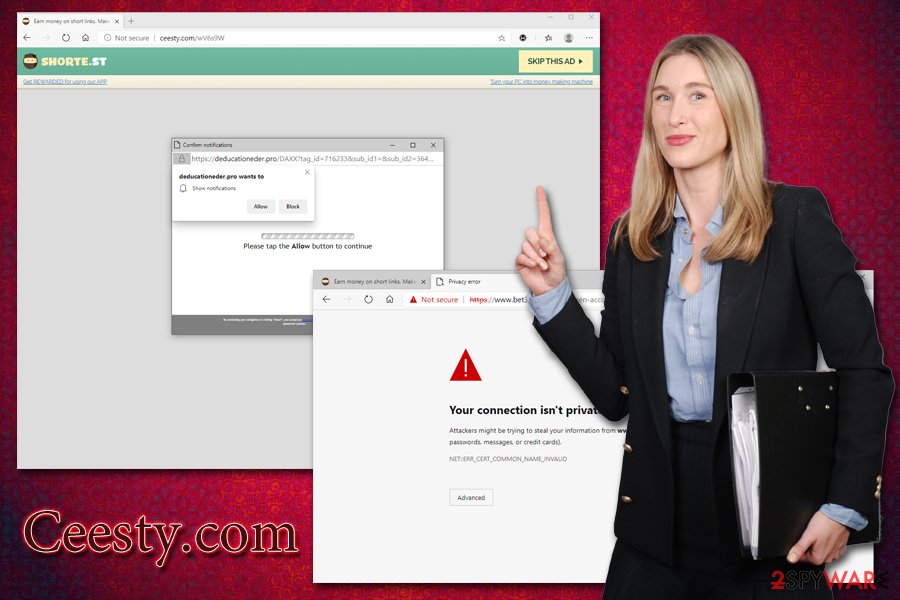 Ceesty.com is a redirect virus that might indicate adware infection on your computer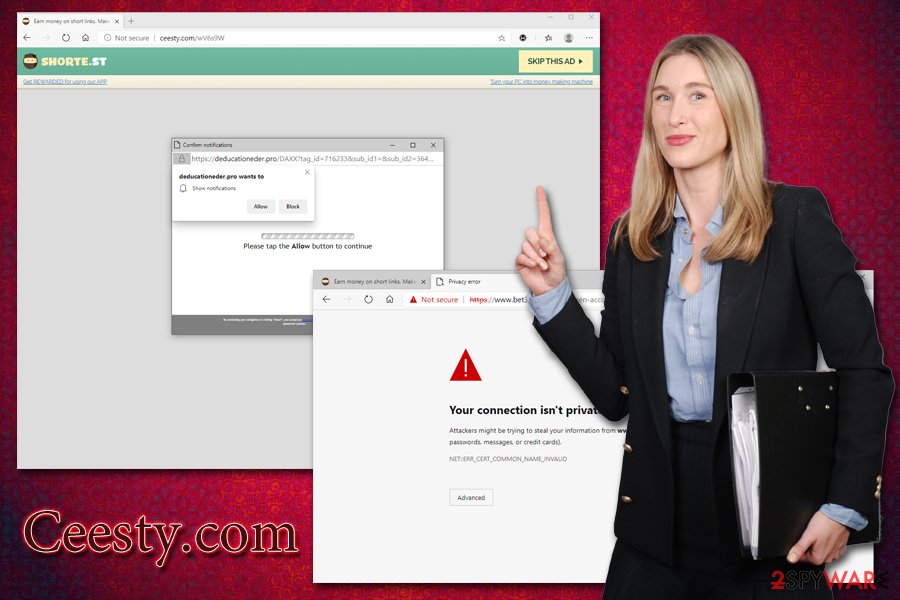 Ceesty.com is a redirect virus that might indicate adware infection on your computer
As for Ceesty.com removal, it may vary depending on many factors, including web-browsing settings, whether adware is involved or not, etc. Because of this, we suggest you follow the instructions provided below, as we offer solutions for various situations.
In case you found adware was the reason for Ceesty.com redirects, you should reset all the installed browsers, and scan the machine PC anti-malware software, as well as repair tool Reimage Reimage Cleaner for to ensure your system is working as intended.
Beware of deceptive third-party software installers
Many users still rely on third-party sites like Softonic or FileHippo to download new applications. However, most rarely realize that these websites are designed to make them install as many additional apps as possible by showing promotional ads, misleading download buttons, and similar. However, this is not the only way optional programs are suggested to users, as many of them are inserted directly into the installer of various applications.
While there is nothing wrong with offering people to download optional programs, it becomes a real problem when various tricks start being used in order to make users miss the offer and install the unwanted program unintentionally. For that, third-parties and freeware authors often employ pre-ticked boxes, fine print text, misleading button placements, and other tricks. It is a well-known fact that many do not pay close attention during the installation process, and third-parties are well aware of that.
Therefore, to avoid PUPs, you should always pick the download source for your apps carefully (preferably, choose browser stores or other official sources like Microsoft Store, Amazon, etc.) and never rush the installation process, especially if the application is coming from a third-party site.
Always choose the Advanced/Custom settings when prompted, remove all the ticks from pre-ticked boxes, decline all the offers, and read each of the installation steps carefully. It is also important to read up on the application you are about to download itself, as quire often tools like download managers, system optimizers, PDF creators, and similar apps end up being adware or even malware.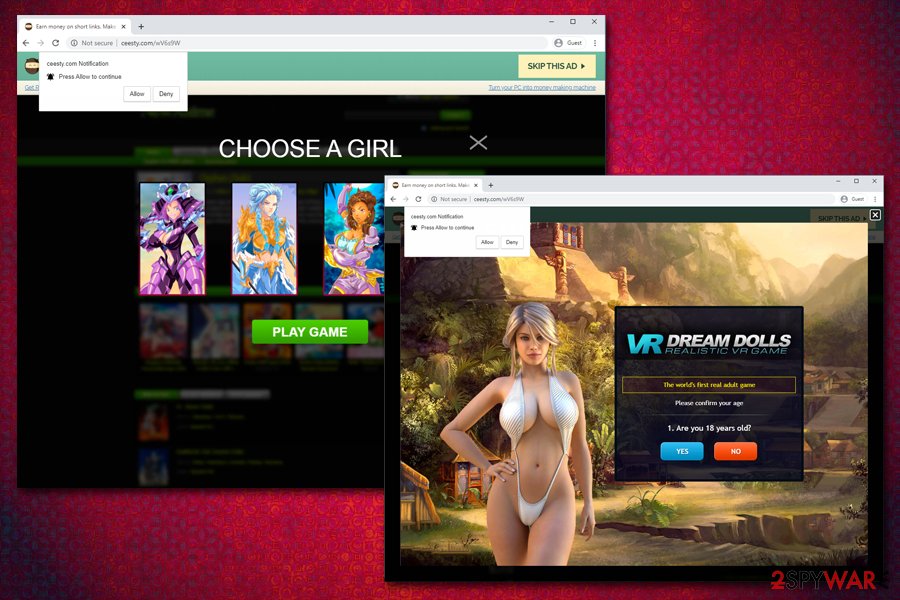 Ceesty.com promotes suspicious and age-restricted ads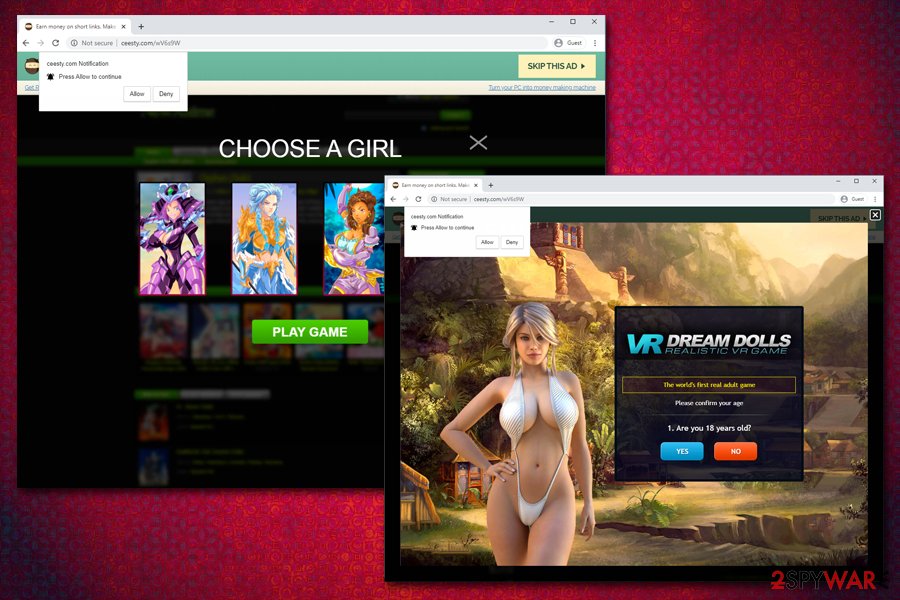 Ceesty.com promotes suspicious and age-restricted ads
Get rid of Ceesty.com virus
As previously mentioned, Ceesty.com removal may vary depending on various factors, such as whether you installed anything from promoted links or dubious websites you were redirected to. As a general rule, if you noticed that your web browser is redirecting you to unknown domains and you noticed an increased amount of advertisement, you should assume that the culprit is adware. Note that if you engage in the download and installation of unknown programs, it may also indicate that malware is on your system as well.
Therefore, we would advise you scanning the machine with reputable anti-malware software to remove Ceesty.com redirects and ads from your computer. In some cases, however, security applications might not detect all the PUPs (these apps are installed voluntarily, so it is sometimes hard for vendors to implicate their level of danger). In such a case, check your for unknown programs manually as per the instructions below. Additionally, sometimes, getting rid of Ceesty.com can be just as easy as resetting the installed browsers.
You may remove virus damage with a help of Reimage Reimage Cleaner . SpyHunter 5Combo Cleaner and Malwarebytes are recommended to detect potentially unwanted programs and viruses with all their files and registry entries that are related to them.