Greacore.com is the site that displays fake alerts about system security issues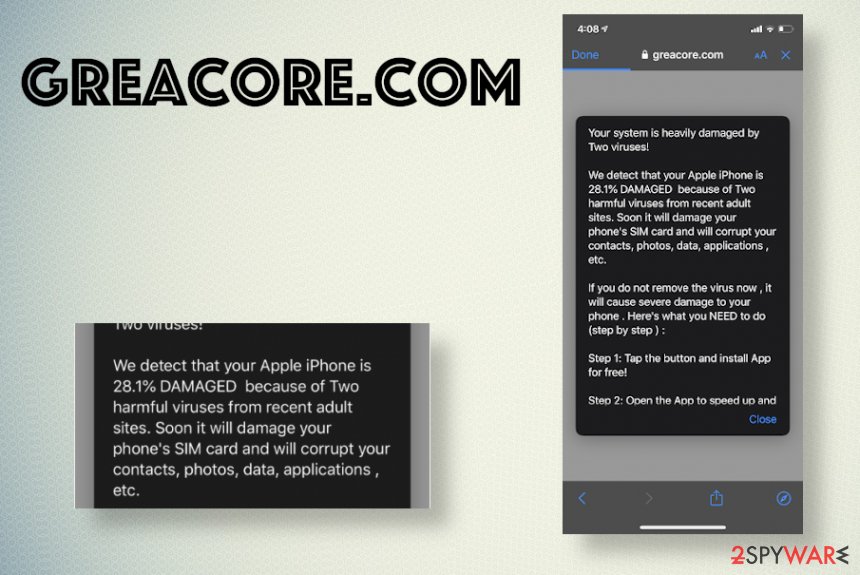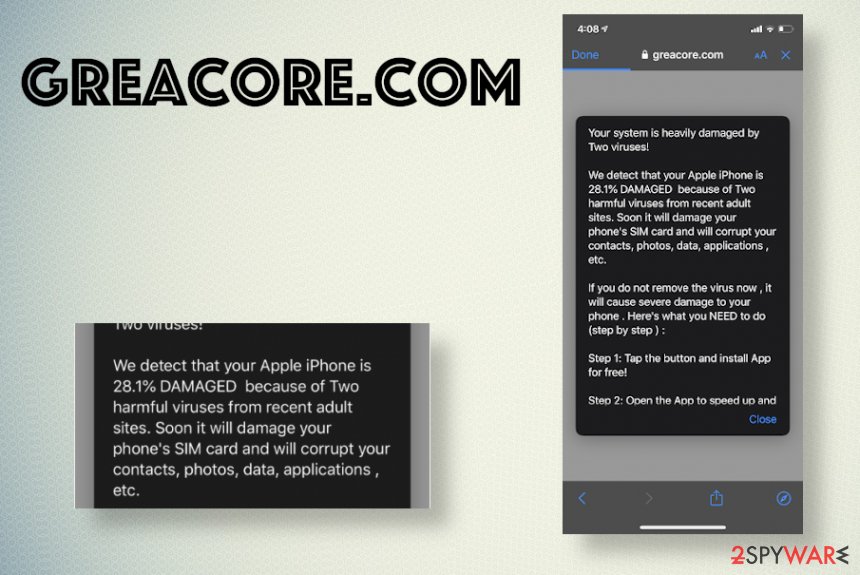 Greacore.com – the scam that tricks people into visiting particular sites or answering to fake support people. This can be categorized as technical support scam because the pop-up states about particular issues with the machine, virus damage, or anything similar and encourages to install the promoted application or contact questionable people. This campaign targets iPhone users with its deceptive claims and promotes dubious applications that can further affect the performance or even damage the device.[1] Potentially unwanted programs that this site promotes and tricks people into installing them can pose as system optimization tools or even anti-malware applications, so user trusts the process and allows the intrusive program to scan the machine.
Unfortunately, the Greacore.com virus is an adware-type program that can download and install such fake tools and push other malware with such scammy sites and additional redirects that may get triggered by your visits on these pages and clicks on shady advertisements. PUP infiltrates the machine and tries various tactics to generate views and visits on the sponsored sites since this traffic can ensure the revenue for developers and third-party sponsors. These intrusive ads and redirects, general behavior of the PUP can lead to privacy issues and malicious actor involvement when particular personal data gets collected and accessed.
Name
Greacore.com
Type
Adware/ iPhone virus
Symptoms
Scam messages claim that machine is infected, pop-ups appear out of nowhere and encourages to call the support or install the promoted app
Target
iPhone users
Distribution
Deceptive pages, misleading advertisements, malicious sites and freeware installations that include additional apps behind users' back lead to these PUP infections that trigger scammy messages and fake alerts, commercial content, and redirects
Tactics
Technical support scam[2] focuses on false claims that may be scary enough to encourage people to install the promoted application or allow the member of support team access the machine
Elimination
Greacore.com removal is the quickest when you rely on professional anti-malware tools and run the full system scan using security programs that can detect and eliminate these threats
Repair
Additionally to all the symptoms that are noticeable, PUPs can alter settings and change some functions of the device that ensure the persistence. To fully get rid of the adware, you should also repair such damage with

Reimage

Reimage Cleaner

Intego, for example
iPhone virus is the general term that describes threats like greacore.com virus because of this particular site displays those fake alerts and acts as a part of the social engineering campaign on mobile devices. It manages to alter various settings and affect a few parts of the iOS, but it doesn't seem to act as a PUP or any other type of intruder on macOS or Windows devices.
Malware that spreads on iPhone devices particularly can go for techniques like Alertsp.club and show false system warnings, other pop-ups with claims about security issues. Or even go for the way that Alert-booster.club uses – going for a particular type of application. This Greacore.com is nothing but adware even though those alerts may seem legitimate and scary enough to trick you into allowing the remote attacker to access the system of your machine.
Various pop-up windows and messages may appear on the screen when the redirect to Greacore.com shows up, but all of them should resemble a warning like this:
Your system is heavily damaged by Two viruses!

We detect that your Apple iPhone is 28.1% DAMAGED because of Two harmful viruses from recent adult sites. Soon it will damage your phone's SIM card and will corrupt your contacts, photos, data, applications , etc.

If you do not remove the virus now , it will cause severe damage to your phone . Here's what you NEED to do (step by step ) :

Step 1: Tap the button and install App for free!

Step 2: Open the App to speed up and fix your browser now!

WARNING!

This Apple iPhone is infected with viruses and your browser is seriously damaged. You need to remove viruses and make corrections immediately.

It is necessary to remove and fix now.

Don't close this window.

OK
Greacore.com primarily occurs on iPhones and frustrates people with those alerts and false warnings, so the site is not acting the same on computers. However, other Apple products can still get similar messages since the scheme is universal, and all the claims about the heavily damaged device or virus infections are more common.
You should ignore any of those messages about damage and infections because the biggest risk is the program that scammers behind this site try to promote and distribute. You need to remove Greacore.com from the screen by at least exiting the browser or the pop-up without allowing anything or clicking on any of those ads and redirects. You may trigger threats that for real corrupts the device and can lead to hacks or loss of data.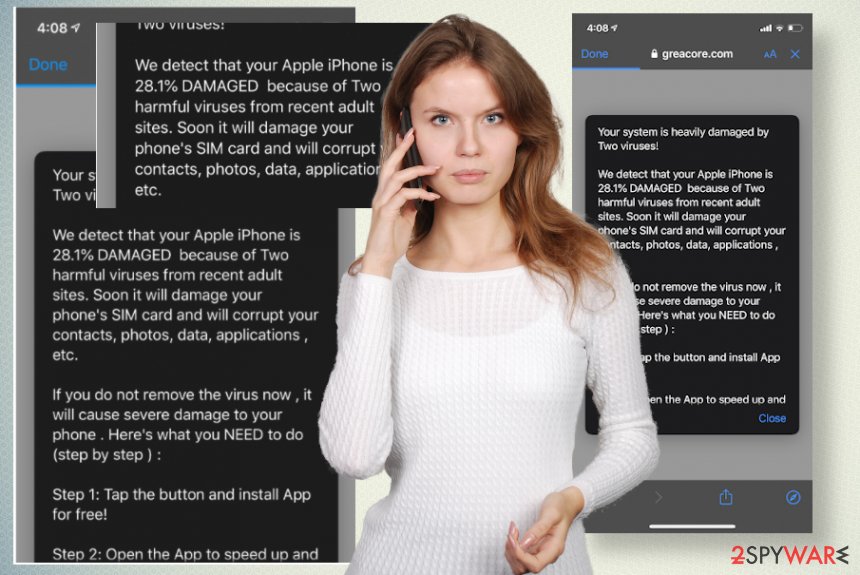 Greacore.com adware is a potentially unwanted program that affects mobile devices by displaying fake alerts.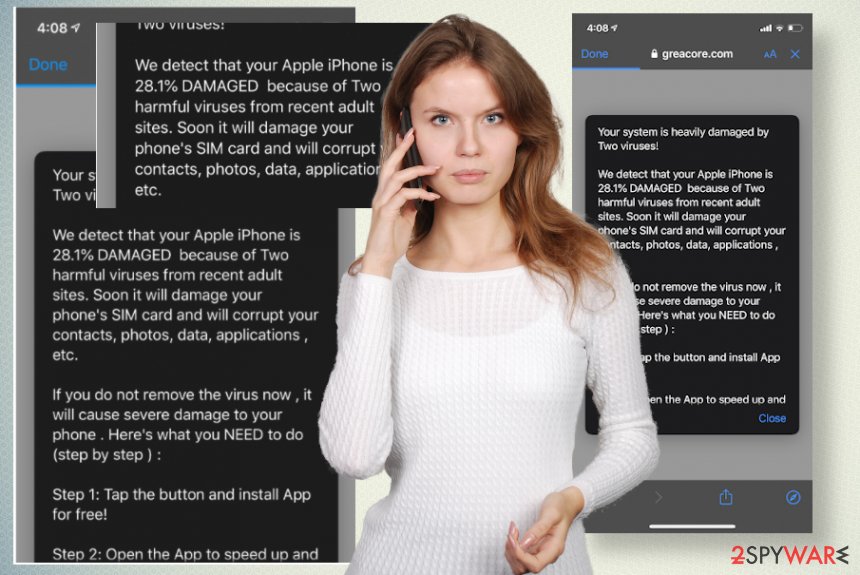 Greacore.com adware is a potentially unwanted program that affects mobile devices by displaying fake alerts.
Greacore.com can cause typical adware symptoms because this is a potentially unwanted program that is related to commercial content creators and easily interferes with browsing online by showing ads, redirects, and so on. You may get exposed to adult-oriented sites, gambling pages, and other services that involve dangerous or potentially malicious material online.
If you get to visit those dangerous pages and click on many ads, redirects, different types of material, you may need to perform more than Greacore.com removal because your device can get infected by the more dangerous intruder than PUP. However, there are more risks since this site is focusing on scammy messages because the pop-up with the false alert can result in:
installed useless program;
downloaded malware;
attacker accessing your computer;
keystroke loggers used to obtain personal details about you;
modified settings of the machine.
When you encounter anything related to redirecting or claims about the system out of nowhere, you should first check the source of the message, and when a site that is unfamiliar like Greacore.com shows those messages, be aware of the possible outcome of getting the malware installed on your system. When it comes to phones and mobile devices the termination and even exiting the website is difficult since you cannot easily click the X button.
Therefore, automatic methods for Greacore.com elimination are more recommended by various experts[3] and security researchers. We also note that system changes can lead to more severe issues and damage to the machine, no matter if it is a mobile phone or a PC. Get an application like Reimage Reimage Cleaner Intego that can check for affected files or corrupted programs and repair that damage for you.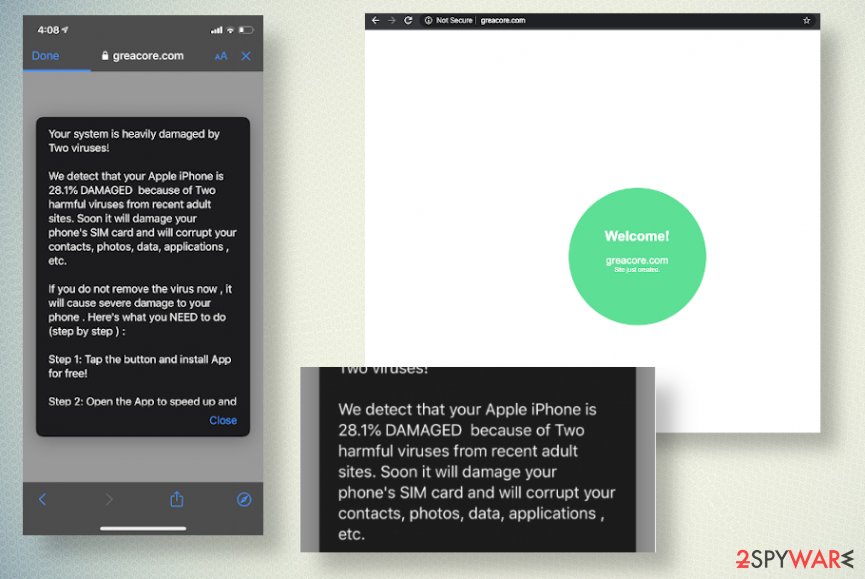 Greacore.com is the iPhone virus that tries to trick people into installing shady PUA.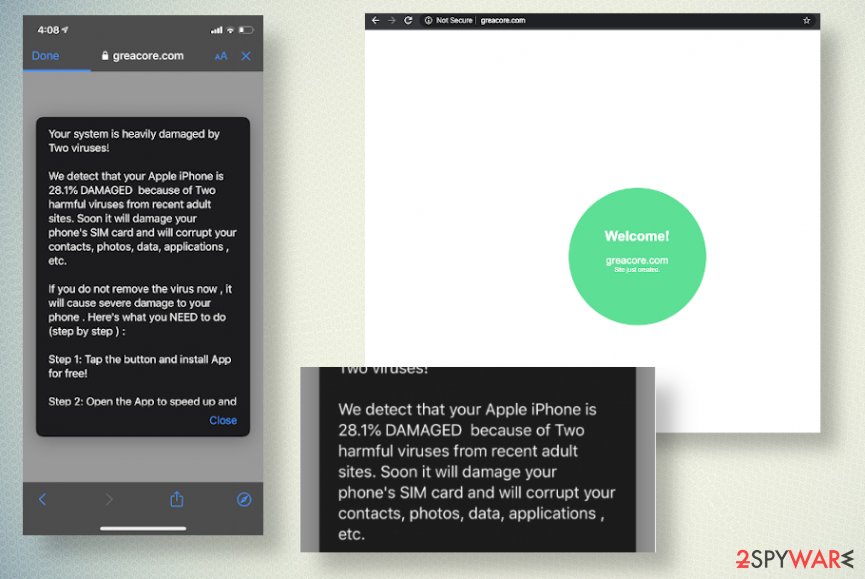 Greacore.com is the iPhone virus that tries to trick people into installing shady PUA.
Be suspicious and pay closer attention to details
Official pages of system tools and other applications can seem legitimate and resemble other sites that distribute proper optimization utilities and so on. However, pay attention to EULAs and privacy sections on sites you choose as the source of your applications, so you can control the installation process and be sure about the software you get.
If you go for torrent sites, free download sites, or services that provide all the freeware online, you can end up with PUPs or additional intruders when the insecure installation is initiated. Advanced or Custom options of these installations can be a solution because by selecting such a method, you can see the full list of programs included on the setup, so you choose what to install an what is useless or at least suspicious.
Get rid of the phishing scam and the Greacore.com virus with AV tools
Since this is the program that can plant files and additional apps all over the system, you need to eliminate all suspicious applications, extensions, and plug-ins or files to remove Greacore.com completely from the system. This is achievable with proper tools designed to detect PUPs and other malware, malicious or potentially dangerous applications, so rely on the trustworthy tools and run the system scan in the device.
Greacore.com removal can be performed the same way on mobile devices and on computers because AV tools and security applications are developed for various types of OSs. Choose the app that is familiar or positively reviewed, so you are not risking to get any unwanted or dangerous app.
You may remove virus damage with a help of Reimage Reimage Cleaner Intego. SpyHunter 5Combo Cleaner and Malwarebytes are recommended to detect potentially unwanted programs and viruses with all their files and registry entries that are related to them.
This entry was posted on 2020-04-22 at 02:54 and is filed under Mac Viruses, Viruses.