Trojan.Win32.Generic – a generic AV alert flagging an unknown software caught due to malicious activities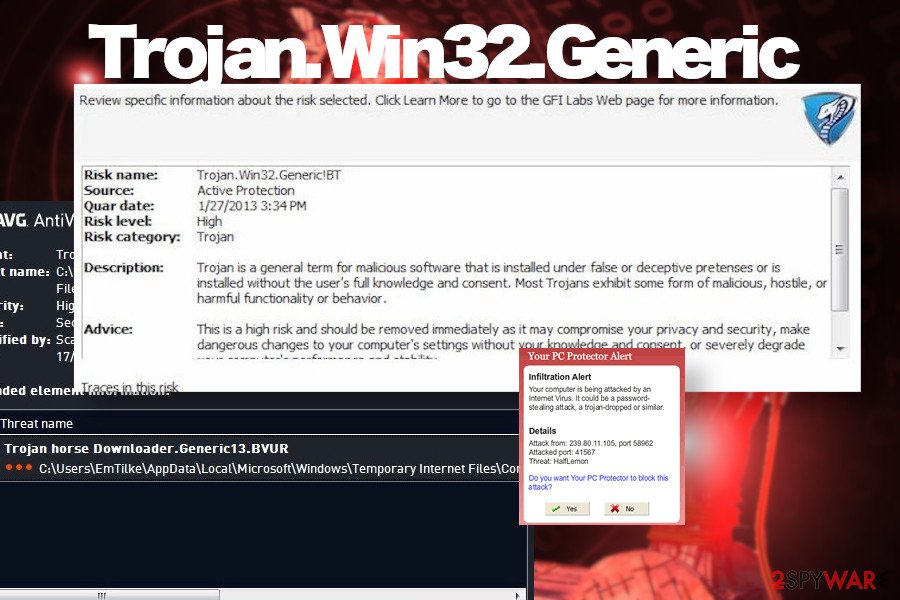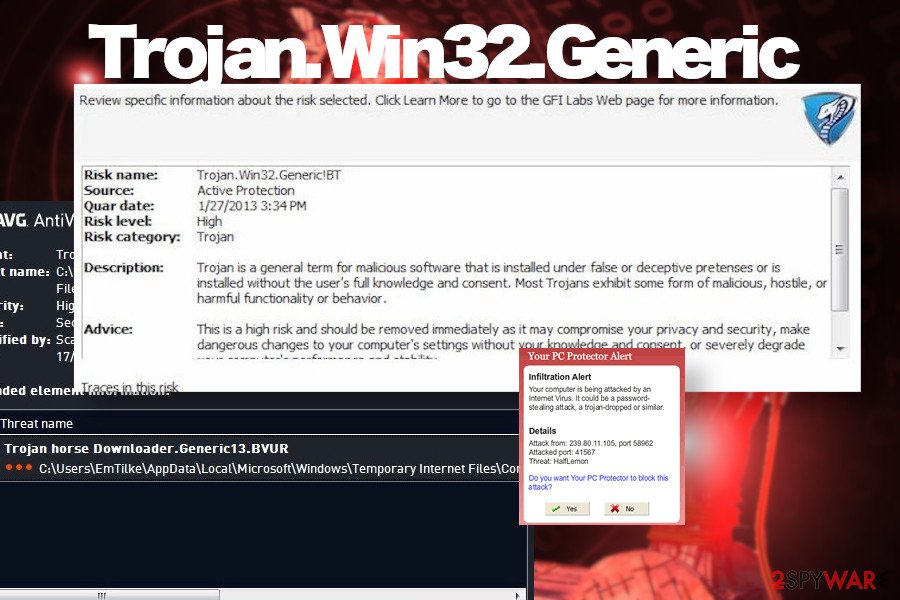 Trojan.Win32.Generic is a heuristic detection[1] by multiple antivirus programs, which may refer to a Trojan or another previously unknown virus infection. Multiple cybersecurity websites associate this detection with a Trojan, though, in fact, it can be related to any other malware type, including ransomware, spyware, keylogger, adware, and etc. In most of the cases, this alert may be accompanied by long system boot time, high CPU usage, and software freezes. This applies if Trojan.Win32.Generic determines respectability towards a particular system's threat. Nevertheless, in some of the cases, this detection may be false-positive or a false alarm indicating a non-existent threat.
Also known as HEUR.Trojan.Win32.Generic, the Trojan.Win32.Generic virus may indicate a newly released virus that exhibits never-seen-before activities that an AV engine recognizes as malicious. However, it may also denote a new variant of a virus that is already spreading in the wild. This particular detection can be possibly related to Zeus and Andromeda Trojans.
Name
Trojan.Win32.Generic
Also known

HEUR.Trojan.Win32.Generic
Generic.dx!vpv
Trojan.Generic.5408453
Agent2.CBME
TROJ_GEN.R42C3AR
Trojan.BHO!IK
Mal/BHO-AY
HackTool:win32/autoKMS
Win32/suptab!blnk, etc.

Classification
Generic AV detection, possibly Trojan or other malware infection
Symptoms
Trojan.Win32.Generic alert, if it denotes a malware infection, can be accompanied by high CPU usage, Windows freezes, prolonged bootup time, web browser's corruption, error messages, and regular AV popups warning about suspicious activities on the system
Danger level
High. Suchlike generic AV detections are usually triggered by Trojans[2] or Spyware, meaning that the system may be infected with a malicious virus that may try to steal your credentials, personally identifiable information or lock/leak data stored on the hard disk
Distribution
The Trojan.Win32.Generic related virus can be distributed via pirated software, malicious websites, freeware additions, software cracks, spam email attachments, and other methods exploited by cybercriminals
Removal
Trojan.Win32.Generic removal is possible with a professional AV tool only. This detection signals a malicious infection, which may root into Windows registries and hack the core system's files. Nevertheless, the AV program may only be able to quarantine the infection, but the removal may require launching updates of databases and modules
Repair virus damage
The repair of any damage caused to the inner Windows system files and registries will not be obtained by Trojan.Win32.Generic removal. A powerful recovery tool, such as

Reimage

Reimage Cleaner

Intego is required
There are many ways of Trojan.Win32.Generic malware infiltrating the system. Typically, PC owners are tricked into downloading malicious entries on email messages, which often look harmless and reliable. In addition, the Trojan may be injected using the drive-by-download method, when a Trojan-carrying program automatically gets downloaded onto the system without user's granted permission for the download.
Apart from the mentioned methods, malware can be installed along with pirated software, game cracks or fake updates. In these cases, the user is more or less aware of the risks that he or she takes relying on illegal/compromised software.
The criminals behind the Trojan.Win32.Generic virus may try to initiate a multitude of malicious activities, such as:
diminish the system's protection to open a backdoor for other cyber infections;
connect to remote servers and download malware without user's awareness;
initiate tracking activities with an intention to collect confidential information, including credit card details, passwords, login data, etc.
compromise web browser's settings in a way to trigger redirects to phishing websites;
generate aggressive pop-ups, hyperlinks, banners, and another context that may expose a potential victim to dangerous viruses or offensive material;
As pointed out by dieviren.de[3] cybersecurity team, Trojan.Win32.Generic virus detection by any reputable anti-virus program may be triggered by a newly released ransomware variant of such infamous families as Djvu, STOP, CryptoMix, Dharma, and many others. Therefore, the emergence of regular popups by your AV engine that flag a malicious activity by Trojan Win32 Generic should be treated seriously.
To prevent data encryption, loss of important documents, financial information, the system's crash, and similar activities, an immediate Trojan.Win32.Generic removal is required. Even though the antivirus engine is powerful enough to detect and quarantine the malicious entry, it may not be able to finish up the removal process. That's because the antivirus database may not contain the signature of the detected infection. In this case, you may need to install the latest AV definition updates.
Moreover, security software may fail to remove Trojan.Win32.Generic virus because its scanner is terminated once launched. to bypass the block, try to restart the system into Safe Mode.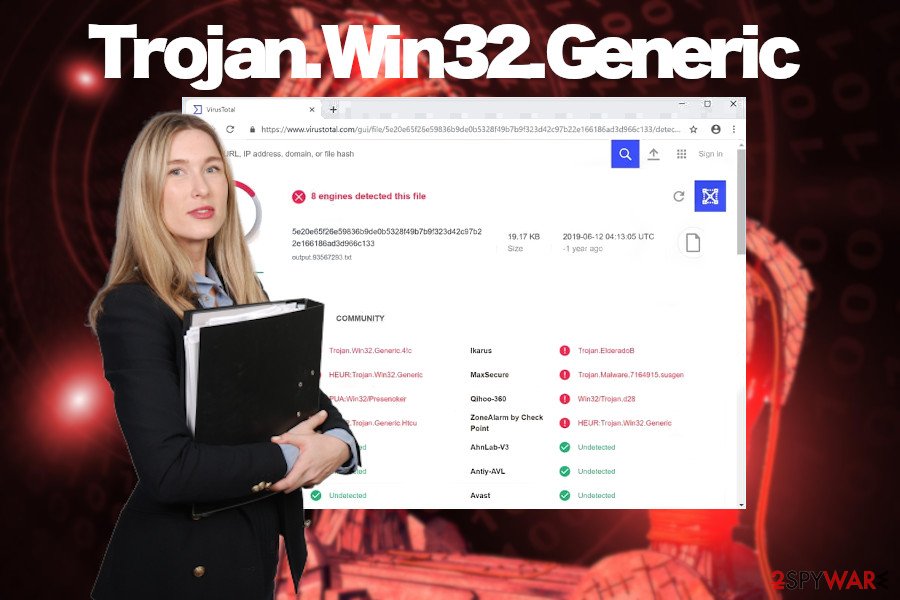 Trojan.Win32.Generic may be relevant to deadly dangerous cyber infections, such as ransomware; thus an immediate removal is required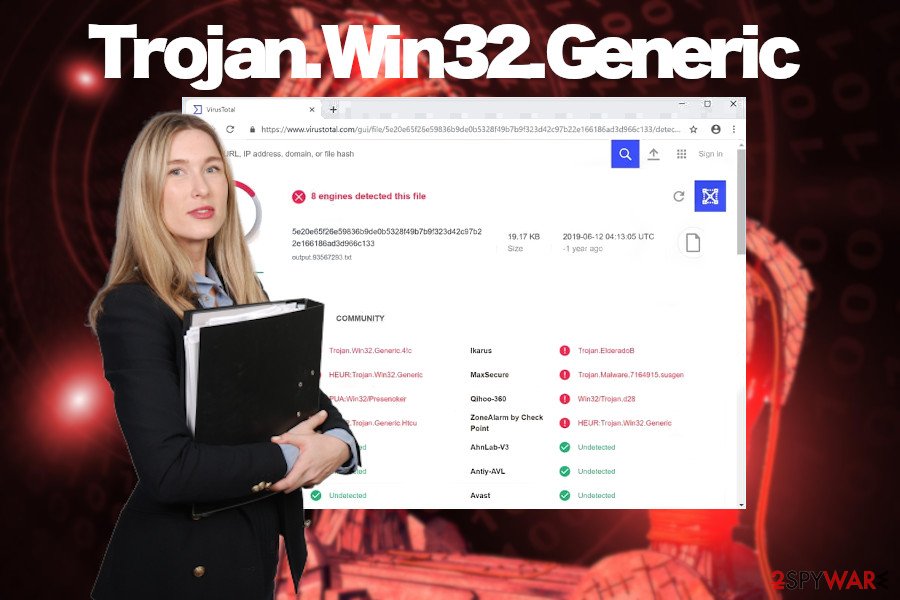 Trojan.Win32.Generic may be relevant to deadly dangerous cyber infections, such as ransomware; thus an immediate removal is required
If, however, the system does not exhibit abnormal behavior, but the AV that you are currently using keeps reporting Trojan.Win32.Generic malware, try an alternative anti-virus engine and compare their findings. Since such heuristic detections can sometimes be false-positive, you may be looking for a non-existent virus.
Malicious files and programs are distributed via deceptive sites, software, and spam emails
Although there are more techniques for virus/malware distribution, the most common places where people get tricked into installing malicious pieces of malware are infected websites, pirated software or freeware download websites, and leaked email accounts.
Despite the fact that potential victims are not aware of a possible virus attack, the installation of Trojan, spyware or other malware is seldom possible with the user's intervention. In most of the cases, people are redirected to phishing websites or websites with hacked URLs after clicking on a questionable popup, hyperlink or visiting adult content websites intentionally.
The same applies to the software that carries malware. Apart from some exclusions, legitimate software distributed on official websites or other reliable sources is checked and signed as safe to download. However, if the user relies on freeware download websites that are publicly described as a source for malware, as well as searches shady forums for cracks and keygens, the user takes the responsibility for a possible virus infection.
The best piece of advice is to raise consciousness about dangers online. Do not rely on freeware just because they are offered for free. Keep in mind that these sites get monetized in other ways, for example, receive commissions for distributing malware.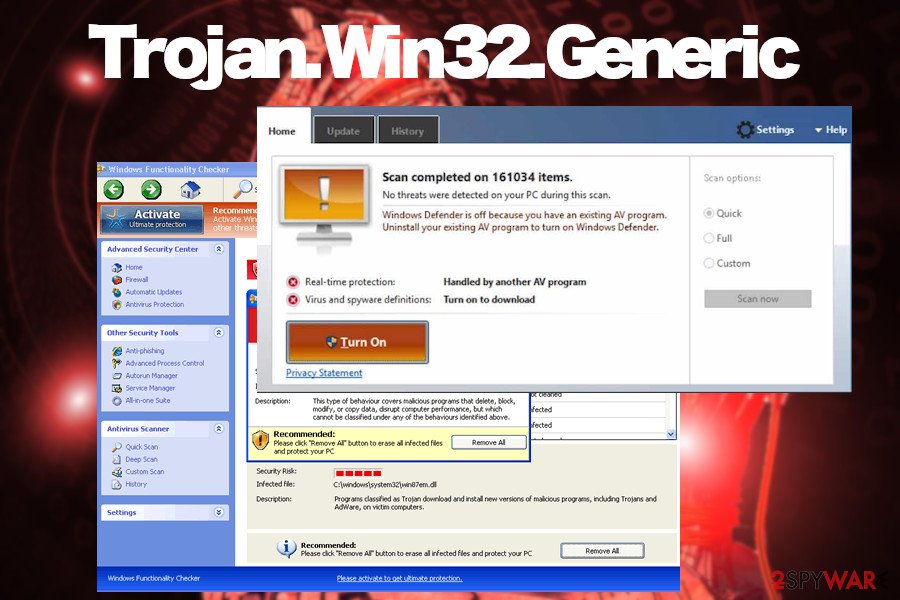 Trojan.Win32.Generic detection means that a never-seen-before virus may be working on your PCs system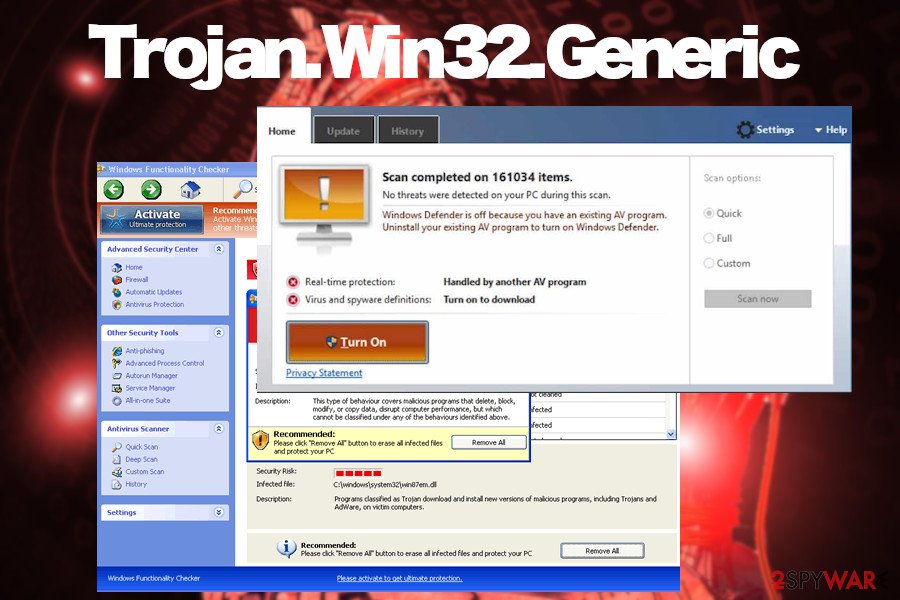 Trojan.Win32.Generic detection means that a never-seen-before virus may be working on your PCs system
However, the biggest malware download source remains malicious spam emails. Criminals take advantage of botnets to send thousands of infected emails to leaked email addresses. Typically, these emails are poorly written, contain many mistakes and are received from suspicious senders. Therefore, email filters typically send such emails to a spam folder by default. However, there are many "successful" spam campaigns that mimic well-known organizations like Red Cross or FedEx. Such messages may contain reliable information, well-developed style, convincing details, trustful sender, and so on. It's advisable to double-check the sender or set the AV engine to scan the attachment of the email to make sure that it's not infected. Otherwise, it's best to delete such a message from the inbox.
Eliminate Trojan.Win32.Generic virus from the system immediately to prevent possible damage
Having Trojan.Win32.Generic malware on the system poses a high risk of cyber attacks. Criminals may be using this infection for the distribution of ransomware, spyware, keyloggers and similar viruses that may cause money loss or identity theft.
Even though the machine that is said to encounter this generic infection is not exhibiting suspicious activities and does not seem to be infected, beware that Trojans and likewise malware are exceptionally persistent. Malicious files may be dispersed in various system areas and block AV engines to remain unnoticed.
To ensure successful Trojan.Win32.Generic removal, go to the Safe Mode with Networking, a thorough guide on how to do that is given down below, and try to download the latest virus definition updates for the security software that you are using. After that, while still in Safe Mode, run a deep system scan.
To remove Trojan.Win32.Generic completely, we recommend relying on programs like SpyHunter 5Combo Cleaner or Malwarebytes. The mentioned programs are capable of detecting malware and eliminated all related malicious entries. In addition to elimination of the malware, you should also take care of the system's stability, which may be breached. Reimage Reimage Cleaner Intego can help in fixing corrupted registry entries, deleting duplicates, and eliminated other side effects caused by virus infection.
This entry was posted on 2020-04-22 at 04:03 and is filed under Malware, Viruses.