Full System Care is a potentially unwanted that claims to fix Windows systems but instead might actually harm them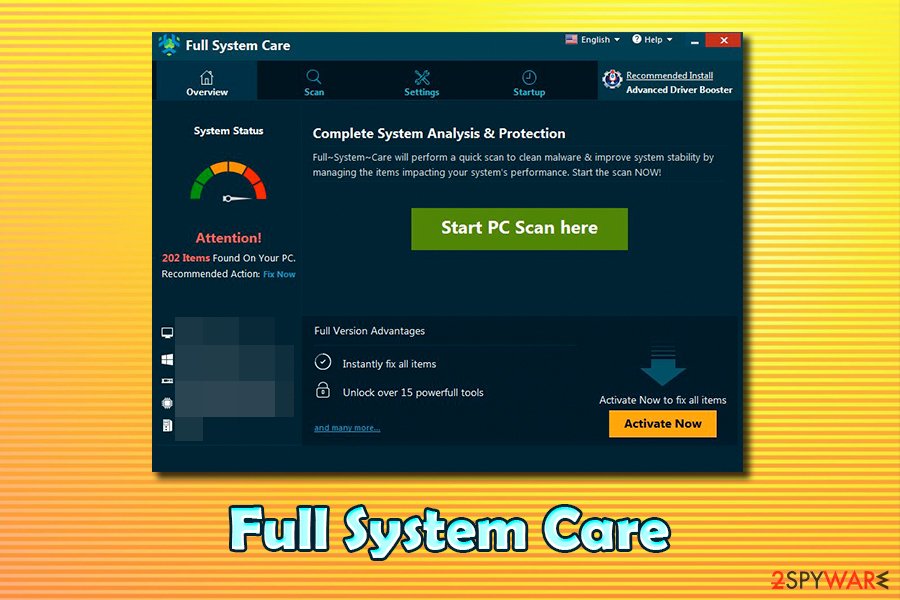 Full System Care is a potentially unwanted program that shows false-positives in order to make users believe that their computers are heavily damaged
Full System Care is yet another fake system optimizer that shows bogus scan results in order to make users buy its full version. The app is developed for all versions of Windows operating systems and can be downloaded from the official website, although most users find it installed after the installation of freeware from third-party sites. It happens because Full System Care is often bundled with other programs and often slips into computers unnoticed.
Once installed, Full System Care performs a full system scan and show users multiple false-positives that allegedly indicate problems with startup items, malware infections, performance-related issues, and so on. To fix these seemingly dangerous issues, users are directed to the payment page, where they are asked to buy a full license for Full System Care.
The functionality of Full System Care is questionable, as there is no guarantee that the app will speed up or improve the performance of the machine. If anything, it might delete Windows registry entries that are necessary for certain programs or used by the system, and corrupt normal operation of the device.
Name
Full System Care
Type
Potentially unwanted program, scareware
Installation
Users might get tricked into installing the app via software bundles or download it intentionally for its official website
Operation
The app relies on inexperienced users and shows them false-positives in order to make them believe that their computers are in danger. After showing fake scan results, users are prompted to buy a full version of the program
Claims
Developers of the app claim that it can
AV detection

15 engines recognize the installer fscsetup.exe as malicious or potentially unwanted:

Program.Unwanted.4557
Gen:Variant.Application.Deceptor.Slv.1
PUP.Optional.PCVARK
A Variant Of Win32/GT32SupportGeeks.U Pot
HEUR/QVM06.1.5A95.Malware.Gen, etc.

Termination

To uninstall PUP, you can rely on our manual removal guide below or perform a full system scan with anti-malware software

Optimization & recovery
If you have been infected with adware or malware recently or you have troubles with system crashes, you can employ

Reimage

Reimage Cleaner

to repair your system without being exposed to hundreds of false-positives – it will repair your machine where it needs repairing
Full System Care belongs to the scareware[1] category – it tries to intimidate users and make them believe that their machines are in trouble, regardless of its real condition. The truth is, the app picks up various files or entries from the operating system that hardly (or do not) impact or hinder its operation. Nevertheless, Full System Care shows these "issues" in a manner that inexperienced users might find believable.
Once users are presented with various bogus issues and presented in an intimidating manner and click on the "fix" button, they will be redirected to the payment page, where they will be asked to purchase a full version of the app. Those who will decline and keep it on the system, however, will continuously be experiencing pop-ups that ask users to buy the software. This is another reason to remove Full System Care from the machine.
Full System Care is one of many scareware and fake system optimizing programs that has been bloating users computers in many years now. In reality, most of these fake apps are developed by a few PUP developers that keep re-branding their apps in order to avoid AV detection. In other words, Full System Care is just a copy of such apps like Advance-System-Care, Win PC Repair, mBytes Clean Pro, Universal PC Care, and many others, and are likely being distributed by the same developer.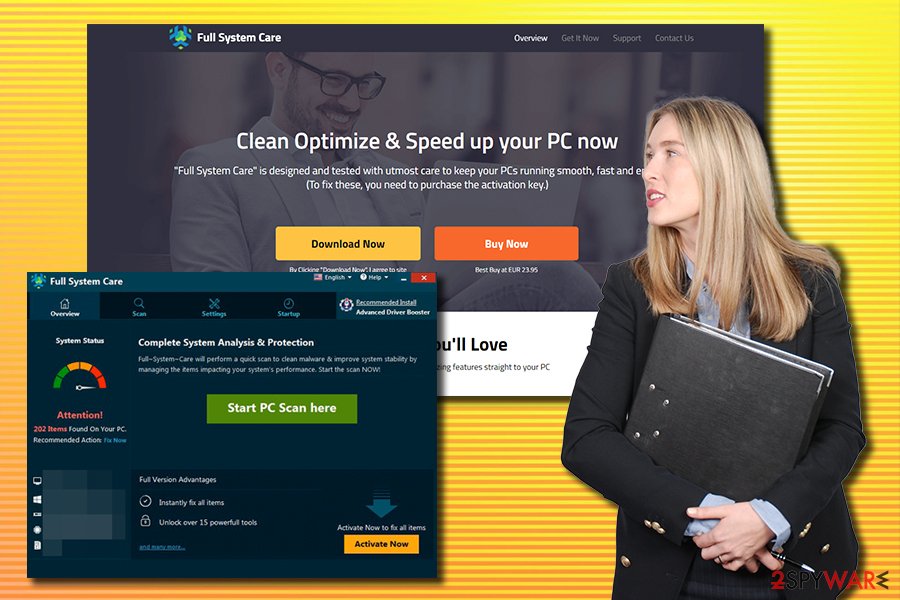 Full System Care is a scareware app that usually gets installed on users' machines via software bundles
All of the registry cleaners that claim to speed up the computer by deleting some of the registry entries are bogus, as there is no way that these tiny files would impact the operation speed of a Windows computer. The only time that deletion of certain registry entries would be helpful is when they are corrupted or set up by malware.
In such a case, however, we do not recommend using Full System Care or similar useless software. It is indeed true that inexperienced users should not go to Registry editor and tamper with files there, as incorrect modification might result in system malfunctions. Thus, if there are entries that were left by malware, let Reimage Reimage Cleaner eliminate them automatically.
In the meantime, we recommend you perform Full System Care removal either by following our instructions below or by employing anti-malware software that includes the PUP scanning feature.
Software bundles can make you install optional programs without disclosing it to you
Initially, there is nothing wrong with offering users additional programs during the installation of the desired application. However, many adware and other potentially unwanted program developers do it deceptively – they create installers that deliberately seek to hide additional programs so that more users would install them unintentionally. Software bundling also works because users are not so attentive when it comes to software installation, and they are also often ready to download apps from sites that are less than secure.
To avoid unintentional installation of adware and other PUPs, security experts[2] recommend the following precautionary measures:
If possible, download apps only from official sources, such as Google web store or Amazon (note: even official stores sometimes bypass malicious apps);[3]
When it comes to third-party websites, be aware that most of the installers will bundle software;
During the installation of the app, make sure you opt for Advanced/Custom installation settings instead of Recommended/Quick ones;
Watch out of pre-ticked boxes, misleading offers, misplaced buttons, fine print text, and similar tricks used by the developers;
Install anti-malware software which also detects potentially unwanted programs.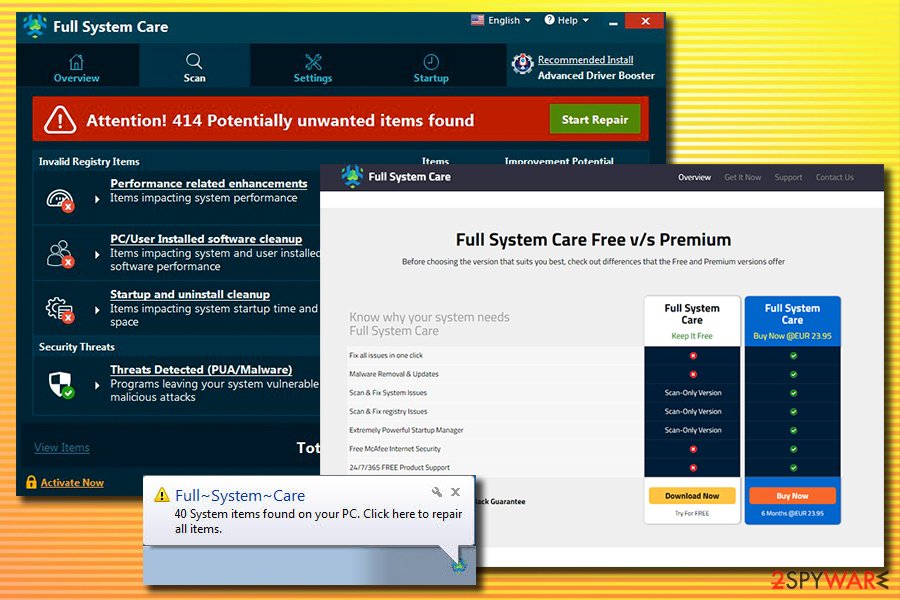 Full System Care will show pop-ups as long as users do not purchase its full version
Get rid of Full System Care virus and employ reputable tools for system maintenance operations
System optimizers generally have an almost negative reputation when it comes to the infosec community – and for a reason. Most of the system optimizers are designed to present fake results to extort money from users who are not that experiencing with computers and are looking for solutions for their slow workstations. However, Full System Care is not what they should be putting their trust and money into, as there are many useful tools that can actually help solve computer problems instead of trying to trick users.
Thus, remove Full System Care virus from your machine and opt for secure applications instead. You can get rid of the unwanted program either manually or automatically – both methods can be just as effective, although the latter will also allow you to check the system for other potential infections and remove them at once. Manual Full System Care removal can be performed by following our detailed guide below.
You may remove virus damage with a help of Reimage Reimage Cleaner . SpyHunter 5Combo Cleaner and Malwarebytes are recommended to detect potentially unwanted programs and viruses with all their files and registry entries that are related to them.