Finding Forms Pro is the browser hijacker application that is promoted and downloaded from the web store as a safe tool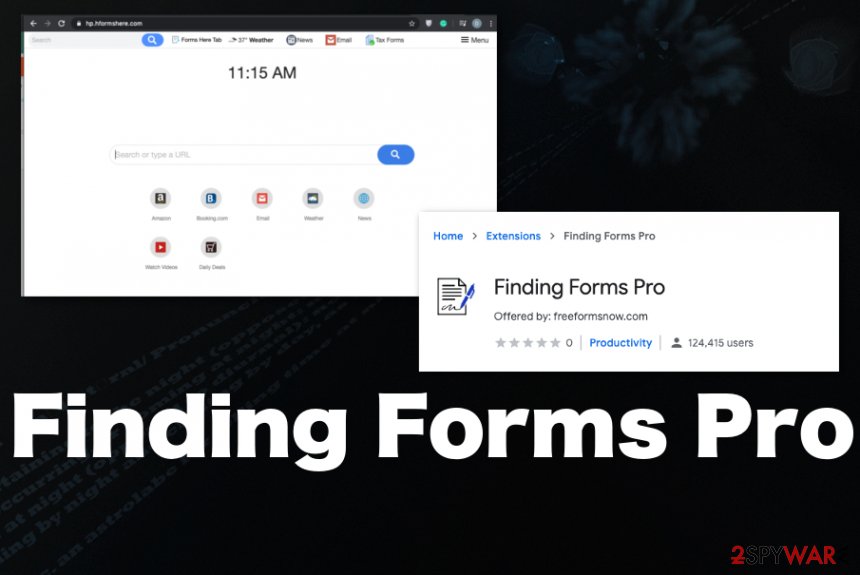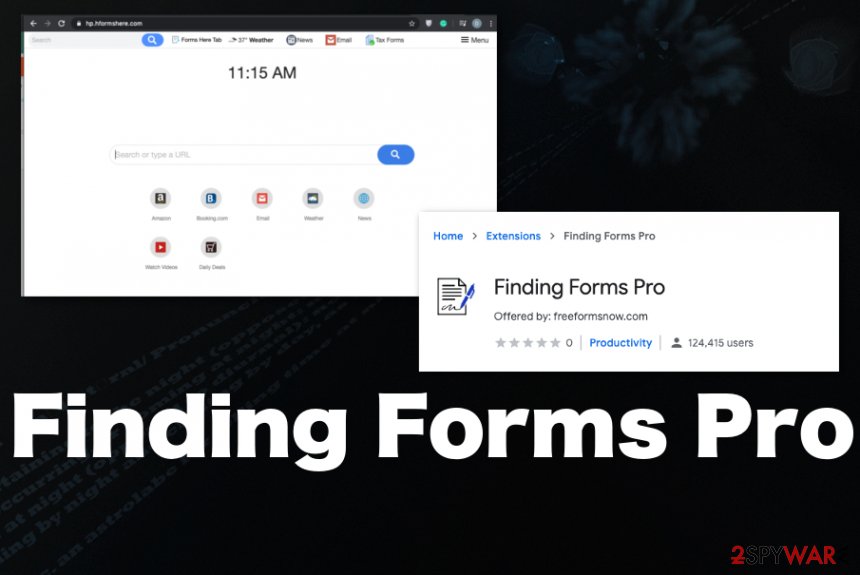 Finding Forms Pro is the application that claims to improve the browsing online for you, but this program controls the web browser and alters settings to redirect through sponsored content. This browser hijacker is the application that affects the browser and starts displaying various types of advertisements once it infiltrates the targeted system. Banners, pop-ups, pop-unders, and occasional redirects fill up the screen to keep the user visiting needed sites and sponsored content. This is also categorized as browser NewTabs because it manipulates such preferences and sets the particular hijacker page search.hfindformseasy.com as a start page, search engine, and new tab.
Finding Forms Pro browser extension is the intruder that attempts to change various data on the machine and even shows pop-ups that ask for your permission. However, that doesn't mean that you can always control these issues and additional processes that hijacker affects. Warning pop-ups that state what extension wants to do usually appear during the installation of the extension. In most cases, when people download the browser add-on willingly, they skip through these forms and allows the program to run automatically.
Unfortunately, Finding Forms Pro virus can manage to get on the machine without your permission and even knowledge. This is why it is considered to be potentially unwanted and possibly dangerous application – due to shady spreading methods. Although it is not directly dangerous since the program is unwanted and intrusive but not malicious browser-based threat shows dangerous advertisements and causes redirects to sites online that can include malware downloads or harmful material, in general.
Name
Finding Forms Pro
Type
Browser hijacker
Additional browser-based threats related to this PUP
Forms, Easy To Find Forms New Tab Search, Find Forms Easy
Symptoms
Program manipulates settings of the web browsing tools by redirecting the traffic to sponsored sites and changing the homepage, new tab, search engine preferences to its own search engine, or associated page. Browsing sessions get filled with commercial content and users are forced to visit advertising services, possibly harmful sites
Danger
There is no guarantee that online pages hijacker redirects to are safe and non-malicious. PUPs and third-party advertisers can access, track and collect data regarding users' preferences while browsing online and history of most viewed pages, searched items
Distribution
deceptive pages and shady freeware providers include these PUPs as additional features during the downloads of software and other programs. Also, web stores promote and distribute this browser hijacker as a valuable tool
Elimination
Finding Forms Pro removal can go smoothly if you rely on anti-malware tools and scan the system fully. This is how all the parts of this PUP get detected and terminated
Repair
Go through the settings of your browser manually and get a program like

Reimage

Reimage Cleaner

for system alterations made by the intruder. System cleaning applications can find and fix affected files or damaged Windows registry entries, reverse settings without causing additional problems
We should note that Finding Forms Pro is not a virus, but many AV engines consider the installer file of the browser extension possibly dangerous and even malicious.[1] This fact should raise many questions and make you more eager to get rid of the program if you installed it on the machine yourself or encountered shady symptoms ou of nowhere.
Finding Forms Pro content can lead to dangerous advertisements and other third-party sites where useless optimizers, system tools get promoted. Redirects can also be phishing sites or even malware-laced domains that trigger downloads of severe viruses and harmful, damaging programs.
The shady Finding Forms Pro is the PUP that can enter the system without permission and interfere with the performance before it even causes any symptoms that you can notice. It is easy to skip or miss through some steps during installations or even trigger the download automatically by clicking on some shady advertisements online. These are pretty common ways of PUP distribution used by developers and freeware providers.[2]
Finding Forms Pro affects browsing experience significantly, and it is not improving the experience by showing document template forms or any improved content. Even though it may seem as legitimate and useful, this application infiltrates the system stealthily and can hide without triggering any detections or showing particular installation pop-ups.
You should also note that this program promotes other sites, fake search engines, shows the content via those services and search pages, installs additional in-browser material. All the content can trigger ad-tracking activities and collect information regarding your browsing history or preferences. These details about your device, location, most viewed items, and visited pages can end up in the hands of malicious actors, so remove Finding Forms Pro as soon as possible.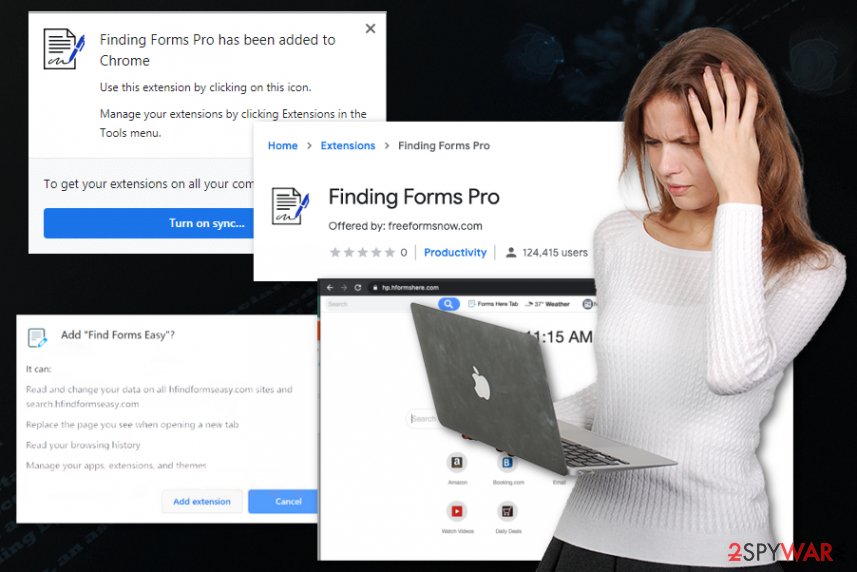 Finding Forms Pro is the potentially unwanted program that displays various pop-ups and agreements on the screen and alerts that application can make changes. These features frustrate people.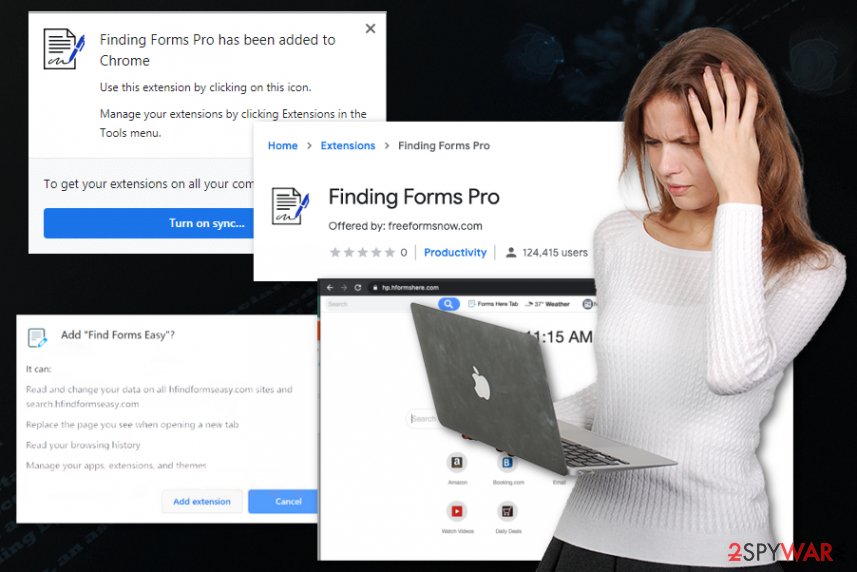 Finding Forms Pro is the potentially unwanted program that displays various pop-ups and agreements on the screen and alerts that application can make changes. These features frustrate people.
Finding Forms Pro hijacker promotes other programs and browser-based apps, sites that expose the user to the potentially dangerous material. However, the program itself can affect the performance of your machine significantly because it manages to:
replace new tab settings;
read your browsing history;
install extensions;
manage other add-ons on the machine;
display push notifications;
allow other sites to do so;
redirect through other pages.
Make sure to go straight to Finding Forms Pro removal when you find anything related to the intruder or notice the browser extension added out of nowhere without your permission. Even when the search engine resembles the official and legitimate ones like Yahoo or Google, Bing, make sure to note that there are no positive reviews online about the extension.
There are no reviews at all on the Chrome Webstore. That should raise some questions and encourage you to stay away from adding the extension on the web browser in the first place. In most cases, such intruders like Finding Forms Pro PUP give no value for the machine and are unnecessary, to begin with.
Also, we should mention that one of the silent but extremely dangerous PUP features that Finding Forms Pro also has is data tracking. This is the problem that can lead to advertising campaigns where you receive particularly targeted content or privacy issues or identity theft when sensitive data ends up in the wrong hands.[3]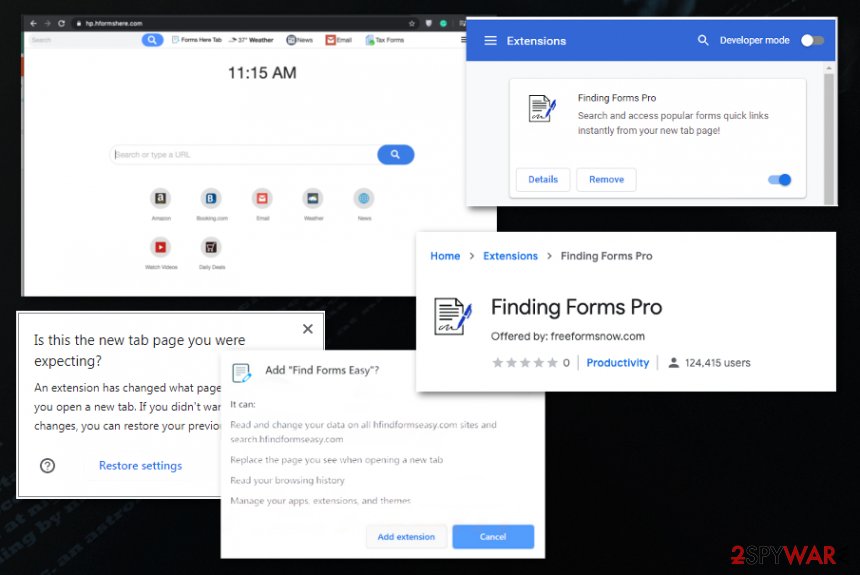 Finding Forms Pro is the browser extension that gets promoted as a valuable addition to your online sessions and should improve the performance, as developers claim.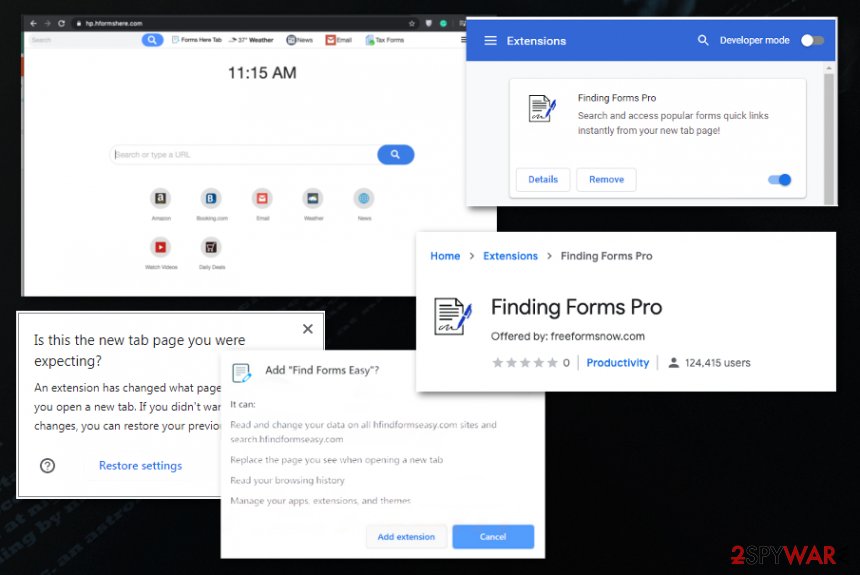 Finding Forms Pro is the browser extension that gets promoted as a valuable addition to your online sessions and should improve the performance, as developers claim.
Advertised as free extras PUP get automatically installed without your knowledge
Third-party applications mainly have the purpose of helping potentially unwanted programs to get on various systems and devices. Programs like this can be included in torrent packages, pirated software packs, or in bundles that provide freeware and other apps delivered from questionable sources.
Such tools that claim to improve users' experience also get promoted on various websites, advertisements, and redirects or even official websites created to promote the shady installs. Such ads lead to redirects, insecure websites, and some of them can trigger the installation of PUPs or even viruses.
Always choose the official provider of the program or developers' official page and rely on spruces that are somewhat trustworthy or verified by other well-known services and software providers. Also, choose Advanced or Custom installation options every time you add a new program or update the existing app. This way, you control the full list of included programs and decide what to get.
Clean the machine from any Finding Forms Pro PUP content
Make sure to completely remove Finding Forms Pro because any related file left on the machine can interfere with the performance or speed of your device, cause web browser issues. Also, changes made on the browsing tools and in system folders closely related to the persistence of this application.
Finding Forms Pro removal can be achieved quickly and successfully if you go through it properly. First, you need an anti-malware program and thorough system scan during with PUPs, and possibly dangerous intruders get detected and removed. Follow all the suggested steps and make the machine virus-free again.
Then terminate any Finding Forms Pro virus damage using a system optimizer or a cleaning utility that can find and fix damaged system files, registry entries, and similar issues.
You may remove virus damage with a help of Reimage Reimage Cleaner . SpyHunter 5Combo Cleaner and Malwarebytes are recommended to detect potentially unwanted programs and viruses with all their files and registry entries that are related to them.