Streampro.club is a deceptive website designed to make users subscribe to persistent notifications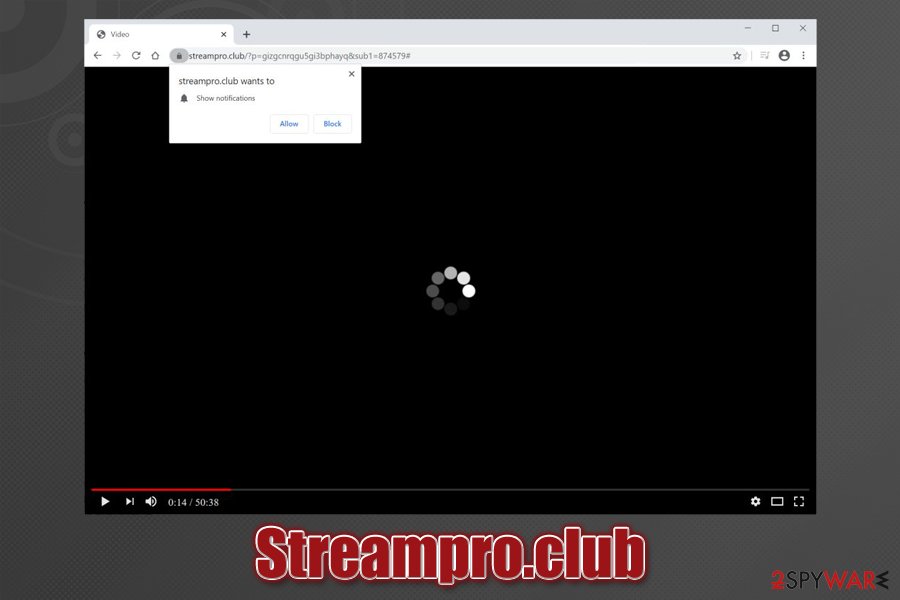 Streampro.club is a malicious website that uses social engineering on order to make users allow notifications to be shown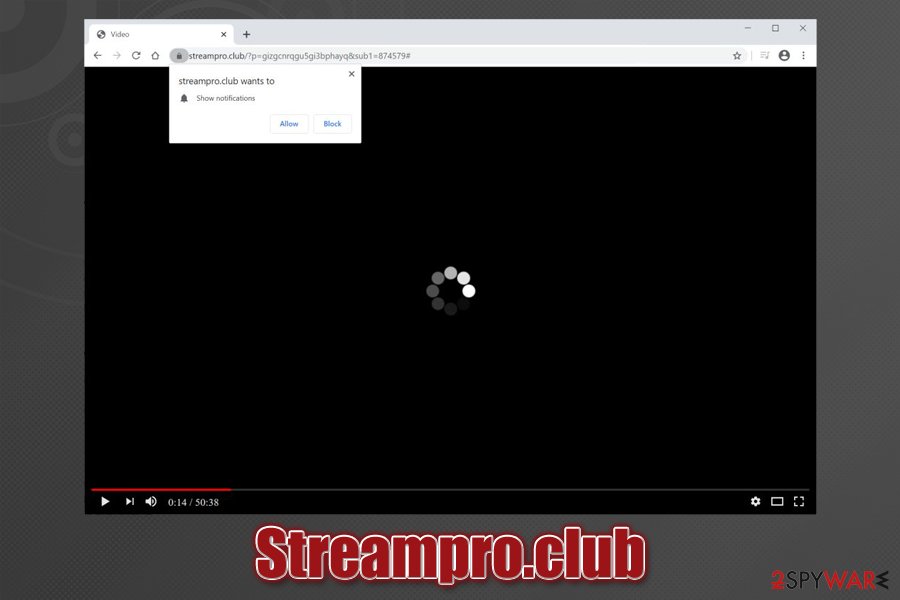 Streampro.club is a malicious website that uses social engineering on order to make users allow notifications to be shown
Streampro.club is one of a multitude of websites that are abusing a legitimate Google Chrome, Mozilla Firefox, Safari, or another browser's feature – push notification prompt. As soon as users access the site, they are presented with a fake notification or an allegedly loading video and are asked to press "Allow" in order to view the underlying content. However, this action only allows the malicious site to push unwanted Streampro.club ads that often contain malicious links, and these are displayed directly on users' desktops at any time.
While Streampro.club pop-ups might seem like a nuisance, clicking on links embedded inside might lead users to scam, phishing, fake tech support, and other dangerous websites. As a result, they might register for a useless service that will charge their credit cards monthly or download a potentially unwanted program that may corrupt users' computers. In most cases, Streampro.club removal can be achieved via the web browser settings, even though redirects may also be caused by potentially unwanted programs, presence of which that users are not aware of.
Name
Streampro.club
Type
Push notification virus, adware
Infiltration
Push notifications on the desktop are the direct result of pressing "Allow" after visiting a malicious site; adware is typically distributed within software bundle packages downloaded from third-party sites
Symptoms

After allowing notifications from a site, you permit it to display pop-ups directly on your screen, regardless of the web browser not being used. Adware symptoms include:

Redirects to suspicious domains;
Pop-ups, deals, offers, banners, coupons and other commercial content on all visited sires;
Changed homepage, new tab URL and the search engine of the web browser;
Slow operation of the web browser or difficulty to load some websites, etc.

Risks
Risks significantly increase if suspicious links are clicked – you may lose money due to scams, install PUPs/malware or disclose personal information to cybercriminals without realizing it
Termination
To stop Streampro.club desktop notifications, access your web browser's settings and get rid of the entry; for adware removal, either scan a computer with anti-malware or terminate the PUP manually – instructions listed below
System fix
If, after adware or malware removal, your computer is riddled with errors, crashes, and other stability issues, scan it with PC repair software

Reimage

Reimage Cleaner
Adware[1] is a so-called ad-supported software that relies on advertisements for monetization. Unfortunately, some ads may be way too intrusive or even dangerous. Besides, some PUPs may initiate redirects to sites that ask to enable notifications, including Streampro.club, Yaarileads.com, Qbirix.com, Easymedia2.com, and many others.
Typically, the developers of Streampro.club virus are using social engineering[2] tricks in order to pursue users into allowing notifications from the site. For example, they quite often imitate a legitimate verification process that many web browsers use to protect themselves from DDoS or other cyber attacks. Thus, upon accessing Streampro.club site, users may see the following message:
Click "Allow" if you are not a robot
In other cases, malicious actors try to convince users that, after clicking "Allow," they will be able to view 18+ content, which may seem like an attractive offer to some. Mostly, however, Streampro.club displays a fake loading screen of an alleged video, which will supposedly be launched as soon as notifications are permitted. As evident, regardless of which false statement is presented, users will never get the promised content and instead will be thrown into the same page – even if they press "Block."
In case you did allow Streampro.club notifications, your desktop will be filled with intrusive pop-ups on a regular basis, most of which will include links leading to dubious websites. Once again, these links are not safe to use, as they might show a "get rich quick" offer, where users are prompted to invest a certain amount of money for a particularly high monetary reward.
These scam sites also often include fake stories of famous people like Bill Gates, who allegedly is willing to share their wisdom about getting cash quickly (typically for minimal effort).[3] Don't rust these, as they are an obvious scam – you will not get tremendous amounts of money in just a few days – you will only lose yours without a possibility of getting it back.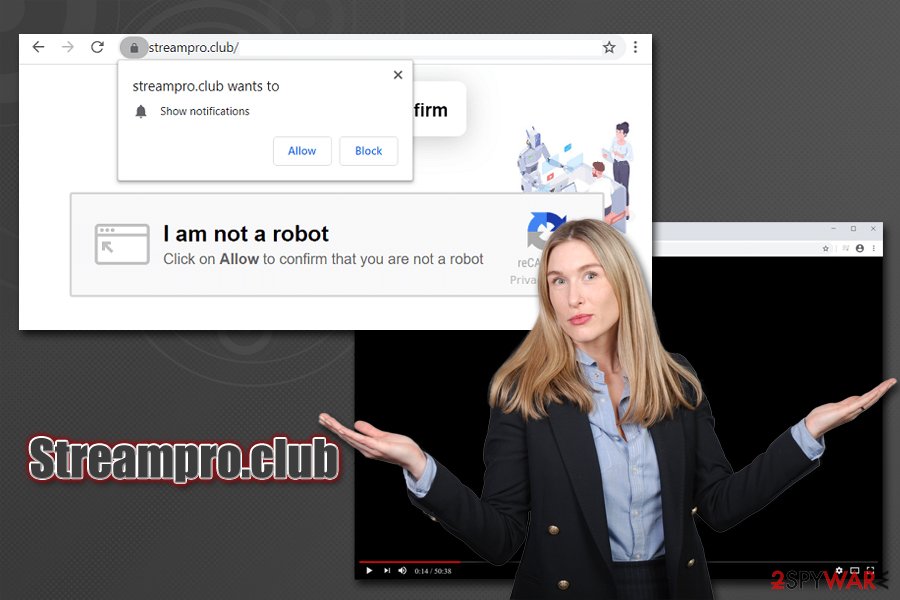 Streampro.club is a suspicious domain users who are infected with adware might be redirected to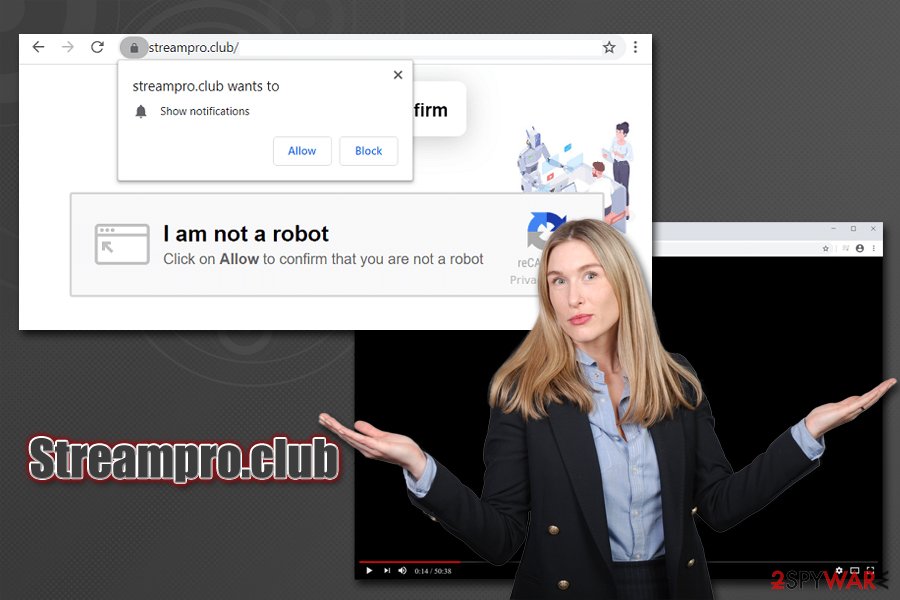 Streampro.club is a suspicious domain users who are infected with adware might be redirected to
Losing money is just one of many ramifications you might face if you start clicking on Streampro.club links. For example, you may also be tricked into installing potentially unwanted programs or even malware on your machine, which could result in disastrous consequences, such as sensitive data disclosure or even identity theft.
Therefore, if you downloaded any type of files and executed them, make sure you scan your computer with anti-malware software and remove Streampro.club virus automatically. Note that this may also terminate adware that might have been hiding in your system without your approval for awhile. Also, you might employ Reimage Reimage Cleaner if your system struggles after PUP or malware termination. Nevertheless, not all AV programs will detect adware, so you should also check our manual removal guide below and get rid of everything you do not recognize.
If you did not install anything and no adware that redirects to Streampro.club is present, you should simply access your web browser settings and get rid of the site's entry under the "Allowed notifications" section – we explain below how to accomplish that. Additionally, you can instead reset your browsers to get rid of the unwanted settings automatically.
Software bundle packages – the easiest way to infect thousands with adware
Unfortunately, not all application developers and distributors are all that fair, and cutting corners is what makes the most profit. Unlike goods that can be purchased physically, however, individuals' relation to apps can easily be disguised online. Therefore, there are plenty of low-quality programs that are allegedly free – these are often distributed via unofficial sources, such as third-party sites or online scams.
While monetizing via the ads is a legitimate business practice, in some cases, these ads are simply way too intrusive and untrustworthy, which puts users' online safety and computer security at risk – precisely these apps are typically marked as adware by security vendors. Seeking to reduce the abuse, Google and other legitimate sources do not distribute such applications, and they are swiftly removed if initial security checks fail to determine unwanted behavior.
However, third-parties are much less strict when it comes to security guidelines, so potentially unwanted programs might often be included there. To make matters worse, adware is also often inserted into a standalone installer and also hidden from users' sight during the installation process (pre-ticked boxes, misleading deals, misplaced buttons, and other tricks are often used).
Thus, be attentive when installing apps from third-parties, adware is common. Untick all checkboxes, read the fine print text, decline all the offers, and, most importantly, opt for Advanced/Custom settings instead of Recommended/Quick ones.
Get rid of Streampro.club push notifications and related programs
Streampro.club removal should not be difficult if you did not install anything suspicious after clicking on a link. Potentially, you could have installed malware that can be programmed to do a multitude of malicious tasks on your computer – and you will not even be aware of it. Therefore, never download unknown apps and install them without scanning the installer with anti-malware software. If you already did, hurry up and perform a full system scan using a comprehensive security application. In case you suffer from simple redirects to Streampro.club and similar domains due to adware, you can refer to our instructions below and uninstall it manually.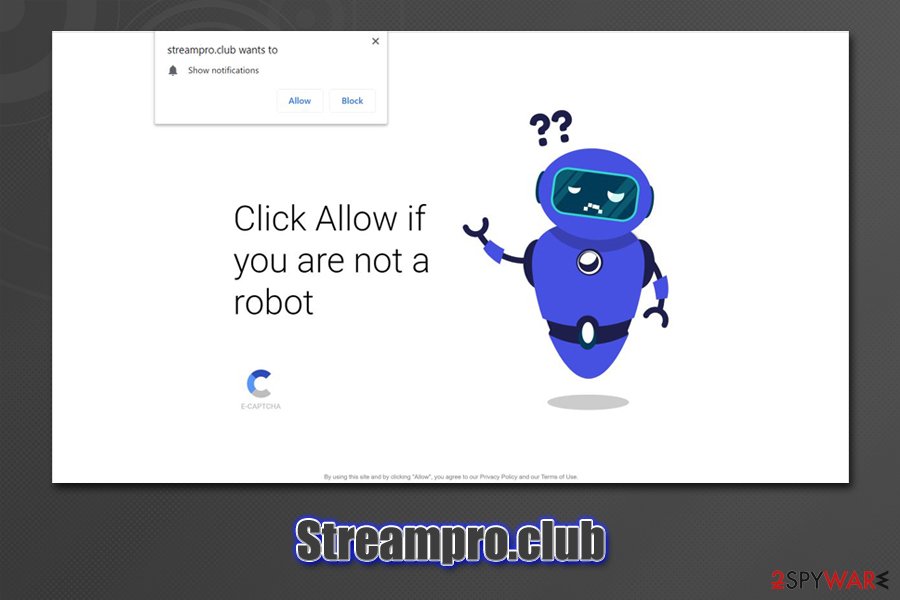 Streampro.club imitates legitimate verification feature to make users subscribe for intrusive notifications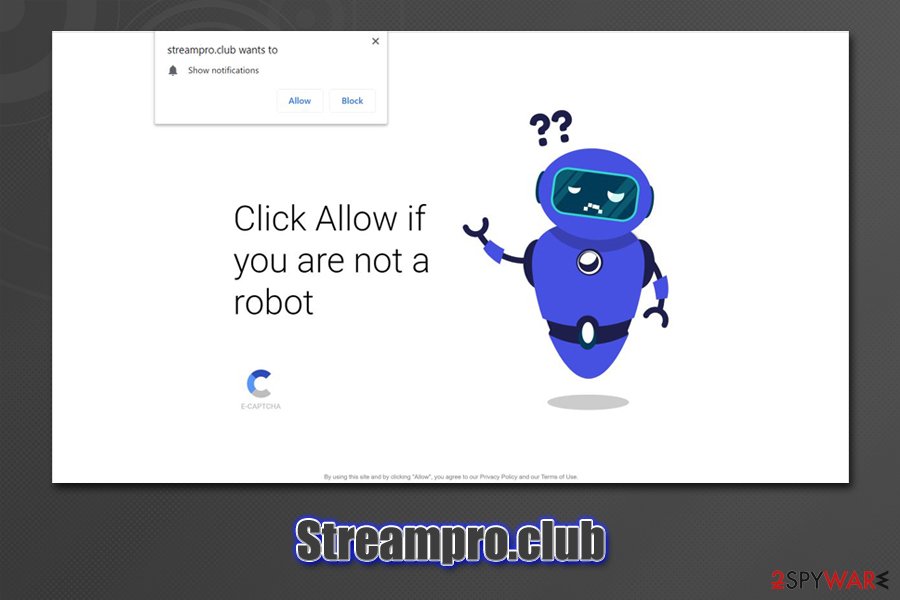 Streampro.club imitates legitimate verification feature to make users subscribe for intrusive notifications
You can remove Streampro.club pop-ups by removing it from the "Allowed" list within your web browser settings. Note that this method will help to get rid of site-related ads, but will not get rid of adware if it is present on the computer.
Google Chrome
Go to Menu > Settings
Scroll down and pick Advanced
Under Privacy and security, click Site Settings > Notifications
Under Allow section, you should see Streampro.club
Click More Actions and then select Block
Safari:
Go to Safari > Preferences…
Under Websites tab, pick Notifications
Pick Streampro.club and then choose Deny
Mozilla Firefox:
Pick Menu > Options
Choose Privacy & Security > Notifications
Select Settings – you should see Streampro.club entry
Click on the the drop-down menu and pick Block
Save Changes
MS Edge:
Go to More and pick Settings
Select View advanced settings
Click Advanced
Select Manage permissions
Locate Streampro.club and turn off notifications
You may remove virus damage with a help of Reimage Reimage Cleaner . SpyHunter 5Combo Cleaner and Malwarebytes are recommended to detect potentially unwanted programs and viruses with all their files and registry entries that are related to them.