Facebook Change Color virus is malware that seeks to steal your personal information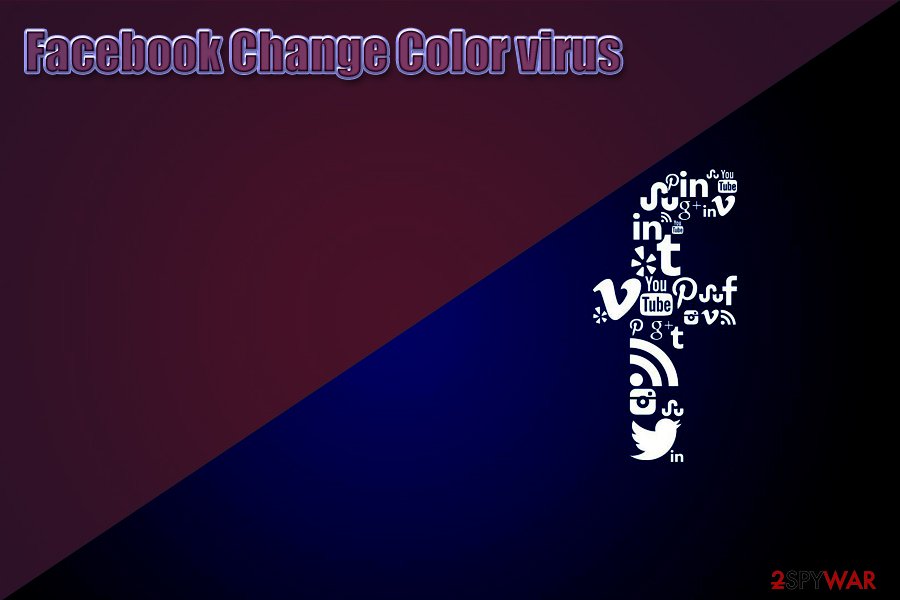 Facebook Change Color virus is a type of malware that is programmed to steal your Facebook credentials and other sensitive data
Facebook Change Color virus is a type of malware that has been trying to infect multiple users by using social engineering. Similarly to other Facebook virus variants, it uses embedded fake links to make users infect their computers with a data-stealing Trojan. As soon as those malicious links are clicked, victims' passwords, banking details, Facebook login information, and various other data might get compromised by cybercriminals. Besides, the jeopardized account is later used to deliver Facebook Change Color virus to victims' friends, hence they do not suspect anything initially.
Those who seek to customize their Facebook account are usually the ones that fall victim to Facebook Change Color virus, as the embedded link allegedly directs users to a page where they can choose another color for their Facebook profile. Additionally, the fake links might direct users to spoofing[1] and survey scams, where they might be asked to enter their account credentials or credit card details. In other words, Facebook Change Color virus authors seek to steal your information.
Name
Facebook Change Color virus
Type
Trojan, info-stealer
Targets
Facebook users on Android and desktop devices
Activities
Steals Facebook access tokens (passwords), installs other malicious apps, sends spam to other Facebook friends, spreading the infection further
Dangers
Sensitive information disclosure to third-parties or cybercriminals, installation of other malware, money loss, etc.
Removal
Download and install reputable anti-malware software and perform a full system scan; get rid of the app via your Facebook profile
Recovery
Some malware might serious damage system files, resulting in system crashes and other issues. To fix virus damage, scan your device with

Reimage

Reimage Cleaner
Initially, Facebook Change Color virus originated sometime around 2011, although it truly made into the news and other outlets in 2014, when security researchers from Cheetah Mobile reported about the issue. Nevertheless, it was and still is, yet another attempt to make users infect their mobile devices or computers with malware. At the time, the investigation revealed that more than 10,000 people got scammed and infected. Luckily, Facebook Change Color virus removal should not be a complicated task as long as a reputable anti-malware is employed. If you experience
The researchers who analyzed the Facebook Change Color scam claimed that crooks were abusing a vulnerability[2] within Facebook's app page:[3]
Once clicked, it leads users to a phishing website. Cheetah Mobile researchers have found this issue to be happening due to a vulnerability that lives in Facebook's app page itself, allowing hackers to implant viruses and malicious code into Facebook-based applications directs users to phishing sites. The code, pictured below, takes users who believe they are visiting the URL "apps.facebook.com/themsandcolors" and automatically reroutes them to a malicious phishing site.
Note that, after you remove Facebook Change Color virus, you should also reset your Facebook account password immediately, as your Facebook access token was most likely stolen during the infection process.
Facebook color change is impossible from within the platform, although extensions can be employed for such purpose
Facebook is one of the first social media platforms that expanded rapidly and never stopped doing so since then. Despite adding thousands of new features since its release, the platform still does not offer the background color change – most likely due to branding reasons, as the color blue became the company's trademark. Nevertheless, many users might still seek to change the color of their Facebook account to be different. Due to a lack of such features, however, cybercriminals find a way to infect users with malware, such as the Facebook Change Color virus.
When there is no possibility of changing Facebook color within the platform, there are several browser extensions that are known to do that easily. One of such most popular apps is Color Changer for Facebook – this app can be downloaded from Chrome Web Store. Once installed, you will be asked to log in to your Facebook account and then will be able to choose from a variety of colors.
However, you should never click on links on social networks or various websites that claim they can change the color of your Facebook account – it is most likely malware.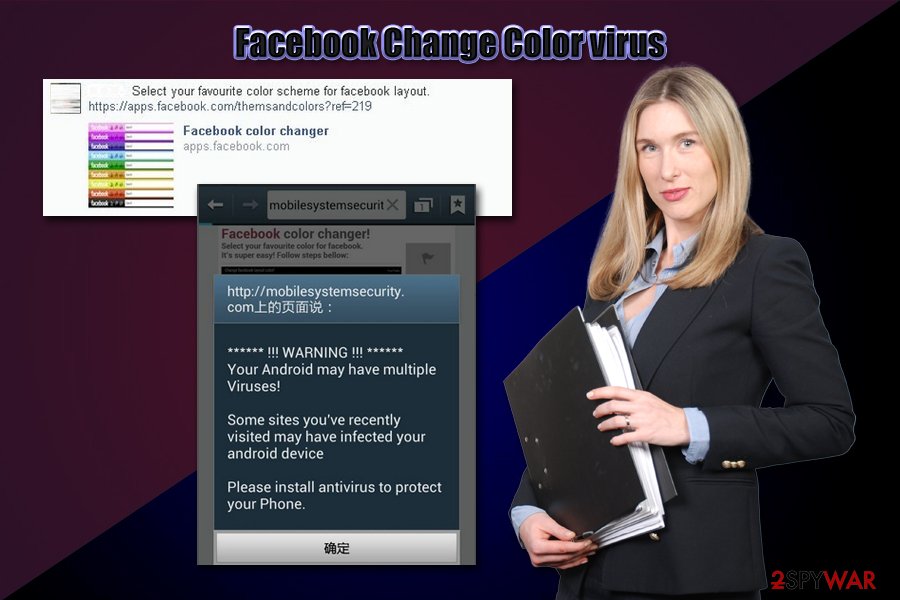 Facebook Change Color virus is a Trojan is spread via messages within the social media app
Social engineering is the strongest tool that cybercriminals use for malware propagation on Facebook and other platforms
Facebook Change Color virus tries to attack the system via a fake message offering to change the color of the profile. Typically, it comes from a familiar user that has already been infected by this scam, so there is a huge chance of falling for this threat. Here are some examples of Facebook Change Color scam:
Switch to Pink Facebook (Limited Time!)
(LINK)
Say goodbye to the boring blue profile and say hello to the pink profile!!
Switch to Red Facebook (Limited Time!)
(LINK)
Say goodbye to the boring blue profile and say hello to the red profile!!
Be aware that clicking on these links won't give you ability to change the color of your Facebook profile! You will only be asked to share this message with your Facebook friends and additionally will be asked to leave a comment and answer some questions on an online survey. Please stay away from Facebook Change Color virus and remove it if you have been tricked.
As evident, malicious actors employ social engineering[4] skills in order to make users click on malicious links. Therefore, even if the link comes from your trusted Facebook friend but seems suspicious, do not click on it. Instead, first talk to the person who is sending you the link, and make sure it is legitimate.
Another point to take into consideration is offers themselves: if its something you have never seen before or something that is hard to believe, it is most certainly is fake, and the authors of the link have some ulterior motives. In most cases, Facebook Change Color virus and similar malware seeks your personal information or access to your credit card.
Facebook Change Color virus removal guide
Because the Facebook Change Color virus is a Trojan, we highly recommend using anti-malware software for its termination. For example, you can try reputable apps like SpyHunter 5Combo Cleaner or Malwarebytes, although there are plenty of other tools that can work just as well and help you to complete the Facebook Change Color virus removal easily. Download the anti-virus, update it to the latest version, and scan your system entirely.
As previously mentioned, you should not forget to reset your Facebook password, as well as change it on all the other accounts that it is used on, as cybercriminals can sell it on the underground market for profit. As a result, multiple other accounts of yours could get compromised. As a remedy for this, never reuse your passwords and choose strong ones, with alphanumeric characters. Alternatively, you should use a password manager.
Note that you should also remove Facebook Change Color virus from your Facebook profile as well:
Click on the drop-down menu of your Facebook profile and pick Settings
On the left, click on Apps and Websites
Remove the Color Changer App by pressing Remove


Access your Facebook account and get rid of Facebook change color app
This entry was posted on 2020-01-28 at 09:03 and is filed under Malware, Viruses.