Windows Defender Browser Protection is a technical support scam that uses legitimate browser extension's name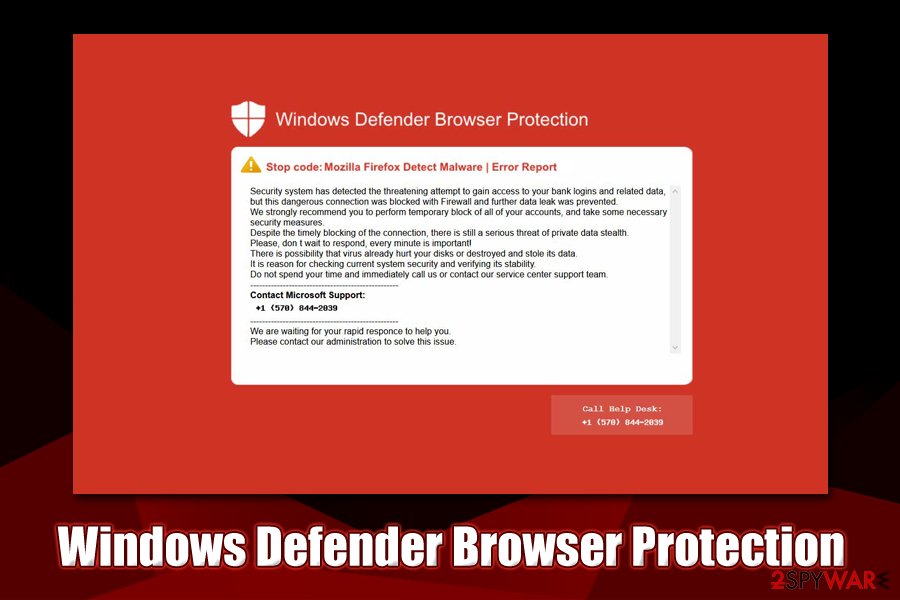 Windows Defender Browser Protection is a tech support scam which aims to intimidate users by claiming that their computer is infected with malware
Windows Defender Browser Protection is a fake notification that users may encounter while browsing the web on Google Chrome, Mozilla Firefox, Internet Explorer, or another browser. As soon as users enter a malicious website (which they might have been redirected to from another site or due to adware infection), they are being informed that their banking account information was in danger of being stolen, but the intrusion was supposedly stopped. However, Windows Defender Browser Protection red screen also claims that users' sensitive information is still in danger and that they should contact the tech support at +1 (578) 844-2039 help desk.
Under no circumstances call the provided number, as the person who picks up the phone will try to convince you that your machine is in grave danger due to some alleged malware infection. As evident, Windows Defender Browser Protection popup is just an online scam designed to trick you into paying fake tech support fees for crooks. Nevertheless, if you encounter the notification often, you should check your system for adware.[1]
Name
Windows Defender Browser Protection
Type
Tech support scam, online fraud message
Distribution
Online scams can be populated on any type of websites that users get redirected to by clicking a suspicious ad on another site or get redirected by adware which is secretly installed on their systems
Content
The message claims that Mozilla Firefox has detected malware on user's machine and that sensitive information is in danger until the call is made to an alleged Microsoft technician at +1 (578) 844-2039 (note: number may vary)
Associated risks
Money loss, sensitive information lead to malicious parties, installation of malware, identity theft
Error code displayed
System_Protect_-_PROTECT_ERROR_0xEB4748216
Termination
Simply because you see a Windows Defender Browser Protection scam message, it does not mean your machine is infected, although you should close down the tab that displays the alert immediately. However, you should make sure that adware is not involved – scan your machine with anti-malware or check our manual removal guide below
System fix
If despite checking and removing adware or malware from your machine, you are suffering from system crashes, BSoDs, and other issues, you can use PC repair tool

Reimage

Reimage Cleaner

to fix them
Initially, Windows Defender Browser Protection is a legitimate extension developed and released by Microsoft as a tool that could stop users from entering malicious websites and those of dubious content. The extension principle is simple: it blocks all the URLs that are included in Microsoft's database, [ironically] including the ones that push the fake Windows Defender Browser Protection red screen alert.
Therefore, those who never installed Windows Defender Browser Protection on their web browsers in the first place should be wondering why they see notifications from this app. The truth is that everything compiled on the alert is fake and not genuine. In fact, the Windows Defender Browser Protection popup is riddled with grammar and spelling mistakes, as well as various inconsistencies from a technical point of view, for example:
Windows Defender Browser Protection is a name of an extension, which would limit the credibility of the fake pop-up to those who actually have it installed;
The mentioned "Stop code" suggests that Mozilla Firefox has detected malware (regardless of which browser is used), while the phone number of the alleged support belongs to Microsoft;
Constant vague statements about the alleged malware infection: at some points in the Windows Defender Browser Protection error message it is claimed that the alleged virus has been stopped, while only a few sentences later, the user is informed that danger is not gone at all. So which one is it?
Aside from these traits of Windows Defender Browser Protection scam, you should also be aware that Microsoft (or Mozilla) would never provide a contact number. For that, error codes are used, and the legitimate tech support has other means (such as email) to contact its users.
Finally, you should always remember that every single message that claims your computer is infected with viruses is bogus, as it is virtually impossible to detect malware via the browser unless a remote connection is established to the device. Speaking of which – if you would call scammers[2] behind Windows Defender Browser Protection alert, they would most likely ask you to allow them to connect to your computer remotely via TeamViewer or similar software.
After that, crooks would show you various files or connections that are allegedly made by cybercriminals, and that their tech support would take care of the matter, only after payment is made, of course. In some cases, the criminals could ask you for as much as $1,000 for their "services." Therefore never engage in any talks with these scammers and simply remove Windows Defender Browser Protection popup message by closing down the malicious site that is showing you the red screen notification.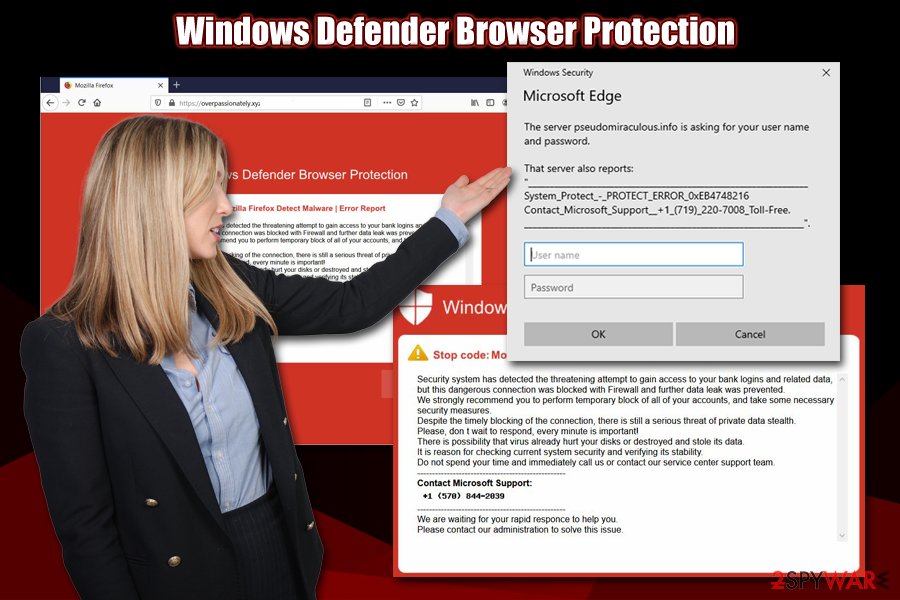 Windows Defender Browser Protection is a fake notification that tries to make users call alleged Microsoft tech support
Nevertheless, Windows Defender Browser Protection removal might not be over yet, even if this is the first time you encountered this fake alert. You should still check whether your system is clear from adware – this software is often to blame for redirects, banners, offers, coupons, and other potentially malicious content being displayed to you.
To get rid of adware, which leads to dangerous sites displaying Windows Defender Browser Protection scam, you should check the installed application list and uninstall everything suspicious. In other cases, the culprit could be a browser extension, in case of which you should reset your installed browsers. If you still suffer from system slowdowns and are seeing errors regularly, there might be a technical problem that could be fixed with a repair tool like Reimage Reimage Cleaner .
Social engineering is a tool that help crooks earn millions each year – don't fall a victim
Online scams are incredibly prevalent; there are multiple stories online on how the law enforcement managed to stop another Indian-based call center that specializes in scamming users.[3] However, the sad truth is that all of these crooks will never be stopped, and online fraud will continue – unless the internet shuts down globally for some reason, which is highly unlikely to happen.
Therefore, the best way to protect yourself from online scams is to learn about them as much as possible. As we previously mentioned, threat actors often use familiar names such as Microsoft or Google in order to make users believe that the message is legitimate. Also, fake alerts often include bogus claims about virus infections and are riddled with various mistakes.
Additionally, one more important note that could help you to detect scams is the domain name which the alert is displayed from – these often are completely unrelated to Microsoft, Apple, or other reputable companies. Nevertheless, you should be aware that crooks might incorporate these words within a bogus URL, such as Apple.com-clean-os.live.
While knowing about scams is important, it is best not to encounter them in the first place to avoid confusion. For that, you should avoid all the potentially unwanted programs by carefully installing apps from third-parties (remove ticks from pre-ticked boxes, read fine print, watch out of misleading deals, and always pick Advanced installation settings instead of Recommended when prompted), and also install security tools that could aid you with computer and browser protection – anti-malware, firewall, and the ad-blocker.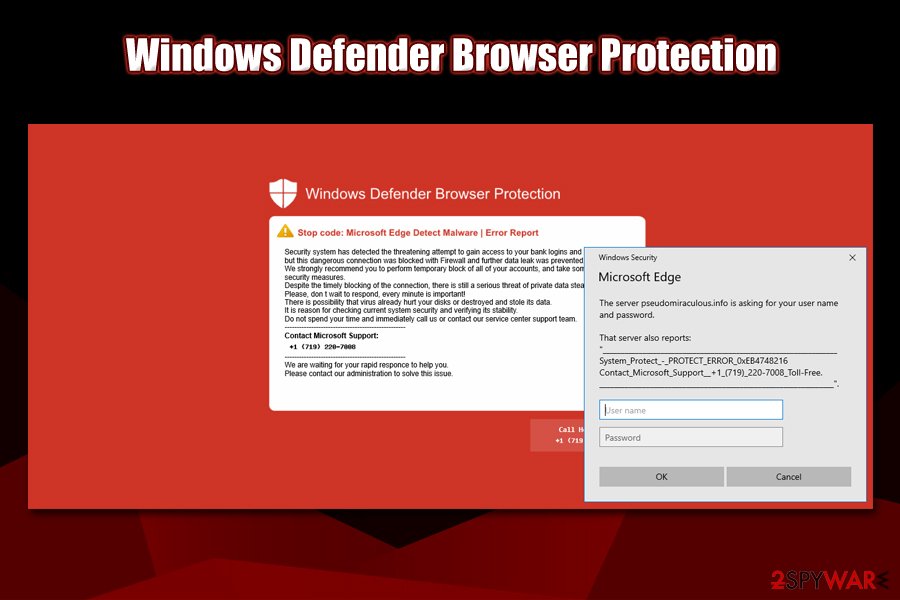 Windows Defender Browser Protection fake alert is presented on the ed screen, immediately causing uneasiness among users (especially those not familiar with online fraud)
Get rid of Windows Defender Browser Protection root cause – adware
While there is no rule that you are definitely infected with the Windows Defender Browser Protection virus (namely, adware), you should be cautious, as PUPs often travel within software bundles,[4] which hinders users' ability to stop them on time before they are installed automatically. As mentioned above, you should never rush while installing freeware from third-parties.
Therefore, to remove Windows Defender Browser Protection related adware, you should either check the installed program list and uninstall everything suspicious or make use of anti-malware software. Note that not all security software can detect potentially unwanted programs, so you should employ one that has the feature or specializes in PUPs.
If your system was indeed infected with adware, you should also make sure that you reset all the installed browsers after Windows Defender Browser Protection removal, as explained in the instructions below.
Finally, if you called cybercriminals and provided them with any type of sensitive information, you should think of preventive actions to protect yourself: contact your bank and explain that you have been scammed online, change your passwords and report the encounter to your local authorities that handle fraud.
You may remove virus damage with a help of Reimage Reimage Cleaner . SpyHunter 5Combo Cleaner and Malwarebytes are recommended to detect potentially unwanted programs and viruses with all their files and registry entries that are related to them.