Instant Apps Android virus is a term used by users to describe suspicious background downloads on their devices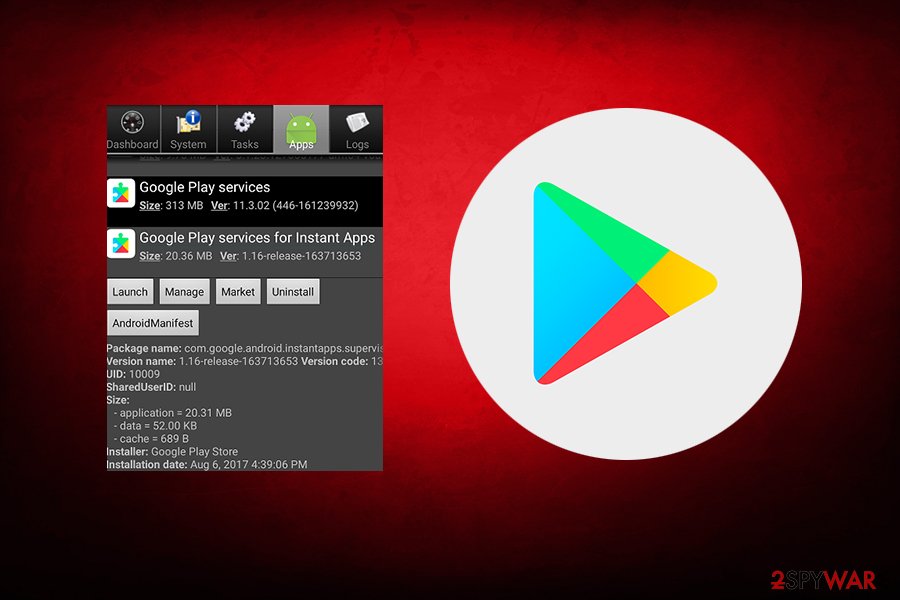 Instant Apps Android virus is a term that users use to describe unknown background installations on their phones or tablets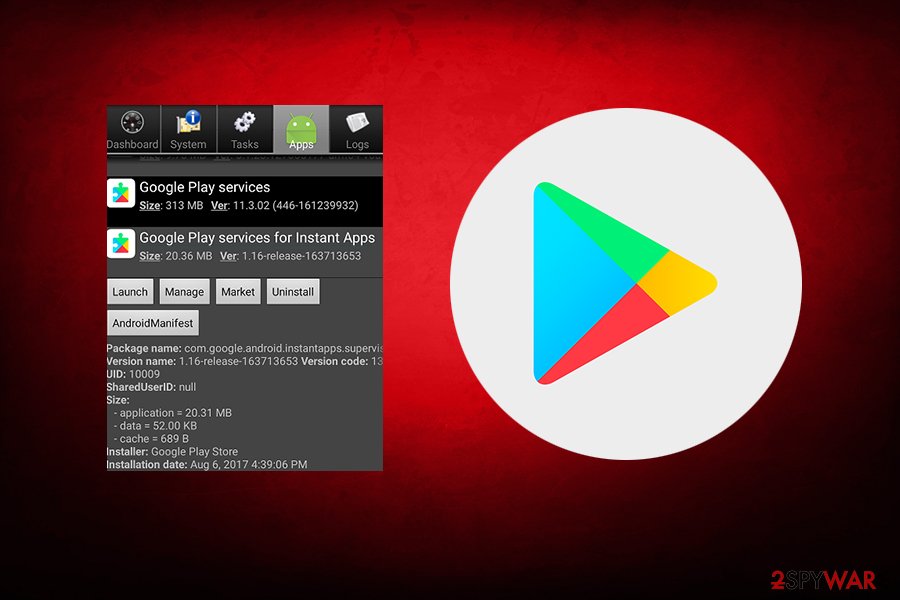 Instant Apps Android virus is a term that users use to describe unknown background installations on their phones or tablets
Instant Apps is a feature that allows most Android users to try out various apps without having to install them on their devices. This new and innovative technology works similarly like users visiting a web page on a particular site – it is gone as soon as the tab is closed. This cloud-based feature is provided by Google and can be download via the official Google Play Store. Once installed, it allows users to press the "Try it now" button instead of using the regular "Install," which makes it much more convenient.
However, users started to spot some suspicious activities on their phones – such as Google Play services for Instant Apps installing automatically without permission – and questions like "Is Instant Apps a virus?" piled up very quickly. Additionally, there were several security questions raised about the feature, as it could potentially allow the attackers to install malware without user consent. In March 2019, a security vulnerability within Instant Apps was also discovered, which allowed the attackers to steal authentication tokens and browser data like cookies.[1] While the Instant Apps Android virus term might seem strange, we are here to explore how safe it is to use and whether you should be concerned about these issues.
Name
Instant Apps
Function
Legitimate Google feature which allows to try out apps on Android without having to install them
Release
May 18, 2016 by Google Inc.
Concerns

Users complained that the so-called Instant Apps Android virus is being downloaded on their device without permission
Vulnerabilities on the service were discovered (CVE-2019-5765), which allowed the attackers to harvest sensitive information from devices that were not patched with latest updates

Solution
In some cases, the updates can be stopped by clearing Google Play services' cache and data
Optimize
To optimize your device, download and install

Reimage

Reimage Cleaner

Intego
Generally, Instant Apps is not a virus, and users should be aware that the feature is developed by Google, the biggest player in the IT business. The company always takes extensive precautionary measures in order to protect users from potential dangers, although even a company like that cannot keep all the adware and other malicious apps aware from its official stores at all times.
There are several concerns from the users about the Instant Apps Android feature, as they did not enable it or download it themselves. According to users, they were receiving the "Installing Instant App" pop-up notifications via their Android phones and claimed that these actions were initiated without their permission.
One user on Stack Exchange was especially concerned about the feature, as he claimed that the app simply reinstalls itself after a full Instant Apps removal is performed. Additionally, the user also claimed that the functionality of such a useful application like a Firewall was broken:[2]
"Google Play services for Instant Apps" has installed itself onto my device without my permission. It broke functionality of my firewall (AFWall and couple of other apps). And it is updating itself and other apps/components without permission. When I uninstall this component, it downloads itself again and installs right back. (That is, most likely it is "Google Play services" that's actually doing this in the background)
Thus, users even claimed that Google Play services for Instant Apps were behaving like malware – updating itself without permission. However, it is important to understand that Android OS is constantly being improved by the developers, and some features are included as mandatory additions. As a result, users cannot remove Instant Apps from their devices, as the feature is updated via the Google Play services automatically.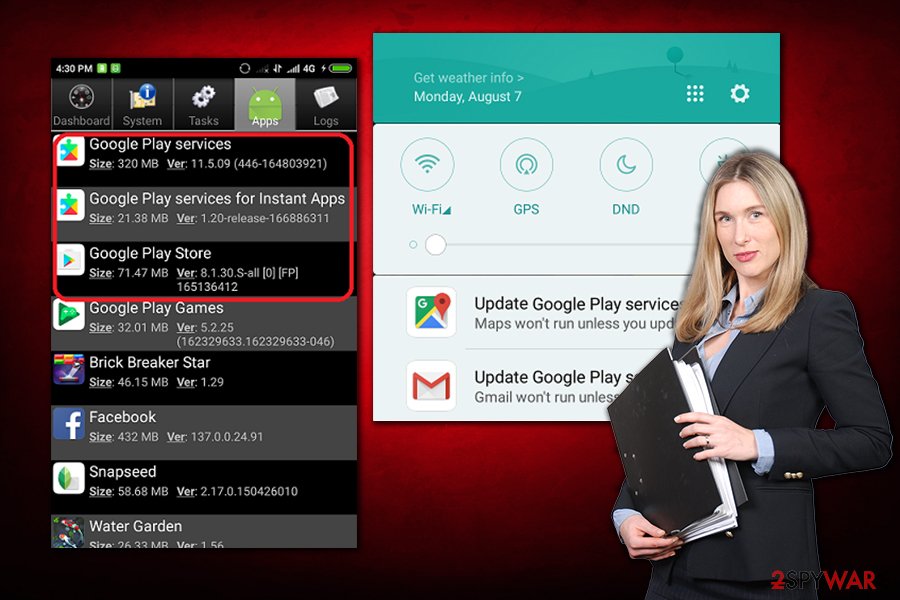 Instant Apps is not a virus, and users should be safe as long as they have their Android operating system running on the latest version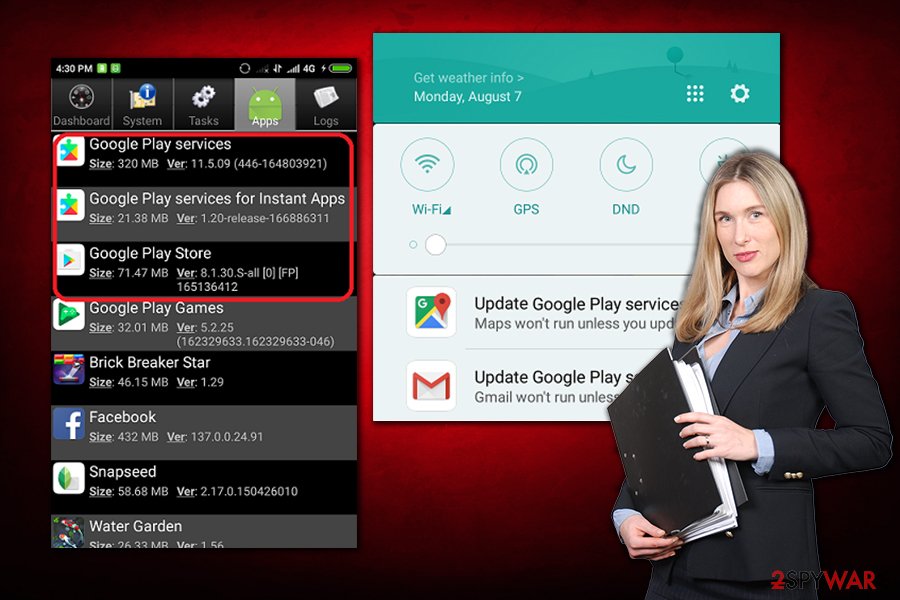 Instant Apps is not a virus, and users should be safe as long as they have their Android operating system running on the latest version
If you see a pop-up on your phone, do not thing that it is Instant Apps Android virus, as it is a simple update brought to you by Google. However, you should also be aware that vulnerability inside the operating system was detected in March 2019, and you should ensure that it is patched.
The vulnerability CVE-2019-5765[3] would allow the attackers to abuse Instant Apps's or WebView component to break into users' devices and steal sensitive information from it. For example, an authentication token could be stolen, providing attackers broader access within the device.
Keep your Android phone safe from unwanted apps and malware
Mobile devices such as phones or tablets are now powerful machines that employ processors and other components that are typical for desktop computers. Thanks to touchscreen, users can operate these gadgets exactly the same way as they would a desktop or a laptop. Since many are using phones to pay bills, order items online, use all email attacks and perform other actions, these devices become extremely valuable to malicious actors. Android malware has been on the rise for many years now, so you should ensure that your phone is adequately protected from these attacks.
First of all, we highly recommend not to download applications from third-party sources. Androids even block such actions by default, so users need to turn it off in order to install applications from other than Google Play. Unfortunately, many do download pirated apps on their devices to avoid payments for the software. In other cases, users simply want to try apps that are not available in Google Play Store.
However, third parties should never be considered secure, as malicious actors often place malware-laden apps, and users download them without them suspecting anything. As a result, Android viruses like Trickbot, Xhelper, Cerberus, and many others, might be transferred to users' phones in the background.
Thus, better stick to Google Play – the IT giant, while not perfect, applies the best security measures in order to protect users from harmful apps. Other security tips include:
Install a robust security application to prevent malware from being injected into the phone automatically;
Ensure that your Android phone is patched and the latest updates are applied.
Instant Apps Android virus elimination
While there is no way to remove Instant Apps Android virus per se, there are certain things that you could try. If you see strange behavior besides Google Play Services update in the background (for example, an extreme amount of intrusive advertisements, quick battery drain, browser redirects, and similar actions), you should ensure that your phone is not infected with malware.
For that, we recommend download and installing reputable anti-malware software and performing a full system scan. The tool can detect and eliminate invisible malware components if such are present on the device. Also, we would recommend clearing the cache and data of Google Play Store, Instant Apps, Google Play Services, and Google app. Here is how:
Go to Settings and select Applications/Apps
Tap on See all apps
Go to Google Play Services
Pick Storage and cache
Clear both storage and cache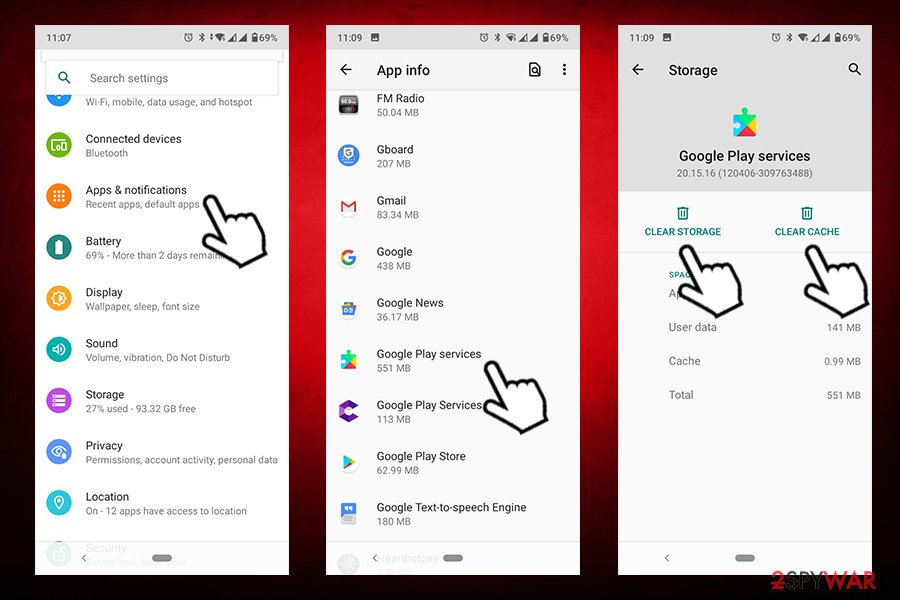 Scan your phone with anti-malware and clear cache and data from all Google-related apps if you suspect that your device is infected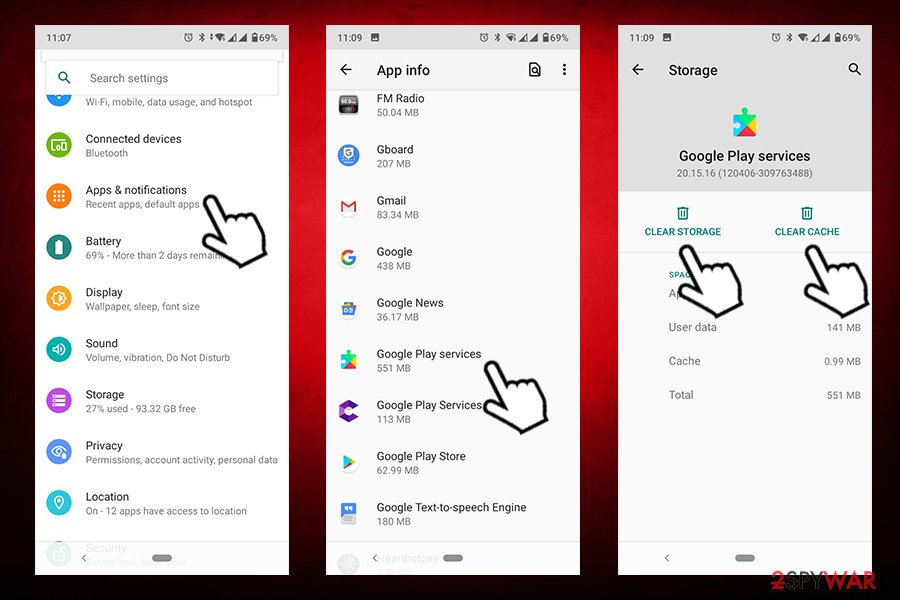 Scan your phone with anti-malware and clear cache and data from all Google-related apps if you suspect that your device is infected
This entry was posted on 2020-05-28 at 03:48 and is filed under System tools, Viruses.