COVID-19 Pandemic email virus is a term used to describe malware that is included in phishing emails related to coronavirus pandemic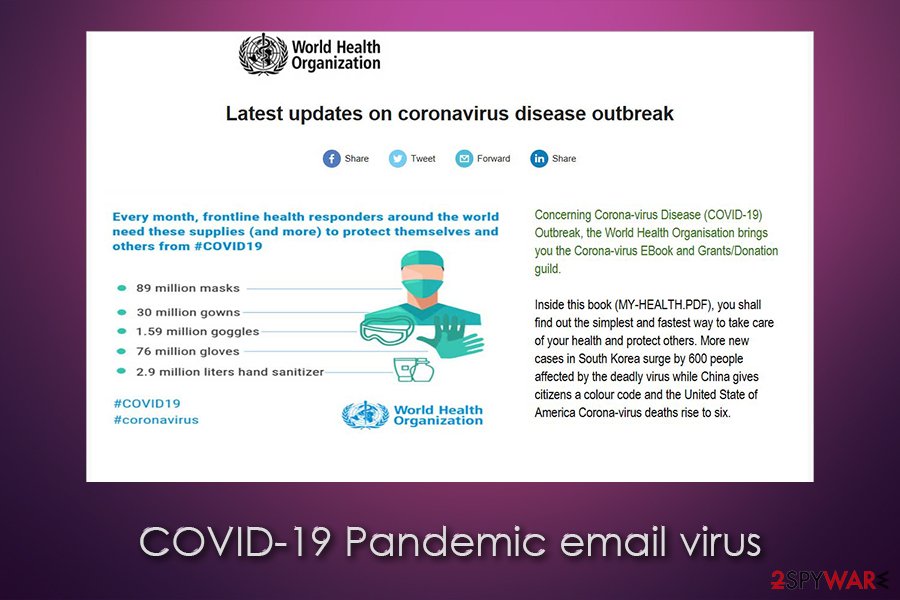 COVID-19 Pandemic email virus is malware that is capable of stealing sensitive information from the infected machine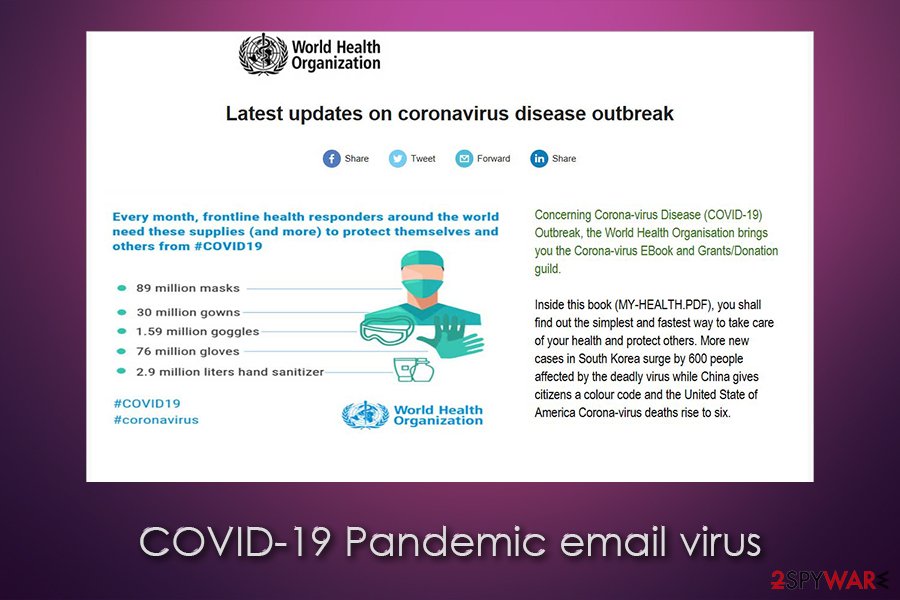 COVID-19 Pandemic email virus is malware that is capable of stealing sensitive information from the infected machine
COVID-19 Pandemic email virus is a malicious program that users might install on their machines after being tricked by a phishing email. During the coronavirus outbreak, the number of phishing emails allegedly coming from such organizations like WHO (World Health Organization) or CDC (Centers for Disease Control and Prevention) grew rampant,[1] as multiple malicious actors are seeking to gain financial benefit. By boobytrapping malware inside, COVID-19 Pandemic email virus authors deliver such infections like FormBook Trojan – its main goal is to steal a variety of sensitive information on users' machines.
In this article, we will explain how to the Trojan can affect your computer system and your personal safety, and how to remove COVID-19 Pandemic email virus from your system for good. Additionally, you can also check on some tips on how to prevent being infected via coronavirus-themed scams.
Name
COVID-19 Pandemic email virus
Type
Malware, phishing email
Associated malware
Once executed, the email attachment installs the data-stealing Trojan FormBook
Related
New Order.img, MY-HEALTH.PDF, MY-HEALTH.exe, Untitled attachment 00012.zip
Infiltration
Spam emails that come from alleged global health organizations or known companies
Symptoms
While Trojans are designed to remain unnoticed on the system, users might find some traces of the info-stealing malware, such as strange browser behavior (slowness, redirects, inability to access particular sites), software or system crashes, unknown processes running in the background, etc.
Risks
Significant monetary losses, identity theft, data compromise, other malware infection
Removal
In some cases, termination of malware might be tricky, as Trojans might use several security tool disruption techniques to remain unnoticed. Nonetheless, the most up-to-date anti-malware software should be able to find and eliminate all malicious files placed by the virus – you can find more details in the bottom section of the article
System fix
Trojans can disrupt the normal operation of the Windows system, even after its termination. Thus, if you experience system crashes, lag, or other stability issues after you get rid of the virus, employ

Reimage

Reimage Cleaner

Intego to repair it promptly
Phishing campaigns have been prevalent since pandemic's begging, as the issue is extremely sensitive and, thanks to mass media, is extremely relevant. It is no surprise that threat actors are trying to abuse the worldwide trends and even a pandemic in order to infect people with malware, and the COVID-19 Pandemic email virus is one of them.
The phishing campaign of the COVID-19 Pandemic email virus was first spotted in early March 2020, and there are also a few different versions of it available. Despite that, all of the variants focus on a pandemic and carry the malicious payload within the attachment of the email.
Victims are presented with an email that overall looks legitimate, as it includes information about the COVID-19 pandemic. The sender, which seems to be the WHO from the first sight, sends the email with "high importance" and titled it as "Coronavirus Updates." The message looks very professional, so it is not surprising that many users can get caught off guard and install the COVID-19 Pandemic email virus unintentionally.
The contents of the COVID-19 Pandemic email are as follows:
Latest updates on coronavirus disease outbreak

Concerning Corona-virus Disease (COVID-19) Outbreak, the World Health Organisation brings you the Corona-virus EBook and Grants/Donation guild.

Inside this book (MY-HEALTH.PDF), you shall find out the simplest and fastest way to take care of your health and protect others. More new cases in South Korea surge by 600 people affected by the deadly virus while China gives citizens a colour code and the United States of America Corona-virus deaths rise to six.
In reality, the so-called MY-HEALTH.PDF is not actually a PDF but an .EXE file, which, once clicked, will begin to infect the computer with malware. Note that there are also several spelling mistakes within the text – yet another reason to be suspicious.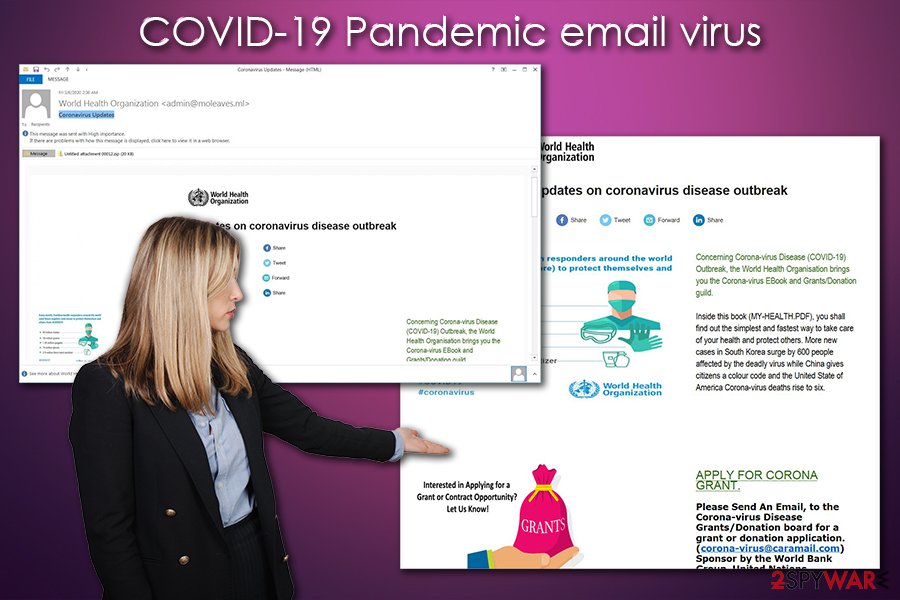 COVID-19 Pandemic email virus is a malicious email that delivers FormBook Trojan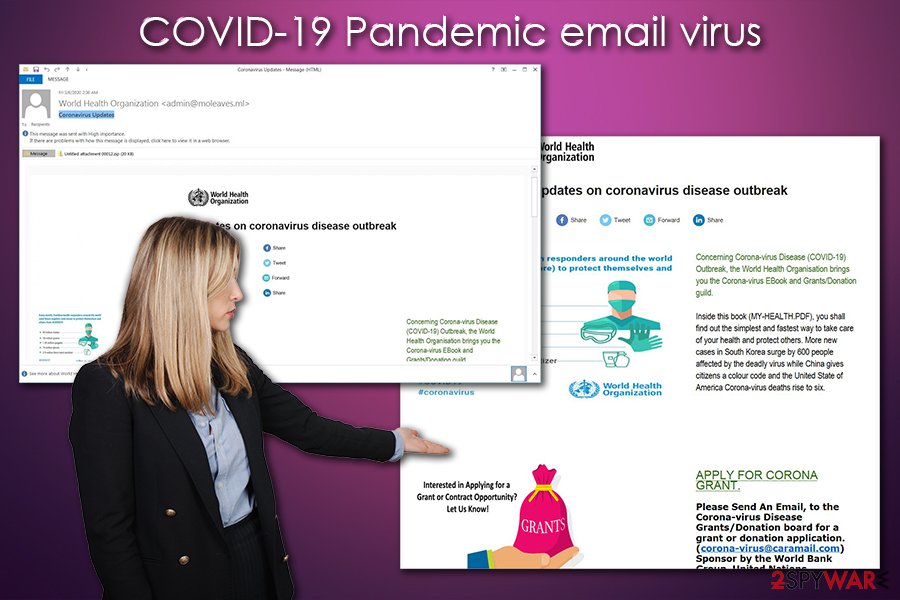 COVID-19 Pandemic email virus is a malicious email that delivers FormBook Trojan
In other cases, users might also be presented as a purchase order that is coming from a well-known organization or another attachment. As research shows, other file types, such as .IMG, .PDF, .DOC, .XLS, .RAR, .ACE, and .ISO, was also used to initiate the infection process of the COVID-19 Pandemic email virus.
FormBook is not a new malware in the cybercriminal scene – it first emerged in early 2016 and since then has been highly advertised on the underground hacking forums. This technique allows all types of cybercriminal groups to rent access to the malicious code and retain all the profits from it.
COVID-19 Pandemic email virus possesses an array of various capabilities, including:
Taking screenshots
Keylogging
Stealing passwords from emails and browsers
Grabbing information from the clipboard
Grabbing HTTP/HTTPS/SPDY/HTTP2 forms and network requests
Updating itself
Clearing browser cookies
Removing itself from the infected system
Downloading additional files, etc.
Security researchers from FireEye, who analyzed the malware in 2017, said the following:[2]
The malware injects itself into various processes and installs function hooks to log keystrokes, steal clipboard contents, and extract data from HTTP sessions. The malware can also execute commands from a command and control (C2) server. The commands include instructing the malware to download and execute files, start processes, shutdown and reboot the system, and steal cookies and local passwords.
Without a doubt, the infection can cause significant financial losses to any victim infected. Besides, disclosure of personal email, name, address, social security number, credit card information, and other data might also eventually lead to identity fraud or theft. In other words, COVID-19 Pandemic email virus removal is a mandatory procedure to prevent unfortunate consequences of a Trojan infection.
Note that, due to process injection, the COVID-19 Pandemic email virus might remain unnoticed for a very long time, performing malicious activities in the background. This is another reason to keep a comprehensive security solution installed on your system at all times. For virus damage fixing, we recommend using Reimage Reimage Cleaner Intego or similar repair software.
Learn to recognize malicious spam emails
First of all, you should keep in mind that all "big things" that are happening in the world will always attract cybercriminals, and they will keep abusing the popularity of a topic, an application, a company, or the latest video game which spiked in popularity.[3] Therefore, whenever you are dealing with online content, such as various websites and emails, you should keep that point in mind. There are several preventive measures that can be practiced to avoid malware online. Despite that, the most relevant is familiarization with the latest security threats, and attentiveness while browsing the internet.
Phishing emails are particularly dangerous and prevalent attack vectors for malware distribution, mainly because they are easy to use, and are still very effective. Besides, the process can be simplified with the help of botnets that can send thousands of emails automatically on a daily basis. As a result, even if not all malicious emails result in the infections, the small percentage of people that do open the attachment, is still significant enough for threat actors to gain the maximum amount of profits. Luckily, many email providers employ built-in malware scanners, which would immediately send most of the malicious emails to a Spam folder and mark them as potentially dangerous.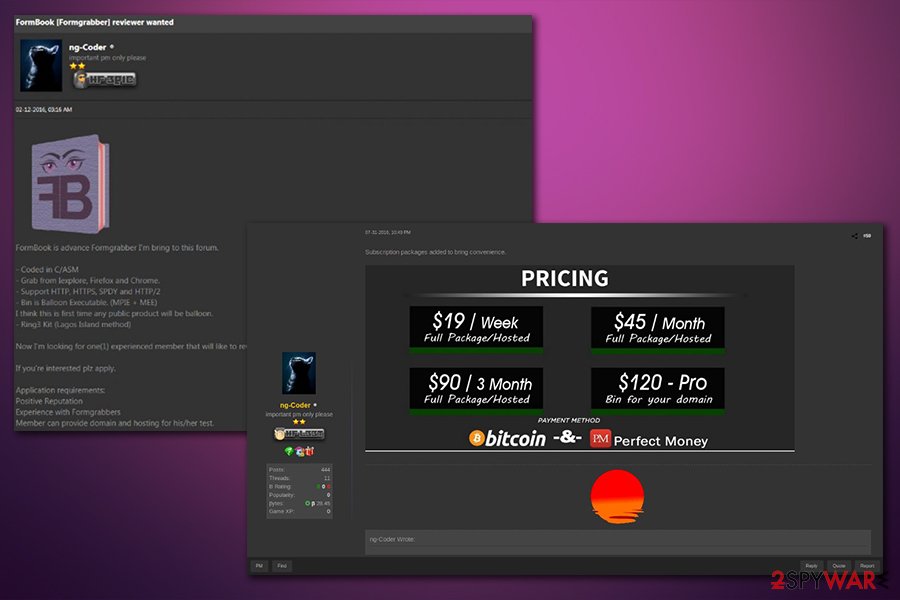 Developers of FormBook advertising the malware on underground forums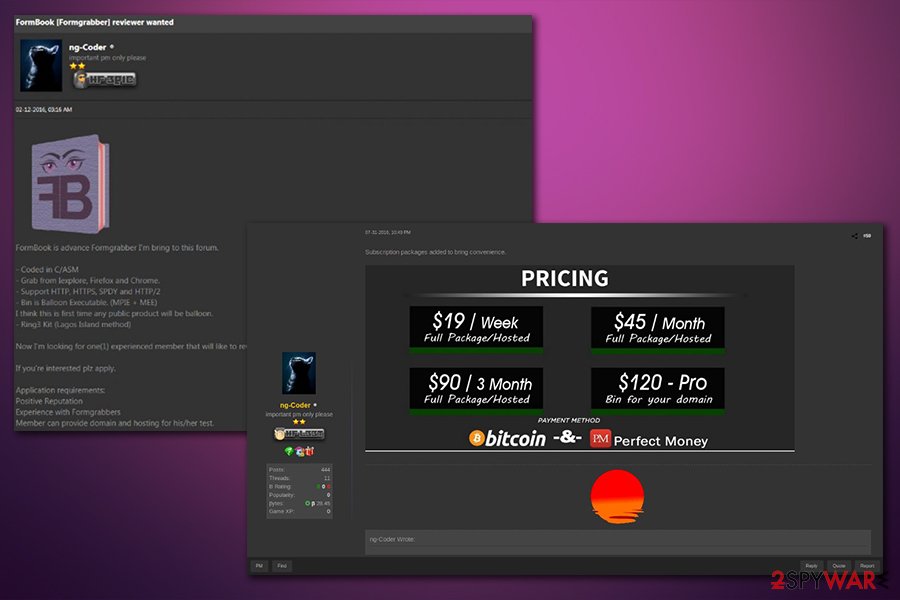 Developers of FormBook advertising the malware on underground forums
In most cases, phishing emails contain a familiar sender name – such as the World Health Organization. However, it is important to now that anybody can use the name of whatever they want. In other words, look at the precise email address instead of the name of the sender. Note that the attackers often use similar email addresses that might look legitimate, but usually have duplicated letters or similar inconsistencies.
Most of the malware payloads are delivered through the attachments, so they are a vital part of the infection chain. These attachments can come in different formats, and function differently. For example, macro-infused .doc and .xls files might ask to "Allow content" to proceed, while other documents may include links to malicious domains. All in all, you should never trust email attachments, even if they come from seemingly secure sources. Thus, simply scan it with anti-malware software or upload it to Virus Total before opening. Finally, equip your computer with anti-malware to protect it from unsolicited intrusions via phishing emails.
Terminate COVID-19 Pandemic email virus and remediate your computer
If COVID-19 Pandemic email virus removal is not performed as soon as possible, it can steal a variety of information from your system. Unfortunately, you might not even notice that the malicious program is running in the background in the first place, as Trojans are designed to be stealthy. However, COVID-19 Pandemic email virus, once inside the system, might show the following symptoms:
slow operation of the browser
difficulty to access some websites
software or/and system crashes
system lag, errors, bugs, etc.
Regardless if you experience these symptoms or not, you should remove COVID-19 Pandemic email virus with the help of security software only – we recommend using SpyHunter 5Combo Cleaner or Malwarebytes, although there are plenty of other effective tools as well. Nevertheless, since FormBook is a multi-functional Trojan with plenty of evasion capabilities, it is recommended to access Safe Mode with Networking and initiating a full system scan with anti-malware.
Once you eliminate the COVID-19 Pandemic email virus, you should also take additional steps to secure all your accounts – change passwords and monitor your online banking transactions. In case you notice anything suspicious, contact your bank and explain the situation, the stall will be able to assist you with the situation further.
This entry was posted on 2020-04-29 at 10:29 and is filed under Malware, Trojans, Viruses.