Y2Mate is a website offering illegal video converter functions and redirecting to adult and gaming sites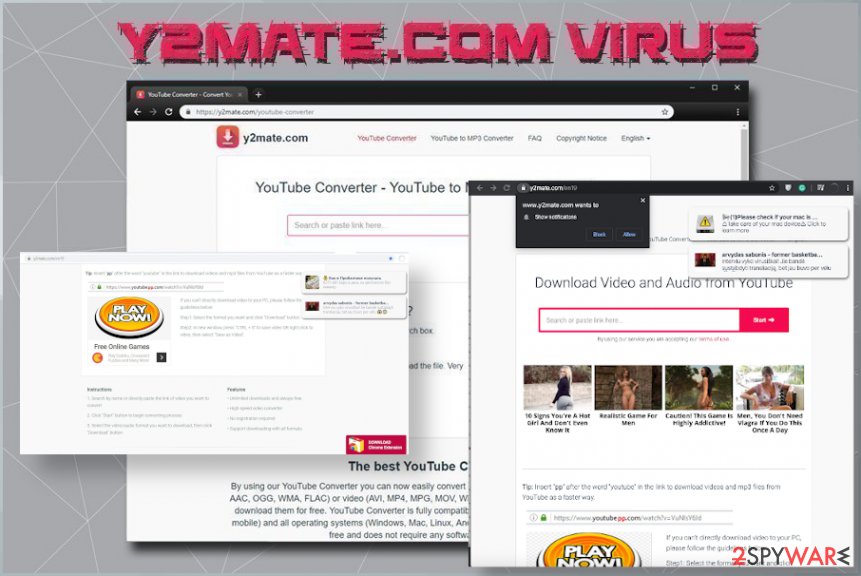 Y2Mate.com virus is a potentially unwanted program that redirects users to dangerous pages while putting their safety at risk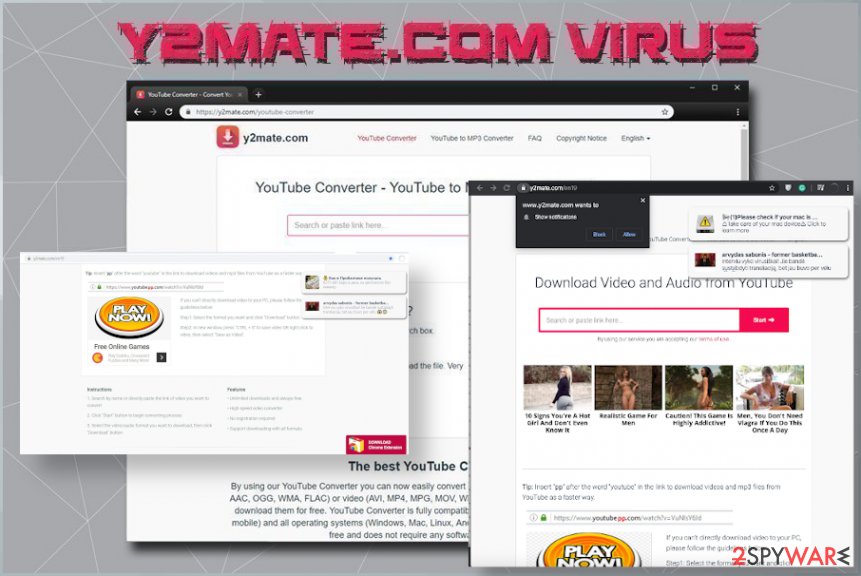 Y2Mate.com virus is a potentially unwanted program that redirects users to dangerous pages while putting their safety at risk
Y2Mate.com is the program that causes push notifications and unwanted ads when you try to convert the wanted YouTube video. This is one of many sites that offers the audio or video downloading service for users. Most of them are free to use, but the process itself is questionable alone, besides being illegal. Additionally, all the pop-ups, redirects, and banners that fill up the screen, show commercial material promoting other services, pirating sites, adult or gaming pages. The page itself is misleading but not dangerous. However, the potentially unwanted program that controls the behavior of these redirects is the bigger issue that can lead to privacy or identity problems.
Since Y2Mate is a YouTube video converter that is closely related to adware, most of the users who visit the site are there to extract videos from a variety of sites without considering the risks. The domain is not safe to use due to questionable advertisements it starts causing if you allow its notifications. If you keep visiting it, you can easily install other potentially unwanted applications (PUP), such as MacKeeper, if not being careful. Besides, you should stay away from surveys and games displayed on this site. Promotional ads, adult content, and online gaming platforms all can be used as advertisers' tools to collect your information. The fact that after a few clicks, users receive pop-ups in their language indicates that location is immediately tracked and used for these notifications. These ad-tracking functions can lead to identity theft in the long run.[1]
Name
Y2Mate.com
Developer
Muvi
Category
Ad-supported site/ video converter service
Symptoms
Numerous ads and push notifications interrupting browsing online
Distribution
The site is one of many other domains that suggest having useful functions for converting YouTube videos, so users willingly visit the site. In most cases, all the additional redirection activity is controlled by the shady adware program that spreads vis such deceptive sites or with the help of software bundling
Risk factors
Exposure to dangerous sites can lead to serious malware infections, various tactics get used to making people download useless tools or visit sites, such behavior may lead to money loss or privacy issues
Termination
To remove Y2Mate ads, reset the affected web browser and run the AV tool on the system, so the adware program that controls this behavior can be terminated
Recovery
Fix virus damage and repair affected files or programs by running a scan with

Reimage

Reimage Cleaner

Intego, start using Adblocker tools to avoid those pop-ups and banners
Y2Mate virus is not an appropriate term to describe this page as at the moment of writing it is not detected by anti-virus apps. However, after you allow its notifications offered in the top left corner of your screen, you are interrupted by numerous ads filled with sponsored links. One such link offers playing games for free. It seems that users should be careful with these third party links as there is no guarantee that they are all safe.
In most cases, the content is related to adult content, online games, or promotes questionable tools. Some of the commercial pop-ups and redirects trigger automatic notifications encouraging to install extensions or system applications. If that happens you will need to remove Y2Mate.com alongside other threats.
An extraction from the Terms of service notifies:
The Site/Client or the apps in the Site/Client, may contain links to third party websites or clients("Linked Sites/Client").The Linked Sites/Client are not under our control and we are not responsible for any Linked Site, including any content contained in a Linked Site or any changes or updates to a Linked Site.
So, while the site is not malicious, its usage should be performed with carefulness. Advertisers may use malicious methods to involve you in advertising campaigns, and Y2Mate.com is not responsible for the behavior of other sites and sponsors. We highly recommend not to allow this site to send you its notifications as it can seriously decrease your browsing quality.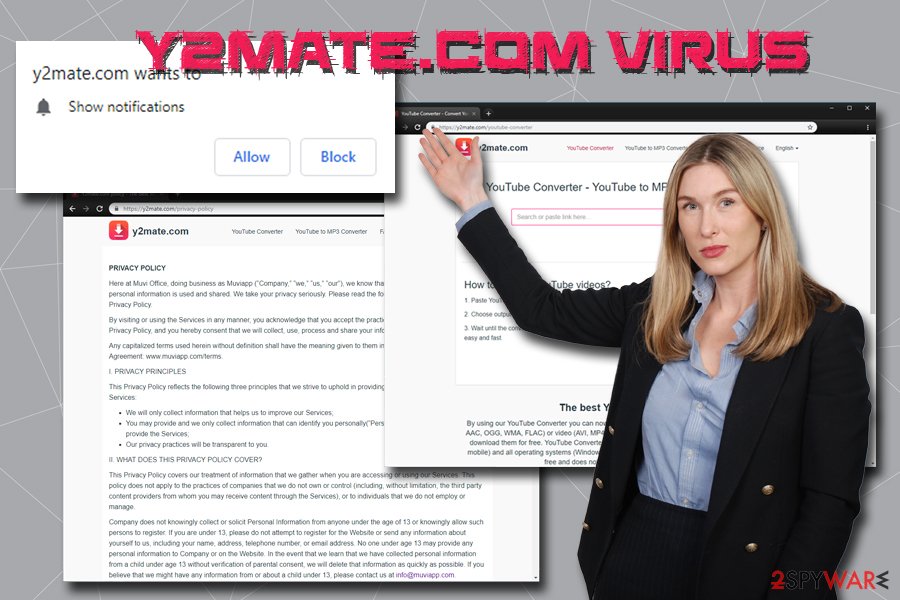 Y2Mate.com virus is adware-type program that asks you to allow sending notifications. As a result, the PUP starts inserting intrusive ads into all your favorite sites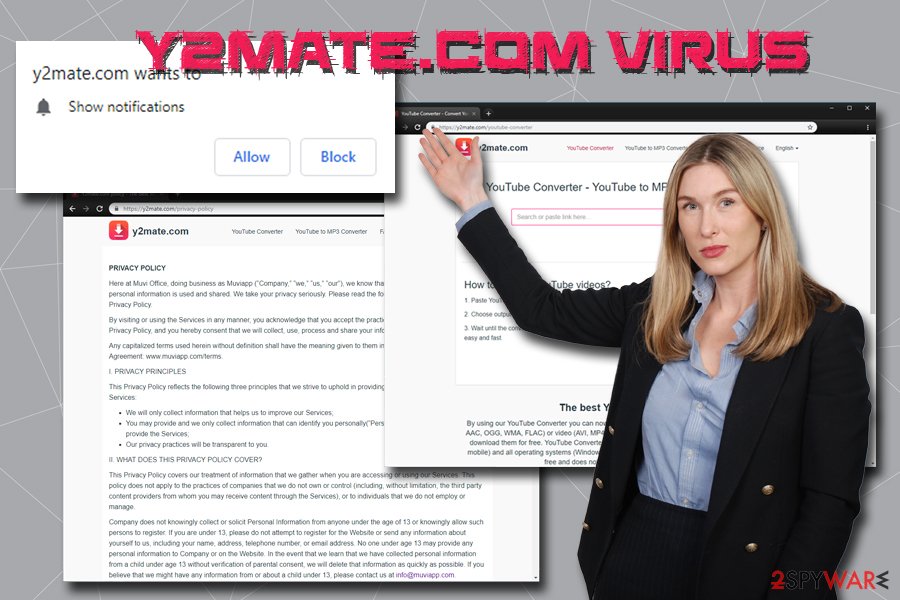 Y2Mate.com virus is adware-type program that asks you to allow sending notifications. As a result, the PUP starts inserting intrusive ads into all your favorite sites
Y2Mate.com is just one of many sites that offer similar functionality – after pasting YouTube or another link, the user can convert it to MP3 or similar format and download it to the system. This practice is usually considered illegal, as the music on YouTube is licensed, meaning that downloading it makes it illegal. It is basically the same as downloading a pirated movie from torrent sites.
Nevertheless, we must note that using Y2Mate.com or a similar site to convert the material that is not licensed does not break any laws. Yet, using the service might be dangerous as the site uses a variety of unsafe ads and links to generate its income. The button that you need to click to convert or download the converted video moves around, so you are more likely to select an ad instead. Also, redirects to many steps are inevitable until you can normally download the wanted mp3 file.
As soon as you visit Y2Mate, it asks you to allow notifications or enable the additional content. If the permission is granted, you will agree to receive potentially dangerous ads to be displayed directly on your desktop, even when your browser is off. To achieve this feature of persistence adware program can even alter settings of the startup or registry entries.
Push notifications can be set on your location, written in the language of your country, or display on the computer. These Y2Mate.com features indicate that adware tracks information about your device and your personal information. Pop-ups come directly on the desktop, there is no need to have the web browser open or running. Therefore, block these notifications immediately. You may need some help to change these settings back, so rely on Reimage Reimage Cleaner Intego.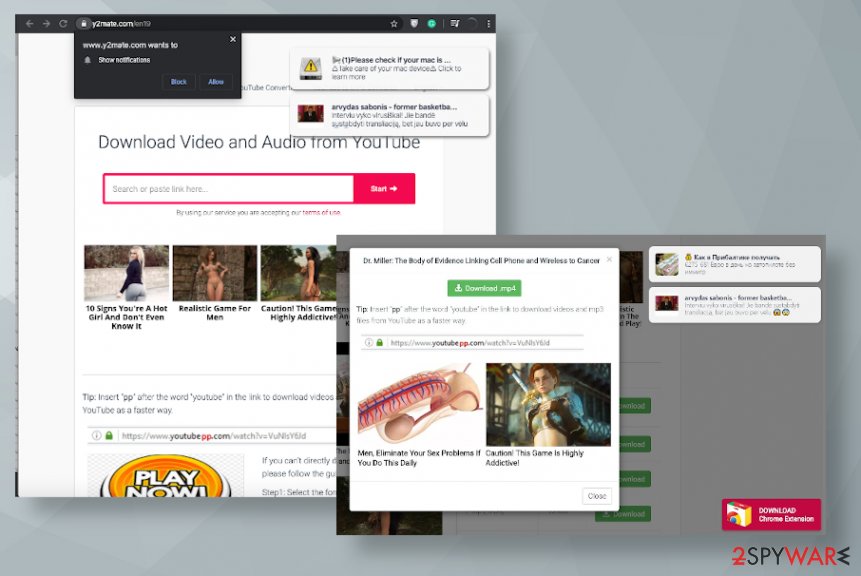 Y2Mate.com is the page that causes redirects and push notifications that deliver advertisements and other questionable material.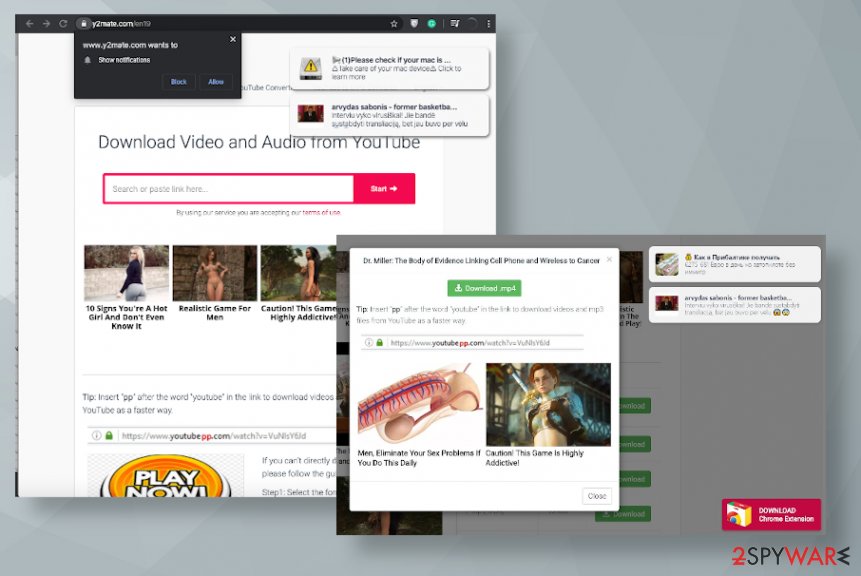 Y2Mate.com is the page that causes redirects and push notifications that deliver advertisements and other questionable material.
Additionally, advertisements that are displayed on Y2Mate.com lead you to phishing,[2] spoofing, and technical support scam sites, which could result in:
installation of bogus software;
money loss;
sensitive information exposure to unknown parties;
malware infections.
If you allow any content from ad-supported sites you may trigger automatic downloads of PUPs and malware that affect your device further. When your computer is affected by adware or any other browser-based threat, PUP, you may experience more than redirects and pop-up ads. You need a full system scan to fully remove Y2Mate.com from the device. Security programs can clean all traces of useless programs and potentially malicious apps, so your device is running smoothly.
Less experienced users are especially vulnerable as they are unaware of how online scams work and can easily fall for all these malicious tricks. Therefore, do not interact with any type of content that this site offers, and instead take care of Y2Mate removal. First of all, reset the affected web browser to get rid of notifications that you allowed.
Additionally, scan the computer with security software to make sure that third-party sites haven't infected your computer. If you revealed your personal data when visiting one of such sites, change your passwords now! After that, we suggest you use system optimizers or PC repair tools to correct all the damage done to your computer by Y2Mate.com adware.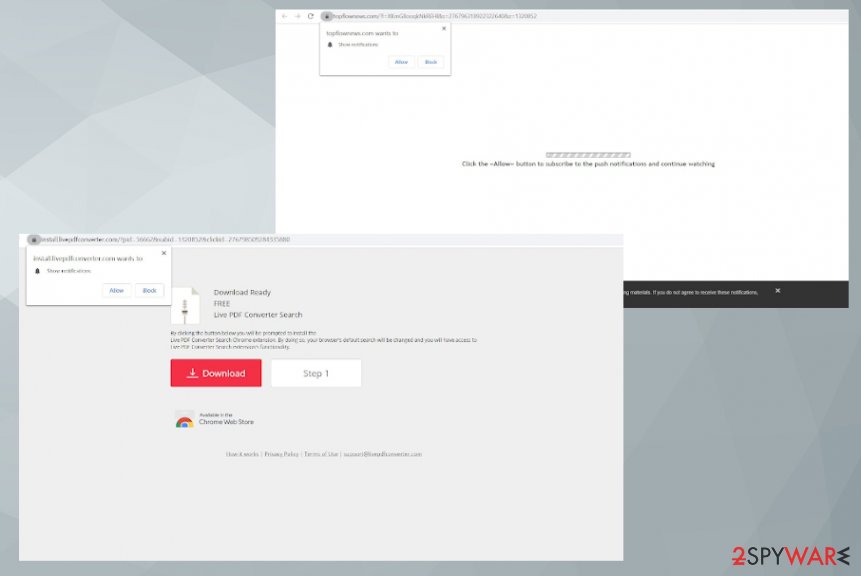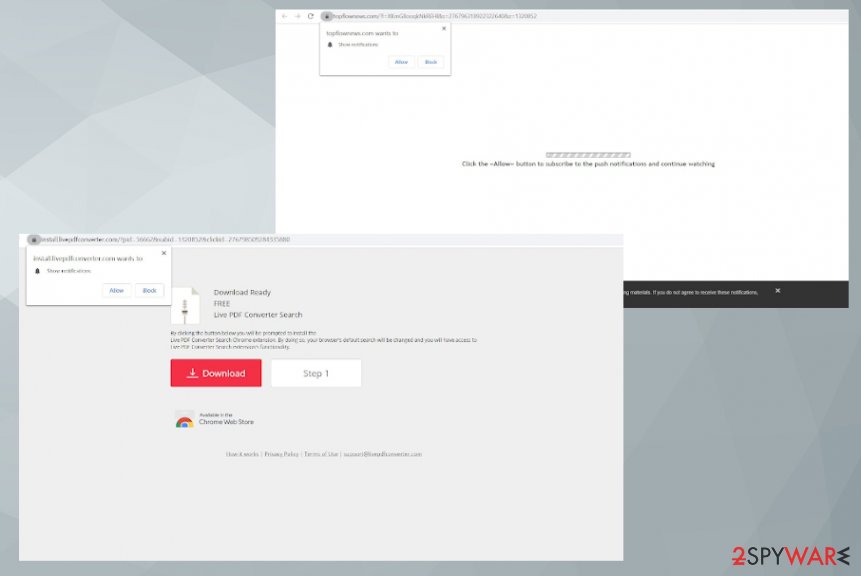 Bundled software is shady practice – learn how to outsmart it
Software bundling is a relatively old practice that came to existence when major companies decided to offer a set of programs together. In theory, this exercise should only benefit the user, as it lets him or her buying more applications for cheaper or trying out new software for free. However, the problems started as soon as adware authors realized that this is a great way to inject PUPs into as many users' machines as possible, without them noticing.
Bloatware developers do not care about the end-user experience, and all they want are profits. To do that, they contract other free software developers and pay them to put up their installers into one bundle. Unfortunately, the initial program developers are interested in users installing this unwanted software, as they are getting pay per install. This creates a situation where both parties are trying to shove in unwanted apps, and might even be dangerous.
Therefore, it is vital to avoid such shady practice by following these simple steps from experts:[3]
Pick reliable sources for all your software downloads (nevertheless, be aware that even the most known sites bundle software)[4]
Before installing anything, check if it includes the important documents, such as Privacy Policy and ToS
Read online reviews – quite often system optimizers, driver downloaders, PDF converters, and similar tools might be responsible for the excessive amount of ads
Decline all the deals and offers during the installation
When prompted, pick Advanced/Custom mode – it will give you full control of the installation process, and you will be able to remove all the optional programs before they manage to enter.
Remove Y2Mate ads with the help of the manual guide and then double-check your computer
There are two options you can rely on to remove Y2Mate.com from your web browser. First of all, you can dedicate this task to the reputable anti-spyware and let it do all the work for you. Choose the app, update it, and run a full system scan. The program should help you find all unwanted components that could have possibly been installed behind your back.
If you opt for manual Y2Mate.com removal, you will have to access the list of all your recently-installed programs on your device and terminate them. However, be aware that browsers have also been affected after you allowed sending you notifications to your web browser, so it would be a good idea to reset them to their primary state before using them again. Additionally, make sure you block notifications to stop seeing them in the future.
Both might work, although the first one is recommended for those who are not that experienced with computers and the way they operate. Since the Y2Mate.com virus causes tons of redirects, you should also go through settings and repair all the preferences that PUP managed to alter. Manual interference in system folders and other parts of the computer settings can cause issues, so avoid damage and use PC repair tools or system optimization programs for this.
You may remove virus damage with a help of Reimage Reimage Cleaner Intego. SpyHunter 5Combo Cleaner and Malwarebytes are recommended to detect potentially unwanted programs and viruses with all their files and registry entries that are related to them.