Akamaihd – a legitimate service which has been abused by adware authors to redirect victims to Searchinterneat-a.akamaihd.net and other sites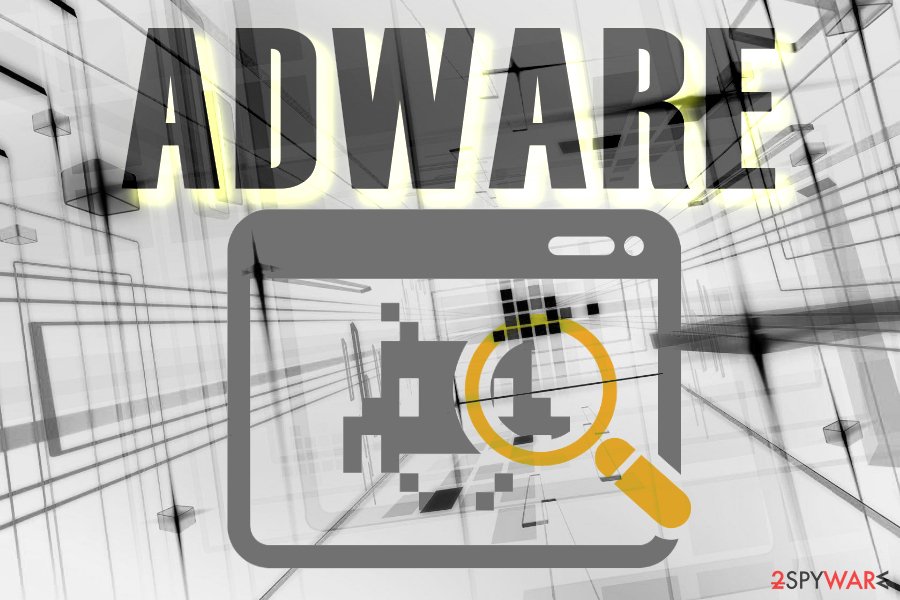 Akamaihd is content hosting provider, and many high-profile companies (Facebook, Steam, etc.) use this service to host a part of their content to reduce the load on servers. Unfortunately, many users complained that they are constantly being redirected to dubious pages which display countless advertisements and promote questionable content. We can assure you that Akamai Technologies (the creator of hosting service) has nothing to do with this activity, as adware[1] creators abuse the functionality to bring revenue to unfair advertisers by redirecting victims to Searchinterneat-a.akamaihd.net, and similar sites. End users are greatly suffering from this activity, as their Google Chrome, Internet Explorer, Mozilla Firefox or other browsers are filled with pop-ups, pop-unders, auto-play ads, redirects, and similar unwanted actions. Fortunately, there is a way to remove Akamaihd ads by eliminating the adware associated with it.
SUMMARY
Name
Akamaihd
Type
Adware/PUP
Initial purpose
Content hosting
Infiltration
Software bundling, dubious ads, unsafe websites
Symptoms
Redirects and ads reroute users to unknown domains
Main dangers
Malware infections, additional PUP installation
Elimination
To eliminate adware, use security applications like

Reimage

Reimage Cleaner

Related

Searchinterneat-a.akamaihd.net
Fbstatic-a.akamaihd.net
Asrv-a.akamaihd.net
Rvzr-a.akamaihd.net
BrowserGuard-a.akamaihd.net
Adware that redirects users to Searchinterneat-a.akamaihd.net domains usually infiltrates machines with the help of software bundling. This marketing campaign is prevalent when it comes to PUP distribution because users often prefer using Recommended/Default settings, just to be done with the process faster. However, most do not realize that there are several rogue programs hidden under Advanced/Custom installation mode, and users skip this step most of the time.
Additionally, the so-called Akamaihd virus can also be installed when users are visiting questionable websites, and click on links that redirect to suspicious domains. Quite often, system optimization tools, PDF converters, and similar applications can be linked to adware, and victims can simply be tricked into installing them, after reading a misleading description, for example.
Akamaihd removal should be performed ASAP if redirects to dubious sites occur regularly. If unfortunate enough, users could land in malware-laden site, where such cyber infections like ransomware[2] or a trojan can be acquired. Therefore, having your browser redirecting to unknown sites might result in system corruption, personal data leak, or malware infections.
Additionally, Searchinterneat-a.akamaihd.net adware gathers non-personally identifiable information, including, but not limited to:
IP address
Technical information
Websites visited
Links clicked
Bookmarks added, etc.
Tracking cookies, beacons, and similar technologies are used to harvest relevant information about users' browsing habits to support targeted advertisement. While it is a legitimate practice when done right, most adware programs simply flood the browser with junk and potentially dangerous content. Therefore, it is vital to remove Akamaihd ads by terminating adware associated with them.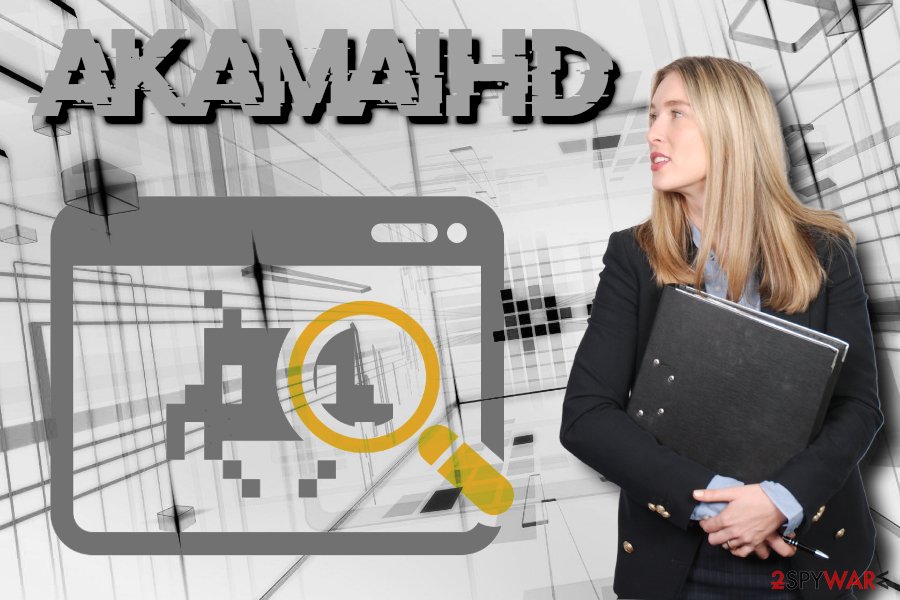 Akamaihd is a potentially unwanted application which enters users' machines without approval
In some cases, however, adware might be hard to detect and eliminate, as it often disguises as a useful program or lacks uninstallation executable. However, most of the comprehensive security solutions are capable of detecting potentially unwanted programs efficiently. Therefore, you can try scanning your machine with Reimage Reimage Cleaner before attempting to eliminate Akamaihd virus manually.
Akamaihd adware variants
As we already declared above, Akamai Technologies is a well-established and reputable file hosting service provider and is often used by high-profile companies. However, those pesky adware authors come up with multiple ways of manipulating a legitimate service for their own advantage. There are several other versions of the Akamaihd virus – all listed below.
Searchinterneat-a.akamaihd.net
This variant is a browser hijacker with adware components. After infiltration, the potentially unwanted program modifies Windows Registry and sets its address as a default one for Google Chrome, Internet Explorer, Mozilla Firefox, Safari, or any other browser. Searchinterneat-a.akamaihd.net hijacker is known to promote misleading software, such as bogus optimization tools and fake updates. Additionally, users might find additional applications installed on their machines without knowledge.
Fbstatic-a.akamaihd.net
Fbstatic-a.akamaihd.net is another adware application used by PUP developers. It usually gets installed together with bundled software or is introduced via deceptive advertisement online. Fbstatic-a.akamaihd.net adware redirects users to dubious domains and promotes popular software, such as Java, Flash Player, Media Player, etc. As soon as users agree to download these applications, they are redirected to sites that install more adware (such as DealCoaster, YoutubeAdBlocker, CouponDropDown).
This version of the virus is also responsible for excessive data tracking when it comes to users' browsing habits. Experts recommend uninstalling any suspicious applications before entering any sensitive data into the browser.
Asrv-a.akamaihd.net
Asrv-a.akamaihd.net is a marketing platform that is being misused by cyber crooks for their personal monetary gain. Just as its previous variants, it tries to trick users into installing other potentially unwanted applications on their systems and continually disturbs web browsing sessions of users with disruptive pop-ups, coupons, banners, deals, offers, and similar commercial content.
Never click on any content or links provided by Asrv-a.akamaihd.net. You might end up installing other adware, more PUPs, or even malware on your machine. Therefore, use extreme caution, and don't get tricked by scams.
Rvzr-a.akamaihd.net
Rvzr-a.akamaihd.net often redirects users to scam sites that promote fake updates for such well-known apps like Java, Adobe, FLV Player, Flash Player, and many others. Do not believe these claims as all of them are fake, and none of the applications installed need an update. If you proceed, you will be introducing additional unwanted apps and further infect your computer.
If you noticed your Google Chrome or other browser behaving strangely, like redirecting you suspicious sites, displaying sponsored links in search results, lag, and similar issues, it is time to take care of Rvzr-a.akamaihd.net removal by either using reputable security software or getting rid of it manually.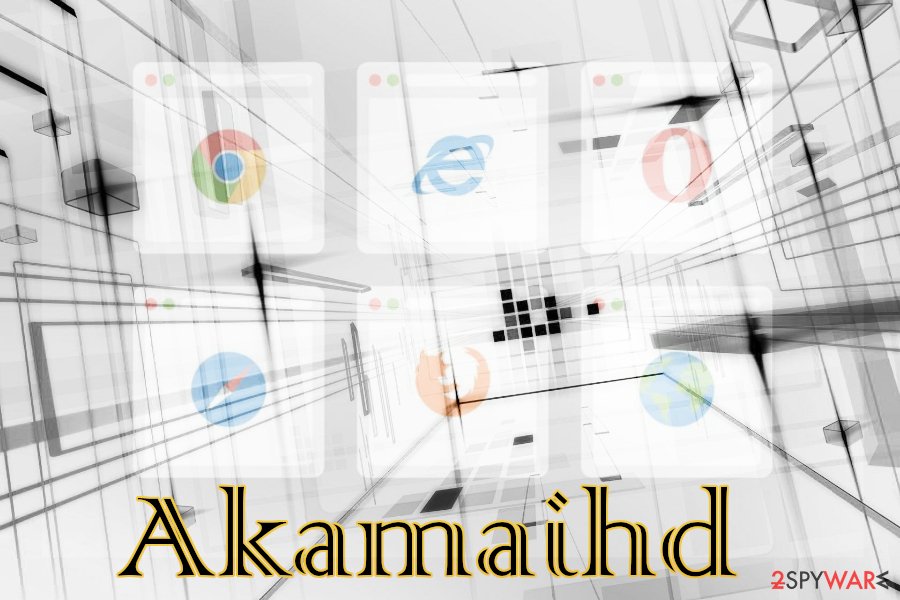 Multiple versions of the virus appeared. Just as the original, it can affect any browser
BrowserGuard-a.akamaihd.net
BrowserGuard-a.akamaihd.net is yet another variation of the Akamaihd virus. Just as all the previous variants, this adware program enters machines mostly with the help software bundling, although users might install it accidentally by clicking on dubious adverts. As soon as the hijack occurs, the potentially unwanted program modifies browser settings to display commercial advertisements every time you browse the internet. Users also reported that pop-ups, pop-unders, banners, deals, offers, and similar unwanted ads could be displayed even if the browser is not being used at all.
We advise you remove BrowserGuard-a.akamaihd.net from your system immediately, as, just like any other adware infection, it can cause more damage over time.
Beware of bundled software – adware programs are usually hidden as optional installs
As we already mentioned, software bundling is the primary source for potentially unwanted program distribution. Unfortunately, not many users are aware of it, and PUP authors are quick to abuse that. In most cases, freeware developers add extra applications to the installation managers. However, optional programs are not disclosed for those who pick Recommended or Default installation mode.
Therefore, users should always pay attention to installation instructions, never rush or skip steps. Advanced or Custom installation settings can disclose a full list of additional programs, which can be declined before then the process is finalized. Users need to remove check marks from the pre-marked boxes.
Additionally, experts[3] advise using professional security software that could prevent most unwanted programs from entering the PC.
Get rid of Akamaihd adware either manually or automatically
When it comes to adware and potentially unwanted programs, it is not always apparent what to look for, as the uninstallation executable might be missing, or it might not be clear which program is associated with the PUP. However, there are several steps that people can take to remove Akamaihd virus from their machines permanently.
We suggest you try Akamaihd removal by following out instructions below this article. We have guides for both, Windows and macOS users. After the elimination, you will have to reset each of the installed browsers manually to stop redirects toSearchinterneat-a.akamaihd.net.
However, if the instructions below are too complicated for you, or you want a quick and straightforward solution, we suggest you use anti-virus software to get rid of the unwanted applications. Merely bring the security program up to date and perform a full system scan.
You may remove virus damage with a help of Reimage Reimage Cleaner . SpyHunter 5Combo Cleaner and Malwarebytes are recommended to detect potentially unwanted programs and viruses with all their files and registry entries that are related to them.