Aiboo.cc is the fake search engine that shows only sponsored content and controls online traffic by redirecting to shady advertising services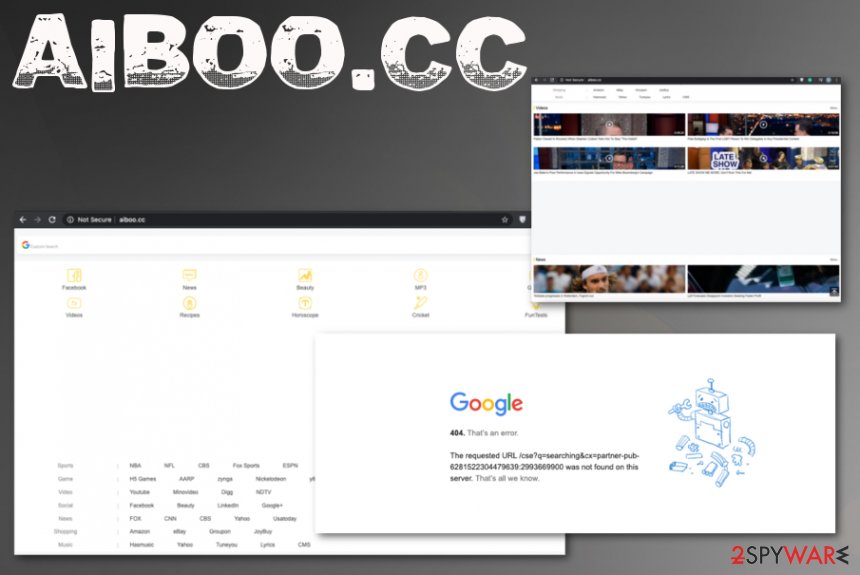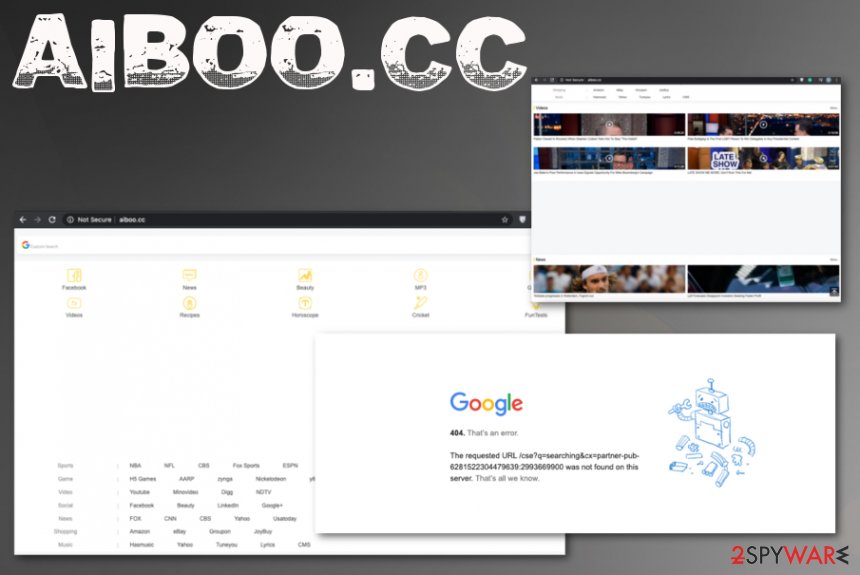 Aiboo.cc is the search engine and a questionable domain, in general, that appears on Android devices and causes frustration for users when it starts affecting every online search and browsing session.[1] This intruder is designed to create redirects and inject browsers with advertising material, so the site itself shows only sponsored content, and even though it resembles a legitimate search engine, all searches online get affected by the potentially unwanted program significantly. Intruder affects time on the machine or the mobile device that it infects because the hijacker takes over the web browsing programs and changes default preferences, settings and sets itself as a homepage, new tab, search engine to control every attempt to search on the internet. These unwanted changes and intrusive behavior are the reasons why this domain falls into the category of potentially unwanted programs.
Name
Aiboo.cc
Type
Browser hijacker
Category
Potentially unwanted program
Symptoms
It appears on the web browser every time you launch the tool and try to access the internet and commonly visited pages. However, the intruder significantly affects your time on the browser because it injects advertisements on every page and triggers redirects to shady sites, fills search results with sponsored content and relies on other techniques that help to reroute the online traffic to affiliated sites
Distribution
Insecure freeware installations give the PUP developers and opportunity to pack shady applications with free programs and distribute them online without full disclosure. When users skip through steps software bundling method is successfully working, and victims get their apps alongside PUPs
Damage
PUPs and advertisers use ad-tracking methods and collect users' data regarding time online, browsing history. This behavior leads to privacy issues and identity theft. Also, online material often includes malicious downloads and malware
Elimination
Aiboo.cc removal can be quick and successful with anti-malware tools designed to terminate PUPs and other shady programs. Get a tool compatible with your device
Repair
Additional processes and programs get loaded on the system when adware, hijackers or PUP get to infiltrate the machine, so changes in the system folders affect the persistence. To repair affected files and settings get a tool like

Reimage

Reimage Cleaner

or another system optimizer and get rid of any virus damage
Aiboo.cc virus is considered to be intrusive and persistent because it causes various problems and makes alterations to your preferences regarding online activities and web browsers. You may experience various symptoms related to this hijacker and don't even notice the program itself that triggers all the unwanted behavior.
This browser hijacker gets downloaded in a bundle with other PUPs, in most cases, and the domain Aiboo.cc get set as your search engine and loads on the web browser each time you launch Google Chrome, Internet Explorer, Mozilla Firefox or Safari. It even hijacks the shortcut of your commonly used browser, so when you want to start the application it automatically goes to this site and all browsing sessions, online searching attempts get redirected through shady sites.
Aiboo.cc ins considered potentially dangerous because it changes other settings and injects files, programs, entries to places that control rebooting and other crucial functions regarding the performance. Browser hijacker tries to keep the PUP more persistent, so people cannot remove it that quickly.
However, you may not even notice the Aiboo.cc infiltration until the following symptoms occur:
homepage, default search engine, and new tab gets set to Aiboo.cc;
search provider, built-in search box redirects to the same domain;
toolbars, bookmarks, extensions, and add-ons get installed without additional permissions;
speed of the machine suffers significantly due to additional pop-ups and redirects.
You should remove Aiboo.cc as soon as you notice any of these because the potentially unwanted program can run in the background affecting the particular settings and activities before it shows anything on the screen. The sooner you terminate this intruder the better, so you can avoid additional installations of different PUPs or stay away from malicious sites that hijacker redirects to. [2]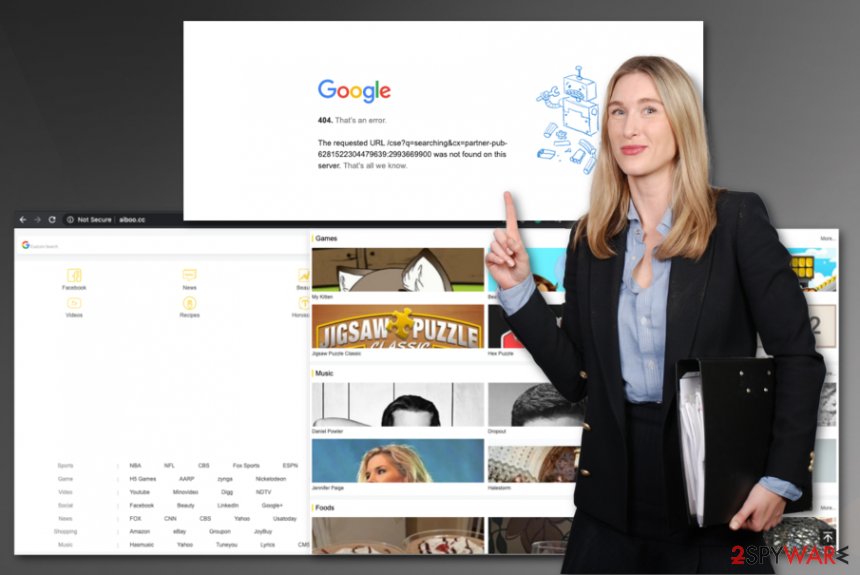 Aiboo.cc is the potentially unwanted program that changes the homepage, default search engine, and new tab settings to affect the time online.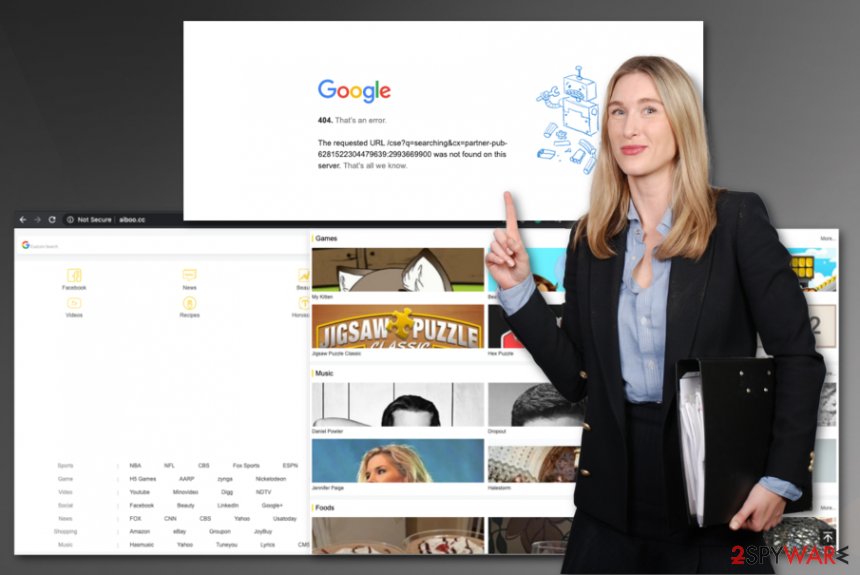 Aiboo.cc is the potentially unwanted program that changes the homepage, default search engine, and new tab settings to affect the time online.
Using this domain as a search provider is not safe, especially on mobile devices where pop-ups or pop-unders fill up the screen and keep the person from controlling the traffic. Aiboo.cc can expose the user to possibly malicious material and advertising services, so you need to avoid interacting with any redirects or pop-ups as much as possible.
Aiboo.cc removal may be difficult, in general, and when the PUP had more time to affect the machine it makes all the alterations to keep hiding the crucial files and programs around. Get a proper anti-malware program or mobile application compatible with your operating system and run the full scan on the device to find all the PUP-related programs and files.
Aiboo.cc hijacks various browsers, in most cases, all of them regardless if you use the web browsing tool or not. This is how intruder ensures the persistence and keeps affecting the performance, speed, and security of the infected computer or phone. You should go through settings and preferences manually to get the unwanted program completely off of the machine.
However, when it comes to alterations that Aiboo.cc PUP makes on the system folders, and more crucial parts, experts[3] don't recommend going for the manual interference because lack of knowledge can lead to additional damage and other issues. Get a proper system tool for the PC repair process or a cleaner like Reimage Reimage Cleaner and search for affected files, registry entries. These tools should fix the parts that need repair and don't affect any other functions.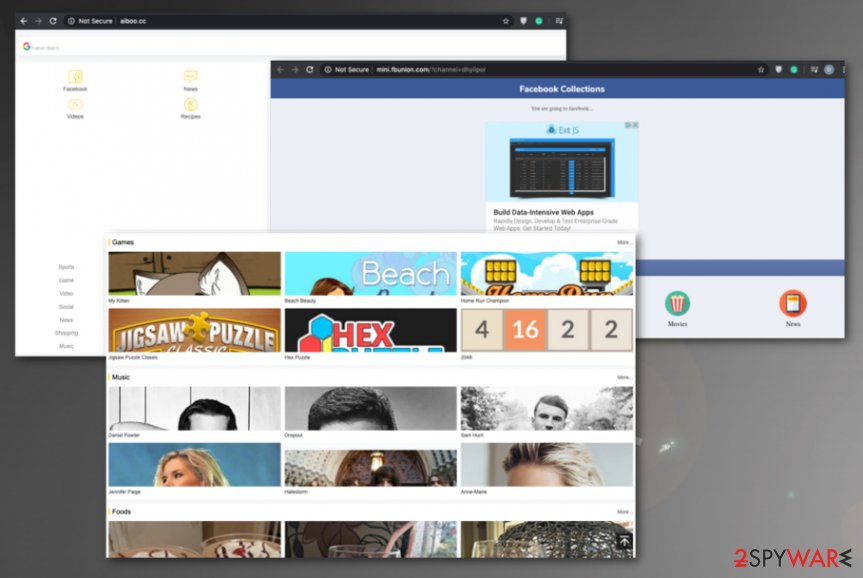 Aiboo.cc is the program that can install other material on the browser or the machine itself and control what websites you get to visit.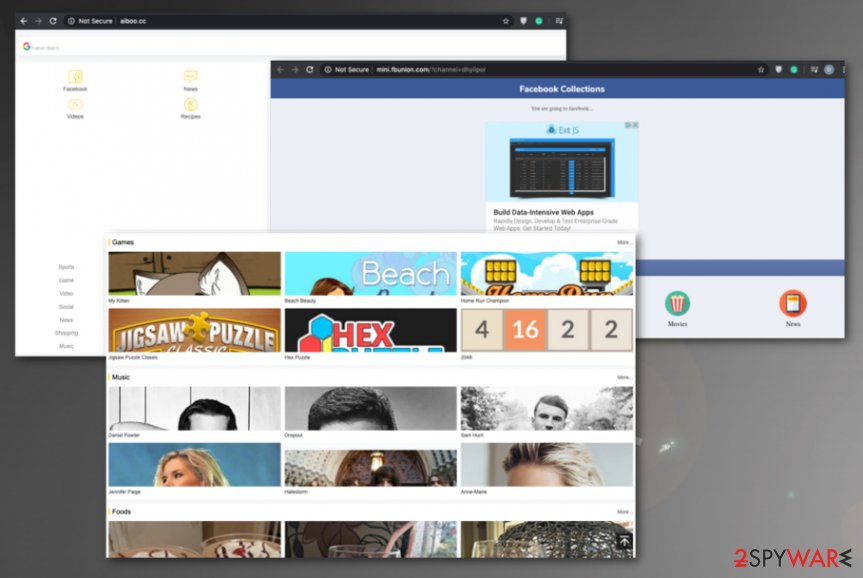 Aiboo.cc is the program that can install other material on the browser or the machine itself and control what websites you get to visit.
Pay attention to processes happening on the machine
The internet is filled with insecure content, so you should consider that any suspicious site and program, advertisement, the redirect can possibly be dangerous. Pay close attention to the material you visit and sites you rely on for software distribution, for example. Such downloads and installation processes, sharing services, and similar domains are mostly used to spread PUPs like hijackers, adware, and shady tools around.
When you go for the internet source for the program or browser extension, pay attention to Privacy Policy, Terms, and EULA of the site itself. The best option would be to trust only official creators and freeware providers for these processes, but users tend to look for easier options.
However, the most important thing to note is the installation options because by choosing Advanced or Custom installations you ensure that every part of the installation setup is shown to you, and you can control what programs to get. Skipping through steps during recommended installations means that you agree to get all included applications and files, that includes PUPs and even more severe cyber threats.
Clean the device from traces of the suspicious Aiboo.cc PUP
Aiboo.cc removal process depends on the particular device this potentially unwanted program infiltrates because it cam comes on computers, laptops, and even mobile devices. These redirects most often occur due to PUP infiltration that happens either when you browse on malicious sites or during the freeware installations.
When you encounter Aiboo.cc virus on the Android system, you may need to reset the device fully to get rid of the damage and possibly installed malware. However, as for Windows and Mac devices, first, we recommend going for the automatic anti-malware scan that checks for possible intruders.
When you rely on professional anti-malware tools and remove Aiboo.cc fully from the system, make sure to double-check and be certain that PUP symptoms ended. Then, rely on system tools, optimizing software, and try to repair affected system parts, settings.
You may remove virus damage with a help of Reimage Reimage Cleaner . SpyHunter 5Combo Cleaner and Malwarebytes are recommended to detect potentially unwanted programs and viruses with all their files and registry entries that are related to them.