KeepVid.com is a video-managing tool that drops sponsored adverts while visiting its domain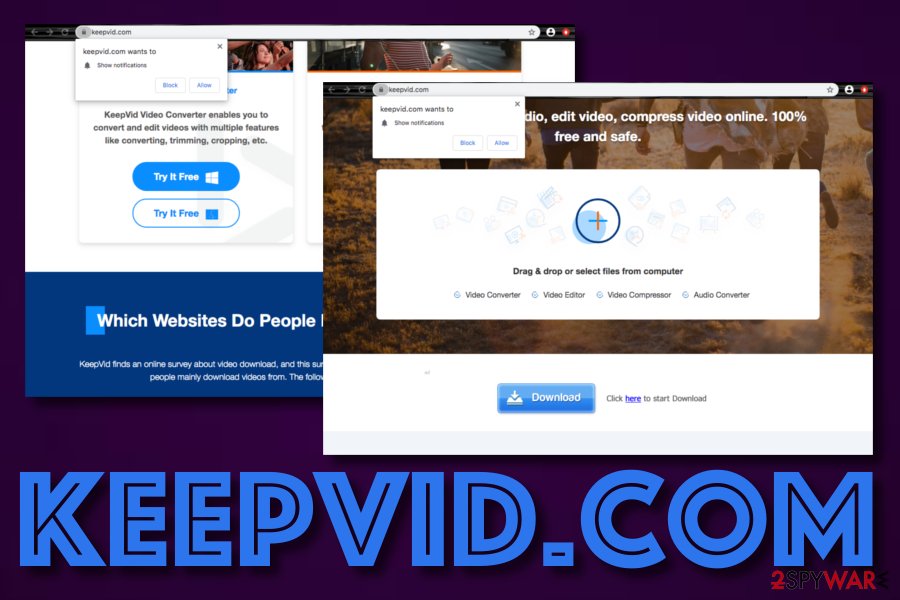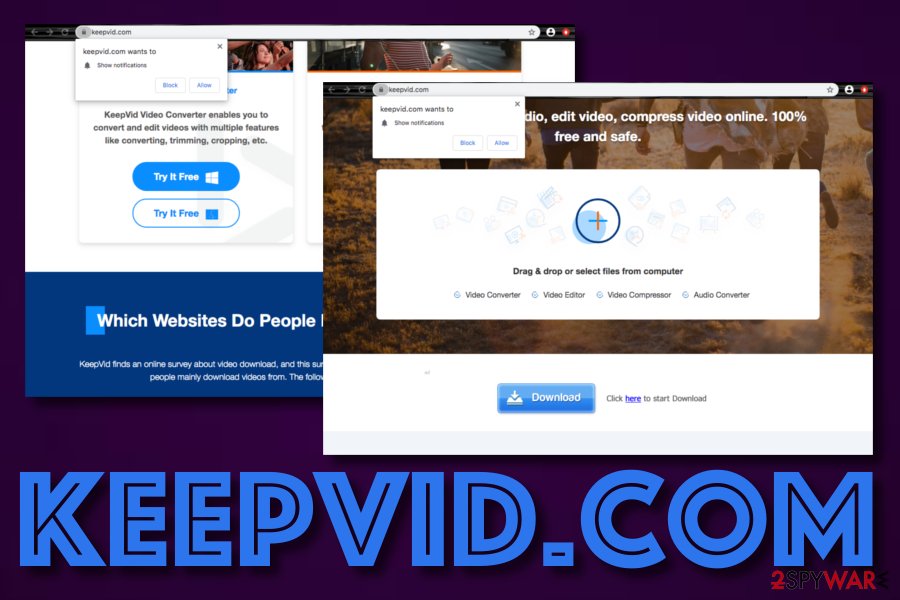 KeepVid.com is a website that allows converting, editing and downloading videos from various sites. Users are also offered to install a video downloader's desktop or mobile application, and extension to Chrome, Firefox, Safari, Opera, Yandex, and other web browsers. However, once this add-on is installed, it starts causing numerous problems. It is known that KeepVid initiates redirects to other websites and refuses to take responsibility for this type of activity. Furthermore, if you end up dealing with this PUP, you are likely to get flooded with sponsored ads in forms of pop-ups, pop-unders, banner ads, and coupons.
Even though you can get KeepVid from its official website, there is a higher possibility of receiving this type of browser add-on from third-party downloads when you manage to get certain material from sources such as download.com, softonic.com, or cnet.com. Regarding the stealth installation techniques that this app uses and all the unwanted activities that it promotes, KeepVid.com has been categorized as a potentially unwanted program.
Name
KeepVid.com
Type
Potentially unwanted program
Goal
This suspicious tool acts as a comfortable video-managing tool to attract a bigger number of people that will be encouraged to use the provided services
Activities
Instead of being just a regular tool with its promised features, this app is likely to drop intrusive advertisements and initiate redirects to odd websites. Also, the app might be able to record browsing-related information and share it with other parties
Spreading
Even though you can download the add-on from its official website, you are more likely to receive the PUP through a deceptive technique called "bundling"
Elimination
If you have been dealing with this product lately, you should get rid of it before it gets you involved in unwanted activities. For this purpose, employ trustworthy antimalware software or complete the manual step-by-step guidelines that have been added to the end of this page
Fix tip
If you have discovered any compromised areas on your device system, you can try repairing them with

Reimage

Reimage Cleaner
So-called KeepVid.com virus has been reported to cause unwanted redirections to unknown websites. Beware that this may lead you to suspicious, questionable and even malicious sites, so you should try to avoid the installation of this potentially unwanted program (PUP).[1] According to the developers of this tool, they refuse to take any responsibility if the user is thrown to another location while using the website's provided services:
This website may from time to time contain hyperlinks to other websites. Such links are provided for convenience only and we take no responsibility for the content and maintenance of or privacy compliance by any linked website.
If KeepVid.com forcibly takes you to a potentially dangerous website, you can accidentally step on a harmless-looking advertisement or hyperlink that truly hides malware under its sleeve. This way you are likely to get infected with a dangerous computer virus such as a Trojan horse, ransomware, or spyware.[2]
KeepVid.com removal should help you to avoid such type of risk and keep your computer secured better. Receiving additional infections can result in the total destruction of your computer system. However, if you have already discovered some type of damage on your device, you can try repairing it by downloading software such as Reimage Reimage Cleaner .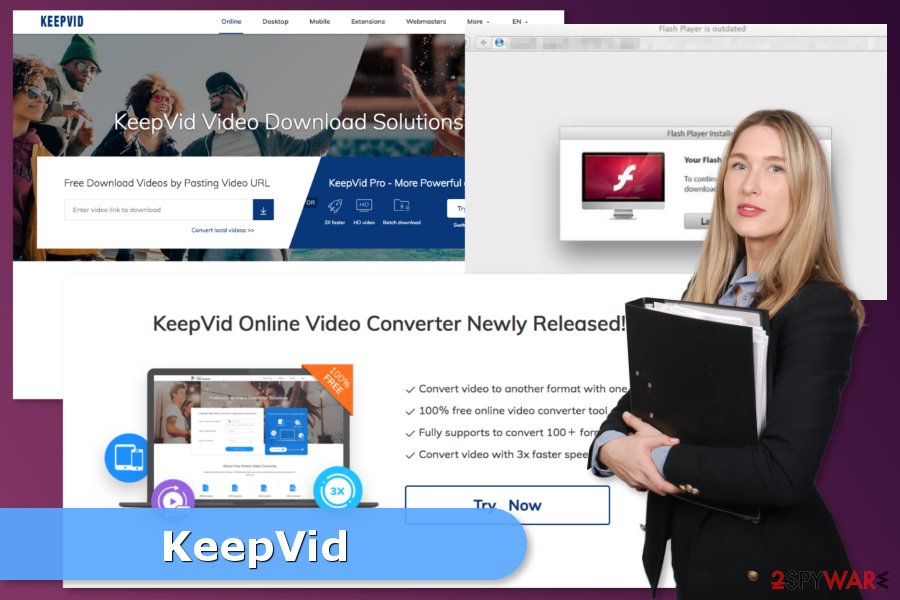 KeepVid – a tool that can be downloaded from its official website but is more likely to show up through software bundling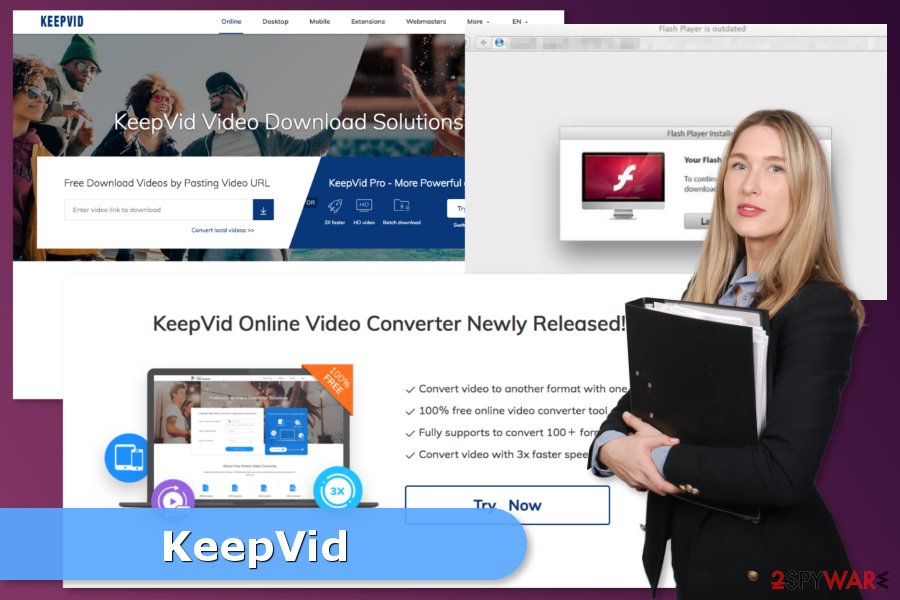 KeepVid – a tool that can be downloaded from its official website but is more likely to show up through software bundling
Furthermore, KeepVid.com is known to spam the user with sponsored advertisements. The add-on might end up providing you with various offers and deals that look beneficial but do not truly include any real value. This way you might be convinced to purchase unneeded products or subscribe to some questionable services.
Nevertheless, some types of surveys, scams, and fake prize claims can also occur while employing KeepVid. This does not necessarily mean that the program itself has very bad intensions but other developers might have misused it for displaying various scams and collecting personal information, contact details, or money from gullible users.
KeepVid.com is trying to represent itself as a useful tool for video downloading, converting, editing, etc. It is working kind of successfully as there is a big variety of people using its services. However, the same users, sooner or later, get spammed with the app's annoying advertisements or are redirected to its sponsored odd domains.
In addition, KeepVid.com signifies that your computer lacks protection as the potentially unwanted program has somehow passed the security barriers and found its way to the device. Also, the rogue tool itself can bring other unwanted products to the computer system, including browser hijackers, adware, and similar ones.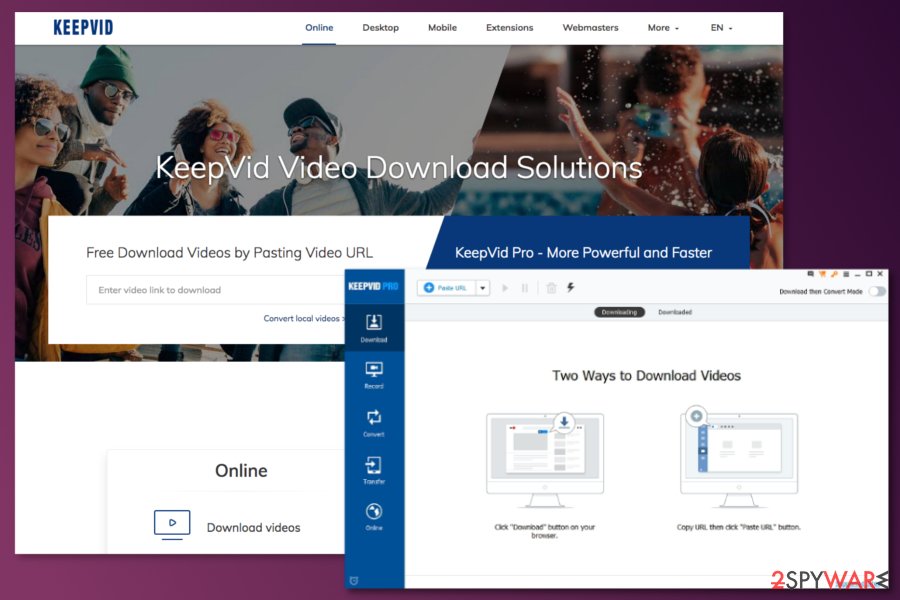 KeepVid is a potentially unwanted program that drops intrusive pop-ups and redirects the user to questionable domains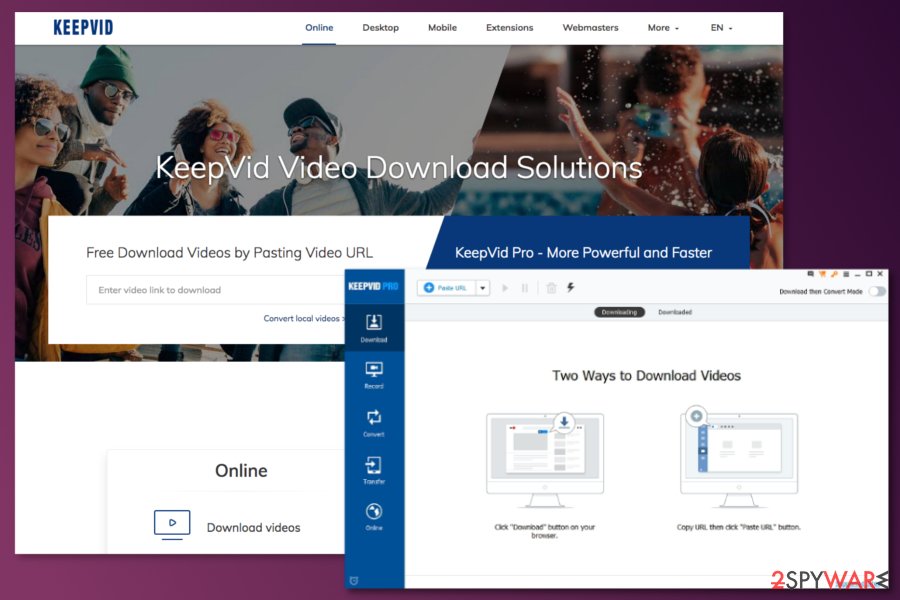 KeepVid is a potentially unwanted program that drops intrusive pop-ups and redirects the user to questionable domains
Another thing that KeepVid.com can be capable of is recording non-personal data that is related to the user's browsing sessions. The app can capture information such as hyperlinks clicked, websites entered, saved bookmarks, the IP, and share these types of details with other parties for collecting monetary income.
Researchers from Uirusu.jp[3] tell that this page and its developers are closely related to Ilivid and all of its versions, such as iLivid New Tab hijacker, lp.ilivid.com, etc. Beware that these programs have already been added to our website as suspicious ones. Thus, this relation makes Keepvid even more suspicious; so, you should not delay its elimination.
If you want to remove KeepVid.com with little fuss and save some time, you should download and install a reliable antivirus tool that is capable of dealing with such programs in a few minutes of time. However, if you are keen to eliminate the tool by yourself, go to the end of this article where you will find the manual removal instructions.
The free video downloader spreads in software packages
Nevertheless, users can use online services and download the app from the official website; this potentially unwanted is advertised in software bundles.[4] Thus, if users install new programs incorrectly, they might download this PUP without even knowing it. It often happens when people rush the downloading/installing steps of the program or just do not pay attention to what they are agreeing with that can end up being a potentially unwanted app.
It might also happen when users rely on Quick/Standard settings which do not openly disclose about third-party applications. To avoid unintentional installation of questionable apps, you should only use Advanced/Custom installation settings.[5] Here you will be able to control all of your incoming downloads and deselect all options of products that you do not want to receive on your computer system.
Furthermore, potentially unwanted programs can get distributed through questionable advertisements and hyperlinks that appear on third-party domains. What you should do is pay more attention to what types of websites you are visiting because there is an increased risk of getting infected by a PUP on pages that do not have proper protection. Also, always keep your antivirus updated so that the program would be able to inform you about all incoming threats.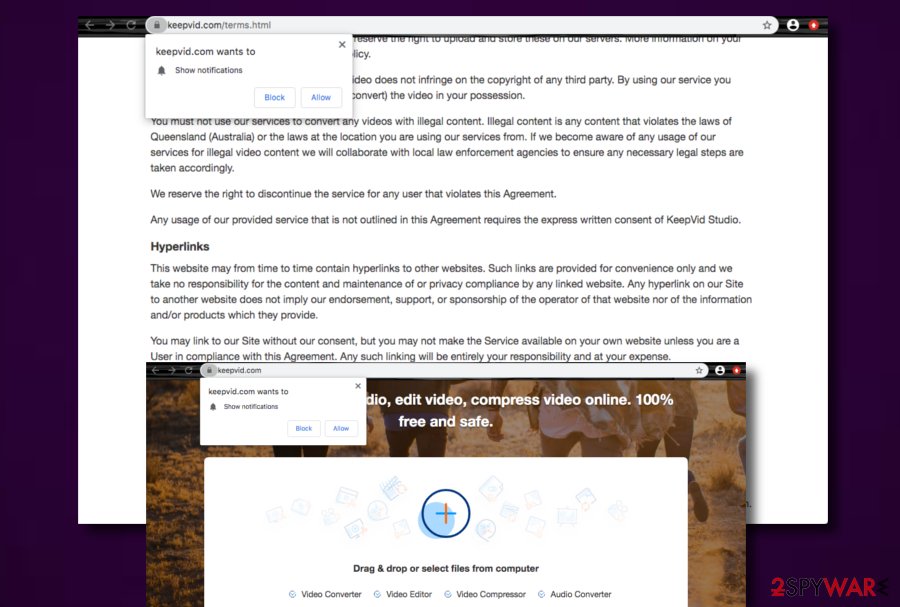 KeepVid.com is a potentially unwanted program that can appear as a browser add-on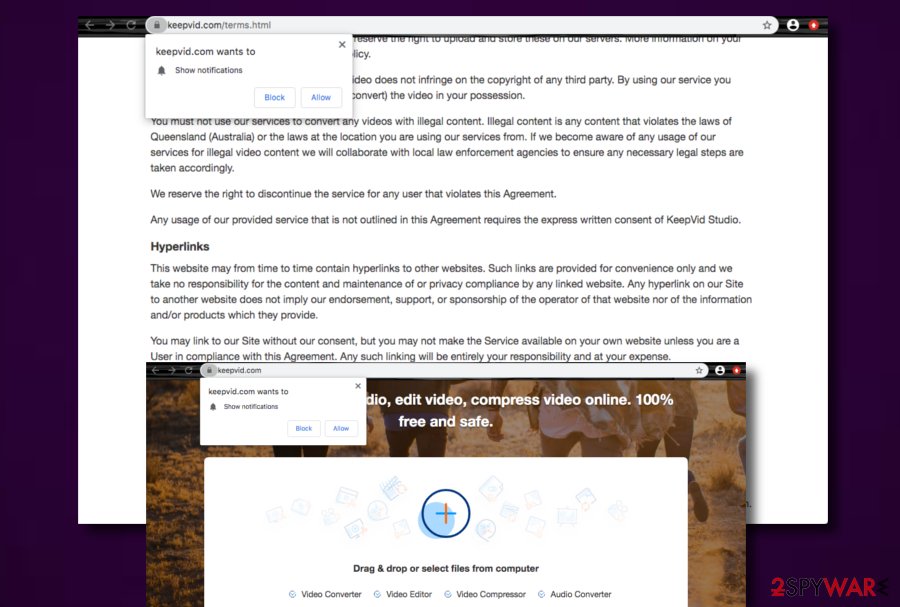 KeepVid.com is a potentially unwanted program that can appear as a browser add-on
Explaining how to remove KeepVid
At the end of the article, you will find a detailed explanation of how to uninstall KeepVid. Thus, if you are thinking about terminating this PUP manually, you should scroll down and follow the guide carefully. However, we want to point out that you have to complete these three tasks in order to remove KeepVid.com entirely:
Uninstall the programs and other suspicious software from the computer;
Remove questionable add-ons or browser extensions that are related to the hijacker;
Reset each of the web browsers.
If manual KeepVid removal seems complicated or you want to speed up the process, you can use anti-malware/anti-spyware to do the job for you. Once you obtain a reputable software, you will need to run a full system scan and wait until it finishes the removal. Keep in mind that if you decide to get rid of the product yourself, you will have to clean all the possibly-infected locations, including web browsers, otherwise, the app might reboot itself.
You may remove virus damage with a help of Reimage Reimage Cleaner . SpyHunter 5Combo Cleaner and Malwarebytes are recommended to detect potentially unwanted programs and viruses with all their files and registry entries that are related to them.